It seems everywhere we look, there is some bad press coming out about Bitcoin.
Whether it be China banning it, or Russia talking about possibly banning payments made in it, to more recently South Korea banning ICOs and looking very closely into better regulating Bitcoin.
But guess what, even with all of that, Bitcoin is sitting over $4300 per coin right now. Within striking distance of its all time high.
Just like the Honey Badger, which is able to shake off just about any adversary, Bitcoin seems to be able to shake off any bad news.
If you don't believe me about the Honey Badger, check out this clip:
Bitcoin and Honey Badger don't give a sh*t.
By the way, perhaps we can get this guy on Steemit, his video has over 84,000 views.
I think I will drop him a comment about how he can make a lot more here on Steemit.com than he currently is making over there on YouTube. ;)
Now back to Bitcoin and cryptocurrency...
Why is Bitcoin so resilient?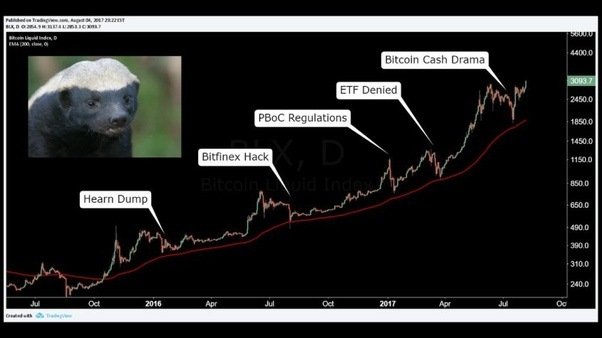 The underlying faith in Bitcoin and cryptocurrency is strong.
The reason Bitcoin hasn't broken yet from all this bad news is because the belief in it is unwavering. Prices are most closely related to people's confidence in the underlying.
Lately, confidence has been shaken slightly, which is why we saw the pullback, but the price action currently shows that it hasn't shaken people's confidence in the coin and the sector long term even in the slightest.
This is likely for several reasons but a big part of that is due to the fact that people are fed up with our current banking system:
They are fed up with big banks getting bailed out when they cheat their clients.
They are fed up with governments and big banks telling people how they can spend their money.
They are fed up with all the rules and regulations that come along with monitoring "their money".
They are fed up that it take days/weeks to transfer "their money".
To sum it up, people are angry, and Bitcoin was born out of that anger. 

A revolution is under way.
No news out of China, or Russia, or South Korea is going to thwart this revolution.
In fact it reminds me very strongly of a quote I read a while back. It goes something like this:
"It is impossible to stop an idea whose time has come."
Bitcoin's time has come.
Steem's time has come.
Cryptocurrency's time has come.
The genie is out of the bottle and it's not going back in.
Stay informed my friends.
Image Sources:
https://www.reddit.com/r/Bitcoin/comments/1z7xcx/great_billboard_in_silicon_valley/
https://www.quora.com/Is-this-a-right-time-to-buy-Bitcoin
https://www.udemy.com/how-to-confidently-join-the-bitcoin-revolution/
Follow me: @jrcornel