As you know, Bitcoin has died 927 times, and come back to life after every single one of them.
Ok, it hasn't actually died that many times, but I think you get my point.
In times like we are experiencing currently many people are left wondering, is this it, is this the big one where bitcoin finally doesn't come back?
While that is certainly possible I think we should look at recent history to gain a little perspective.
Check out this chart put out by Fundstrat Global Advisors: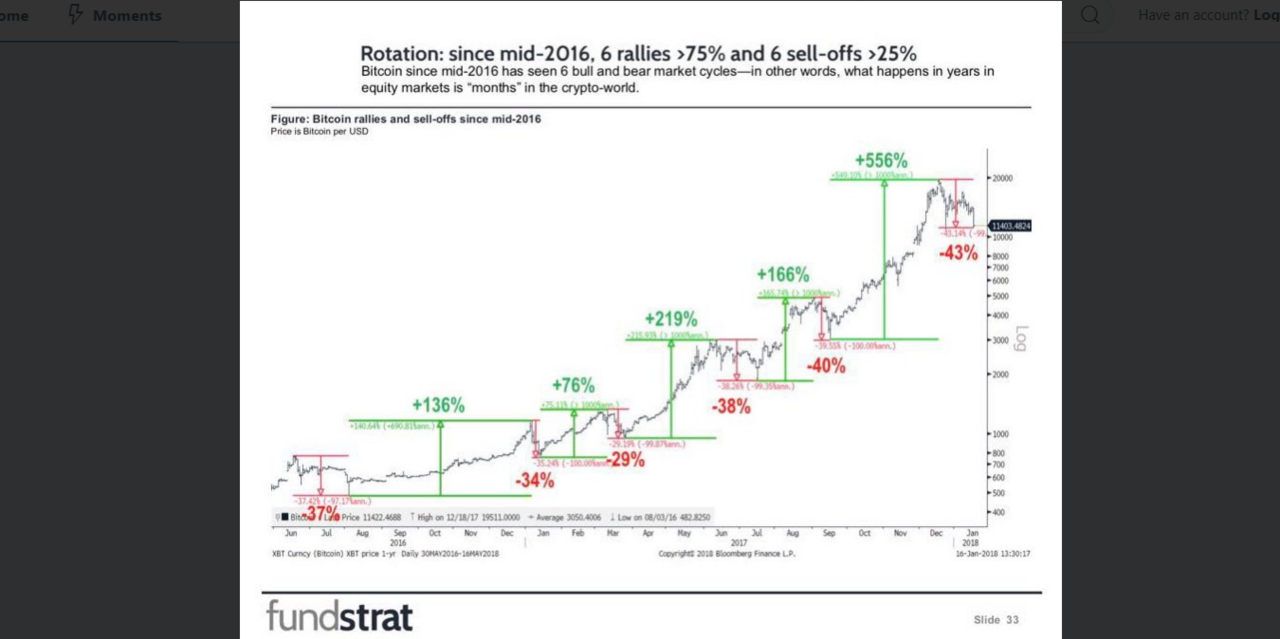 (Source: https://twitter.com/iamjosephyoung)
Just going back to mid-2016 you can see that bitcoin has dropped by over 25% on 6 separate occasions.
After which it rallied by more than 75% in every single one of them, not including this most recent time.
Not only that, but after each drop it has gone on to make new highs.
Basically, bitcoin has traded like a penny stock, on steroids.
This time is not exactly like the others.
As you can this most recent drop hasn't fully been updated on the chart yet.
It would make for the largest drop percentage wise over this time period by a significant margin at roughly 62%, while most of the other drops topped out around the 40% mark.
However, this run up was also different in terms of its magnitude.
It was up roughly 550% before it dipped!
Which was more than double the move in any of the other run ups during this time period.
Which means, perhaps this move was just making up for skipping the last dip along the way?!
Final thoughts:
Yes this drop has been scary, but looking at recent history and the giant run up we saw preceding this drop, it certainly wasn't out of the realm of possibilities.
Looking at the last few years of trading shows me that large drops and subsequent recoveries have been somewhat the norm for bitcoin.
So, while this time could very well be different (very dangerous words in Finance by the way), the more likely outcome could be more of the same phenomena that we've seen pretty consistently over the last 18 months.
You decide.
Stay informed my friends.
Follow me: @jrcornel