Why you should get one
Following the recent hack on Steemit, the latest attack on Bitcoin's Bitfinex has resulted in the loss of tens of thousands of BTC. As the dust has yet to settle, many experienced users criticise leaving your funds on a centralised entity rather than managing them on your own device. But with malwares so prevalent and personal devices so vulnerable to dedicated attacks, how can you be sure your digital assets can be safely held?
Hardware wallets are basically electronic dongles with dedicated chipsets that manage your cryptocurrency keys for you. Everything are done under-the-bonnet and your private keys never leave the device. Using their own clients or supported third-party apps, the fund are organised and transactions are signed and broadcasted to blockchain only with validations on the physical dongle.
There are the currently several hardware wallets available with prices ranging from 15 to 89 Euros but in this article, I will be giving my hands-on review on the newly released Ledger Nano S (58 Euros) showing how easy it is for you to store your digital assets on a device of this kind. And while STEEM is not yet supported by any hardware wallets, hopefully this guide will offer you an insight into the kind of technology that is available in the cryptocurrency space. So when the support do eventually come, you will be more informed on whether it is worth making the switch.
First Impression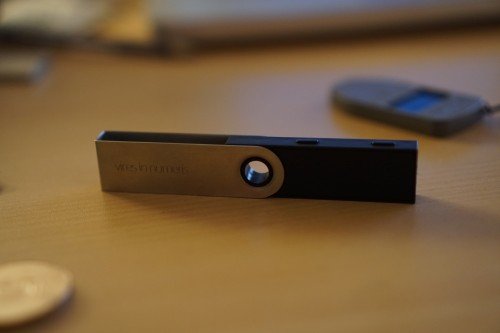 Ever since Apple first took electronic gadgets into the realms of trendy accessories with its premium packaging and having done away with manuals thick enough to be used as paperweights, virtually all digital product had followed suit. Ledger Nano S is no different.
In the sleek box, you will find the hardware wallet, USB cable, a lanyards, this weird cord and an empty key ring. I couldn't figure out how to connect the accessories since there isn't a dedicate attachment point and the massive hole seem a little too big. Anyway, that's not important.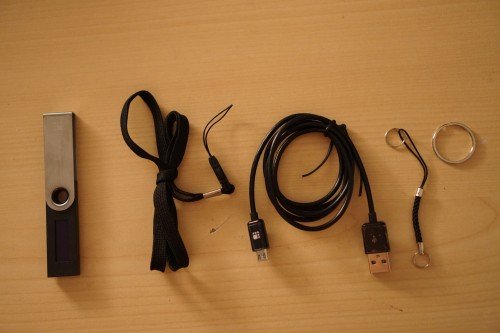 The bundle also contains a "Recovery Sheet" and the typical "Getting Started" card with the tutorial URL stamped on the back.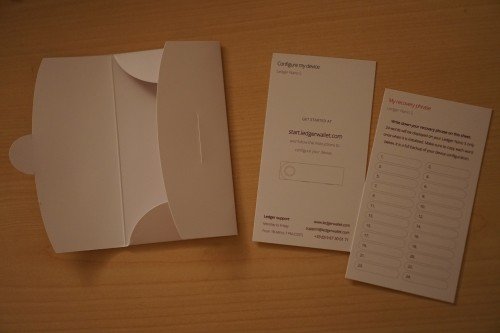 The device itself feels steady and well made. While the machine finish on the metallic casing have a very minor blemish at the edge, the plastic section that house the electrical components is seamless and does not flex even when the two buttons are pressed.
The screen is very bright and clear with a cool blueish hue.
The only gripe I have is that the tactic feel to the two button feels a little uneven but I am seriously been picky here.
Setting up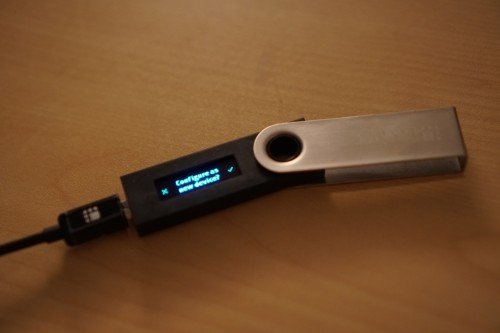 The process was completely painless. You are taken through a series of straightforward instructions on its LCD screen that assist you in securing and personalising the device.
First, you will be asked to enter 4 digits PIN number using the two buttons to cycle through the numbers 0-9 (I hated Trezor for not including 0) and both buttons as "next". This way, even if the device is lost or stolen the wallet simply will not boot up.
The device will then display a sequence of 24 words for you to write down onto the bundled "Recovery Sheet", so in the event you losing the hardware wallet, you can regenerate an identical wallet on a new device and resume your to access your funds.
After you confirmed you have written down the recovery phrase, the device will challenge you by asking you for the n-th and m-th words from your sequence. Once you have correctly selected the two words from the list, the set up is complete. The whole process must had taken me less than 10 mins. Easy. I loved it.
With the previous Ledger Nano and HW.1, this took A LOT of messing around. Without a screen, the only way for you to set up in a sterile environment is to download the image for a clean USB boot (yeah, if you don't know what I am talking about then this will be a hassle for you!).
User Experience
Ledger Nano S comes with clients for both Bitcoin and Ethereum (and Fido U2F which I will explore later), this makes it the first ETH hardware wallet! *Party popper* The clients can be downloaded as Chrome extensions and the same device can supports a BTC and a ETH wallet. After entering your PIN code upon initialisation, you will need to choose the wallet which you would like access, meaning that you can't have both wallets opened at the same time.

The Bitcoin wallet remain the same as its previous reincarnation and has remained as my favourite out of all the wallets I have used (Trezor and Electrum look like they have been designed by coders). The layout is clean and displays the balance (in BTC and its FIAT equivalent) and all the transactions with the minimal amount of fuss. The buttons are polished and easy on the eyes while the text are just... nice!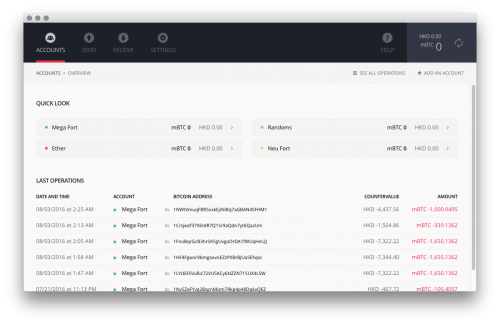 What made this something for the mainstream market is how it do away with a lot of unnecessary options. Just choose your preferred denominations (BTC, mBTC or bits), local currency, language and away you go. Advanced options like choosing you blockchain viewers are available but they are tucked away neatly behind a well organised menu system.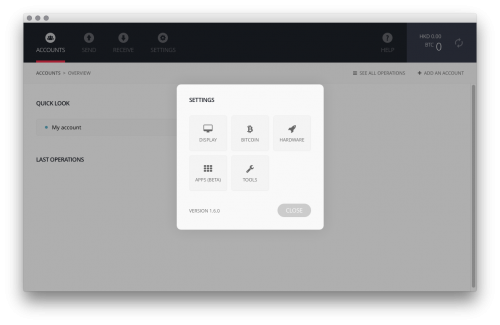 Being Hiercharchy Deterministic you can choose to open multiple BTC accounts, each generating new address each time you make a transaction making it a little more difficult for people to trace back to you through the public Blockchain. All the public and private key management are done under-the-hood so to you all the funds will be accounted for no matter how many time the BTC has been split through multiple addresses.
On Trezor, the next competing hardware wallet maker, I had great difficulties in finding a set up that embodies the same stylish functionality, even with all the supported third-party apps that is available.
The Ethereum wallet, on the other hand, is very rudimentary with only a transaction history and option for send and receive. Without the Hiercharchy Deterministic setup, you will have to make do with ONE address! It is early days after all so new functions will be added to ETH and Ledger will implement the said changes into the UI, I am sure.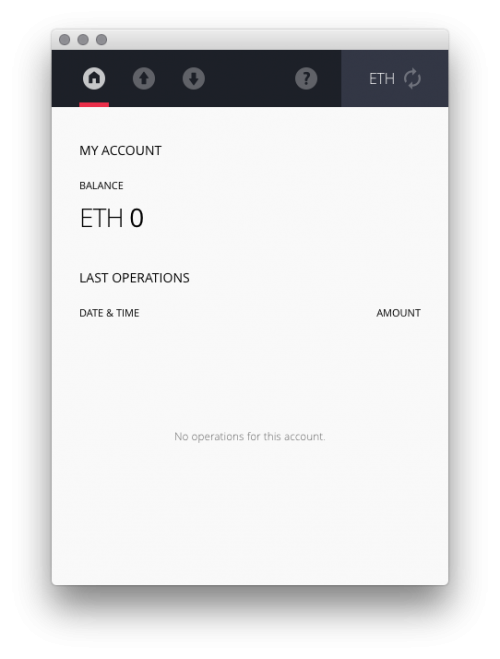 Summary
After setting up Nano S, it took me as little as 2 mins to familiar myself with the Ethereum wallet and start pulling my ETH from Poloniex.
A lot of work and care had gone into this to make this a really user-friendly experience but mostly important of all the security measures and fail-safes will give you the ultimate peace of mind of safely controlling your private keys, while offering the ease-of-use that allow you focus on other things.
With the new screen Nano S had placed Ledger on the same level as Trezor. The added bonus of Ethereum support and the better designed UI made this the best hardware wallet for me.
Alternatives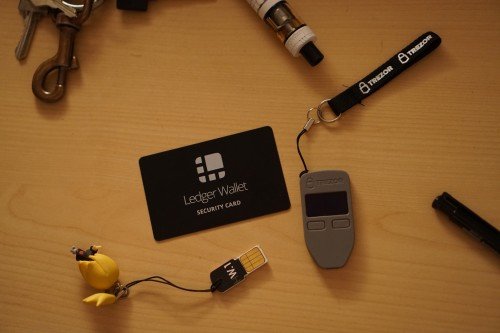 Ledger Nano and HW.1 - priced at 30 and 15 Euros respectively, these are the best budget level hardware wallets available. Without a screen for confirmation, users had to key in codes from the translation table or use smartphone app to validate their transactions. It's a messy operation but one I would endure for it sleek client app.
Trezor - Before Nano S came on the scene, this has been hailed as the ultimate cryptocurrency security solution. Unfortunately for me, I have been spoilt with the Ledger UI and I have only been using my Trezor to diversify my store (if one chipset or client has been compromised, I will have an alternative system to move to) and to handle my DASH. All my BTC transactions were done on the Ledger because it client were so much nicer to work with, but that's all subjective and Trezor is a very solid device in its own right. Do look this up.
KeepKey - a very similar device to the Trezor but with a very fancy elegant design. I have not used this so I welcome comments from those who have.
Have you used a hardware wallet you wanna recommend? Got a question? Leave it in the comment and I will do my best to assist.