Time: 8.38 A.M. / GM+2 /1st Mar, 2018 – Thurs.
In our previous post / 512 / we had forecast the trading range will be between 10.15K and 11.70K, and the intraday high was 11.14K as the range between 11.2K and 12K act as stiff resistance. The reason why I wrote in comment yesterday about possible down move to retest the support 10.15K before to continue the expected climb.
Traders on the 4-HR chart, waiting for a likely return-move to retest 10.15K level, before entering a long position, they will place a stop-loss anywhere under key level, below 10 K - Target 1: would be 11.7K .. Target 2: would be 12.8K on near term.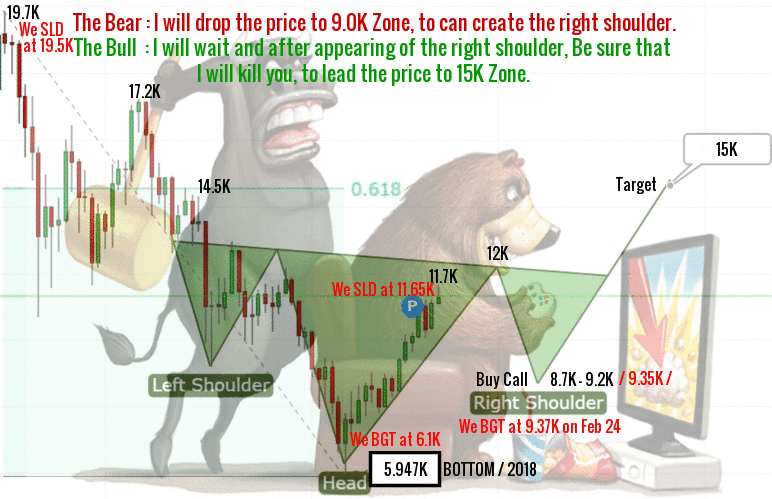 What Next !
Bitcoin declines calmly below 10.70K, as most of traders took profit around 11.14K level, to push the price down to 10.20K. We believe, EMA50 will stop the current decline, to limited it around the support 10.15K. So I still wait for a breakout of 12K level, that will complete the inverted head and shoulders pattern on the above chart to push the price toward 12.8K ( 61.8% Fib extension ), 13.7K ( 76.4% Fib extension ) to hit finally the full extension at 15.1K before the end of March. When the bull journey will take end, moving the ball on the bear court. Some say this is "Bull Trap" I say this is "Bullish VOB" . And until clear break below 9.37K ( my BGT call ) we are on the bull mode.
What About Today!
Bitcoin is currently trading around 10.35K at time of writing and the trend for today is bullish, supported by:
Moving averages / is adding strength to the support zone
around 10k as a floor.
Stochastic / is on the move up to suggest another buy signal.
Most likely the price will move from here to break 10.70K again, to open the way toward 11.2K.
Support : 10000.00 level (Major).
Resistance : 11500.00 level (Major).
Expected trading for today:
is between 10000.00 support and 11500.00 resistance.
Expected trend for today :
Bullish.
Medium Term:
Bullish.
Long Term:
Bullish.
The low of 2018:
5947.00 / IHS Bottom.
The high of 2018:
25000.00 level / Expected.
Thanks For Reading..
YOU SHOULD NOT TAKE ANY MATERIAL POSTED ON THIS BLOG AS RECOMMENDATIONS. TO BUY OR SELL BITCOIN OR ANY OTHER INVESTMENT VEHICLE LISTED.
What You Know About --> Fibonacci Retracement in Trending Market.