Many news have run the last few days around the world and have begun to give confidence to the bulls to enter the cryptocurrency market, especially with the BTC.
The regulations in Malta and the legalization of the cryptocurrency, the exchange houses that have been approved in Japan, the SEC seeking the way to put cryptocurrencies in the investment portfolios, meetings of the European Union to regulate the cryptocurrency market, large banks making investments in cryptocurrencies and on the Latin American side the opening of Colombia to this area, as well as the restoration of some exchange houses in Chile, the high volume of transactions in Venezuela and Argentina are just to name a few facts that little by little have given respite the Criptomercado on a global level.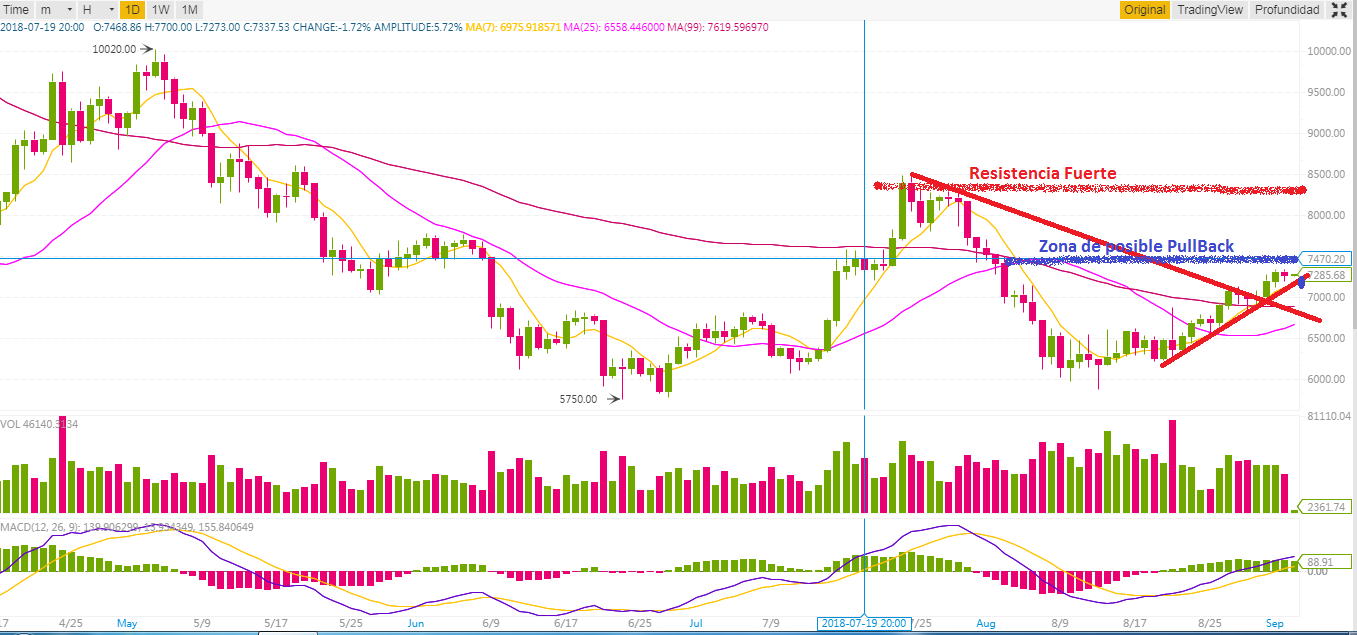 Chart 1 Fuente

After recognizing that the global market is opening more and more to cryptocurrencies, it only remains to do a small Technical Analysis to determine the course of the main Cryptocurrency and to decide how we can invest.
Price Action
In chart 1 we can see the general panorama and we realize that the general trend is still going down, and will continue until the price exceeds the $ 10,000 barrier.
We can think that we are in a market in recovery, and we would be right, but it is necessary to mention that there is a possibility of PullBack in the area of $ 7,470, which could take us back to the level of $ 6,000.
Breaking the first Barrier, where the blue line (PullBack zone) will give strength to the price to find the first Strong Resistance at $ 8,400, which will be a test of fire for the price of the world's main cryptocurrency.
Some indicators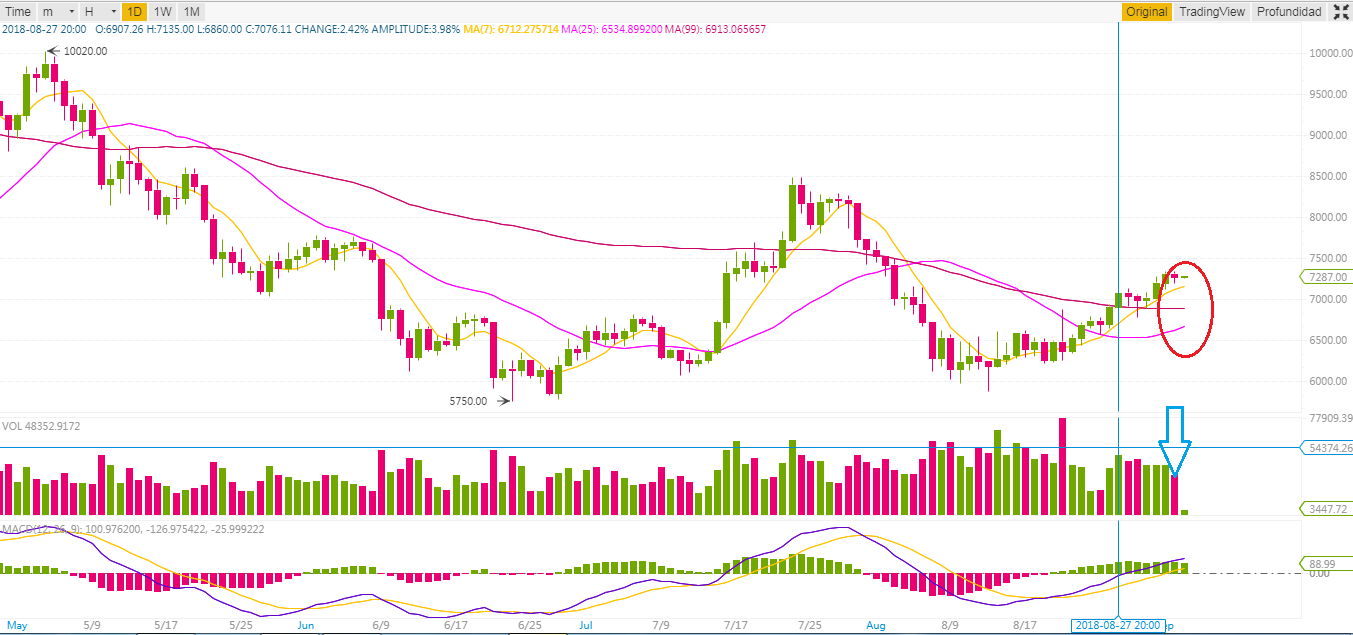 Chart 2 Fuente
Chart 2 highlights a possible triple crossover of EMAs on the rise, which would definitely increase the confidence of the bulls and we would see more aggression towards the rise in prices.
Another situation that highlights this graph is the volume of transactions from the previous session, which closed down with a volume lower than the previous sessions, with which we can assume that the bears were not able to enter to dominate the market and the bulls once again took control of prices.
RSI

We see an RSI near the upper limit about to go into Over Purchase, without any sign of divergence, I think we still have a long way to go in this trend.
Stochastic Oscillator

With several sessions navigating in the area of Over Purchase could say that the PullBack comes. I prefer to wait for that PullBack in the area indicated in Chart 1.
Time to keep your BTCs stored, because there is a significant increase by the middle of this month
I want to exempt my responsibility for any decision you can make based on this post. What is described here is not an investment advice, it is simply the product of my own analysis, which I have wanted to share by this means