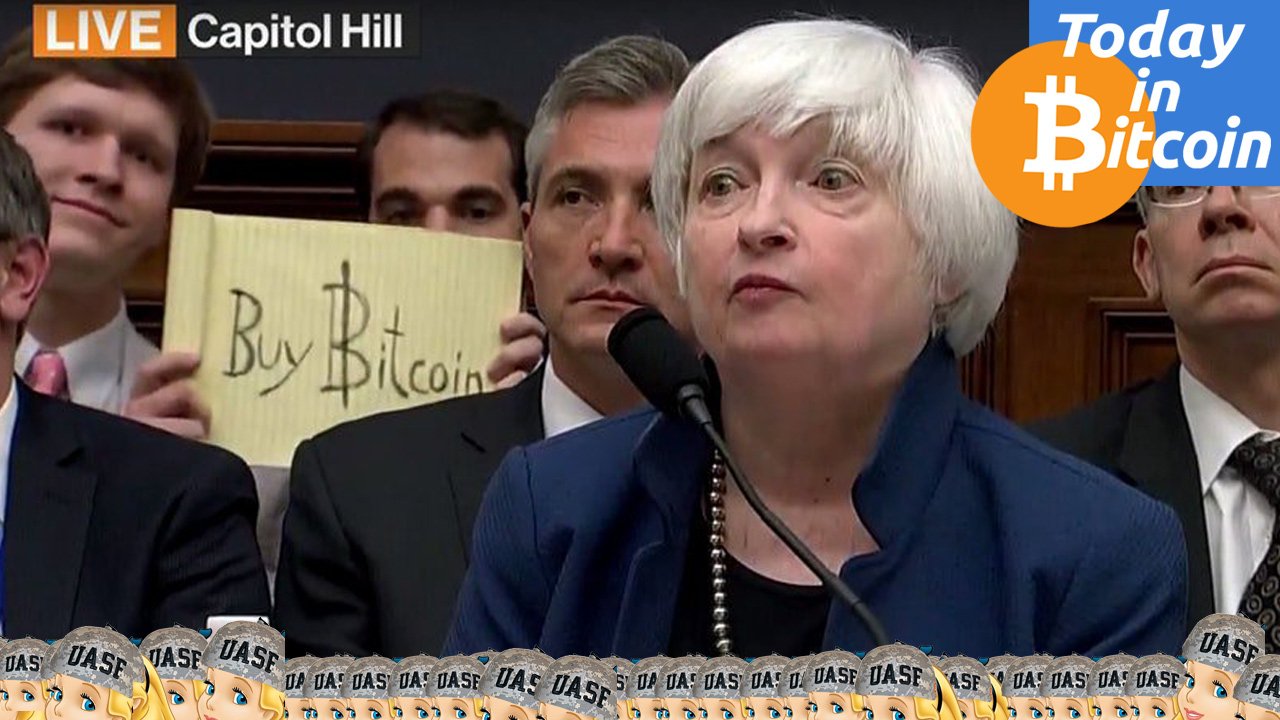 Someone held up a sign that said "Buy Bitcoin" directly behind Federal Reserve Chair Janet Yellin, when she was speaking about her refusal to audit the fed. The sign received major exposure in all of the financial press and the sign holder himself has received more than 2 bitcoin in donations. Nice work.
The mainstream media has discovered the Bitcoin Civil War and the marvel references are flying fast as the CORE team takes on Segwit2x in a battle of brother vs brother. The Stephen Pair quote from yesterday's bloomberg article continued to set the scene as a battle of Moderates vs. Extremists, not as Corporations vs. Scientists. Not a single member of the core development team has signed on to the New York Agreement and yet they plan to push the code through anyway. They must stand to gain so much, they don't care what they are losing.
The Postal Service in Austria is now selling Bitcoin and other cryptocurrency vouchers directly thanks to a deal with local exchange Bitpanda. Österreichische Post has more than 400 locations in Austria and more than 1,300 partner stores. The United States postal service once considered a similar idea, but they move at a snail's pace.
A bizarre report from Morgan Stanley suggests that Bitcoin should be focusing on retail. The report seems to ignore the success of the credit card industry locking up retail in America with their rewards cards and their ubiquity. The report failed to take into account Bitcoin's usefulness as a store of value, a universal global savings account that can only be emptied by the person with the key. Like the chicken and the egg, I don't think retail will be coming before savings and investment.
Meanwhile, the price of Bitcoin was up 0.88% in the last 24 hours, with a last of 2359, a high of 2405 and a low of 2333.
Thank you for watching. Be sure to Like, Comment and Subscribe.
Today is Thursday July 13, 2017
My name is Thomas Hunt
And that's what happened, Today in Bitcoin…
LINKS:
Someone held up a 'buy bitcoin' sign during Yellen's testimony to Congress
http://www.cnbc.com/2017/07/12/someone-held-up-a-buy-bitcoin-sign-during-yellens-testimony-to-congress.html
The Finance World Is Preparing for a Bitcoin Civil War
https://futurism.com/the-finance-world-is-preparing-for-a-bitcoin-civil-war/
Postal Service Customers in Austria Can Now Buy Bitcoin, Ether and More
http://www.coindesk.com/postal-service-customers-austria-can-now-buy-bitcoin-ether/
Morgan Stanley Says Investors Shouldn't Buy Bitcoin. They Should Spend It
http://fortune.com/2017/07/12/buy-bitcoin-morgan-stanley-cryptocurrency/