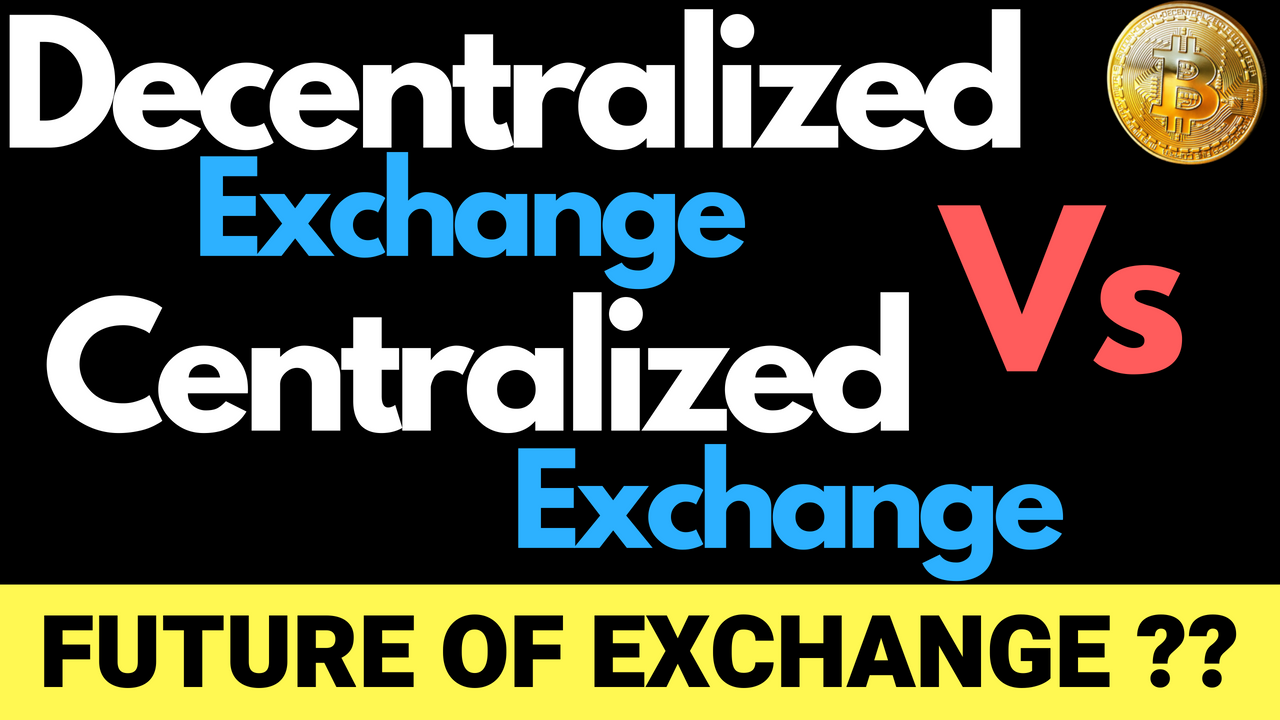 Hello Friends,
This blog is all about comparison between decentralized exchanges and centralized exchanges so that you can understand the basic difference between both of them .
So let's Understand first About Centralized Exchange and its pros and Cons
What Is Centralized Exchanges
Centralized exchanges are those where one exchange works as an intermediator which allow us to trade BTC or crypto against fiat currency such as binance , kucoin , bittrex , poliniex and many others .
Pros Of Centralized Exchange :
1- Easy To Use even for amatures and beginners .
2- Advance features available like ( Margin Trading & Stop loss)
3- High Volume So no problelm with liqudity
4- Trades are much faster as high number of transactions per second (Binance has 1.4 Million transactions per second)
Cons Of Centralized Exchange :
1- Exchange acts as intermediator so Trading fees is very high
2- Very high chance of exchange getting hacked and loosing all funds
3- Personal documents required for verification and to start trade (KYC Needed )
Whereas now let's talk about Decentralized Excahnge :
What Is Decentralized Exchange?
An exchange which doesn't require third party or intermediator to hold the investors fund ,here trade occurs between 2 users of the platform which you can even call as P2P (Peer to peer) .
For example if Mark want to buy 5 Bitcoin and Alia want to sell 5 Bitcoin then both will trade amoung themself on platform so there is no need of third party interference in such exchange .
Example of Decentralized exchange are Etherdelta , IDex , switcheo & Nex .
Pros Of Decentralized Exchange :
1- Very Low or nearly no trading fee .
2- Users controls there private keys so no fear of exchange hack and loss of funds .
3- No Kyc Required for verification you can directly start to trade by opening a wallet .
Cons Of Decentralized Exchange :
1- Difficult to use for beginners .
2- Low volume of exchange so liquidation is big problem until full adoption of these exchanges come .
3- For trade need to wait long to match with specific trade value because of low volume .
4- No margin or stop loss available till now .
So for now this is it about both the exchanges but now the main question arrises are the Decentralized exchange Future of crypto exchanges ? Can they replace centralized exchange ?
For me what i feel is Decentralized exchange like switcheo - https://switcheo.exchange/ can be similar like Binance and the early adopters of this exchange and coin can have the max advantage to buy it at lowest price .
Right now if i talk about the coin price is just about $0.0168 and once it is adopted by masses its value can rise just like binance coin as well .

So for me Decentralized exchange can be the future and for me i am in for switcheo coin as well as you never know when we will see this to be mass adopted and hence earn big profits over it as well .
Here Is The Video For My Friends who understand Hindi Language :

Whats your thought about them pls comment down below so i can know what you feel about it ?
Thanks
Sumit kapoor
@moneyguruu