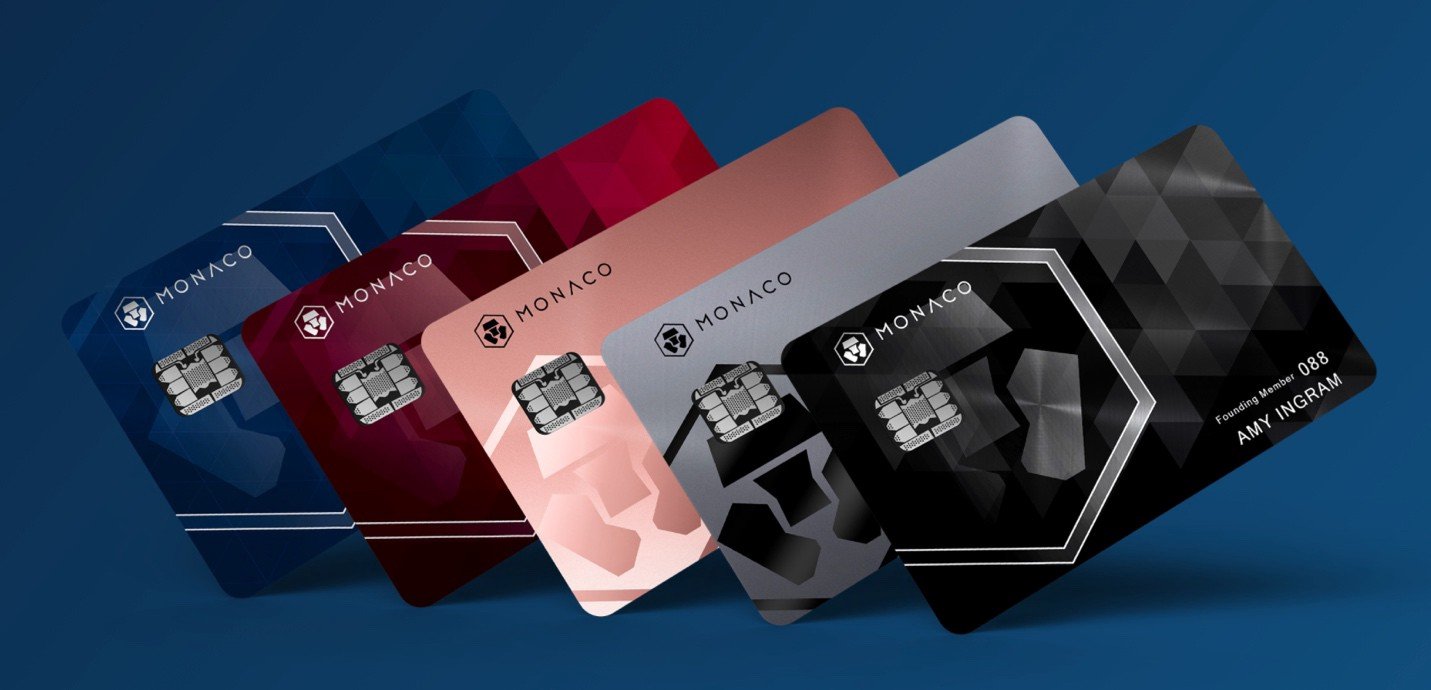 Here's what you need to know:
1) Monaco unveiled a full portfolio of five cards today: Midnight Blue (Classic plastic card), Ruby Steel, Space Gray, Rose Gold (Platinum metal cards) and Black (Limited Edition Platinum metal card)
2) All Monaco cards, including Platinum cards will be free: no monthly fees, no annual fees, no shipping fees
3) Monaco Platinum cards come with industry leading 0.75% cryptocurrency cashback on all purchases and US$500,000 travel insurance
4) Monaco Platinum cards will only be available to MCO token holders, who purchase 50 MCO (Ruby Steel card), 500 MCO (Space Gray, Rose Gold cards) and 50,000 MCO (Limited Edition Obsidian Black card) respectively; MCO tokens will be held for a 6 months period, after which users can deposit their tokens back into their Monaco account and continue to use their card fee-free, no strings attached
5) Users can download Monaco app on both iOS & Android to go through a simple three-minute onboarding process and reserve their card starting today
6) Monaco is going for maximum platform growth strategy with no fees for users; that means that even the 1% contributions to asset contract will be paid by Monaco from the interchange revenue and not by the users as it was described in our whitepaper
7) Monaco will be rolled out globally in stages, as each region requires separate issuing capabilities; we remain fully committed to be 100% compliant with local regulations in every market we are targeting — we begin with Asia, followed by Europe (Q4 2017) and North America (2018); first cards are expected to ship end of September, with weekly card shipments gradually increasing from October till the end of the year; we expect demand to massively outpace supply in the first 12 months, so users are encouraged to reserve their cards early
8) Further announcements will be made regarding approvals from card schemes in each of the regions & markets
9) MCO token is going to be spendable at 40m+ merchant locations globally with the Monaco card from day 1; you will be able to convert MCO token to BTC and ETH right from the Monaco app
10) Monaco has a very small quantity of Obsidian Black cards on hand from the original 999 pool and is making those available for contributors who decide to hold 50,000 MCO for 6 months — if you missed out on one during the token sales, this is your last chance to get one
Finally, a few words regarding what's next. In early communications during our token sale, we have listed several key milestones to look for as those that will drive value creation for MCO token holders. These were:
A) Announcements regarding MCO getting listed on exchanges (particularly in China)
B) Monaco app launch
C) Card scheme program approvals
D) Users receiving & reviewing first cardsFrom this initial milestone list, we have now delivered on 2 out of 4. We're looking forward to delivering on the rest. It's also a good moment to share our thoughts on what will continue driving the growth for Monaco in Q4.
E) Europe mass rollout to ~30 countries
F) Two new and previously unannounced product features critical to user growth
G) Q4 users & transaction numbersWe'd like to thank the community for the overwhelming support we have received so far. We take your feedback and ideas seriously as we continue to build Monaco into a product you'll love to use and a global brand you trust.
"Cryptocurrency in Every Wallet" — let's make it happen together!
(From left to right) The Monaco founding team: Rafael Melo, Chief Financial Officer; Kris Marszalek, Chief Executive Officer; Gary Or, Chief Technology Officer, Bobby Bao, Managing Director
Kris Marszalek
Co-founder & CEO
Monaco