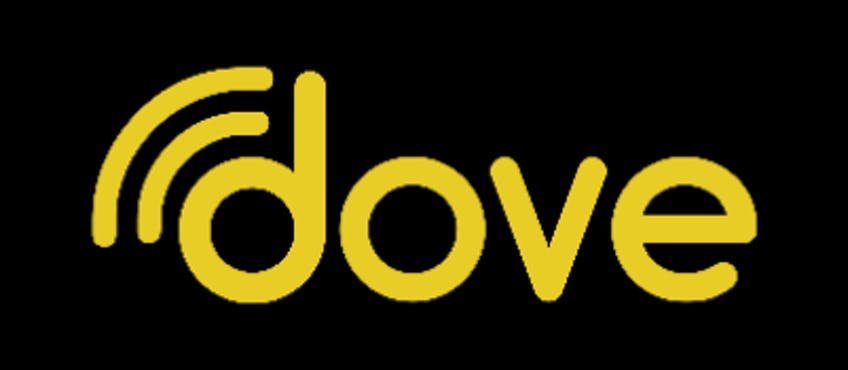 Dove network is a peer to peer internet sharing platform that allows monetization of data in the dove mesh network, the innovative features of dove open source application, dove blockchain and equipment's will allow global internet access.



TOKEN UTILITY
DOVE Tokens will be used as an incentive between sellers and users to allow a consensus data exchange on the Dove network, the total supply is 10 billion tokens which I believe is not that much considering the target market which I have covered in this article DOVE NETWORK MARKET & INDUSTRY comprising of over 4 billion potential customers.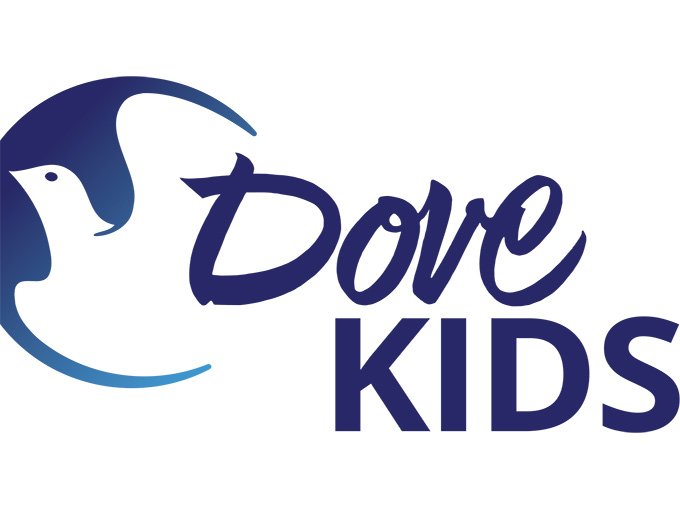 DOVE NETWORK ICO
A total of 10 billion tokens will be minted for use on the Dove platform, this token will be ERC20 Compatible tokens generated from the Ethereum ecosystem. The Dove team as chose the Ethereum ecosystem due to its ability to scale, smart contract features and its open distributed ledger technology.
TOKEN: DOVE
PLATFROM: Ethereum
DOVE TOKENS.png
The tokens will be distributed in this ration:
👉35% of the tokens will be used for operational reserve
👉29% will be for the public token generation event.
👉20% of the tokens will be reserved for the DOVE Team and its Advisors.
👉6% of the tokens will be sold during the ICO Private Sale.
👉5% of the tokens will be used network incentive.
👉5% will also be used and reserved legal and institutional use.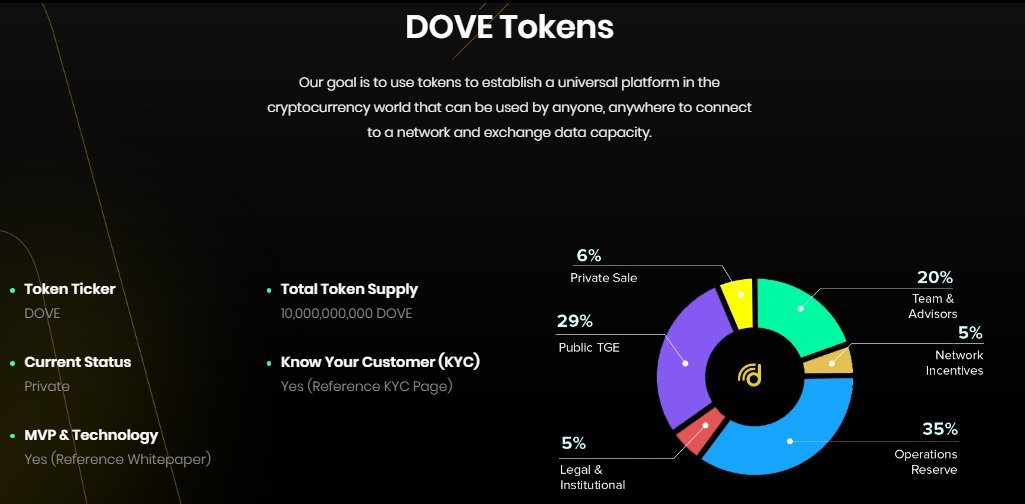 DOVE NETWORK USE OF FUNDS
The funds collected during the ICO Will be used for research and development of the Dove network, open source application and development of the DOVE Wave which is currently a prototype router developed by the team that will be used increase the number of internet service providers (ISPs). It's important to note that the team has plans to build several equipment's such as the DOVE Beam which has capabilities of longer range than any other traditional router. The highest challenge of venturing into the internet service providing industry is the equipment needed to allow this happen though the innovative idea of decentralized nature of the platform to allow anyone with equipment to be a service provider the DOVE Team will help in providing their custom ewuipments that will help in providing
Conclusions
The DOVE Network is a noble cause that has a very good business that is well needed and has a very high potential for future use as I have covered in my previous article concerning the DOVE MARKET AND INDUSTRY article, their ICO is very well organized and the team has high explanatory videos that can be found on their official YouTube page Early investors in the project can reap huge benefits if the start-up delivers its promise. With government supporting such policies and a wide demand for the market in future brought about by revolution such as digitization and the Internet of Things era; this is a good project to keep your eyes on.
References
Internet World Statistics. 2018. World Internet Users Statistics and 2018 World Population Stats. [ONLINE] Available at: https://www.internetworldstats.com/stats.htm. [Accessed 16 June 2018].
Data Centre Frontier. 2018. Internet of Things Driving Change in Data Center Industry. [ONLINE] Available at: https://datacenterfrontier.com/internet-of-things-driving-change-in-data-center-industry/. [Accessed 16 June 2018].Network World. 2011. Laws of Internet Resource Supply and Demand. [ONLINE] Available at: https://www.networkworld.com/article/2221141/application-performance-management/laws-of-internet-resource-supply-and-demand.html. [Accessed 16 June 2018].
UNited Nation News. 2013. Demand for Internet and mobile services rising due to lower prices – UN report. [ONLINE] Available at: https://news.un.org/en/story/2013/02/433012-demand-internet-and-mobile-services-rising-due-lower-prices-un-report. [Accessed 16 June 2018].
More information:
Web site: http://dove.network/
White paper: http://dove.network/wp-content/uploads/2018/05/Whitepaper.pdf
Twitter: http://twitter.com/dovenetworketh
Facebook : https://facebook.com/dovenetworketh
Author: momy08
BitcoinTalk Profile: https://bitcointalk.org/index.php?action=profile;u=2297541
Ether Address: 0xB63399943882584e9FD2321a590a0a1c7C1E8EC6