The Internet moves very fast. In the old world, we could afford to sit and analyze forever. But in the new world, the first mover has the advantage. - Author Raymond Kwok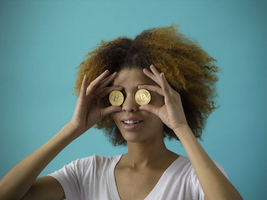 Thought Catalog
Bitcoin
Can you buy 1 full Bitcoin for just $0.0009?
History says, on October 12, 2009, someone sold 5050 Bitcoins for $5.02, which translates to $0.0009 per 1 Bitcoin.
A Finnish developer Martti Malmi, who reportedly helped Satoshi on Bitcoin, made the aforementioned sale.
Wow! 1 Bitcoin for $0.0009!
But then in the beginning nobody was willing to buy Bitcoin. So, it had no price.
The pioneers behind the coin had to trade the "innovation costs" for the "first-mover advantage".
While others trade the "imitation costs" for the "free-rider effect".
The early bird, as the adage goes, gets the worm. However, the second bird saves energy on the scouting.
I happened to be Googling for the initial price of Bitcoin and came across a piece by one Ofir Beigel: Bitcoin Historical Price & Events
Whoa!
$0.0009!

🍎
Previous Posts
Twinkling Along With Joseph
John Boyd's OODA And You
Grand Story + Story + Facts = Meaning (Advanced Writing Course Materials)
I Missed The Gorilla... Did You See It?
Whoever That Said "Fear + Manipulation + Domination = Witchcraft" Is A Superlative Genius
Tom Robinson's Predicament
Time Once Lost: She Once Was An Angel...
Amazing, The Original Myth Explains The Second Myth
When Words Failed...
When Conmen Marry...
Heraclitus: You Can't Step Into The Same River Twice, Can You?
Mimetic Theory: Is This The Best Way To Understand The World?
Absolutism Vs. Relativism, Which Side Are You On?