Yesterday, we had a look at STEEM/BTC and noted that STEEM has been declining for 5 consecutive days now vs. Bitcoin. Today, let's have a look at BTC/USD, and see what's happening with Bitcoin.
Here's a snapshot of the daily chart for BTC/USD: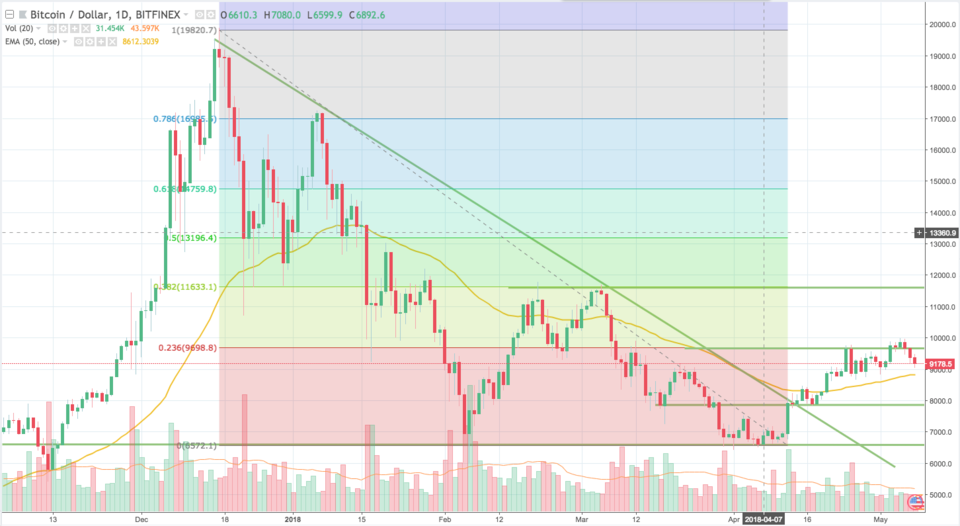 First, I drew a Fibonacci retracement model based on the massive drop earlier this year, where prices came from a peak of almost $20,000 and moving all the way down to around $6,500, a massive 67% decline.
As you can see on the right side of the chart, price would then hover for sometime between $6,500 and $8,000 before successfully surpassing the $8,000 resistance. Once it surpassed the $8,000 mark, there was no turning back, moving above the 50-EMA to reach just shy of $10,000. On the far right bars, prices have since declined a bit to trade at $9,100 at the time of writing.
Initial support is at $8,800, which is where the 50-EMA line is currently sitting. Below this, the $8,000 mark will once again be the focus to support any decline. On the other hand, the $10,000 level is proving to be a formidable resistance this time around. This area would constitute the 23.6% retracement mark. Further above, the 38.6% retracement sits at the $11,600 level.
So as we can see, even though STEEM is declining against Bitcoin, Bitcoin is itself struggling against the USD, although not to the magnitude of STEEM's decline over Bitcoin. This would indicate STEEM has likewise been declining over USD, and has been doing so at a much faster clip than Bitcoin.
It would seem we are in the midst of another storm. Again, for long term holders, I still personally believe in the fundamental prospects of both Bitcoin and STEEM. We just have to wait it out during these rough periods.
Risk Warning: All comments, charts and analysis on this post are purely my own and should in no way be treated as recommendations or advice, nor should they be construed as an endorsement or recommendation to buy, sell or hold. Please do not trade based solely on the information provided on this post. Furthermore, past performance does not guarantee future success. Always do your own due diligence and analysis when trading.
Chart courtesy of TradingView