We would love to announce that the token purchasing period is officially paused at the price of $0.00012
If you have not yet participated in the token season or accessing and purchasing Twogap on the market, please don't worry. Because the public IEO of Twogap will be launched on May 22nd 2019 on Bitforex.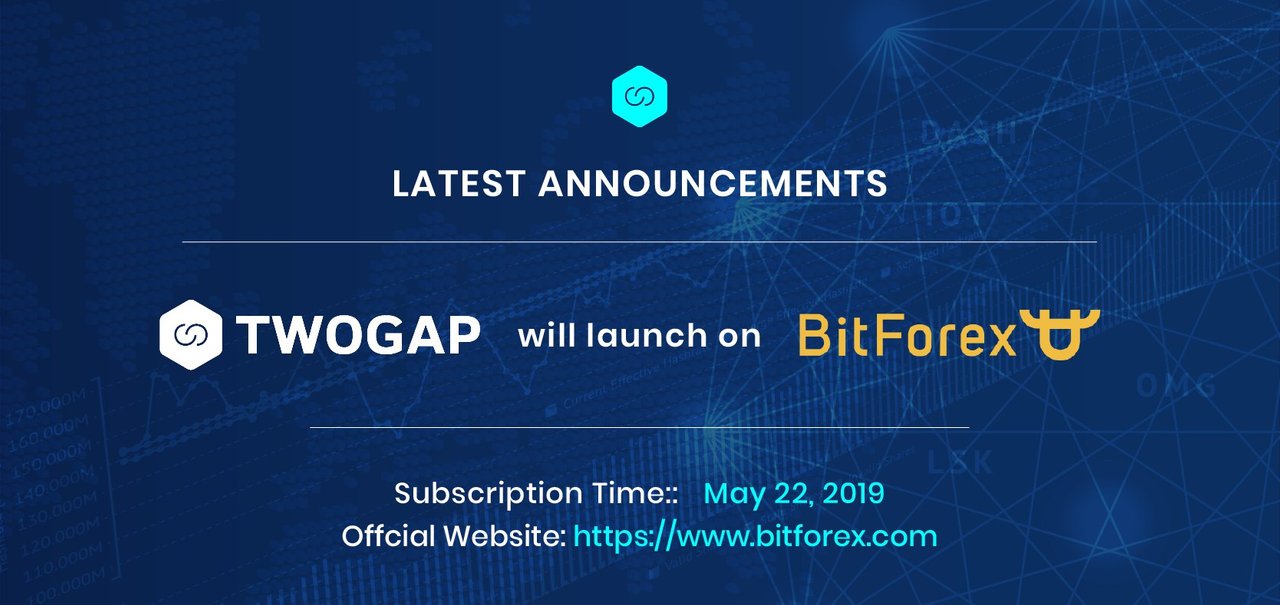 The Twogap platform is the next generation of Crypto—it focuses mainly on the cryptobond market, whose potential is now over $100 trillion. The Twogap platform provides Cross-Exchanges Protocol solutions for bond issuers, helping them convert and encrypt bonds to cryptobonds efficiently.
The goal of this project aims at releasing the Crypto market out of its middle-scale trap. It is called "middle-scale trap as the market cap of the whole crypto market has oscillated between the range of 100-200 trillion USD. People have been waiting for the breakout but there was no trigger. Within its solution, Twogap targets at increasing the liquidity of the market to trigger the breakout.
Brief information:
11% of total supply will be sold with a total cap amount of $3,000,000
Be listed on 2 exchanges: Bitforex and a Japan-based exchange (will be updated)
Start date: May 22nd, 2019
Two campaigns will be run at the same time for inter-support for the project.
First campaign - 3 determined steps:
Taken the brilliant advice from CZ, CEO of Binance from the article in 2017 on Steemit "I don't like big ICO", Twogap made a ready step on preparation and consistent strategy. And they believe this ready step will not only offer opportunities for contributors, investors, traders within IEO but also after TGT token has been listed on exchanges.
Step 1: Pre-IEO
Step 2: Pre-listing
Step 3: Listing after IEO
Second campaign - The supportive ally with IEO - Recruiting members for Global Cross-Exchanges Alliance
Twogap considered this campaign as a strategy to approach the global market for TGT Token to hold a market share and get controlled after listing.
Cross- Exchanges Infrastructure is a motivation and means to establish a Global Cross-Exchanges Alliance. Building Global Cross-Exchanges Alliance is a strategic route to launch the products and services of Twogap entering the market in the highest speed - Top Down Way.
Twogap is welcome to have Crypto Exchanges and Securities Exchanges to sign up to be a founding member of Global Cross-Exchanges Alliance. All the fees including membership, supporting services, listing, cross-exchange trading, etc. will be paid by TGT token. For this reason, the alliance is the solution to support traders, investors, etc. have the strongly official market to plan for buying TGT token as soon as possible after its listing, which also makes a great impact on increasing liquidity.
We are looking for contributors, investors, trades to accompany with our partners and us on promoting the Global Crypto Market take a breakout of Middle-Scale Trap. Let's imagine Ripple and IBM + Stellar provide solution on Cross-border banking payment when Twogap would be the infrastructure to link all the digital trading exchanges for Global Cross-Exchanges Alliance.
Special offers for TGT token owners
Cross-exchanges service for enterprise client is trading exchanges for members of Global Cross-Exchanges Alliance.
Cross-Exchanges wallet for end users, crypto individual investors, crypto traders.
Main invest products such as cryptobonds, cryptostocks, cryptogoods provided via Tokenized Platform + Cross-Exchanges infrastructure for individual and organization investors.
Competitive advantage:
Patent of Cross-Exchanges Protocol of Twogap is about to be applied for copyright signup in the US, Singapore, and other countries. This is the key technology which formed Cross-Exchanges Infrastructure.
Any application regarding this technology in the future must have permission from Twogap.
Economic values of TGT Token:
Ticket: TGT
Standard: ERC-20 in the time being, will be changed when Twogap Cross-Exchanges Infrastructure Chain is launched on Mainnet.
TGT token is utility token, not security token as it was verified by Howey test.
TGT token is applied to membership payment, issueance, underwriting, clearing, listing, cross-exchange trading fee, service fee, trading and bonus.
TGT is the only cryptocurrency allowed in the Cross-Exchanges ecosystem.
TGT token users: Investors, holders, traders, issuers, underwriters, securities exchanges, crypto exchanges which are members of Global Cross-Exchanges Alliance.