The hype around bitcoins has developed FOMO in a lot of people. I was one of them. Finally deciding to take the plunge, I started looking for sellers in different exchanges.
Since the early days of December 2017, most exchanges have stopped taking new registrations due to unprecedented demand. Moreover, these exchanges like Zebpay, Koinex, and Coinome have a stringent KYC procedure that in a way defeats the entire 'anonymous trading' feature of bitcoins. Despite what people feel, these procedures are a necessity given the number of scammers trying to make a quick buck by unscrupulous means. My story is one of these tales.
After much research, I zeroed in on Mycelium as the wallet of choice since it popped up frequently in my searches. Little did I know that it was going to take me down a slippery slope that would rob me of a lot of money. Mycelium has a feature called 'Mycelium Marketplace' where prospective buyers and sellers can meet up and exchange bitcoins for cash.
It was here that I came across a seller named 'Bitcoon2017' who claimed to be a miner and was selling the mined bitcoins at an attractive price (about 15% below the market-rate). The lure of a good deal quietened the silent voice of Caveat Emptor.
As soon as I clicked on 'Accept Trade', Bitcoon2017 texted me back wishing me a Happy New Year, while devising his plans to make my new year into a nightmare. As I enquired about the details on how to go about transacting, he informs me that he only takes bank transfers so that if I did not receive my desired bitcoins, I could take relevant action against him.
He forwards me his account details and asks for my wallet key in return. We confirm to each other that the details entered by the other party is correct and then we allegedly clicked send on our devices. The truth was that this guy did not honor his side of the contract and received my funds.
Smelling a fish after not receiving the BTC, I tried contacting him through Mycelium Marketplace, Whatsapp and voice call. While he did not receive the call, he tried to reassure me that he was facing a network issue which was preventing him from sending the BTC.
When two days had passed on this merry-go-round, I wised up and asked him to either provide the details of his having sent the BTC or I would take the legal route and involve his bank as well as mine to recoup my funds.
Since then, he has vanished from all social media and stopped responding to my texts and messages. I am attaching below the details of his account number as well as our chat history so that other buyers do not fall into his trap like I did.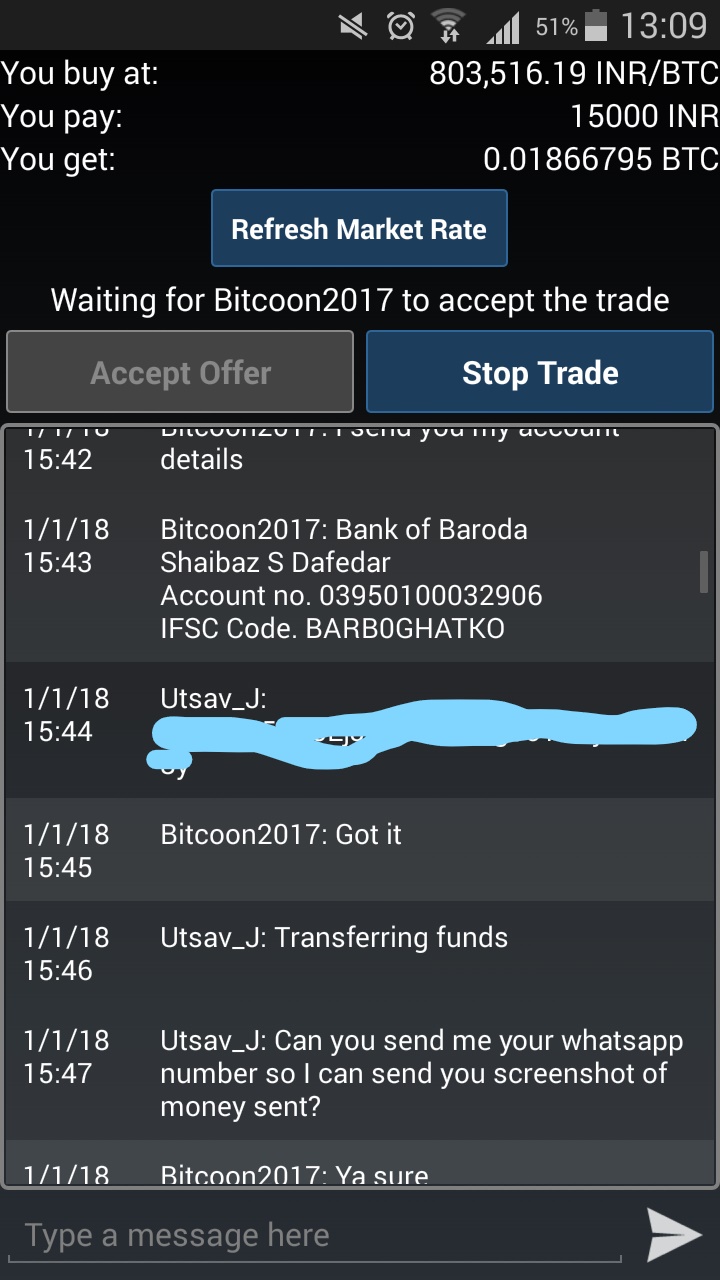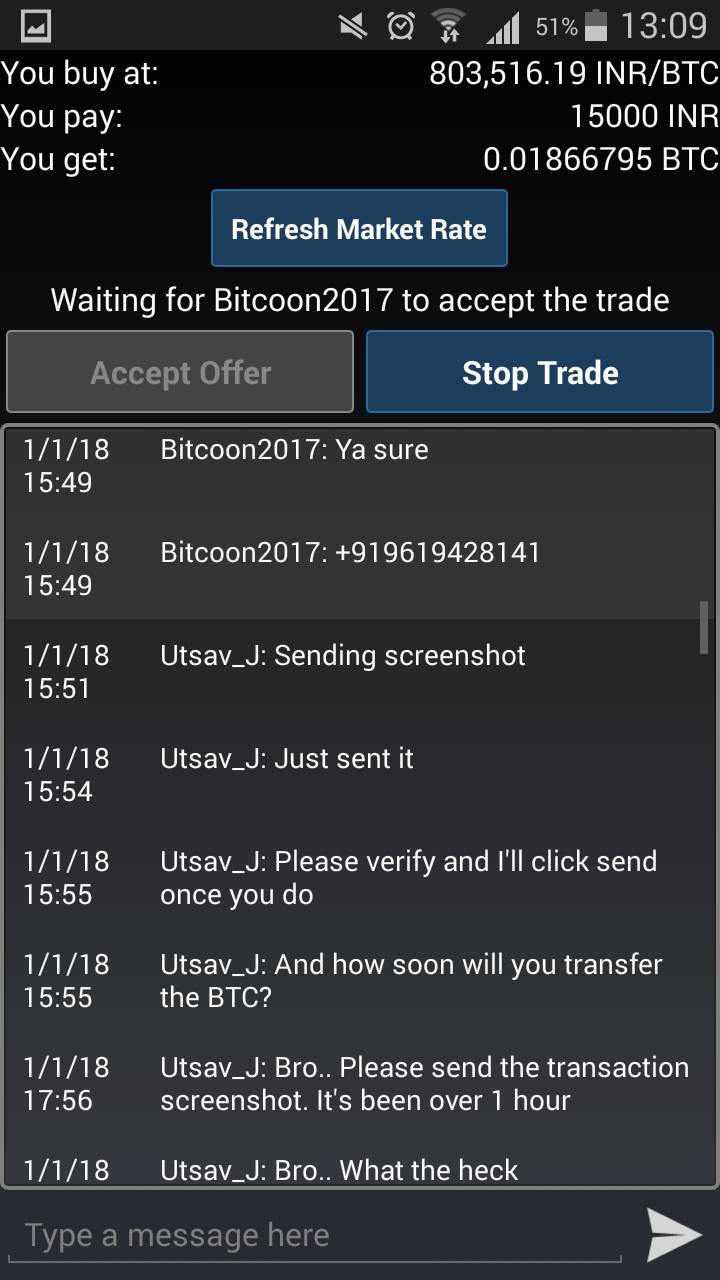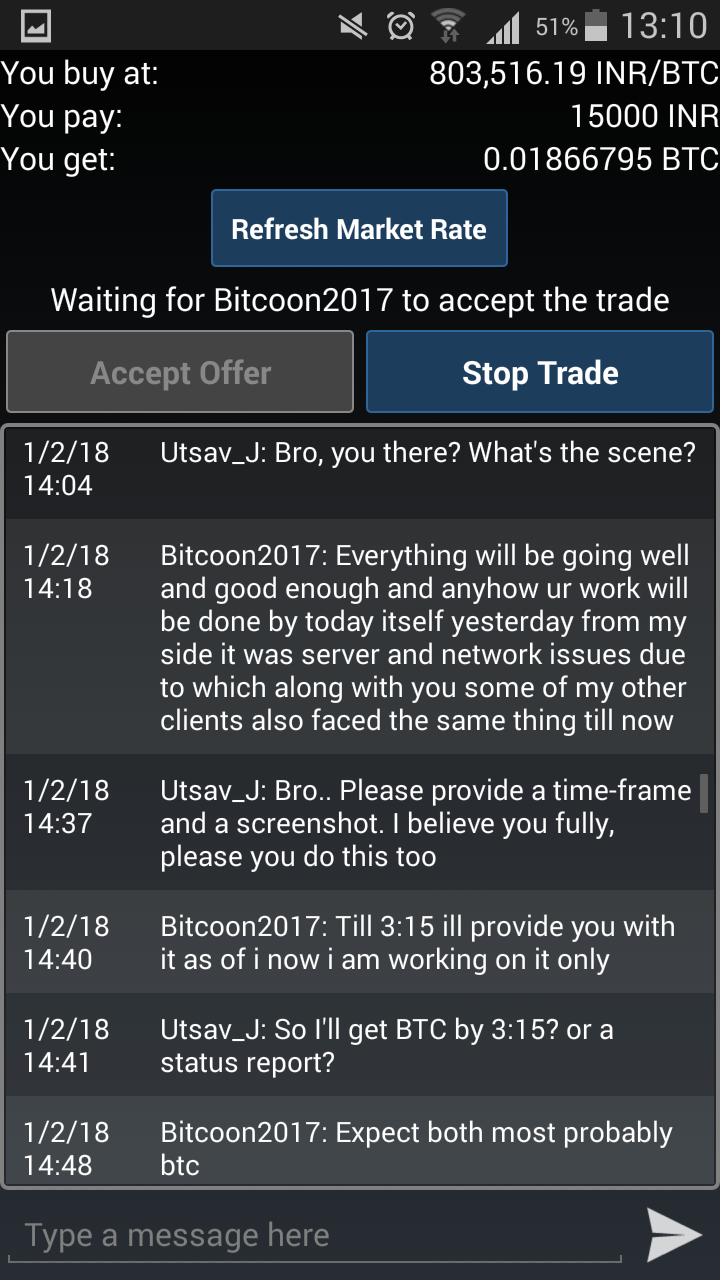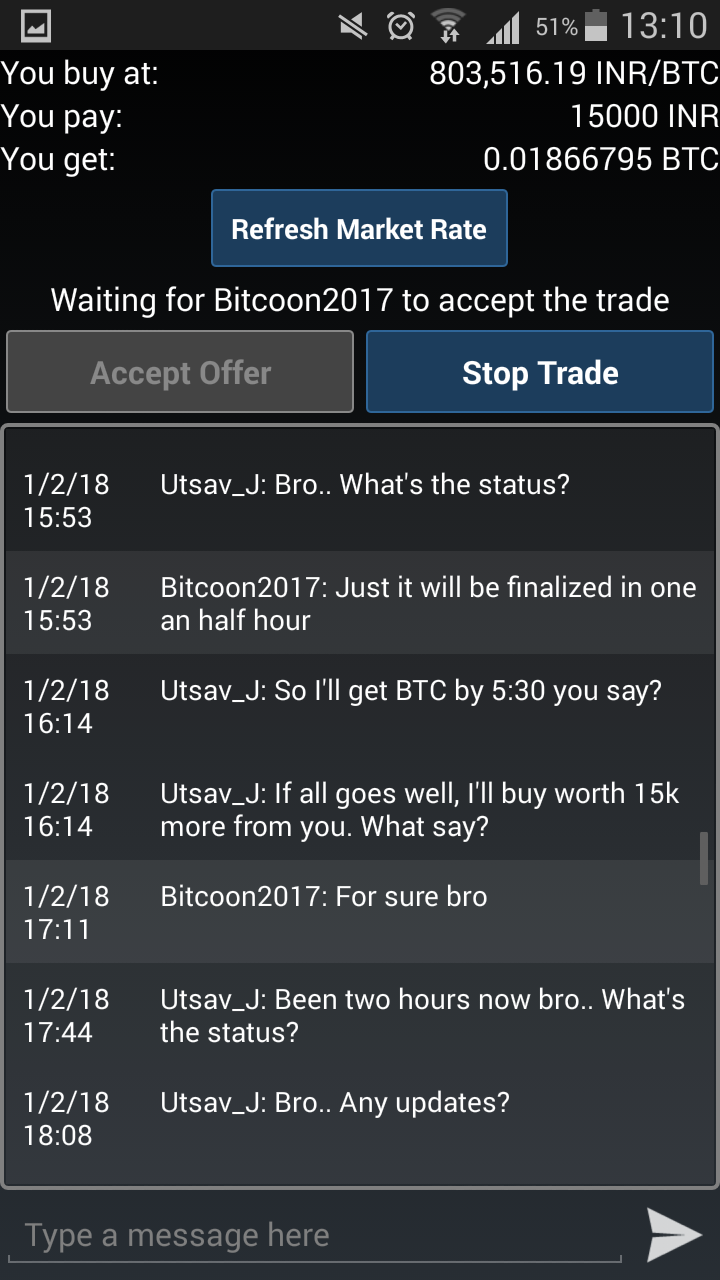 While it seems like the money is lost, and there will be some of us scoffing at my gullibility, but I pen it down for those of us who are not well-versed with the nuances of cryptocurrencies. Most police jurisdictions will refuse to register a case against such criminals despite the fact that it is a clear case of cheating and fraud.