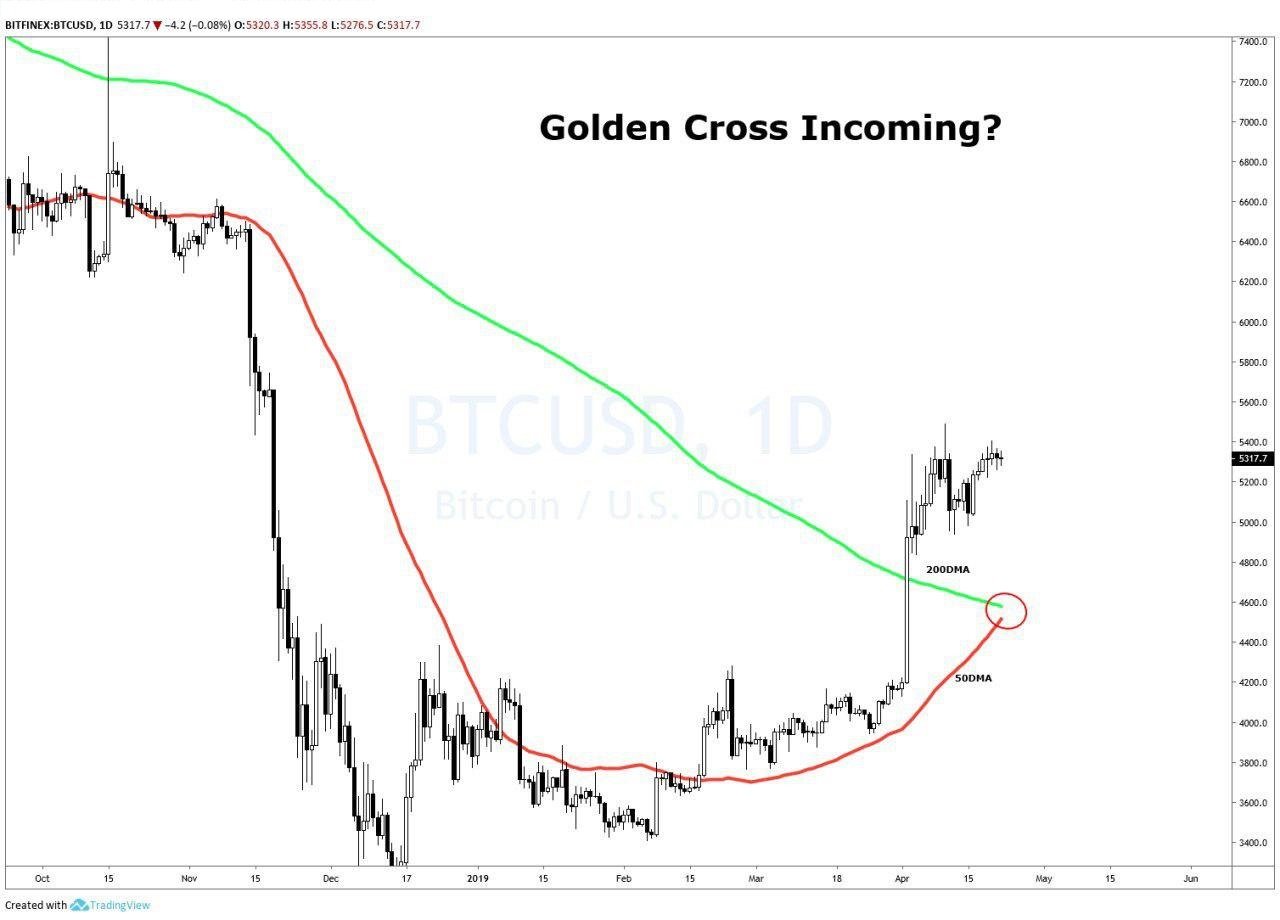 https://www.tradingview.com
Happy Tuesday everyone!
Bitcoin's price has lifted past local resistance to a current price of $5567 (bitmex pricing), increasing by roughly 5% in the last 24 hours. Volume had begun to steadily rise during this consolidation phase, indicating a move upwards was in the cards. The current price range showcases strong demand for $5000 BTC and increases the possibility of a further upside rally to the $6000 level.
Another bullish indicator that historically finalized the end of past bear markets, is the famous Golden Cross moving average indicator that is currently occurring on the daily chart.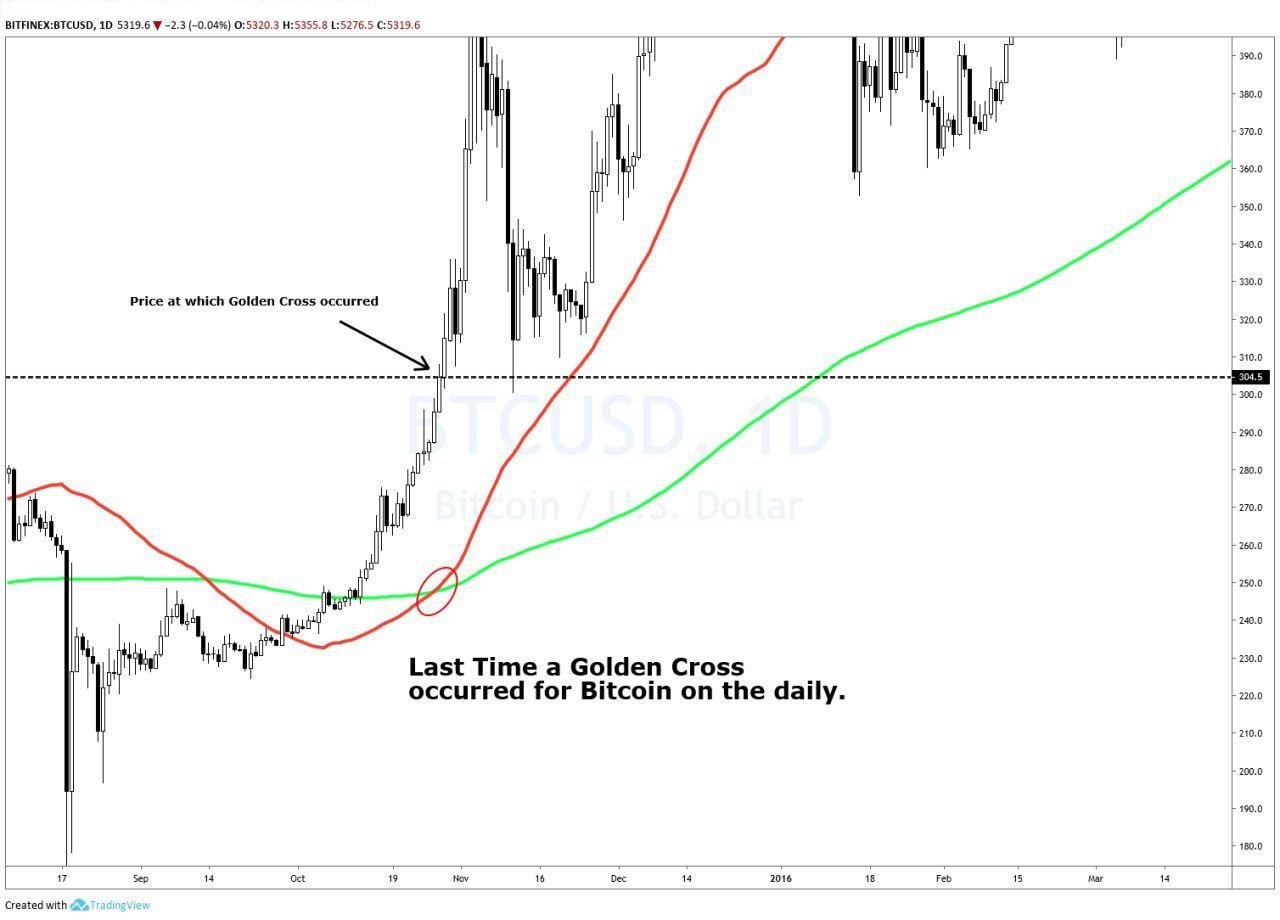 https://www.tradingview.com
Simply put, the golden cross is a bullish technical indicator in which a short-term Moving Averages (MAs) crosses above a long-term MAs. In higher time-frames, it is often utilized to determine whether a macro trend has shifted. Currently, BTC 50 day MA is about to crossover the 200 day MA. This an event that has not happened since 2015, when BTC's price was $300. As we all know, the price of $BTC skyrocketed (roughly 66x to 20k) the last time a golden cross happened on the daily chart.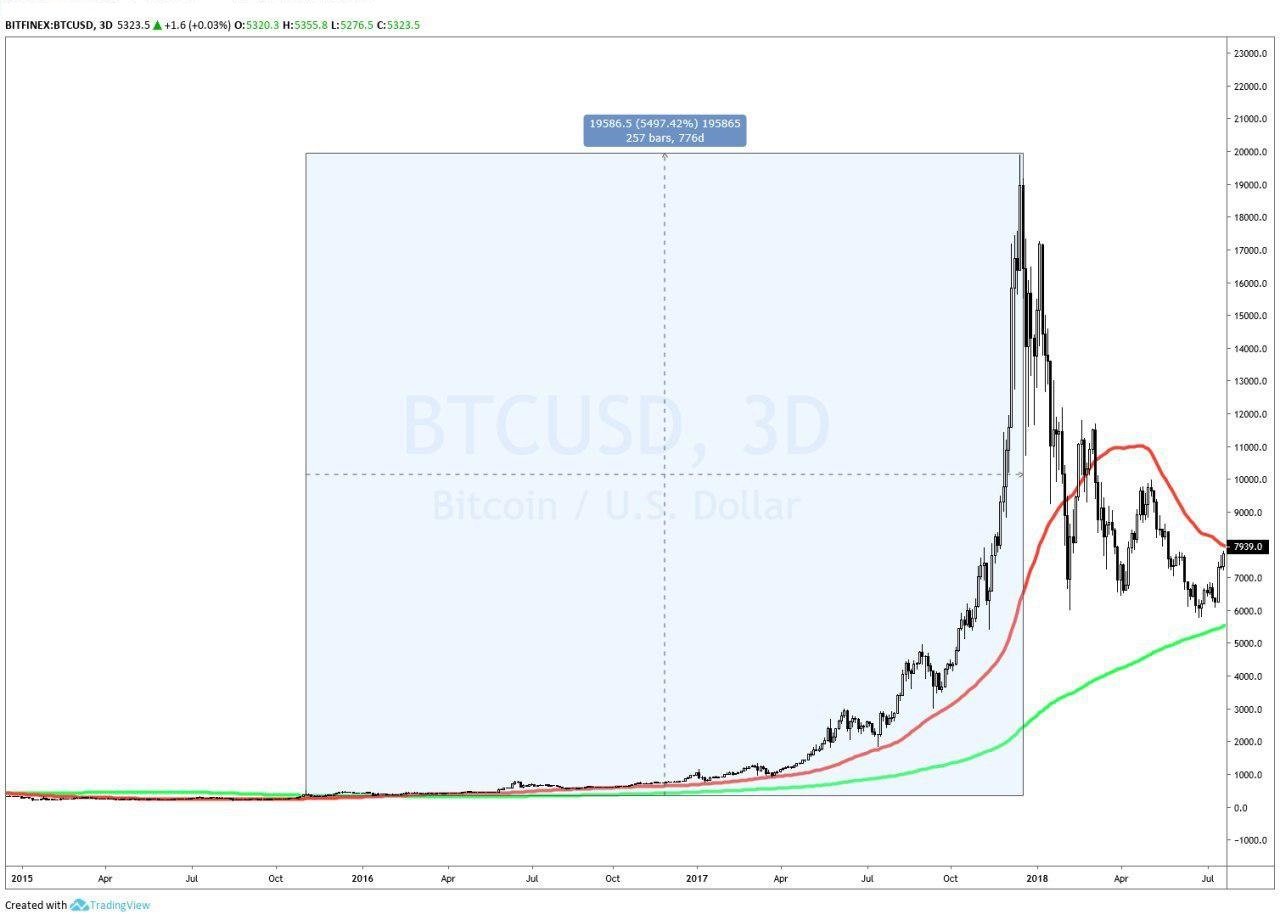 https://www.tradingview.com
However, trading simply based on MAs and the golden cross is not always wise as there was 1 fake out in the last bear market before transitioning into the famously known 2017 bull run. It is crucial to understand that these indicators serve as confirmation of possible trend changes and should be utilized in conjunction with other technical and fundamental market indicators that exist in the space prior to executing any trades. Nonetheless, the golden cross bolster the current bullish sentiment in the market.
South Korea Is Back
A recent survey conducted by the Korea Financial Investors Protection Foundation, "Arirang", revealed that 7.4% of the 2,500 adults that participated had bought cryptocurrency. Moreover, the average investment per person increased by 64% to over $6000 with older investors (30-50-year-old) leading the charge.
South Korea is famous for being heavily involved with the cryptocurrency space with large trading volumes coming from the Korean exchanges and the well-known "Kimchi Premium", a case in which local traders pay a premium (in USD terms) for Bitcoin on the popular Korean exchanges. Ever since the BTC price went back up to $5300, this phenomenon has started to reemerge.
Billion Dollar Companies Utilizing Blockchain
On April 16th, Forbes published a list of companies that are implementing blockchain technology with minimum revenues or valuation of 1 billion dollar. Amongst the list, there are multiple traditional large corporations in the technology, finance, and supply chain industries such as Amazon, BNP Paribas, and Foxconn. Some notable blockchain/cryptocurrency specific that made the list include Coinbase, BitFury, and Ripple.
---
I also shared this article on TRYBE
---
This is not financial advice. I don't take into account of your personal investment objectives, specific investment goals, specific needs or financial situation and makes no representation and assumes no liability to the accuracy or completeness of the information provided here. The information and publications are not intended to be and do not constitute financial advice, investment advice, trading advice or any other advice or recommendation. Any expression of opinion (which may be subject to change without notice) is personal to the author and the author makes no guarantee of any sort regarding accuracy or completeness of any information or analysis supplied.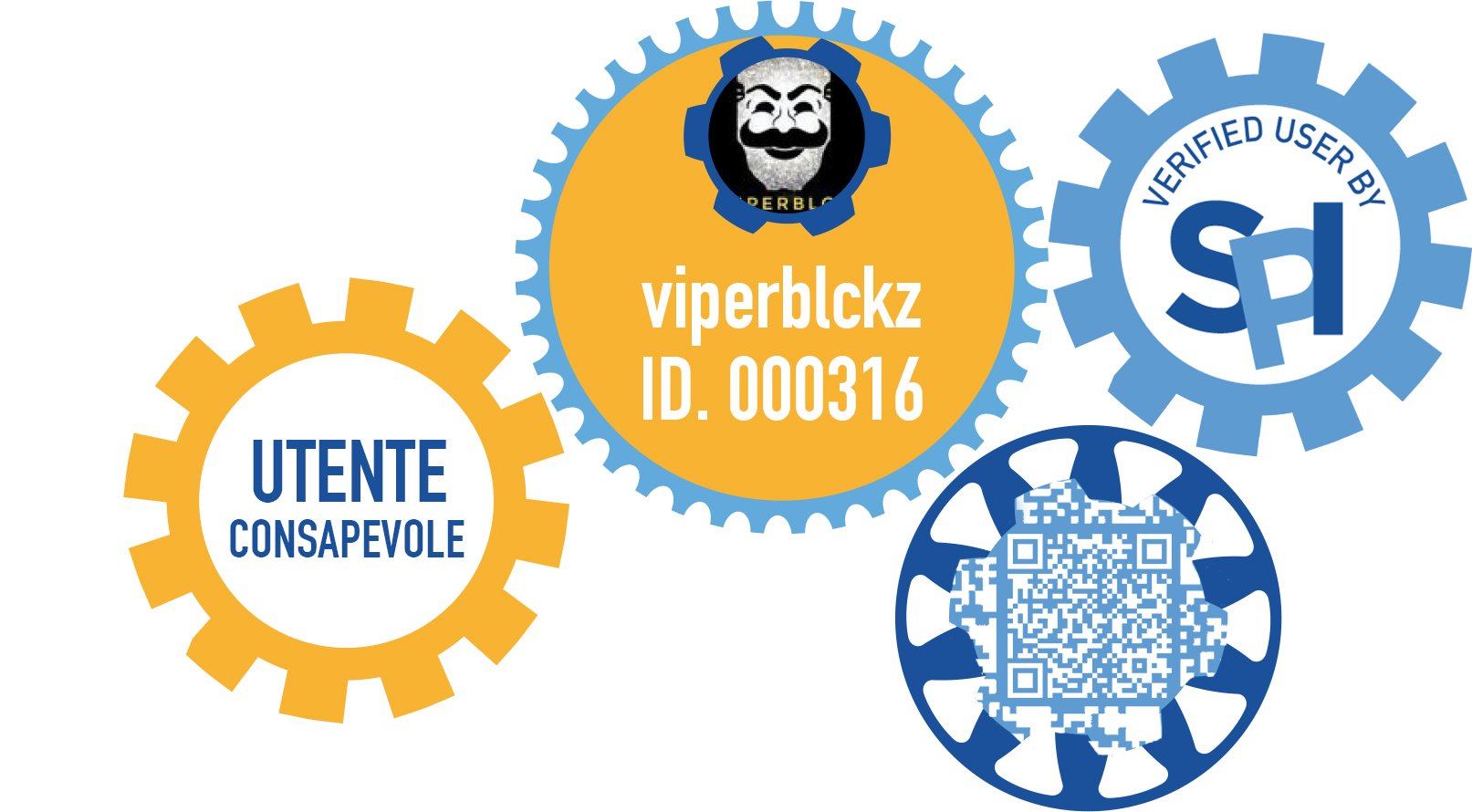 Posted using Partiko Android