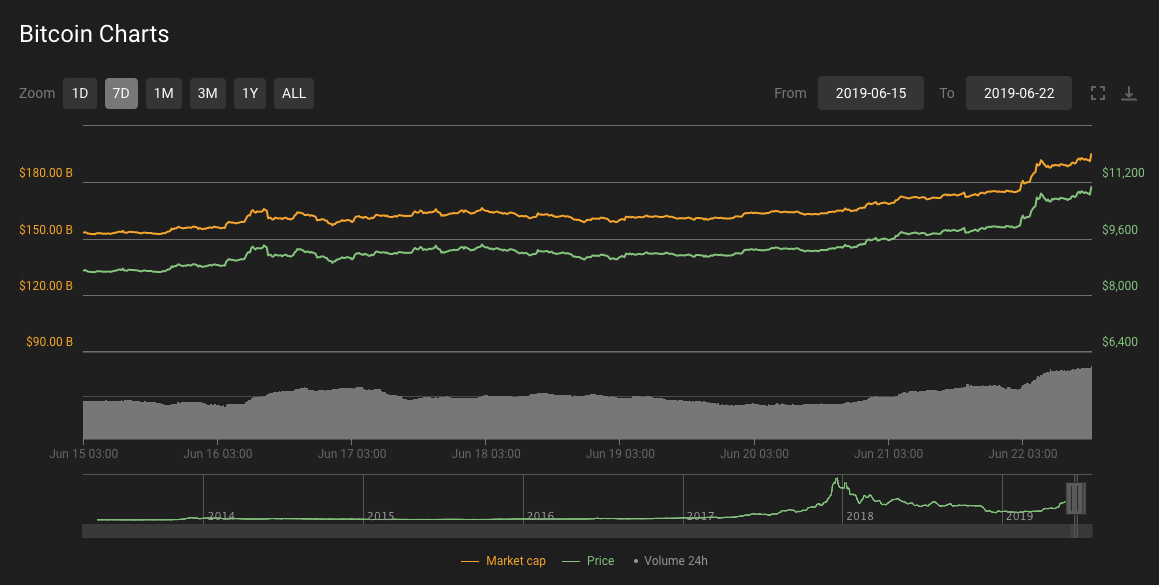 Bitcoin 7-day price chart. Source: Coin360
What can we say? We've long maintained that BTC was going for the $10K mark, but there was no way to know it would run for it this quickly. Bitcoin is currently in full-blown take-no-prisoners mode.
It's not often we say this, but seriously: short the corn at your own peril.
In a show of strength, BTC has seen tiny pullbacks with each timezone waking and coming to grips with the price action, but on each occasion, it has rocked back to daily highs. We quietly anticipated the current move when our Lunar Trend Bot went long at $9350 🎉, but we didn't expect to find ourselves orbiting the moon this soon.
With RSI maintaining right around the overbought zone in the days leading up to today's surge, it was clear that bulls had the upper hand and were salivating over reaching the golden $10,000 psychological resistance. What is it about $10K that makes for Lambo dreams when BTC is below it, and nightmares of lifelong wage slavery when BTC breaks below?
As far as psychological resistances go, $10,000 is our current $100,000 – breaking it will be a major milestone, and from its heights, the $20,000 mountaintop will be clearly in view. While that's great and all for BTC, what about the alt market?
As we've mentioned several times recently, we're less enthusiastic about the short-term prospects of most alts. With so much attention on BTC and Facebook's Libra, the stakes in the crypto game have been raised. Moreover, Binance and Bittrex are two major exchanges that will restrict altcoin trading access for Americans in the months to come.
The convergence of BTC mooning, bad exchange news for alts, and the game-changing entrance of Libra into the crypto landscape all bode poorly for the altcoin market.
Tokens like ICON's ICX are capitulating beneath bear market lows, while others, like AION, WTC, VET, and NEO are already swimming with the fishes. From a fundamental perspective, all of the aforementioned projects are solid, but grabbing at them here reminds us of something someone said about catching a falling knife.
Perhaps you know the saying.
---
I also shared this article on TRYBE
---
This is not financial advice. I don't take into account of your personal investment objectives, specific investment goals, specific needs or financial situation and makes no representation and assumes no liability to the accuracy or completeness of the information provided here. The information and publications are not intended to be and do not constitute financial advice, investment advice, trading advice or any other advice or recommendation. Any expression of opinion (which may be subject to change without notice) is personal to the author and the author makes no guarantee of any sort regarding accuracy or completeness of any information or analysis supplied.