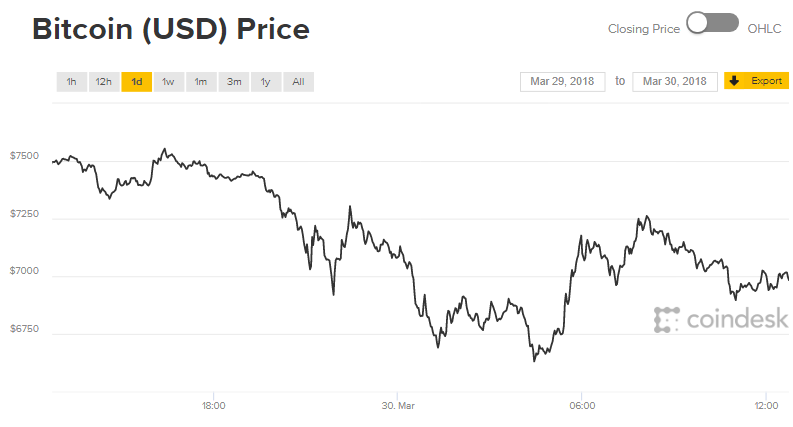 The Bitcoin price has been hit hard over the past 24 hours, falling below $7,000. Back in early February this year, Bitcoin also fell to this level, only to rise above $11,000 within two weeks. This time, however, the question is, will the same level of support bounce the price again or is there more downside to come? Popular Bitcoin trading expert, Tone Vays, today called a 20% chance of BTC falling all the way to $1,300. He has been speaking of this level for a long time, as a previous high that was never retested.
With significant drops in price, and fear, uncertainty and doubt in the market, strong hands are needed to avoid panic selling. During these times, I believe it's important to remember how Bitcoin has faired in downturns and crashes in the past. If history repeats itself, then those who can afford to hold are all good. Here's a recap ...
In 2011, the price peaked at $32 before crashing and entering an extended bear market that took it all the way down to $2. That's a correction of more than 90%. Next, in 2013, the Bitcoin price climbed from $13 to $1,100 before crashing and once again entering an extended bear market. This saw the price retrace to a low just above $200 — ouch!
Those who held their Bitcoin throughout these seemingly catastrophic crashes were richly rewarded. Panic selling, on the other hand, led many to regret their decisions.
Whatever happens in the next year or two, I think there will be a bull run leading up to the 2020 halving, followed by a post halving dip and then through the roof in 2021 — to the moon, even. This is based on what happened leading up to the 2016 halving and then into 2017. It's supply and demand. Of course, for whatever reason, it may play out differently. This is simply my best estimation.
A year ago the price was $1,000, in December it went to almost $20,000 and now it's $6,900. It's been one crazy ride that may well continue. A bull run to $100,000 followed by a crash to $20,000 certainly wouldn't surprise me at all. In the end, hold, hodl, don't sell unless you have to.
image source


Original article posted here: Strong Hands Needed as Bitcoin Falls Below $7,000
For more Bitcoin related articles, visit BitcoinToTheMoon.com