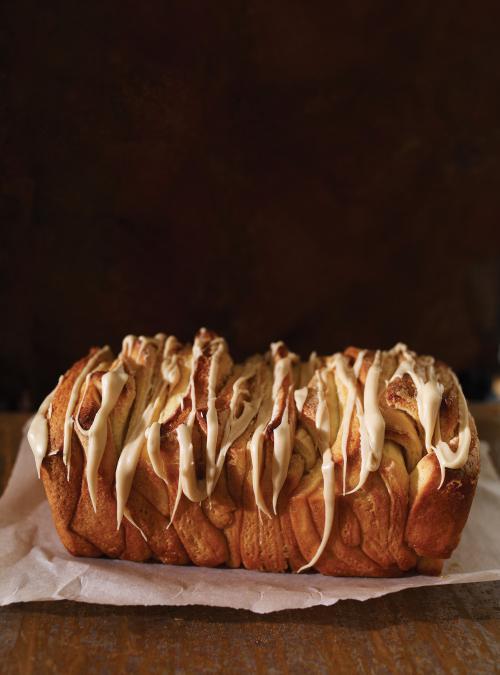 INGREDIENTS
680 mL (2 ¾ cups) unbleached all purpose flour
60 ml (¼ cup) sugar
11 mL (2¼ teaspoons) instant yeast
½ tsp (2.5 mL) salt
125 ml (½ cup) milk, lukewarm
½ cup (125 mL) unsalted butter, melted and tempered
2 eggs
180 mL (¾ cup) granulated maple sugar
¼ cup (60 mL) maple butter, warmed slightly
PREPARATION
In a large bowl, with a wooden spoon, or in a stand mixer (using the kneading hook), mix the flour, sugar, yeast and salt. Add the milk and mix vigorously until the dough begins to form.
Stir in 90 ml (6 tablespoons) of butter gradually, then the eggs. Knead the dough for about 5 minutes on a stand mixer or on a floured work surface. The dough will be smooth and sticky.
Place the dough in a clean and lightly oiled bowl. -
Turn the dough to coat with oil. Cover the bowl with a damp cloth and let stand in a warm, moist place about 1 hour 30 minutes or until the dough has doubled in size.
-But a 9 "x 5" (23 x 13 cm) bread pan. Line the mold with a strip of parchment paper, letting it protrude on each side.
On a generous floured work surface, gently fold the dough with your fingers or a rolling pin into a 46 x 40 cm (18 x 16-inch) rectangle. Redo melt the rest of the butter and brush the dough. Sprinkle with maple sugar and cut into 24 rectangles of 10 x 7.5 cm (4 x 3 in.).
Stack six rectangles of dough at a time and place them upright in the mold, dropping them naturally so that they are slightly uneven. Repeat with the rest of the rectangles. Cover with a damp cloth and let stand in a warm and humid place for 1 hour.
Place the grill at the center of the oven. Preheat the oven to 180 ° C (350 ° F).
Remove the damp cloth and bake for 45 minutes or until the bread is golden brown. Let cool for 5 minutes. Unmould, remove the parchment paper and place in a serving dish. Top with maple butter. Let cool for 15 minutes. Taste warm or cold the same day.