Have been paying consistently for 3 years, uses bot trades to make profits, a division of LIFETIME TECHNOLOGY, have other businesses such as AI, Server, VoIP, but hindered by their terrible presentation and English.
By the way, if you found my article useful and intend to invest on this site, please help me out by register via this referral link: https://www.cryptomining.farm/signup/?referrer=5A79D2879E513
What is Cryptomining.farm?
Cryptomining.farm is a virtual bitcoin mining service. They do not have any mining hardware. They guarantee no less revenue due to mining difficulty increases, so they are essentially HYIP. They claim to have their AI bot trade to utilize your bitcoin to trade and made profit, and pay back those profit to their customers. However, this statement is not included in their English FAQ, but it is in Thai FAQ.
They have been paying for consistently 3 years. (do other HYIP like Bitconnect, Davorcoin, Miningbot.io, Telcominer, etc. stay open longer than 1 year? Nope.)
Previously, they also attempted to do ICO solar cell farm in 2014, way back before the concept of ICO was born, thus the domain name .farm. They also have invented their own cryptocurrency UNIT, and attempted BURST coin mining with hard disk, before they finally changed to cryptocurrency trading bot to make profits. I will elaborate more in upcoming article.
Cryptomining.farm is a part of Lifetime Technology company (previously was YODNAM COMPUTER LIMITED PARTNERSHIP)
Lifetime Technology products and services are Voice IP, network installation service, leased line, AI chatbot, and lastly cryptocurrency investment (they used to put that on their website).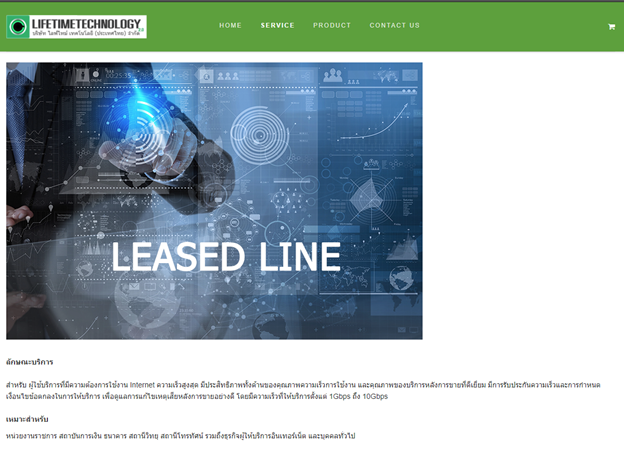 Lifetime Technology website: https://www.lifetime-technology.com/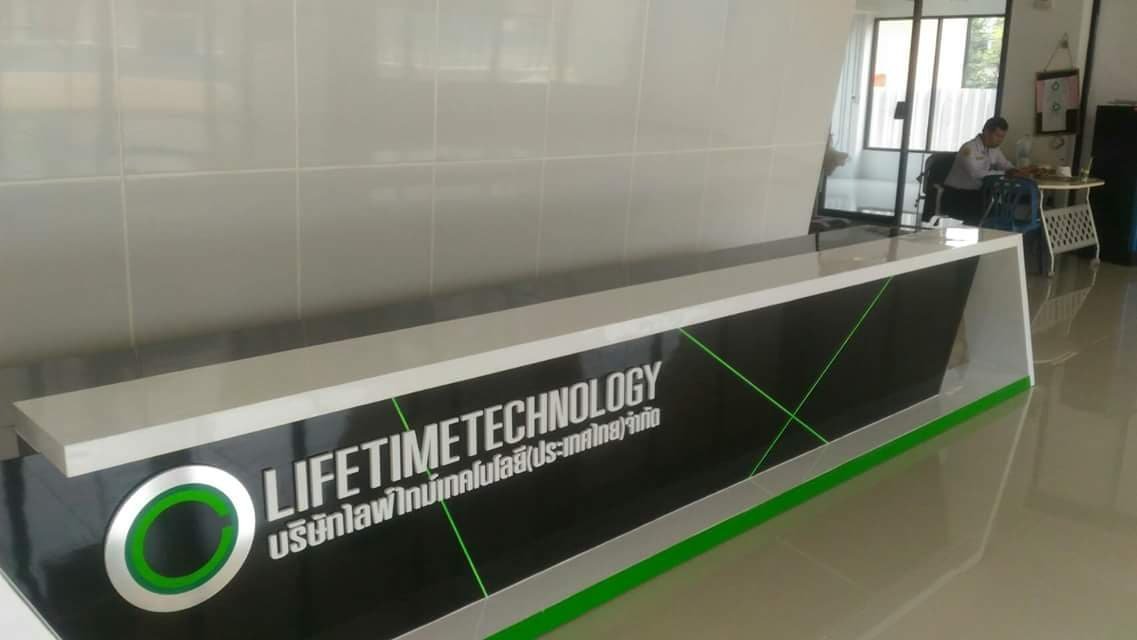 Their Booth in an expo event
Their AI virtual chat agent promotional video
Their AI virtual chat agent demo video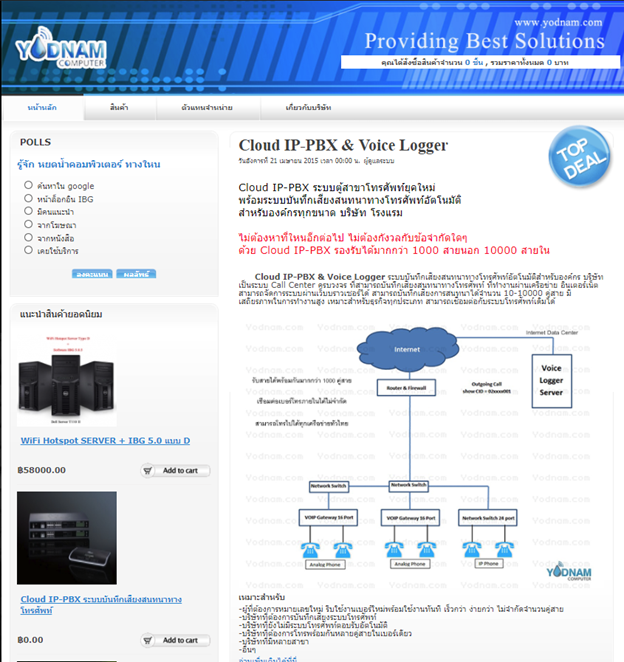 Translation of Thai FAQ only important one(Since their English FAQ is incomplete and lack of useful information) as of March 2018.
https://www.cryptomining.farm/th/faq/terms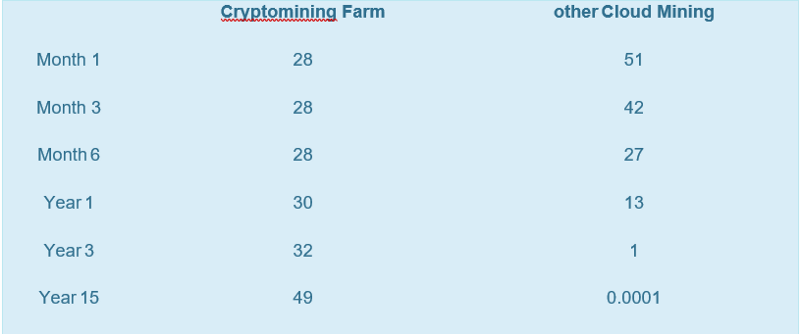 Comparision of 1000 GH/s between CF and other cloud mining
Q: GHS คืออะไร?


A: GHS คือหน่วยที่เราได้ตั้งขึ้นมาเพื่อใช้วัดกำลังขุดแบบเสมือนที่เราให้เช่า โดย GHS ไม่มีเครื่องหรืออุปกรณ์ฮาร์ดแวร์ใดๆทั้งสิ้น
Q: What is GHS?
A: GHS is a unit that we made up to be virtual mining power for rental. GHS does not have any real hardware to do actual mining.
Q: บิทคอยน์ที่ได้มาจากใหน เราเอาบิทคอยจากใหนมาจ่ายให้ผู้ใช้งาน?
A: จากที่ทราบกันว่า เราเป็นผู้ผลิต-จำหน่ายโปรแกรมมานานกว่า 9 ปี เราได้นำบิทคอยน์จากผู้เช่าไปทำการเทรด ALTCOIN ด้วยโปรแกรมบอทเทรดและนำกำไรที่ได้มาจ่ายคืนให้ผู้ใช้งาน

Q: Where does obtained bitcoin come from? How do we pay back profit to our customers?
A: As known that we are software developer and seller for longer than 9 months, we use customers' bitcoin to trade ALTCOIN with bot trade software, and payback profits our customer.
Q: บริการของเราผิดกฏหมายไหม?

A: จากที่บอกข้างต้นคือเราทำธุรกรรมกับหน่วยเสมือนทางดิจิตอลไม่มีการรับเงินที่เป็นเงินจริงๆหรือรับทรัพย์สินใดๆ และมีประกาศออกมาว่า Bitcoin และหน่วยข้อมูลทางอิเล็กทรอนิกส์ไม่ถือเป็นเงินที่ชำระหนี้ได้ตามกฎหมาย และไม่มีมูลค่าในตัวเอง มูลค่าของหน่วยข้อมูลดังกล่าวแปรผันไปตามความต้องการของกลุ่มคนที่ซื้อขายหน่วยข้อมูล มูลค่าจึงเปลี่ยนแปลงได้อย่างรวดเร็ว และกลายเป็นสิ่งที่ไม่มีค่าได้เมื่อไม่มีผู้ใดต้องการแล้ว แต่หากในอนาคต มีกฏหมายไทยที่ออกมาควบคุมหน่วยข้อมูลทางดิจิตอล เราก็พร้อมจะดำเนินการให้ถูกกฎหมายต่อไป
Q: Is our service illegal?
A: We only do transaction and business with cryptocurrency without any fiat currency or any assets. There was a Thai news that cryptocurrency is not legal asset that can be used for payment. It has no itself value. Value varies based on demand and supply on exchange market, so that its value is highly volatile, and can be valueless if nobody wants. If there is a new Thai laws to regulate cryptocurrency, we are ready to comply the laws.
Q: ที่ว่า ไม่ปรับลดผลที่ได้จากการขุด หมายความว่าอย่างไร?

A: โดยปกติแล้ว หากท่านขุดบิทคอยโดยใช้เครื่องขุดทั่วไป จำนวนบิทคอยน์ที่ขุดได้จะลดลงเรื่อยๆตามความยากในการขุด แล้วพอถึงวันหนึ่งก็จะขุดไม่ได้เลยหรือขุดได้ไม่พอกับรายจ่ายค่าไฟฟ้า เรามีบริการนี้ขึ้นมาเพื่อรับประกันความเสียงที่ท่านจะได้บิตคอยน์ลดลง โดยท่านจะได้คริปโตเคอเรนซี่เทียบเท่าหรือใกล้เคียงกับ 0.0009 USDT ต่อ 1 GHS ต่อวันไปตลอดอายุสัญญาเช่า นานสูงสุดถึง 15ปี ยกเว้นมีกรณีที่มีเหตุการณ์ที่ทำให้คริปโตเคอเรนซี่ล่มสลายเช่นการแบนคริปโตเคอเรนซี่ในประเทศส่วนใหญ่ทั่วโลกหรือควอนตัมคอมพิวเตอร์สามารถเจาะระบบคริปโตเคอเรนซี่ได้ เมื่อเกิดเหตุการณ์เช่นนี้ เราจะประกาศแนวทางการแก้ไขที่ดีที่สุดต่อผู้ใช้งานต่อไป
Q: What does no revenue reduce from mining difficulty increases mean?
A: By normally, if you mine Bitcoin, the amount of Bitcoin you gain will be reduced as difficulty increase. One day, that mining hardware will not be profitable after deduced with electricity cost. We make this service to help you from getting less bitcoin from diff increases. You will receive your chosen cryptocurrency with equivalent value of 0.0009 USDT per 1 GHS until longest period of contract of 15 years. (They have lifetime contract now, another typical Thai product inconsistency) If there is incident that cause cryptocurrency to break down such as banning cryptocurrency in various country or quantum computer be able to hack cryptocurrency blockchain, if any of those occur, we will announce the best solution for our customer.
Q: อยากขอให้ยกตัวอย่างการคำนวนคริปโตเคอเรนซี่ที่จะได้รับ?

A: ยกตัวอย่างการคืนทุนภายใน 1 ปี: ท่านทำการเช่า 1000GHS เป็นจำนวน 365USDT ท่านจะได้รับคริปโตเคอเรนซี่โดยประมาณที่ 0.9USDT ต่อวัน เป็นระะเวลา 3 ปี โดยได้รับทุนคืนใน 1 ปีแรกจำนวน 365USDT และได้เพิ่มอีก 730 USDT ใน 2 ปีหลัง
Q: Example of cryptocurrency that I will get?
A: Example of return on investment in 1 year: You rent 1000 GHS for 365 USDT, you will get cryptocurrency at 1000 GHS per day for 3 years. You will be capital back in 1 year for 365 USDT, and get another 730 USDT for 2 years after.
See something here? Currently, the 3 years contract ROI is 6 months. Their FAQ is out of dated, early cryptomining.farm service 3 years contract is 1 year ROI. Thai website usually have inconsistent information and bad English. Trust me, I am Thai. I have seen a lot. That does not make cryptomining.farm not trustable.
Q: สามารถถอนบิตคอยน์จาก 50GHS ที่ได้รับฟรีได้หรือไม่?

A: ไม่ได้, ท่านต้องทำการเช่าขึ้นต่ำ 20GHS แบบสัญญา 15 ปี หรือ 200GHS แบบสัญญา 1 ปี
Q: Can I withdraw earning from free 50 GHS?
A: You cannot. You must at least buy 20 GHS of 15 years, or 200 GHS for 1 year. This is wrong, and out of dated. Any purchases no matter how much will allow you to withdraw. Another inconsistency here.


https://www.cryptomining.farm/account/membertype
Q: ทำไมบัญชีผู้ใช้งานถึงถูกบล็อค?

A: อาจมีการตรวจพบว่าท่านสมัครหลายบัญชีมากจนเกินไปหรือปัญหาอื่นๆกรุณาติดต่ออีเมล์ support@cryptomining.farm
Q: Why am I banned?
A: If we detected that you have too many accounts per 1 user (because they have 15 percent referral), or you may have other problems. Please contact via email support@cryptomining.farm
Their Investment Plan
They have 6 investment plans Note that ROI on their website means Profit, not actual meaning of Return On Investment.


Well, can you see that 3 months is actually the most profitable.

Exchange rate on top-left of the site
Buying Hashrate process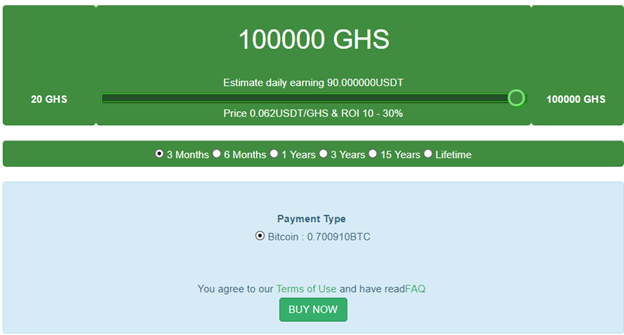 Another tip, it will be difficult to get precise amount of hash rate if you click on slider, use keyboard arrow LEFT RIGHT instead.
Price in USDT at 100000 GHS is 100000*0.062 = 6200 USDT So, 0.700910 BTC = 6262.04 USDT at rate of $8934.16
Previously, ROI on website is written as 30%, 70%, etc. Now it writes 10% to xx%. Due to a news of Ministry of Finance of Thailand warns that scam investment with highly yields is subjected to prison or fine. But actually, they still pay at their maximum of 30%, 70%, etc.
Mine USDT? BTC? ETH? UNIT?
1000 GHS will earn 0.9 USDT per day. If you change profile setting to earn something else, say BTC. It will exchange USDT to BTC according to rates on top-left of the site. Example, you will earn 0.9 USDT per day, you choose to get BTC instead, you would get 0.9/8758.1 = 0.00010276201 BTC on that day.
(If BTC price remains unchanged throughout day, their rates update continuously according to current exchange rates, and your account balance will update every an amount of minute according to current exchange rates if you choose to mine other cryptocurrency than USDT.)
The 15 days to expire invoice and BTC rounding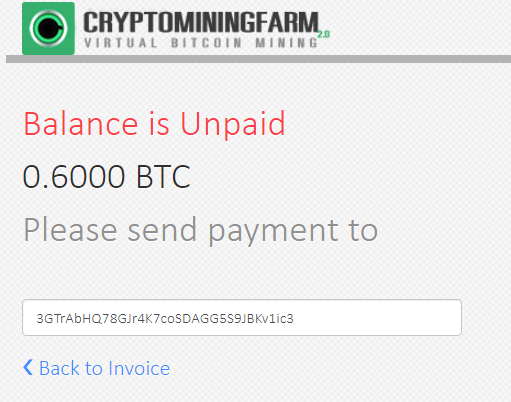 Why cheaper? Why not 0.700910 BTC?
BTC rounding
This does not apply to UNIT payment. UNIT payment amount on green slider thing page matches exactly as in invoice page.
Why invoice payment amount is not equal to the buy page input (the one with slider)? Well they use BTC rounding in their invoice calculation back-end. Another inconsistency here, quite common in Thai product and service. Nothing to be fearful of scam.
100000 GHS/0.6 BTC = 166666
They will use rate 166666 for amount of current BTC price range. E.g., BTC=8500 USD-9000 USD would be 166666. I am not quite certain about the range. But what I am telling is, if you see BTC was 8600 USD, next hour, it becomes 8800 USD.
You make purchase invoice again, you will not get cheaper rate. I have seen rates of 3 months invoice like 100000, 125000, 150000, 166666, 200000, etc.
Do notes that at some current BTC prices, 3 months contract on 9990 and 10000 GHS result in 10000 GHS being cheaper, I am not sure about calculation formula.
15 Days to expire invoice
Why should you make new invoice frequently?

Whoa! 15 days to expire invoice
Because of this 15 days to expire invoice, one of the very best thing about cryptomining.farm. You make new purchase invoice when you see BTC goes up. Then within 15 days, BTC price goes down. You buy the dip to pay the invoice. Or, you buy certain amount of BTC, fear that BTC price might go down, you make invoice with BTC amount that you just purchased, and almost 15 days passed and BTC price does not goes up. You pay that invoice.
But isn't that amount to be paid green slider thing page is inaccurate, did I just told you above about BTC rounding system. Says, you are holding 0.5001 BTC (0.0001 is BTC transfer cost). You make a random invoice with 10000 GHS, and invoice writes that invoice total is 0.05 BTC.
You do calculation, 10000/0.05=200000, so if you want to make invoice with exactly 0.5 BTC, you do the math 200000*0.5=100000 GHS. Also, don't forget about transfer cost from your wallet or exchange.
Why do cryptomining.farm allow this? They update their websites occasionally, yet they still allow this. I think they are just generous and be able to make a lot of trading profits such that customers taking advantage of this 15 days to expire invoice is acceptable by them (and they would even attract more customer due to this, who don't like escape plan from stuck from bitcoin high mountain price? It is slang word of ติดดอย). Previously, about in early 2016, they used to have 3 days to expire invoice, then they increase to 7 days, then now 15 days.
Their sustainability
For example, 3 months contract, if you are a very good trader. Would you be able to make more than 45% profit within 3 months to payback their customer? (30% base, 15% from referral commission) Sound very likely since the cryptocurrency market is extremely volatile. Price goes up and down a lot of times in one day.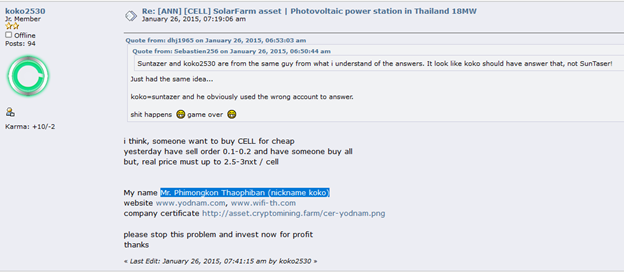 https://nxtforum.org/assets-board/(ann)-(cell)-solarfarm-asset-photovoltaic-power-station-in-thailand-18mw/40/
The CEO have not so good English, could be one reason why cryptomining.farm have bad English.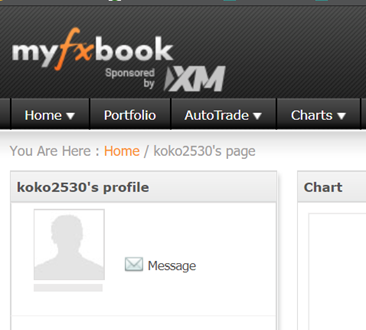 The CEO internet alias is koko2530. It seems that he have 
By the way, I will explain more about CELL ICO in upcoming article.
Where to buy UNIT for 15 years and lifetime contract?
YOBIT: https://yobit.io/?bonus=pXuUh
CRYPTOPIA: https://www.cryptopia.co.nz/Register?referrer=yutpanich
Don't use BIT-Z. It is terrible. Looks scammy and have long withdraw time, or withdraw does not go off.
You can help me out by registering via my referral link
Cryptopia used to have problem with withdrawing UNIT to cryptomining.farm invoice does not go off sometimes. So I saw people solved it by withdrawing to Windows wallet first. You can get Windows wallet from bitcointalk and also download blockchain file because wallet sync took almost forever.
https://bitcointalk.org/index.php?topic=1037825.0
Their Facebook
https://www.facebook.com/cryptominingfarm/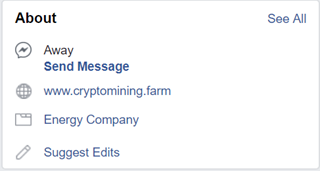 Why do they put Energy Company there?
Because firstly they were going to do Solar Cell Farm ICO, but they failed(more in detail in History article), and they did not change their Facebook page description. Typical Thai product and service inconsistency.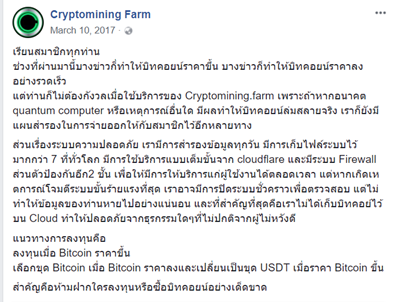 https://www.facebook.com/cryptominingfarm/posts/608345422689222
Dear all members,
Recently, some news cause Bitcoin prices to goes up or go down. But you do not have to worry if you use cryptomining.farm. If there is quantum computer or any other incident that break down Bitcoin for real, we still have backup plans to pay our member.
About security, we backup everyday to more than 7 remote server all around the world. We use full service from Cloudflare, and have double level firewall to be able to serve our customer all the times. If there is devastating hacking attack, we will turn off the system to investigate, and we make certain that your information will not be lost. Most important thing is we do not store our Bitcoin private key on cloud, to be safe from any hackers. Investment guide is, mine bitcoin when bitcoin price goes down. Change to mine USDT when Bitcoin price goes up.
Importantly, do not ever let anyone else invest or buy bitcoin than yourself.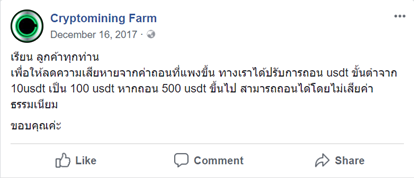 https://www.facebook.com/cryptominingfarm/posts/729575427232887
Dear all customers, To compensate from higher withdrawn fee. We have adjusted minimum USDT withdraw from 10 USDT to 100 USDT, if you withdraw higher than 500 USDT, no fees. Thank you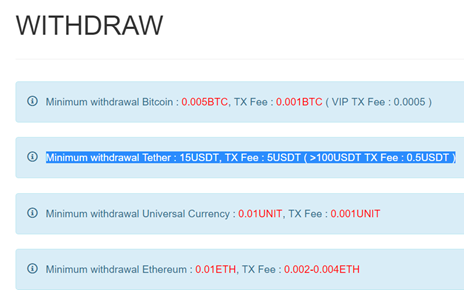 Withdraw page on cryptomining.farm
BUT hey, withdraw page on their website did not state that above 500 USDT is without fee. Another Thai product and service inconsistency typical.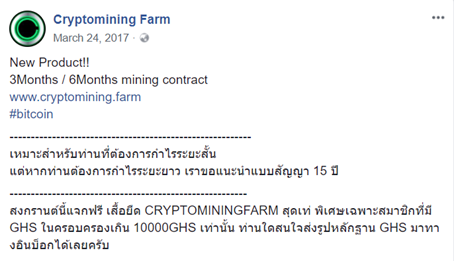 https://www.facebook.com/cryptominingfarm/posts/615135428676888
3 Months/6 Months is for those who want to make short-term profit. If you want to make long-term profit, we recommend 15 years contract.
Songkran festival, free giveaway CRYPTOMININGFARM T-shirt. Only for member who have more than 10000 GHS, if anyone is interested, please send proof of your GHS via Facebook Messenger.
Wait, they have a T-Shirt giveaway?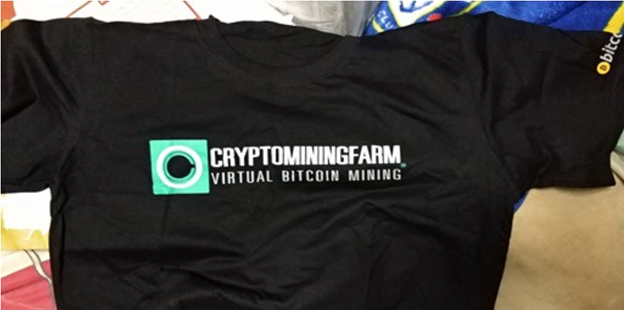 Thanks it.sj.in.th for image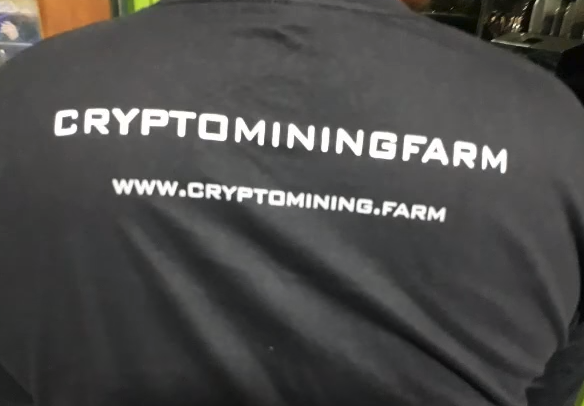 Thanks SOMNOTE Youtube channel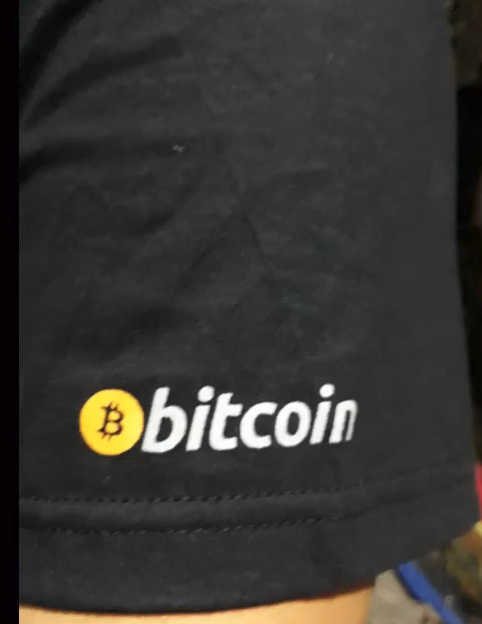 Thanks SOMNOTE Youtube channel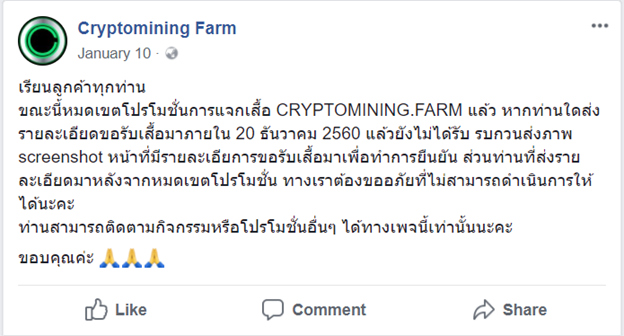 https://www.facebook.com/cryptominingfarm/posts/740033529520410
Dear customers, The T-shirt promotional period of CRYPTOMINING.FARM has ended. If anyone sent detail of claiming your T-shirt within 20 December 2017, but still have not receive the item. Please resend again. Any of you who send T-shirt claiming request after promotional period. We are apologize that we cannot proceed to give you T-shirt. You can follow activities or other promotions from this Facebook page only.
Thank you
I started investing on the website in 2018, so I can't take my own photo of T-shirts.
Their Twitter
https://twitter.com/miningfarm?lang=en
If you browse through their twitter.

You will see that they started operated around 17 December 2015.

They first attempted to do CELL ICO and Burstcoin mining, but they failed. I will explain more in upcoming article.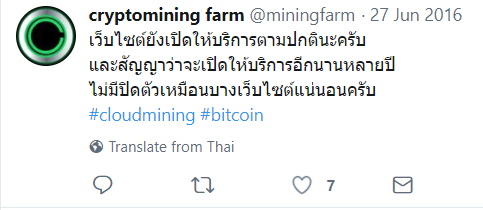 Website still operates normally, and we promise that it will stay opened. We will not close down like many websites.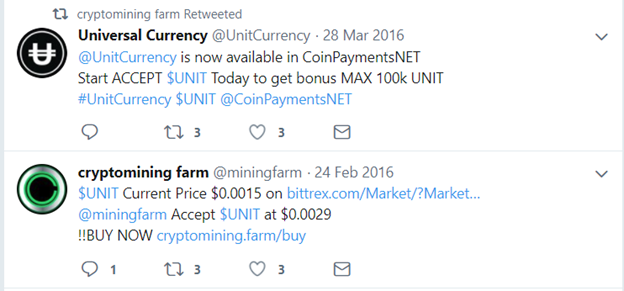 They also promote Universal Currency (UNIT), because they made it. They also tried to push UNIT price up by accepting UNIT higher than market price.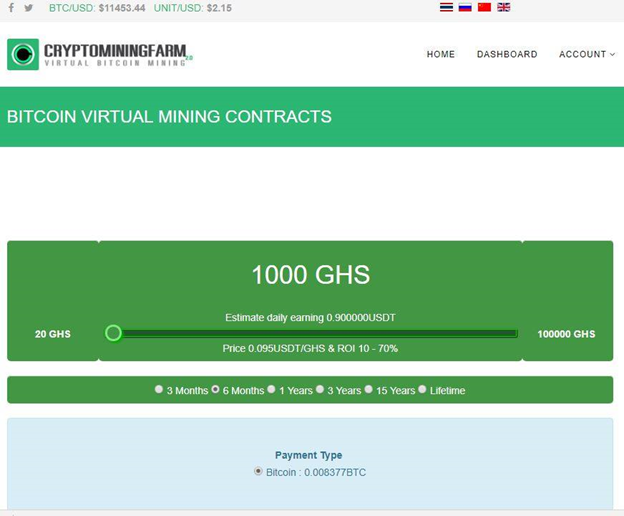 They did it again in January 2018, accepting UNIT at 2.05 USD, and in early February 2018, accept UNIT at 2.15 USD.
USDT Exchange Wallet
I use Binance to store USDT: https://www.binance.com/?ref=15710558
Then I buy cryptocurrency that has cheap transfer fee such as XRP, Litecoin, and transfer to BX or TDAX exchange to them to THB. https://bx.in.th/ref/OyD43L/
TDAX referral code: https://tdax.com/ TD65BMX2
You can help me out by registering via my referral links.
vGHS

vGHS is mining for more mining power, which you can be done once you are VIP member. To be VIP member, have equal or more than 100000 GHS, then submit KYC documents. I have heard that vGHS is not really worth it.
What if you overpaid invoice? See their good support in action.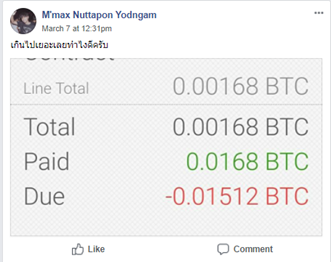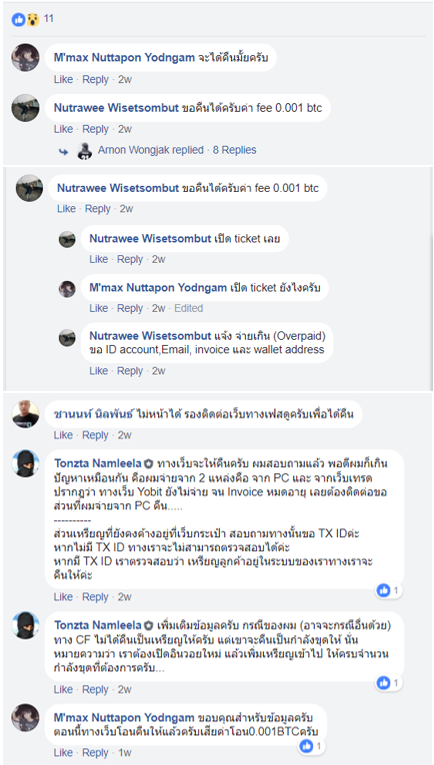 https://www.facebook.com/groups/153352478555682/permalink/226076514616611/
M'max: I overpaid a lot, what should I do?
M'max: Will I be refunded?
Nutrawee: Yes, refundable. Transfer fee of 0.001 BTC. Go ahead and open ticket.
Chanon: I don't think so, try contact via facebook, might be able to.
Tonzta: The website will refund you. I have asked once. I used to have same problem once. I paid from 2 sources; PC and Yobit, turns out that Yobit transfer did not go off until invoice expires. So, I contacted them.
--Their reply--
For transfer in exchange that did not go off, please give us TX ID, if you don't have TX ID, we can't verify. We can use TX ID to verify that transfer could eventually go off to our wallet. Then when that happens, we can refund you.
Tonzta: I would like to add more. In my case (and also other cases), CF did not refund as cryptocurrency, but they refund as hash rate which means I had to create new invoice with exact amount of that cryptocuurency.
M'max: Thank you for information, the site transferred me back, cost 0.001 due to transfer fee.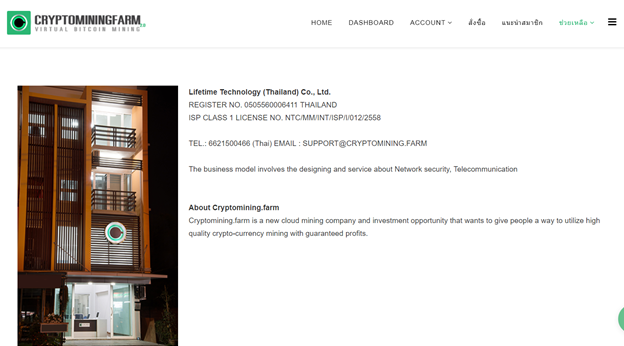 A friend of mine used to called their phone number +6621500466, due to she transfer from another cloud mining to cryptomining.farm invoice, but transfer did not arrive before her invoice expires. Their support extended invoice expiration date, and her transfer eventually arrives.
By the way, did you notice the what are you trying to mean? The business model involves the designing and service about Network security, Telecommunication. Another typical Thai product and service bad presentation and English.
Isn't scam Bitconnect claims to use bot trade as well?
Well, they don't have other businesses. They are unreachable via telephone call and their company office do not exist.
Well, this is the end of the article
If you found this article useful and intend to invest on this site.
Please help me out by register via this referral link:
https://www.cryptomining.farm/signup/?referrer=5A79D2879E513 And vote up the article
Thank you