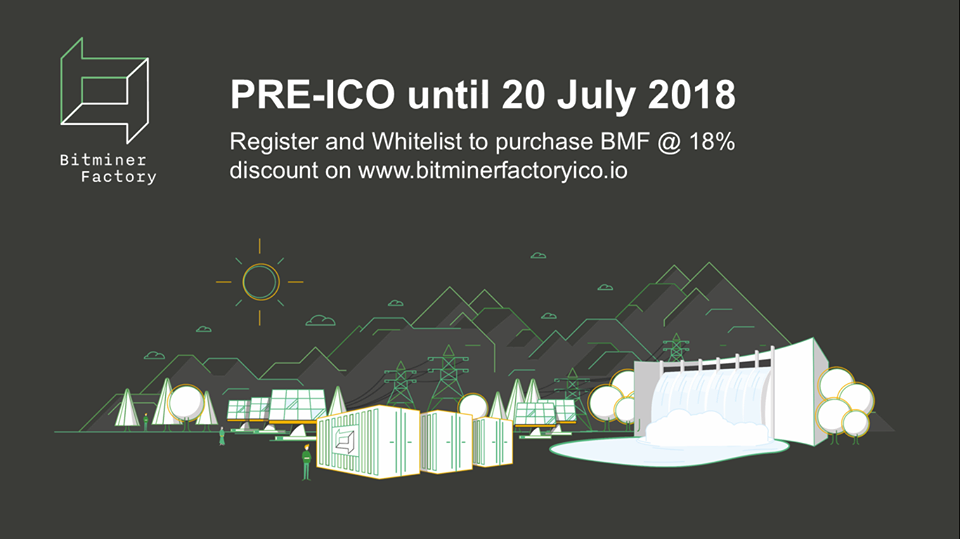 Bitminer Factory idea dates back to November 2016, and our progress since then has been huge, with our first mining factory, now the largest
in italy, completed and fully operational since April this year, after twelve
months of hard work and dedicated refinements. We started with the
idea of following the cryptocurrency wave, and we have ended up being
at the forefront of innovation in the field, leading the way to a sustainable
process for mining cryptocurrencies. Some publications are starting to
suggest that renewable energies are the future of cryptocurrency mining,
and we will be among the first in realizing such a dream.
ABOUT Bitminer
Bitminer is a startup from Angeli's Group, constructors and energy producers for 40 years. With more than 20 collaborators and more than €3M revenues, we are the largest industrial crypto-mining group in Italy. Today, we decided to go to the next step: we want to allow everyone to participate in our project, by purchasing our token. It's a mining contract, that allow anyone to benefit from the production of our mining and renewable energy plants.
TOKEN DETAILS
Up to 100 million BMFs will be sold at a nominal price of 1$, not including 22% VAT.
Buyers participating in the Private Sale will get a 20% discount. For each 88 BMFs sold, 2 are produced for our Bounty Program supporters, while 10 are generated for Bitminer Factory management. BMF token given its owner the right to a portion of the overall profits of the Mining Operations installed and operated by Bitminer Factory using the earnings obtained from this sale.
BMF is a Tokenized Mining Contract that every owner can sell to third parties. BMF token owners can exercise their rights with respect to Bitminer Factory based on our Terms of Sales, published on this website.
Purchase and Selling of the BMF Token
Purchase. The BMF Mining Contracts are purchased by transferring the Order Total Payment in Bitcoin or Ether, as specified in the Sale Offer issued from the Seller to the Purchaser. The Seller reserves the right to accept another payment method in individual cases.

Selling of Tokens. After the Order Total Payment has been received by the Seller and the condition precedent for the Tokenization is fulfilled, the Seller transfers the Tokens to the Ethereum address provided by the Purchaser.
TIMELINE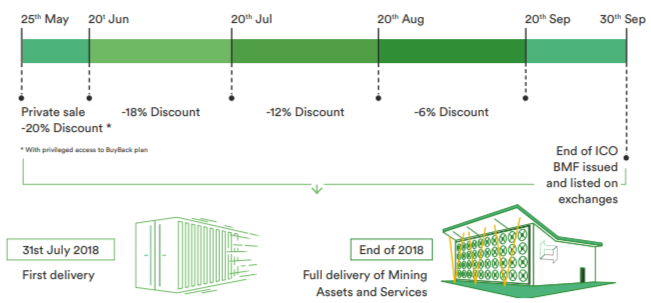 TEAM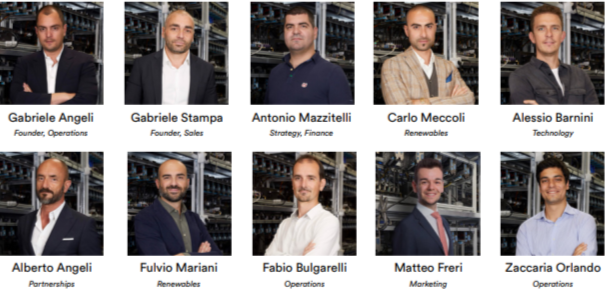 Gabriele Angeli, Founder, has a longstanding experience as a general
contractor in the Oil&Gas and renewable energy industry, where his family
business, Angeli Group (http://www.angelicostruzioni.it/) has been working
for large corporates worldwide for over 50 years. Driven by his passion for
videogaming, Gabriele founded with Gabriele Stampa Bitminer Factory,
the largest mining operator in Italy. They now have the most appropriate
experience to run the BMF ICO: over 18 months of hands-on business
experience selling and operating Miners for both private and business
Clients in Calenzano (Forence, Italy).
USEFUL LINKS
WEBSITE: https://bitminerfactoryico.io/en/
WHITEPAPER: https://bitminerfactoryico.io/doc/BM_Whitepaper_EN.pdf
FACEBOOK: https://www.facebook.com/Bitminerfactory/
TWITTER: https://twitter.com/Bitminerfactory
Published by genever
https://bitcointalk.org/index.php?action=profile;u=1174608