Drop in BTSBTC
At the last installment I had thought we were going to drop, but instead there was a bull run. There is still not enough volume to confirm any type of trend, but the price it has not broken through the long term upwards trendline.
The assumption is that this is likely to continue. If there is a break on volume, then the upward trending price action is likely to end.
The price has tested my longterm trendline before and it is about to test it again. If the line does not hold, more down is certain.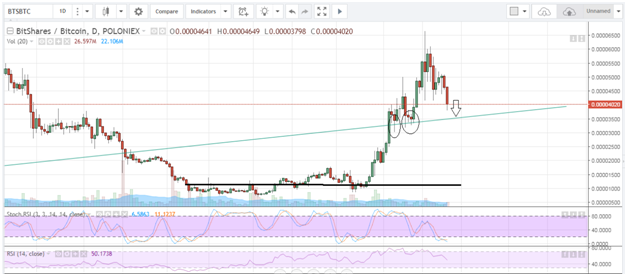 I would short only on the confirmed downtrend.
Confirming the observation using the RSI
The RSI is currently still 50 and which means that is in neutral territory. As before, RSI is a helpful indicator which in this case it is useful as a recommendation not to buy or sell until either up or down is confirmed.
The prediction
I recommend a wait and see approach.
Till next time,
Tinus
** Images courtesy of tradingview.com