Time to rise
Last time I indicated we were going to drop and this panned out to be true. The reason was due to bitcoin all crypto would drop. It seems there is a small pause in the FUD for now. Bitshares has broken it's long term trend line and is showing signs of a reversal.
As can be seen below,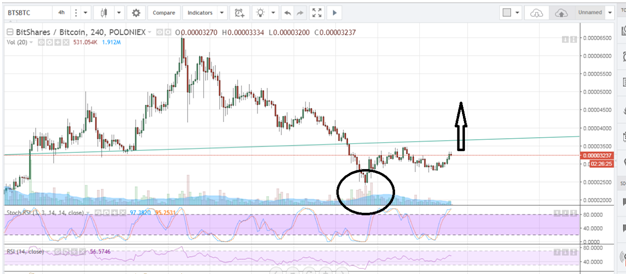 There is enough volume at the reversal point, with no continued selling
Confirming the observation using the RSI
The daily RSI is currently 45, which means that is slightly oversold, but almost in neutral territory. As before, RSI is a helpful indicator which in this case it is useful as a recommendation not to buy or sell until either up or down is confirmed.
The prediction
I recommend a buy at this point. There is about 10 – 20% of upside.
Till next time,
Tinus
** Images courtesy of tradingview.com