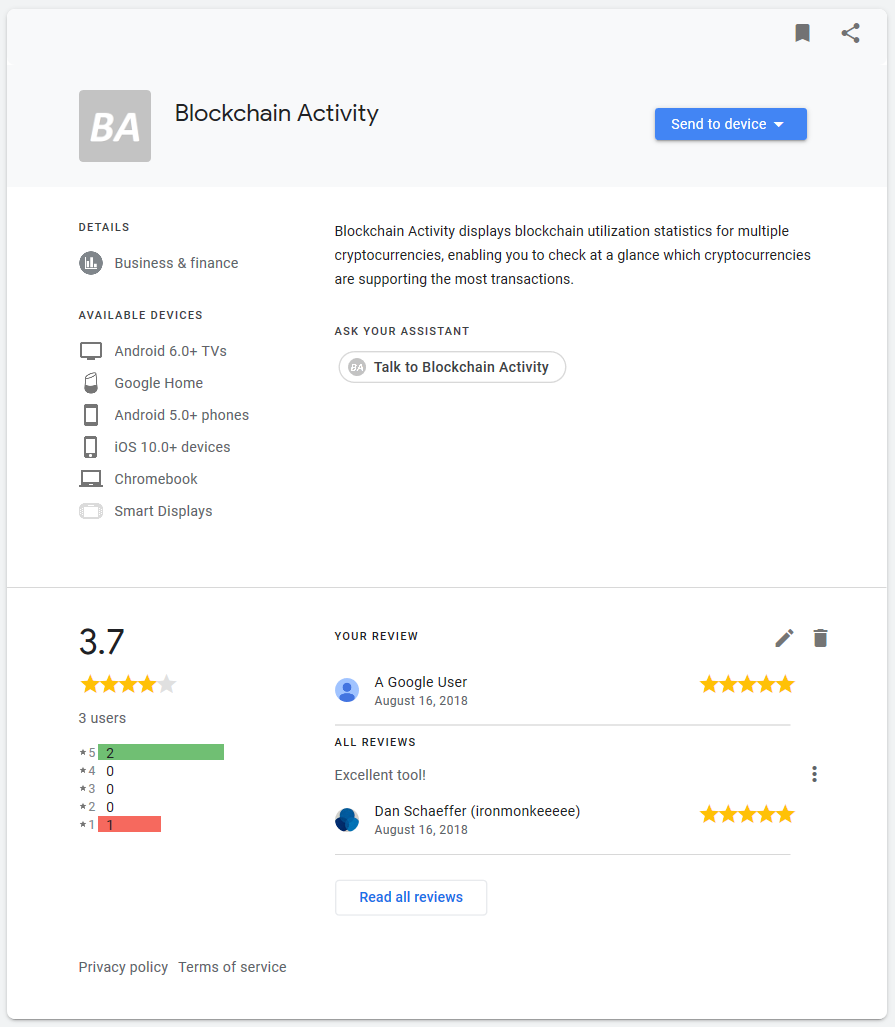 "Blockchain Activity" Google Assistant agent updates!
Google recently published "Blockchain Activity" on the Google Assistant platform, enabling its use instantly on all Google Assistant supported devices - potentially billions of users have blockchain activity statistics at their fingertips without the need to install any new apps (other than the Google Assistant app).
Discoverability
Blockchain Activity is currently the only result that appears when you type "Blockchain" into the Google Assistant agent discovery page!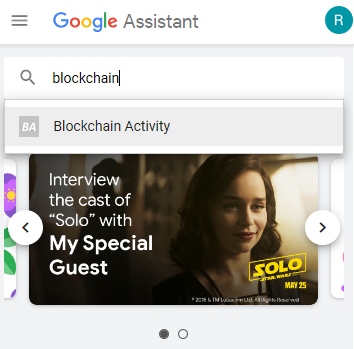 The following is the only result when you search for:
"cryptocurrency <stats|statistics|activity|usage|transactions>" (pick one from <> tags)

However the 'Blockchain' query shows 'Blockchain Activity' quite low on the results in the 'more results' section:

---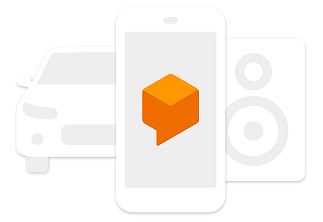 Dialogflow changes - awaiting Google's approval!
The upcoming Dialogflow changes (awaiting Google's approval) will improve the discoverability of the bot by enabling implicit invocation for the 'where to trade crypto' intent - hopefully these users who are looking for cryptocurrency exchanges will then decide to request a blockchain activity report & continue using the bot for their source of blockchain activity statistics in the future.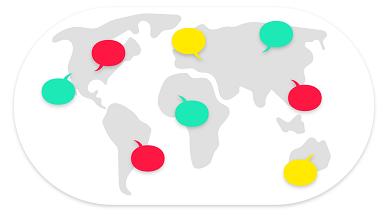 I've taken recent usage by real users into account to make it easier for users to quit the bot when they're wanting to perform alternative Google Assistant agent tasks. I plan on adding a link to an user survey within the bot, perhaps within the 'help/about' intent - so as to engage the userbase more directly regarding how to improve the bot.
I also completed a large amount of refactoring of the blockchain activity & where to spend intents - majorly reducing their complexity & improving modularity.
---
So what are you waiting for?
Say: "Ok Google, talk to Blockchain Activity"

Try it out, see if you can break it or try to think of how it can be improved.
Have any questions or suggestions? Don't hesitate to reply below!
Best regards,
CM.