SUMMARY
During corrections, a person's true colors comes out. The level of one's emotional maturity shines; or the lack of it. Just look at the comments in my blogs. Since 1997, my journey as a trader has been more about self discovery and growth than profits. Humans have a tendency to want to project their guilt outwards and that way, temporarily make themselves not the responsible ones and so gain a period of relief from guilt. It's quite ego based. But, one can arrive at a state where such doesn't become your first instinct. That's called discipline. The discipline to remain calm under fire is well possessed by those with battlefield military experience. Such iron discipline allows them to excel quickly as traders because they never blame others. This is why I often say that a "Good Trader" is a "Bad Trader" who first forgives himself for his mistakes, learns his lessons and tries again. I see no other pathway to becoming a Good Trader.
Bitshares (BTS) has delivered >2,000% in profits from $.045 to $0.91. I believe soon, it will do FAR MORE than that! BTS is using this correction as a pre-breakout setup. The below chart shows how BTS can choose between teh yellow or white a,b,c,d,e pathway. Once that resolution is made, the pathway will be clearer with unchanged destination...UP! There is a chance that price could go sideways for a while. But no matter, time has no stake in my projections.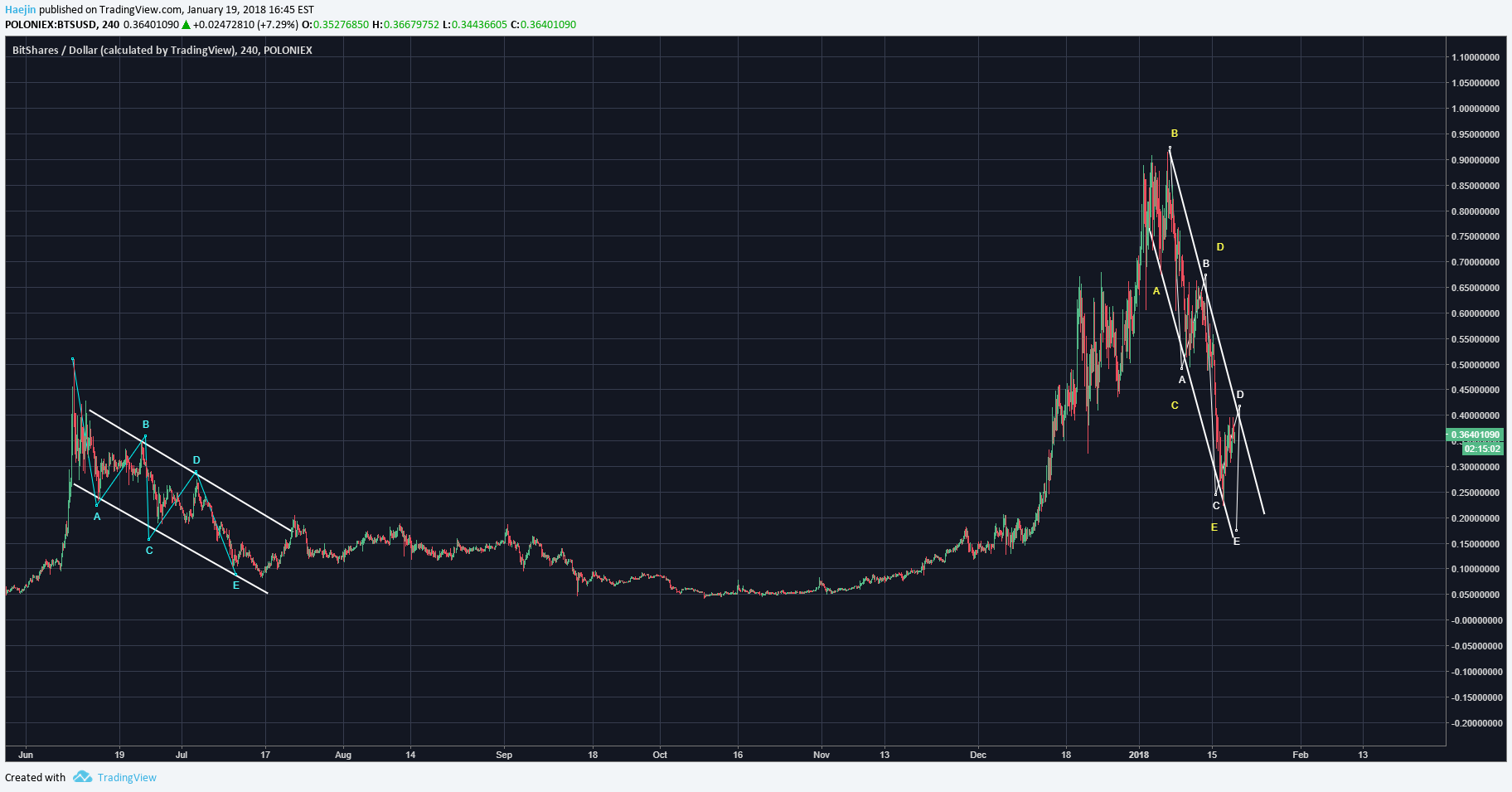 Legal Disclaimer: This is only my opinion, make of it what you wish. What does this mean? It means it's not advice nor recommendation to either buy or sell anything! It's only meant for use as informative or entertainment purposes.
Please consider reviewing these Tutorials on:
Elliott Wave Counting Tutorial #1
Elliott Wave Counting Tutorial #2
Elliott Wave Counting Tutorial #3
Laddering and Buy/Sell Setups.
Laddering Example with EOS
Tutorial on the use of Fibonacci & Elliott Waves
These Technical Analysis Books: Elliott Wave Priniciple & Technical Analysis of Stock Trends are highly recommended
@haejin's Trading Nuggets
Essay: Is Technical Analysis a Quantum Event?
Follow me on Twitter for Real Time Alerts!!
Follow me on StockTwits for UpDates!!
--
--


If this blog post has entertained or helped you to profit, please follow, upvote, resteem and/or consider buying me a beer:
BTC Wallet - 1HMFpq4tC7a2acpjD45hCT4WqPNHXcqpof
ETH Wallet - 0x1Ab87962dD59BBfFe33819772C950F0B38554030
LTC Wallet - LecCNCzkt4vjVq2i3bgYiebmr9GbYo6FQf