One of the hardest challenges a cryptocurrency community can face is prolonged price decline and constant selling pressure. Such a period is a self-enforcing and lethal cycle. Gamblers exit -> price declines -> develpment resources diminish -> development slows down -> people loose faith -> supporters exit -> shorters make it worse -> interest declines -> no new money enters -> and the cycle continues. You know what I'm talking about. People expect profit.
Bitshares has survived that test
I dare say that. Several things indicate that a better time has begun. Some are big and some small, but together they clearly point to a bright future.
Price has gained support and begun to recover
Most of the traders who don't care about Bitshares have apparently left. The rest is held in strong hands - people who believe in the real value of Bitshares. These people don't depend on public perception or marketing in making their investment decisions. They have kept accumulating BTS and supporting the community.
Here's the BTS:bitUSD market from 3 months.



(note that this is not against bitcoin but USD)
Several companies have chosen Bitshares as their platform
This is significant. You don't build a company or service upon a blockchain you don't expect to last at least ten years. There are several companies doing stuff on Bitshares, more of which you can read about in the Bitshares - State of the Network_ reports by @steempower. This ensures that Bitshares will have enough inertia to live through any hard times. It will also ensure that when these projects succeed, BTS holders will benefit. Check out Hempsweet, Rudex, Bitkapital and Blockpay to get a taste.
New people are constantly joining the community
New members keep joining the Telegram chat and expressing their amazement about the technology. They often say they are amazed about why they didn't know about Bitshares before - even though it is so awesome. This indicates that there is a huge potential awakening awaiting when awareness spreads more. (sorry about the language)
Quote from one user:
I'm like three or four days into using Open Ledger and I'm already thinking, "Why isn't everyone using this? Why is the volume so low? This is AMAZING!"
Awesome and unique things are created
I'm thinking of the Bit20 index fund asset. It is a "trust-less" asset which follows the value of the top 20 cryptocurrencies combined. It is not just empty air, but fully backed by ~2.5 times the calculated value of the index. It is a rare combination of low risk and high expected return. It's just incredible. No wonder it is hard to acquire than precious metals. Once people start finding out about it, the price of BTS will naturally increase. (by the way, BTWTY hasn't been advertised at all, and you can only get it on Bitshares)
The platform has been stable for a long time
Now this isn't what most speculators are looking for, but it is important in giving confidence in Bitshares as a foundation for any kind of business. It allows for development of an ecosystem. There will be more applications, libraries, interfaces, use-cases, UIA's and MPA's. More people will become knowledgeable and able to give support. There will be more references to Bitshares. This is an aspect that shows it's power only over time. If you abandon the tech and start anew, you will loose this benefit. That's not happening with Bitshares. It's here to stay.
BitAssets have been proven to work as designed
Bitshares' Market Pegged Assets are the only existing Assets that are pegged to non-digital real-world assets in a way that requires no trust in any party. They have been functional and well pegged for 1.5 years. In this regard, Bitshares is not just an experiment, but now also a proven system. There have been a few Black Swan events, which actually serve to prove the system works as intended. Stability comes at a price, and the system is designed to remain stable while a MPA is allowed to fail if there is no-one to pay the price of maintaining the peg. There will likely also be a way to revive these MPA's in Black Swan cases.
The fact that MPA's have been proven to function as intended gives strong confidence in the continuity of Bitshares, and surely people will gradually begin to accept MPA's more as investments or payments.
Voters have agreed to fund more development
After initial exitement there was a period where no development was funded by the network. This was because of big whales who were afraid of losing even more money. See the deadly effect here? Now it seems like the weak hands have let go of their stakes, and the deciding majority has the confidence to fund development. Bitshares survived the phase and has renewed growth. This gives more confidence in the future of Bitshares.
Screenshot from the Voting interface: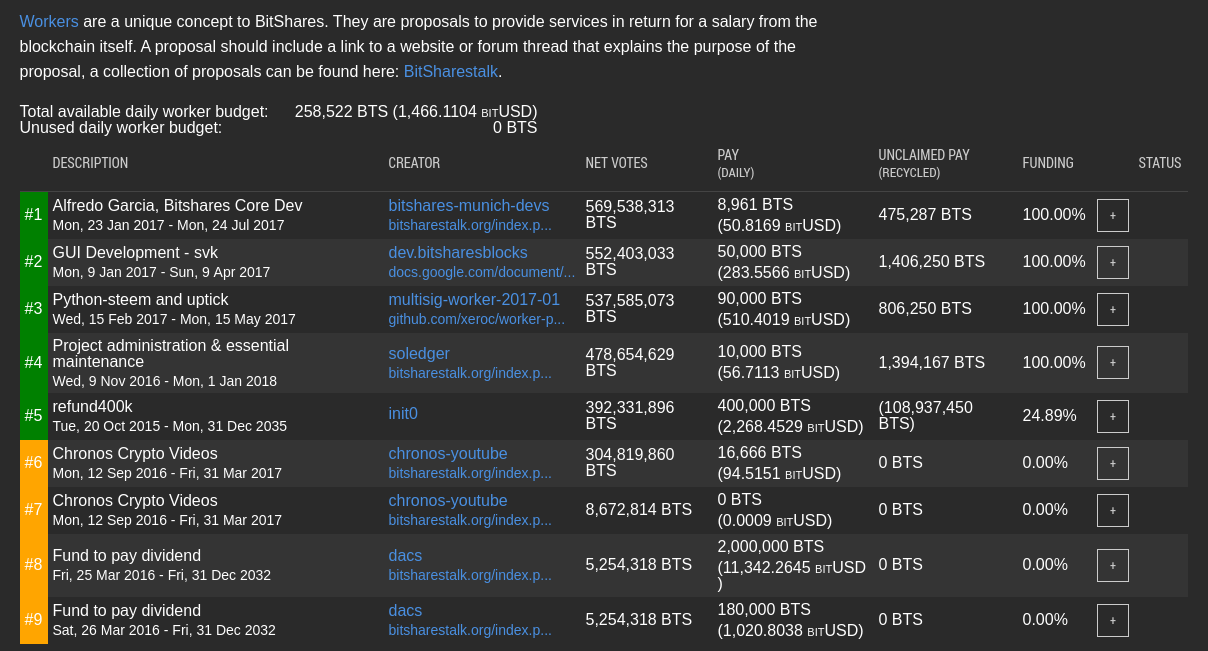 Markets on the DEX have become more active
The DEX (Decentralized Exchange) is one of the main features of Bitshares, and seeing it gain traction means it works and provides value to users. It is a chicken-egg problem to bootstrap the markets, as it needs assets to trade and traders. Traders come if there are profits to be made, and profits can be made if there are traders. To an empty marketplace no-one comes. From nothing nothing comes. This has taken time, but now there is strong evidence that the markets are getting more active, which will attract new traders - creating a nice positive feedback loop.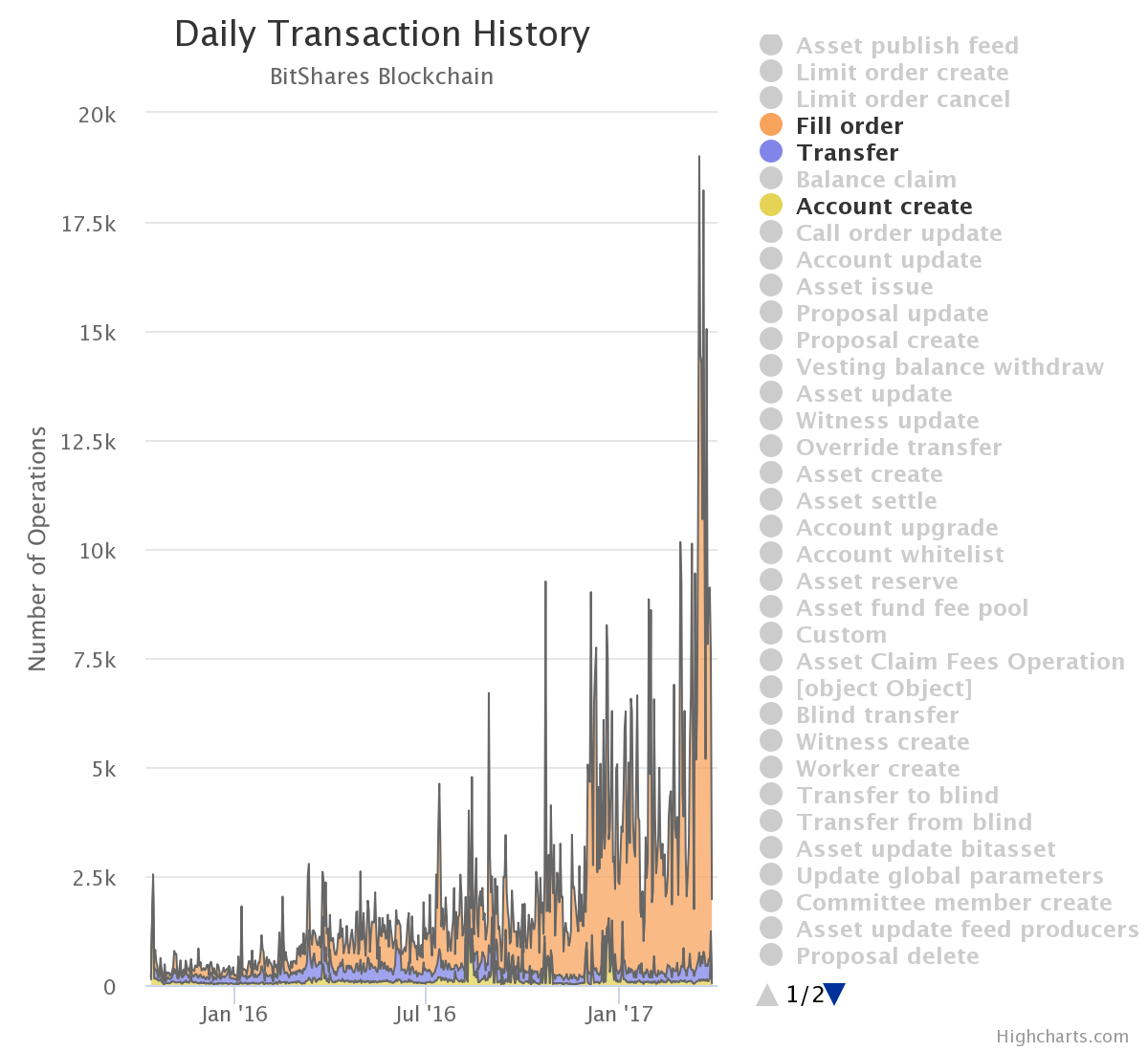 The dust from past controversies has settled
Bitshares got lots of negative press in the past. That was certainly one of the main contributors to the long price decline. People still seem to try to downplay Bitshares or just avoid mentioning it together with any disruptive projects. They seem afraid of it. Luckily it doesn't seem to have the effect it once had, and new people are finding out about Bitshares. This change will surely positively affect the future prospect of Bitshares.
Decentralized governance is working without a "leader"
Since Dan (the founder of Bitshares) left, things have continued without a glitch. No-one has emerged as a de-facto leader, but the community is full of engaged people working together or alone, and consensus is found in important things. It looks like no actual leader is even needed. This is certainly a thing Bitshares can be proud of. It also ensures it will continue working even if key people disappear.
We are yet to see a major event to boost Bitshares
There has been no massively public exchange hack or other event that would have contributed to the growth of Bitshares. Even so, the price (against USD) has not declined for a year, and even grown recently. If such an event were to occur, we could see an ugly pump in the price. Be prepared for such an event. I mean, have your money behind your own keys.
A gradual rise will create a positive feedback loop
More people will dare to borrow bitAssets into existence and lock BTS as collateral
This will increase the supply of bitAssets, and reduce the liquid supply of BTS
The price of BTS will rise more
The people who had shorted bitAssets will be able to short more
Since the DEX will provide more possibilities, BTS will exit other exchanges, reducing the sell walls
Markets on the DEX will become more liquid, reducing the need to exit Bitshares
Bitshares will get more visibility and interest, attracting more participants
There will be more resources for continuing development
As you know, a gradual rise is very beneficial to a project like Bitshares.
It will take time
Bitshares is obviously a very sophisticated system to grasp. Most other cryptocurrencies are very similar to Bitcoin in concept, and easy to understand once you know Bitcoin. Learning to understand Bitshares, it's mechanisms, and all the value propositions - even after understanding Bitcoin - is a step as huge as from ignorance to Bitcoin. So people just skimming over all the hundreds of possibilities will likely just omit Bitshares as too time consuming to figure out. And that's a good thing, since the same superficial speculators would be the ones to dump on the next possibility.
Then there will be the few who dare to take the plunge. They will all experience the same amazement when they realize that Bitshares can already do everything all the others are planning to. They will see how well thought out everything is, and how powerful the technology is. They will not sell soon, as they realize that the people in the community are not going to pump and dump, but actually concentrating on creating something really valuable.
So here's my investment advice
Look at the 1 year chart with 1 day candlesticks. This will help you avoid FOMO and you will also notice that it's not worth investing when it spikes green. If you look at 1 day and 5 min candles, things will look exaggerated and you will act hastily.
Wait for a few red sticks and place a buy order some 1% below current price.
Then move your BTS to your own wallet
Borrow some bitUSD and trade against something you like.
Thus you will keep the BTS you bought AND buy something else you also like with the same money. You will also support the price of BTS and create value on the Bitshares network, which will help ensure your holdings grow in value - hopefully slowly.
---
Let me finish by saying that I believe in Bitshares, but also in Steem. I have been only buying and earning STEEM, and will not dump my rewards to buy BTS. BTS I buy with FIAT.