Hey Steemians,
Just wanted to let you know that if you don't have a free Bitshares account yet, now's a great time to get one. Bitcoin Latina is about to give out 10 BCL to every account on the Bitshares blockchain and you don't want to miss out.
Currently BCL is trading for 65 BTS or ~$13.65 at the time of this post (market pic below). So, those 10 free air dropped BCL are worth about $136. That should be more than enough incentive to go through the simple process of creating your own Bitshares account.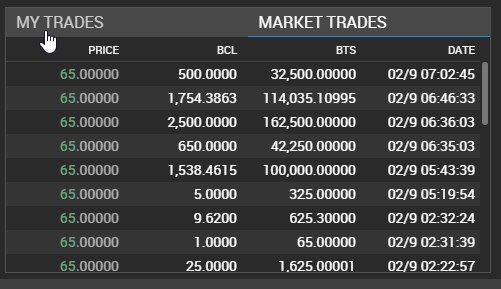 If you're not aware, Bitshares is a decentralized exchange built by @dan and is one of the most used blockchains in the world. I love using the platform and it's worth checking out even if there wasn't an air drop incoming. Now just happens to be a great time to take the leap if you haven't.
If you want to learn more about Bitcoin Latina and what it's trying to achieve, go take a listen to the latest interview on @bluerocktalk here
Here's the relevant quote from John Gotts, a nucleus founder.
"Anyone with a BitShares wallet will be given 10 free BitcoinLatina (BCL) tokens on February 14 and on that day we also will provide approximately 23 million coins to volunteers, who now number more than one hundred people working full and part time."
If you have any questions, feel free to ask in the comments, I'm happy to share what I know.
Important Update - February 12th
Additional information about this airdrop has now come out. It's now been stated that you must fill out the form at this link in order to get the airdrop. You'll need to give them your Bitshares account name in the form and you will then recieve 2 BCL on the 15th. They are now saying that you'll be able to earn the additional 8 BCL in a different way by contributing to the community. It's not really clear what that means at this point. Definitely misleading given the initial quote from the interview provided above, but still, a nice drop for nothing more than setting up a Bitshares account and filling out a form.
Hurry though, you only have until February 14th to get your account created




---
Images from: Freepik