Hello Fellow Bitsharians,
I am glad to share with you what I think is good news for Bitshares. Weiss Ratings, an American based company, has published for the first time a cryptocurrency ratings report. This is what they have to say about themselves on their website:
"Weiss Ratings, which began in 1971, is the nation's leading independent rating agency, covering 55,000 banks, credit union, insurance companies, stocks, ETFs and mutual funds. Unlike Standard & Poor's, Moody's and Fitch, we never accept compensation from the entities we rate. Our independence and accuracy have been noted by the U.S. Government Accountability Office (GAO), Barron's, The Wall Street Journal, and The New York Times, among others. Now, we are applying our 46 years of accuracy and independence to cryptocurrencies."
And this is what they look for to rate cryptocurrencies according to their website:
"The primary goal of the Weiss Cryptocurrency Ratings is to help protect investors from risk, while leading them to the most sustainable, robust cryptocurrencies. That goal requires playing close to the pattern of recent price declines as well as tech issues that could hinder a price recovery."
Also, according to their website their Cryptocurrency Fundamental Index measures transaction speed and scalability, market penetration, network security, decentralization of block production, network capacity, developer participation, public acceptance, plus other key factors.
Their Cryptocurrency Risk Index measures:
(a) relative and absolute price fluctuations over multiple time frames,
(b) declines from peak to trough in terms of frequency and magnitude,
(c) market bias, whether up or down, and other factors.
So why did Bitshares get a C+ and not an B or an A?
Here is why I think that Bitshares got a C+, and rightly so. First off, Weiss' index measures market bias and public acceptance. As we all know, this is one area where Bitshares is heavily lacking; needing a stronger brand and market penetration. The second factor that has hurt Bitshares' grade and most all cryptos is price fluctuation over time. At one point Bitshares' price went from $0.46 down to $0.05 and recently its price went up all the way to around $0.90 and back down to $0.24. This in their eyes makes Bitshares a bit risky for investors. Remember that one of their main goals is to protect investors.
If Bitshares can improve on these two metrics before Weiss' next report comes out, we can be sure to see the grade improve from a C+ to a B or even a B+. Why do I say that? Because Bitshares scores high on all other metrics such as speed, scalability, security, and decentralization. Very important factors indeed.
Moving to a more positive note
Here is how the top cryptos have scored, listed by grade and in alphabetical order: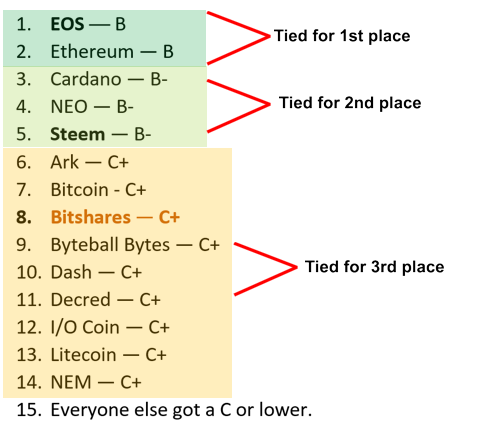 Notice that Bitshares and eight other cryptos have tied for third place, two cryptos have tied for second place, and two have tied for first place. Coming in third place is good news for Bitshares. Looking at it from this perspective, Bitshares should at best have a top three market cap and at worst a number 14 market cap position. At the time of this post the number three position in terms of market cap is held by Ripple with a market cap of $53 Billion dollars and the number 14 position in terms of market cap is held by TRON, at $4.7 Billion dollars. Interestingly, neither one of these two cryptos made it to the top of the list.
Don't let the C+ discourage you
According to the letter grading system (i.e. A to F) used in most schools and colleges in the United States, the difference between getting a grade of C+ and B- varies between one and three percent. This means that Bitshares missed being in second place by a factor of 1%, maybe 3%. Look at the chart below to get an idea of what I am talking about: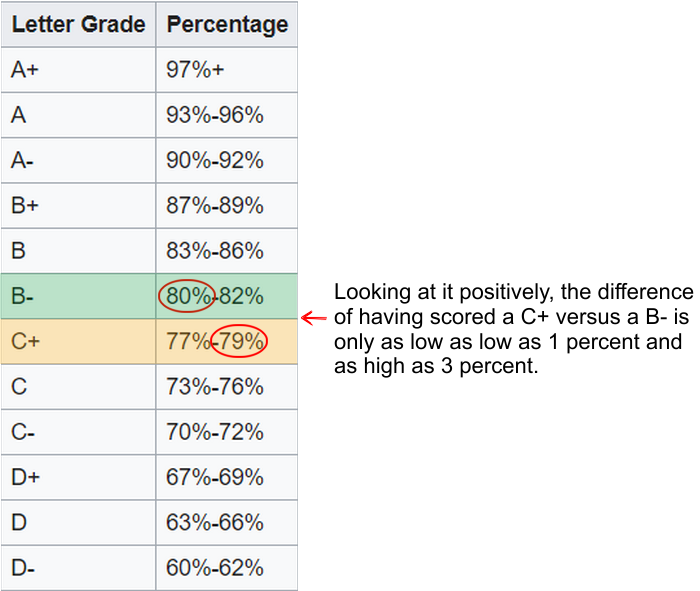 The Weiss Cryptocurrency Ratings Report
Here is the three page report for those of you who have not seen it yet: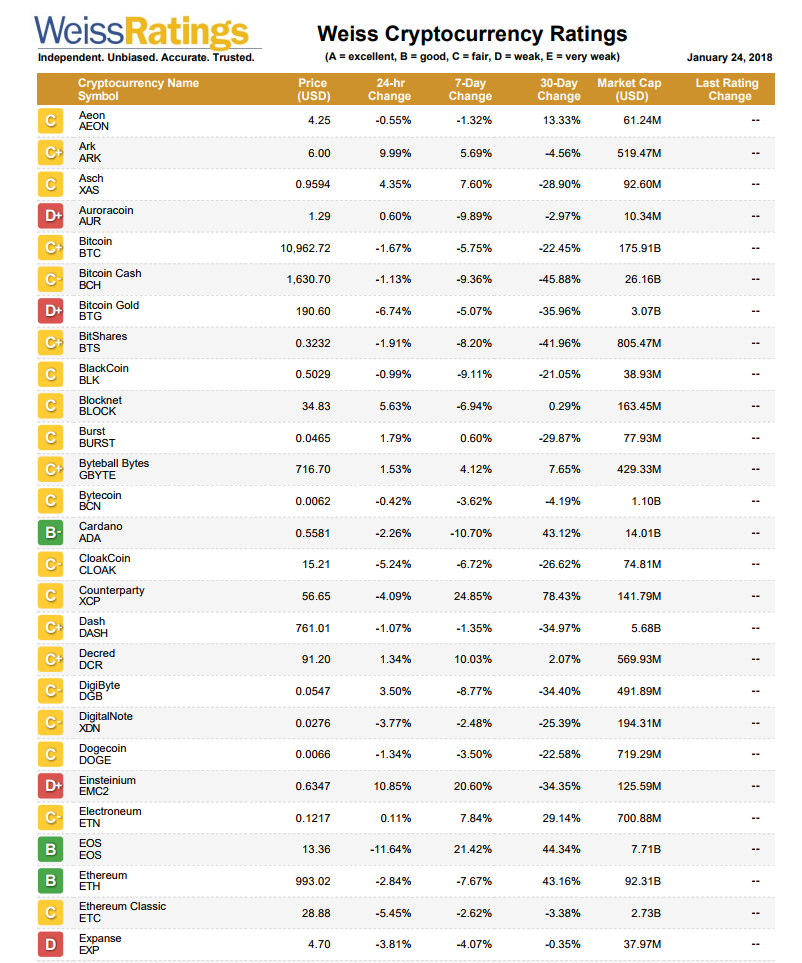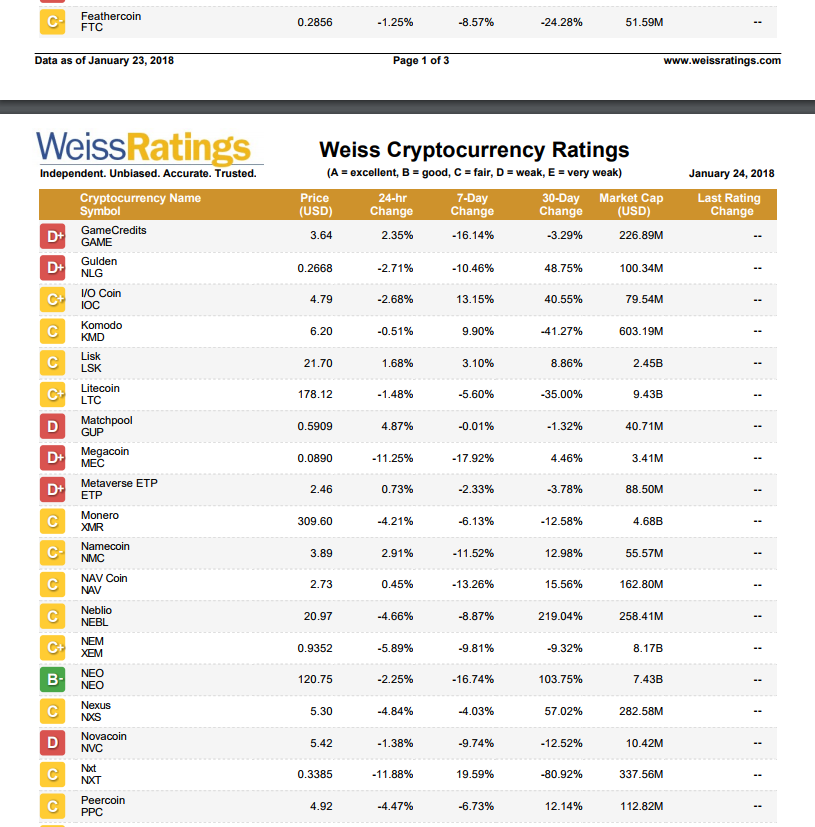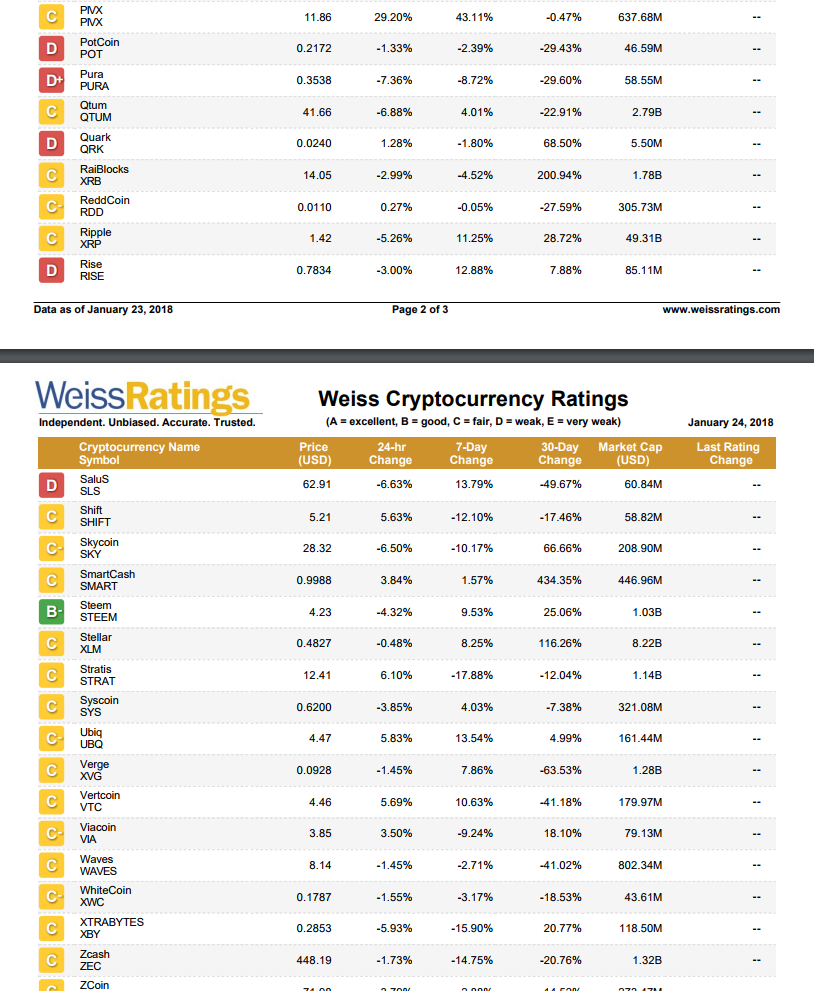 Please let me know what you think.
Did you find this interesting?
Read my other posts for more engaging content.

Don't forget to UPVOTE, RESTEEM and/or COMMENT.
It would be greatly appreciated. :-)
---