Wow... so many upsets and underdogs heading into the Semi Finals of the Stanley Cup Playoffs this year....
Just look at this bracket
Montreal Canadiens #4
NewYork Islanders #4
Tampa Bay Lightning #3
Las Vegas Golden Knights #2
All the #1 Ranked Teams are out.
So many people have lost Millions of dollars in their hockey pools this year.
Lucky for me I only play @Bitsports here on https://Blurtter.com/@Bitsports and https://Steemit.com/@bitsports
Where I have earned a lot of Blurt, Steem, SBD, TRX and more ....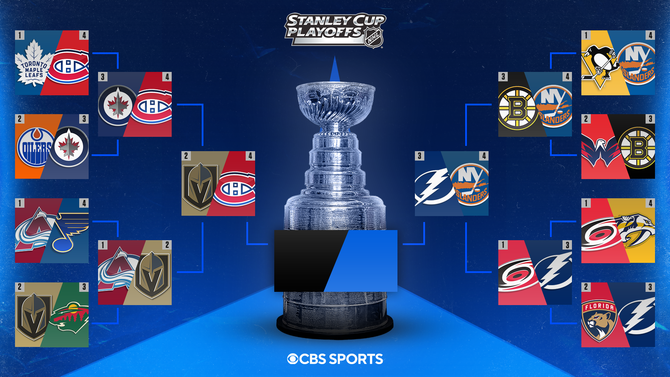 All times Eastern
(* if necessary)
Semifinals
No. 2 Tampa Bay Lightning vs. No. 3 New York Islanders (NYI leads, 1-0)
Game 1: Islanders 2, Lightning 1
Game 2: Tuesday, June 15 | at TB | 8 p.m. | TV: NBCSN
Game 3: Thursday, June 17 | at NYI | 8 p.m. | TV: USA Network
Game 4: Saturday, June 19 | at NYI | 8 p.m. | TV: USA Network
*Game 5: Monday, June 21 | at TB | 8 p.m. | TV: NBCSN
*Game 6: Wednesday, June 23 | at NYI | 8 p.m. | TV: NBCSN
*Game 7: Friday June 25 | at TB | 8 p.m. | TV: NBCSN
No. 1 Vegas Golden Knights vs. No. 4 Montreal Canadiens
Game 1: Monday, June 14 | at LV | 9 p.m. | TV: NBCSN
Game 2: Wednesday, June 16 | at LV | 9 p.m. | TV: NBCSN
Game 3: Friday, June 18 | at MON | 8 p.m. | TV: USA Network
Game 4: Sunday, June 20 | at MON | 8 p.m. | TV: NBCSN
*Game 5: Tuesday, June 22 | at LV | 9 p.m. | TV: NBCSN
*Game 6: Thursday, June 24 | at MON | 8 p.m. | TV: USA Network
*Game 7: Saturday, June 26 | at LV | 8 p.m. | TV: NBCSN
Source: https://www.cbssports.com/nhl/news/2021-nhl-playoffs-stanley-cup-playoffs-scores-bracket-complete-schedule-standings-games-tv-channels/