While many altcoins have been surging up in value, it is debatable which altcoins are overpriced, overhyped, or both.
In a post I wrote a month ago titled I Like UBIQ. You Should Too :), I talked about the reason's why I liked the project, and why I believed it would continue to be successful in the long run.
What sets UBIQ apart from a lot of altcoins (apart from being under-priced and under-marketed), is that it is fully functional and does what it set out to do. The project was started using the original Ethereum code, but tweaked in a number of ways to add maximum long-term stability and consistency for those looking to create Ethereum apps -
a stability that the Ethereum project can't always provide due to it's turbulent and sometimes uncertain development path. Plus you can store UBIQ on a Ledger Nano S, which is amazing given how unknown the project still is.
But You can read my previous post, or even go here to the project site to read more about it.
---
Why I've decided to bring up UBIQ again, is due to its recent performance and steady rise in value over the past month.
UBIQ is currently sitting at $6.23 USD per coin, while a month ago it was worth $1.70 USD. That's a decent climb for a coin that has generally tried not to hype itself in any manner, hoping instead to let the project sell itself. UQIB is in a way a niche product, so this makes sense not to hype it.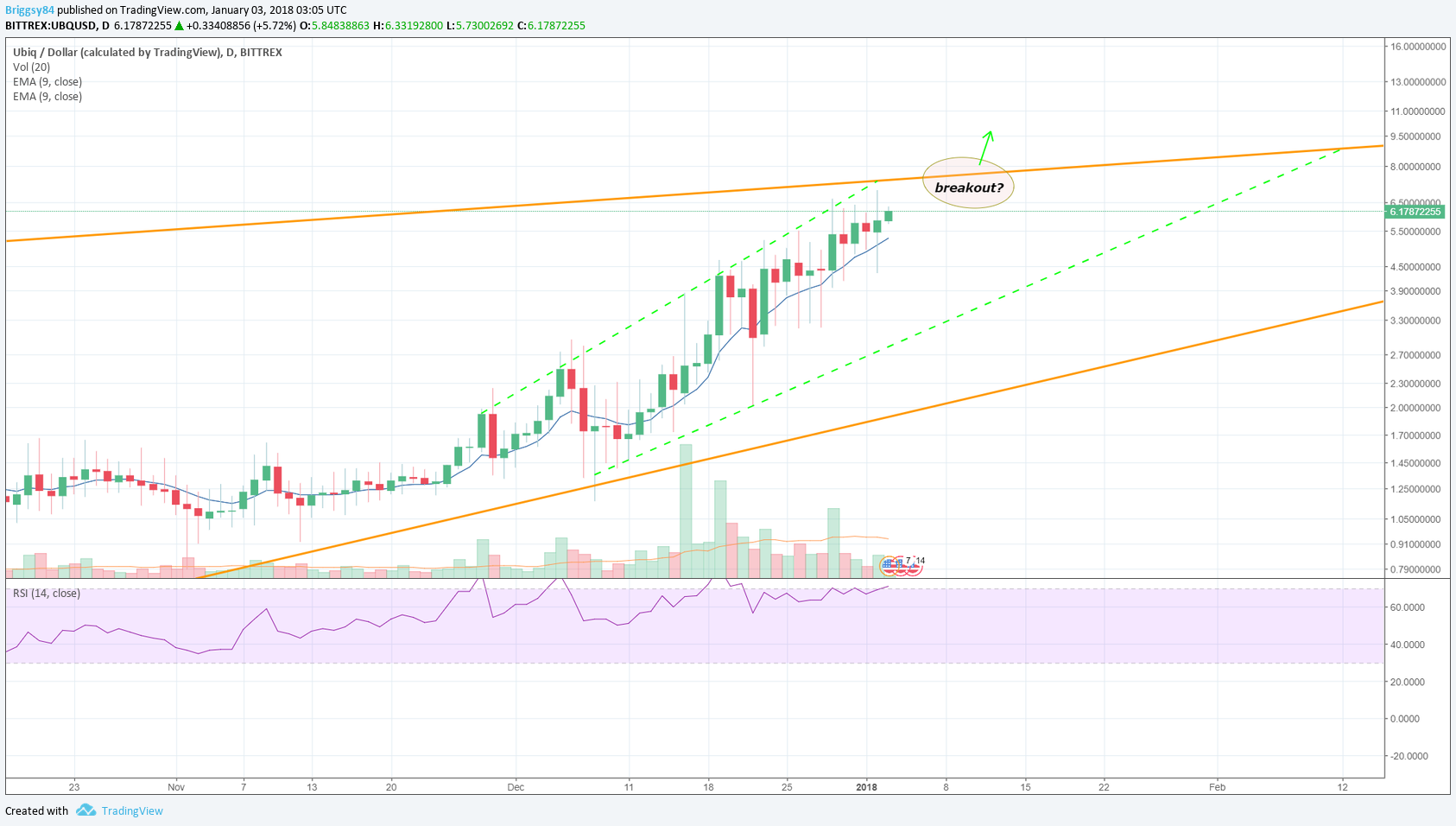 Both the Relative Strength Index and the Moving Average Exponential have been consistently bullish during the past 30 to 40 days on the 1-day chart. This might make some believe that UBIQ is due for some overdue bearish sentiment, but since June the price has been forming an ascending triangle, and the breakout point is getting close if the altcoin market doesn't stop it's run. I estimate within a month to see a breakout, but I'm not an expert analyst by any stretch and this is not financial or investment advice. UBIQ could just as well drop back down to 2 or 3 dollars in the time before making another run for it.
My goal for UBIQ is to continue following the project as it picks up more and more awareness. While it is annoying on the one hand that they don't hype their product, on the other hand it makes for healthy long term growth, which mirrors the philosophy of UBIQ in general. That in itself is consistency on top of consistency, which itself makes UBIQ attractive.
---
As always, good luck, good wealth and good health to everyone on Steemit. Stay positive towards others and help the community grow. Thank you for reading and sharing. Comments are always welcome.