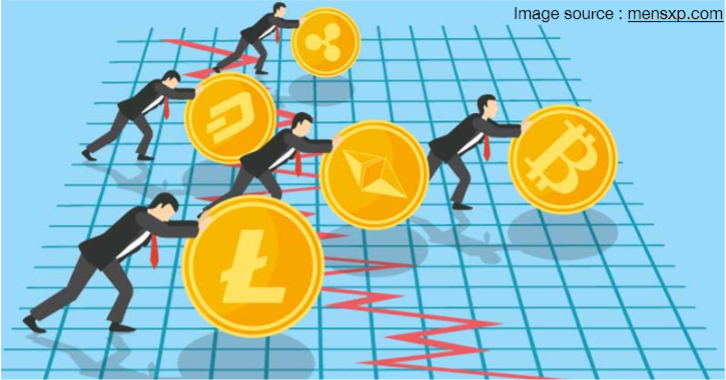 There are no guarantees in trading. The sooner you accept that, sooner you can release your expectations and focus unconditionally on a proven process — Yvan Byeajee.
---
Following the social media giant Facebook, another internet giant Google is cracking down on cryptocurrency-related advertising, furthering the "crypto blackout" online according to CNBC yesterday. This has created a lot of fear, uncertainty and doubt among the traders and we have seen some major selling with BTC breaking major important supports against which Traders/ Investors had their bet.
However, we feel that the effect of the news is temporary and we will see crypto-markets gaining confidence and maturity over time and will make things settle. With the flag-bearer currency dipping below the major support areas, other alt-coins have followed suit.
Let's look what we have in store for a trade set-up for the week :
Bitcoin
Bitcoin trading at $7,890 at the time of writing is representing a correction of 13.4% in last 24- hours. Like we mentioned in our last analysis, that BTC has been back under the shadow of the long-ranged descending resistance and might test supports of $8,300 and $7,500, which is exactly what happened with former being achieved in the week.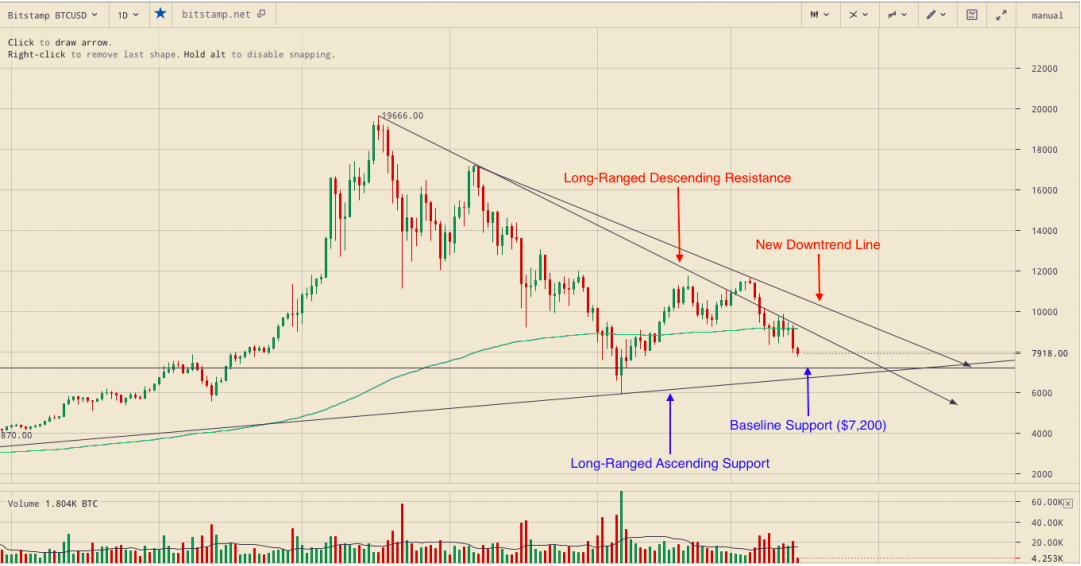 A lot of things happened over the week, but BTC was unable to get back over the long resistance formed. Currently, BTC has formed a bearish cross-over by bisecting below the 200-DEMA and looks to face multiple resistance above.
BTC now, looks to test new support $7,200 which is the baseline support and also a support formed as 78.6% Fibonacci Retracement ($5,920 — $11,780) level at around same level precisely working at $7,175. There can be minor pull-back around this point but the important support formed is by connecting the three major bottoms in long run ($1,830, $2,970 & $5,920) depicted in chart as "long ranged ascending support line".
Bitcoin now faces stiff resistance against $9,500 and $12,000 against which bears go strong with a view of going "bear on highs". Bulls can enter with minor allocations over two supports mentioned above in charts. For a sustained Bull-Run, BTC has to overcome some major resistance in time. A day-close above $12,000 will only validate the Bull-Run.
DEMA — Day Exponential Moving Average
Ethereum
ETH trading close to $585 represents a fall of about 15% in last 24-hours. Ether been working under the shadow of long-ranged downtrend line for past two weeks and was unable to get a momentum on an up-trend. Our mentions of the last week proved accurate, with ETH constantly facing resistance at $900 and now at $750.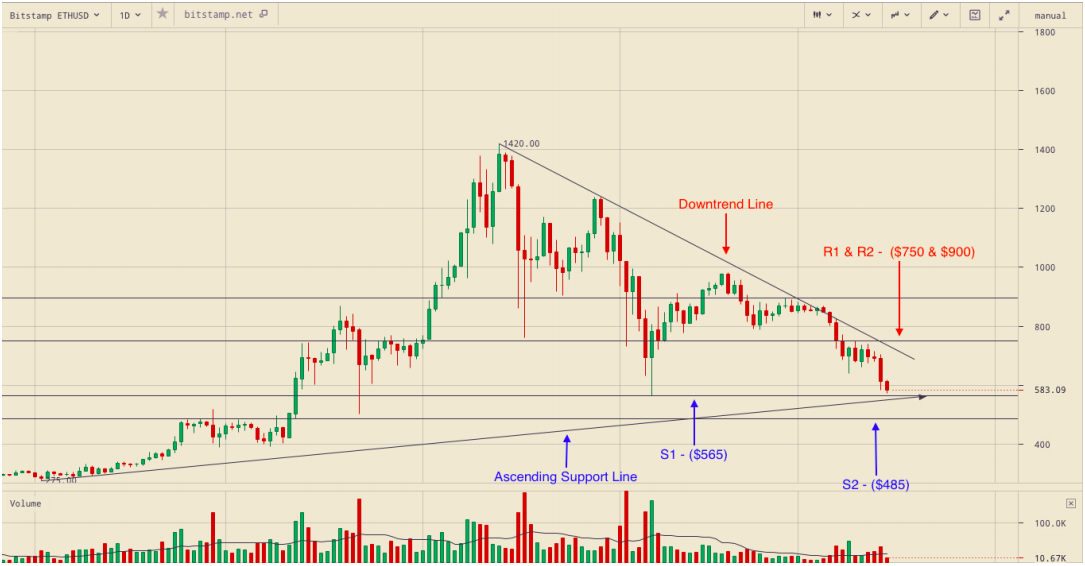 Now, at current levels, there is an intra-day support at $565 which might trigger a minor pull-back, however there is more pressure on sell-side and if flag-bearer (BTC) tests it's important immediate support, then ETH support of $565 is likely to be broken.
ETH is bearish with multiple resistance depicted in chart above. Major resistance for ETH to cross would be the triple high of $995 for a long-bull run. On lower sides, ETH will find major supports at $550-$480 where a pull-back can be expected to the descending line.
Bitcoin Cash
Currently trading at $875 BCH is representing a fall of 15.5% in the span of last 24-hours. Our bearish view from past two weeks have been totally accurate with BCH not breaking any of the major resistance and is looking to continue trading under heavy selling pressure.
BCH will continue to be bearish in the upcoming week with multiple resistance above. The descending line resistance will act as the major resistance in long-run. BCH at $875 right now is testing major support, which if not broken will get BCH back to it's above resistance level.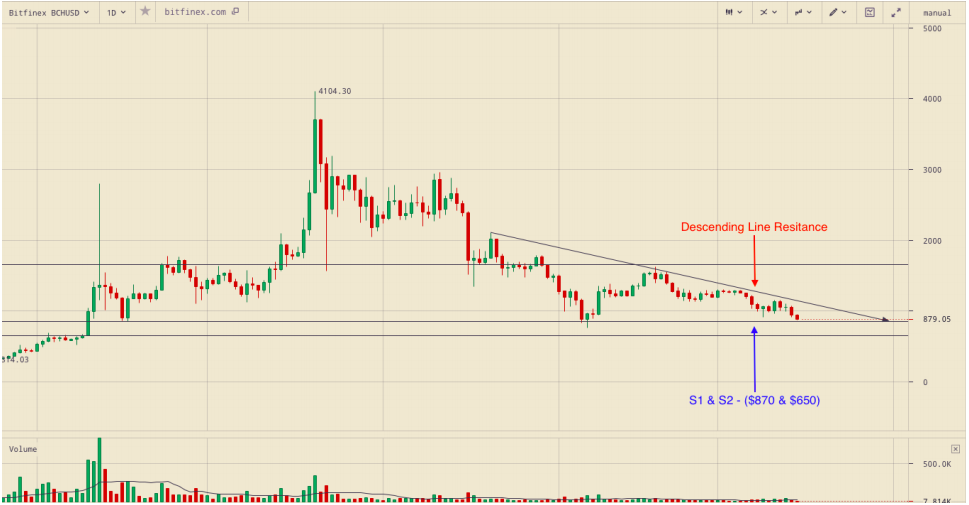 Also, BCH has seen double the volumes compared to previous week which shows that Traders are looking at interests at this levels. If, BCH closes above $870 today, we should see a pull-back to upper resistance of $1015 and $1,100 in a day-run.
Major support is seen only at the level of $650 where the first Bull-Run for BCH had started.
Litecoin
Litecoin currently trading at $157 is representing a fall of 14% in last 24-hours. LTC despite major support falling at $158 has been moving with the sentiments of crypto-markets and has broken the major support.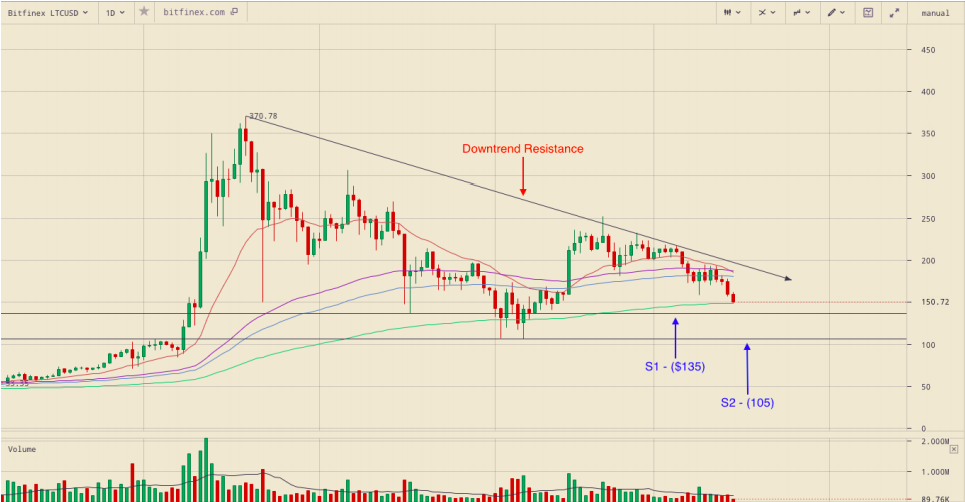 However, we still expect LTC to gain major support between the level of $155-$135 with latter forming first immediate support. Bulls will look to accumulate LTC within these levels, and LTC likewise can be expected for a pull-back to the above resistance line.
Currently, $160 and 200-DEMA collides forming important support and Bulls will look to find interest here at current levels. Our analysis can be negated if LTC falls below $135. Also, $159 being an important support-line, we expect LTC to close today above the same.
Price Analysis

Volume Analysis

Volume Distribution (Indian Exchange)

The above Coin-Distribution makes us understand that BTC is still preferred the most important crypto for asset allocation in virtual currencies. Being the flag-bearer currency, investors mark their faith in leading crypto making it the most reliable asset for investment allocation and store of value.
Market Updates
1. Bitcoin fell 9 percent following news that Google, the world's largest ad provider, is cracking down on cryptocurrency. This will come in effect from June of this year.
2. The Cabinet of Thailand, the executive branch of the country's government, has provisionally passed two royal decree drafts aimed at regulating cryptocurrencies.
3. International Monetary Fund (IMP) Managing Director Christine Lagarde Warns of Dark-side that comes with Crypto-Currencies.
4. Crypto exchange and wallet service Coinbase has received an e-money license from the UKFinancial Conduct Authority (FCA).
5. After acquiring Poloniex (crypto-currency exchange), Circle Rolls Out Crypto Investment App in 46 US States.
Weekly Price — Pointers

---