What is Savedroid?
Website here: https://goo.gl/4cPxdU
Within just 2 years of their company being formed they've already grown to become a big player in the Fintech industry in Germany.
Their app is a revolutionary AI based savings platform that mainly targets young users. In less than 2 years their app has already received 200,000 downloads.
They now plan to bring crypto to the masses with the help of artificial intelligence. Unlike a lot of the current ICOs the team behind this one already has a lot of experience in the field, with their German based company already receiving many awards in the Fintech field, they plan to use the AI technology that they've already developed for this new project.
The new platform hopes to simply cryptocurrency to remove many of the barriers preventing it from going main stream.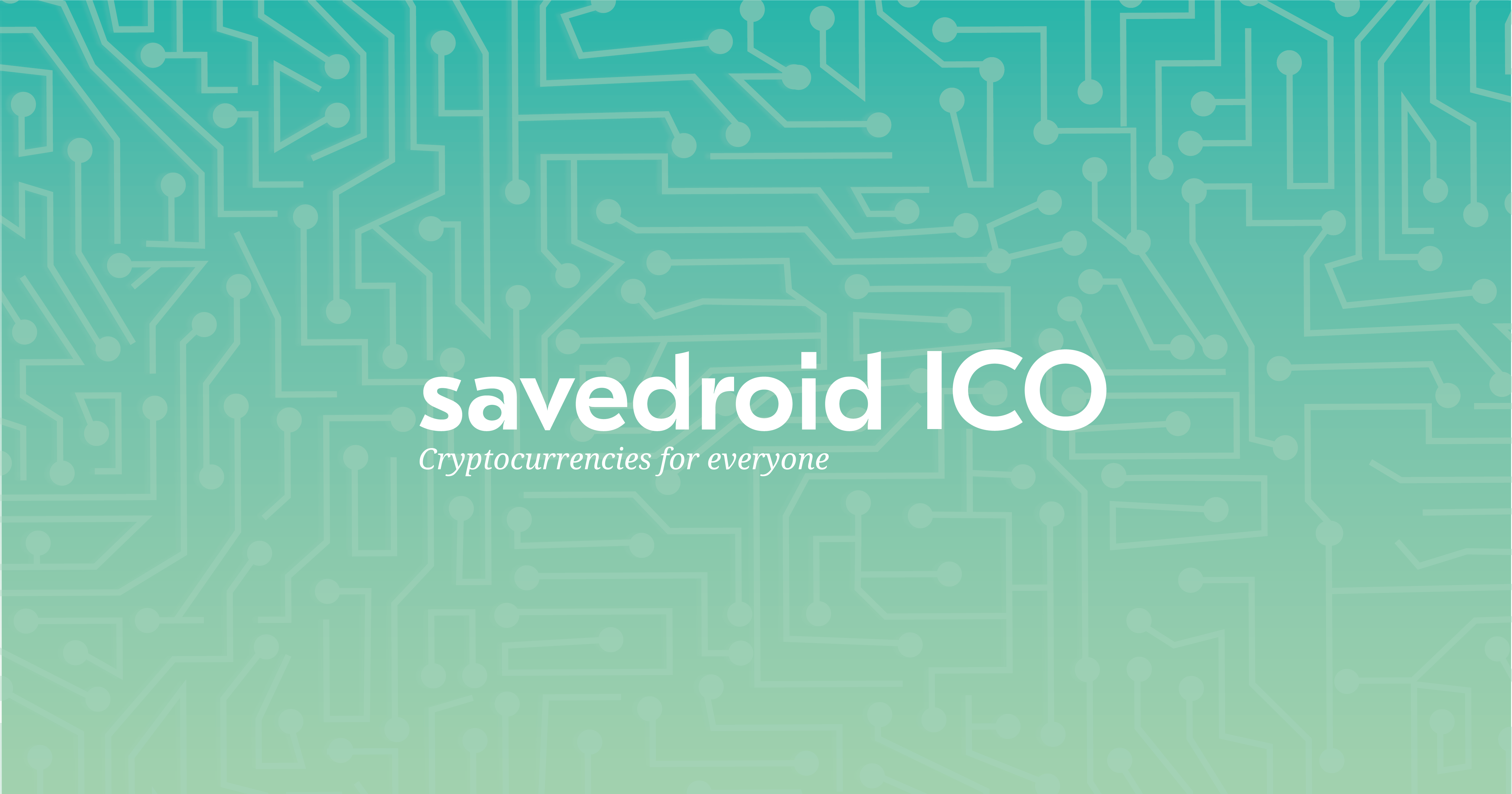 Company history
They were founded in just 2015 as a stock corporation. Since being founded they've already raised over 3 million Euros from well known investors.
Within just a few months of being formed they released their first app which promised to be a completely deposit secure savings account.
By 2017 their app had reached over 200,000 downloads and processed over 10 million different transactions. They currently have a team of over 20.
Savedroid products
Savings based on AI: Instead of targetting the rich like many banks tend to do, Savedroid targets the masses, this has been proven by their app quickly reaching 200,000 downloads. Most of the users of the app are looking for an easy to use app that helps them to save.
They achieve this by turning their users basic activities (which they call smooves) into savings which can then later be saved for bigger purchases. Each time a user performs a simple action the app saves a certain amount into their savings account. Millions of 'smooves' have already been made on the platform, meaning that millions of Euros have already been saved by their users.
Optimizing spending: By using AI the app also aims to save it's users money. It does this by checking what type of products the user is spending their money on and then finding cheaper offers for them. As an example the app can suggest anything from a cheaper holiday to a cheaper utility provider.
Transitioning to cryptocurrency
They plan to use their existing technology to allow users to save cryptocurrency instead or as well as fiat. By simplifying the process of buying, storing and saving cryptocurrency they hope to make crypto much simpler for users. There's been many projects promising to do this but Savedroid has the advantage of having pre existing technology to use and a customer base of over 200,000 people that are already using their app.
The users of the app will have the option of easily receiving crypto for their 'smooves' rather than fiat, with simple ways for them to also purchase or spend crypto from the comfort of their smart phone.
They also plan to upgrade their AI technology which will allow them to offer further services to their users such as helping them to invest into existing crypto or ICOs. This will therefore allow their users to easily diversify their portfolios.
Partners
The team behind the project has already made partnerships with many well known companies, this allows them to increase their reach and ofcourse offer the best services possible.
One of the first companies they worked with was Deutsche Börse who is the operator of Xetra and the Frankfurt stock exchange.
Savedroid is one of just 5 companies who makes use of their incubator program, this grants them access to over 400 companies all across Europe.
The project also has the support of the Wirecard bank who helped with their original savings app, Wirecard has a market cap of over 10 billion Euros, making them one of the major banks in Germany.
Key team members
Full details of the team behind the project are listed in their whitepaper, some of the key team members are:
Dr Yassin Hankir, Founder & CEO: A well known Fintech Entrepreneur. He founded the company. Before starting his own projects he previously worked for Mckinsey and Co as Engagement manager. He also has a masters in Economics that he finished in Frankfurt.
Marco Trautmann, Founder and COO: Before co founding this project he also worked at Mckinsey and Co as a management consultant. He started his own projects whilst still at university.
Tobias Zander, Founder & CTO: Before helping to found this project he was a well know freelancer in Germany and was also CTO at Sitewards, an E commerce company in Frankfurt. He already has experience building large teams capable of designing apps etc.
Roadmap
Currently: The platform is already in use for fiat with the app already downloaded by over 200,000 users and a 97% recommendation rate. They already have sophisticated AI bots designed.
2018: Their AI technology will enable saving of cryptocurrency as well as fiat.
2019: The app will allow spending and trading of crypto.
2020: With the help of AI they plan to introduce 'smart investments' that will enable their users to easily invest in different projects and diversify their portfolio.
The SVD Token
The new token behind the platform will be an ERC20 based token that runs on the Ethereum blockchain. The SVD token will be the main means of payment on the platform. Each time a token is used for a transaction a small amount of tokens will be burned which should increase the value of the token.
Due to the token being the method of payment on the platform the value of token should increase as the app gains popularity.
Savedroid ICO Details
Price: 1 Euro=100 SVD
Dates: Token sale finishes on the 9th of March.
Tokens for sale: 6 Billion.
Type of token: ERC20
Token distribution
60% of the total supply will be available for purchase during the ICO.
10% of the tokens will be held for future initiatives and used for business development.
5% for bounty campaign.
10% distributed to the team and advisors.
15% distributed to early investors in the platform.
All of the reserved tokens other than the bounty tokens will be distributed at a rate of just 5% each quarter. This is done to ensure that no dumping will occur.
Conclusion
The ICO has been selling out quickly with a lot of interest. The main part of the project that I like is that the team already have a working product that should be easy to advance to be able to handle crypto. Most of the team members have a lot of experience working with similar projects also.
The token will be the sole method of payment on the platform which should see the demand for it keep rising which will then push the price up.
They also state in their whitepaper that they plan to have the token listed on exchanges soon after the token sale finishes.
Website: https://goo.gl/4cPxdU
Author:Clintonbalogun24
Eth address :0x9d2504a72f915145a07c9f8011a7134a02af58c1