BitMedia is an advertising platform designed to simplify purchasing and selling online ads. Their mission is to transform the advertising market by reducing the level of monopolization and making it more transparent and easily accessible for all players instead. Apart from that BitMedia helps crypto-related businesses go public, expand the audience of crypto projects and promote the ideas of decentralization.
Having used the platform on multiple occasions, CoinPoint representatives commended the solution that BitMedia put forth as an alternative to huge ads-centric social conglomerates such as Facebook, Twitter, and Google. Along with the cryptocurrency advertising ban, crypto ad marketplaces (affiliate networks) took over the reins and with that, the entire market slowly shifted away from traditional networks to more targeted ones.
Today, we've been joined by BitMedia CEO — Matvey Dyadkov and business development manager — Tanya Petrusenko to elaborate on where BitMedia stands today, how it was in the beginning, and what the future has in store.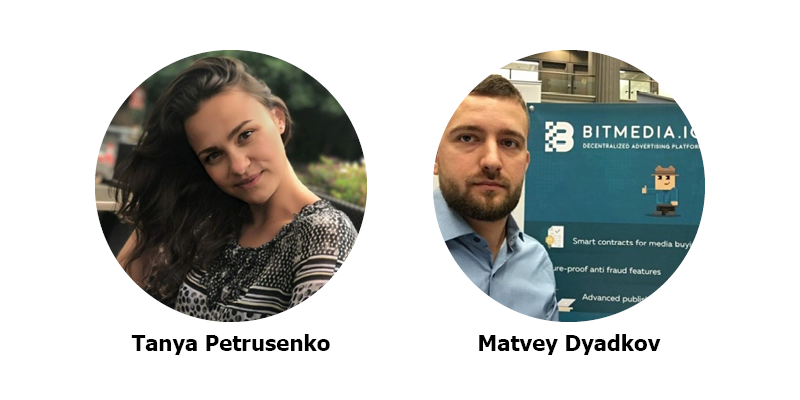 CoinPoint: How did the idea of starting a blockchain affiliate network come to be and what type of businesses are collaborating with you mostly?
BitMedia: The idea came while I was working on one of the cryptocurrency exchanges, it wasn't a random thought. The idea emerged naturally, as I was interested in blockchain and bitcoin a year before that, and then I got an offer from a cryptocurrency exchange and the opportunity presented itself. An entire business of cryptocurrency was lacking an all-in-one solution for advertising and promotion, and they had no idea where and how to find the people interested in cryptocurrency and blockchain. So I created an entire network which will unite all the ecosystem participants (merchants, publishers, and affiliates). BitMedia started its operation on this idea and the company kept growing day-by-day since 2014.
CoinPoint: Elaborate a bit about your journey through the cryptocurrency market's volatility — how does it impact your line of business? Similarly, with the emergence of ICOs, the entire market shifted in that direction, so have you had your share of business with them? It seems that 2019 brought their downfall; have this fact impact the blockchain affiliate industry?
BitMedia: Having in mind the fact that our clients have the option to pay both in fiat and crypto, BitMedia is quite sensible to price fluctuation. When the price goes down, we can also feel that the clients are unwilling to remunerate and spend funds for their campaigns. Once the price is back on track, the party continues. As for the ICOs, 2017 was an insane year to just witness the amount of ICOs that were getting in touch with us and asking for our services. About 90% of all the projects that we dealt with were ICOs. It was a great experience for us as we learned hell of a lot about the technology behind it, but it was also challenging as we had to show our clients that we had the capacity to deliver the promised traffic. It was a great opportunity to establish our name within the industry as a crypto ad marketplace. Before the ICO era, however mining facilities, exchanges and wallets were the businesses that got in touch with us, and after the ICO crackdown, it seems that these businesses are back again.
CoinPoint: How did the ban of cryptocurrency (and all its sub-industries) advertising on big social networks such as Facebook and Twitter impact your line of business?
BitMedia: It was great. After the major ban of cryptocurrency ads, all crypto entities went on the hunt for the best affiliate and advertising agencies, and we happen to be one, so all was well. They started ignoring traditional sources and started looking into more alternative ways of bringing the traffic. For niche networks, the results were staggering. At the beginning, as mentioned before, we had an ample of ICOs, however the things changed afterward. Following the ban of crypto ads on Google and social media, more and more non-crypto users started inquiring about how we can help them with ads within their specific niches.
CoinPoint: Do you think that these advertisers or merchants understood that on Facebook, Twitter or Google they can get much more clicks, but much less targeted traffic? On the other hand, you guys are providing less exposure than Facebook let's say, but are targeting highly convertible audience.
BitMedia: Exactly. But if we look at ICO, there was a big FOMO back then. Everyone has heard of Bitcoin and wanted a way in. People from various niches pitched in for ICOs as well. They've heard that it is profitable, and they immediately went on a buying spree. Now, even though the ads were not that much targeted, the amount of buzz that it produced was unprecedented.
CoinPoint: Now, let's go a bit into different features and type of data analysis that is available to your advertisers. We know that other affiliate networks are providing different kinds of advertisements such as mobile, push notifications, and pop-ups. Advertisers also have an in-depth insight into where their ad will be shown, estimated traffic potential, etc. So, when you onboard new advertiser, what is your USP, your sales point and how do you ensure them that BitMedia has the solution for their products?
BitMedia: Our USP is that we have a crypto-related audience only. We also make advertiser efficient and streamlined. Our clients are much more satisfied with what we've got to offer than these traditional ways of pushing ads, that is, the quality traffic. As for the ad formats, we have a huge plan regarding different types of ads being installed on the platform, it's coming soon. As for the advertisers, we have a long list of audiences that we deem worthy for their respective niche.
CoinPoint: We know from previous campaigns, iGaming being the best example that you are performing outstandingly, but does the advertiser have any insight into which publisher performs the best for his campaign? Also, the platform is undoubtedly converting the traffic into users, but can they optimize it in as to choose their preferred publisher?
BitMedia: So at this point in time, you can optimize it in such a way. You can track the efficiency, have an insight into which click comes from which publisher; you basically have an analytics overview. Once displayed, you can opt-in and work with the publisher that works best in your scenario, and remove the publishers that don't bring any added value. We also provide support for our advertisers in order to help them assess the performance of publishers.
CoinPoint: How do you target and reach out to new advertisers? Do you run your own marketing campaigns or it's simply a word of mouth you are employing as a marketing tool?
BitMedia: We actually don't run our own promotional campaigns or anything similar. Definitely, a lot of words of mouth and face to face introduction about our services as we prefer to talk to our potential clients and ensure them that our solution is the best on the market. On top of that, we also do a lot of offline interaction with our potential clients. We know the niche, we know the people in the niche, we know the market, so we try to talk to them and market ourselves in that regard. On top of that, we employ various types of email marketing, conference attendance, and events showcasing.
CoinPoint Group is constantly on the hunt for the innovative projects within the blockchain and cryptocurrency sectors as to show them the light and guide them through the thick and thin. If you'd like to learn more visit our website at https://www.coinpoint.net/ or if you'd like to be interviewed by our team and present your project, let us know via media@coinpoint.net