Vladimir aims to keep his nose to the grindstone and gain EBIC a traction it deserves

EBIC will be a three-day, top-level event and will encompass content from leading brands with inputs from renowned international speakers and panels that present cutting-edge Blockchain technologies.
CEO and founder — Vladimir Belozerov shares his vision of the event and expresses his viewpoint on the current blockchain affairs.
CP: Having in mind that Austria is one of the top blockchain hubs in Europe, how difficult it was for you to host and organize such an event, and how much time and effort you spent on it?
As you just said it yourself, Austria is definitely one of the top blockchain hubs in Europe, therefore the expectations for such event, in the very heart of Europe are very big. The organization of a 3 day program, with a full agenda from morning to evening wasn't easy. We worked for the last 6 months, every day, with our outstanding team, combining professionals with many years of experience in event planning and professionals of the blockchain world as well. This know-how mix, brought the most diversified and amazing speakers that will enlighten and contribute for a great networking experience for all sponsors and attendees.
CP: It seems that ICOs are currently going through dark period of their existence. They've been a highly disputed topic due to various fraudulent schemes happening in the past. How did you handpick 50 ICO projects that are going to present their idea to the world at your event and what made you think that they will not succumb to peer pressure?
Due to the dark period, we didn't select 50 ICO's, and the final number will be known one week prior to EBIC 2019 start date. Thanks to our friends and partners, who acted as professional advisors and experts for ICOs, we managed to pre-select the best of them.
CP: At first glance, it seems that EBIC will debate only ICO and STO subjects; however EBIC is much more than just that. It will encompass industries such as insurance & banking, real estate, healthcare, and cyber & entertainment on top of crowd-funding panels. Can you let us know, perhaps without spoiling it too much, what your participants can expect from EBIC in 2019 and what's making it so unique?
First of all, our location is great. Vienna is very known as the heart of Europe, so it makes easier to gather Top participants from the whole Europe. Moreover, we didn't expect that we are going to have such a big interest from other countries outside of Europe. We do expect Top professionals from more than 30 countries, which makes it very unique. Another point, it's our international speakers, they will definitely make this event unforgettable. The rest we will keep as a secret:)
CP: EBIC is a new conference with a lot to expectations and involvement. What do you aim to achieve by hosting such a huge event especially in this line of business, and if everything goes as planned, do you plan to make EBIC a reoccurring annual event?
Starting with our aim, we are looking to offer a unique experience, where all parties involved can indulge in finding good business opportunities, and help to contribute with our mission of spreading blockchain technology all over the world. We will have speakers, sponsors and attendees from more than 30 countries, enhancing the intercultural exchange and the diversity of interesting people you can meet . We are definitely planning on sticking with EBIC in the upcoming years.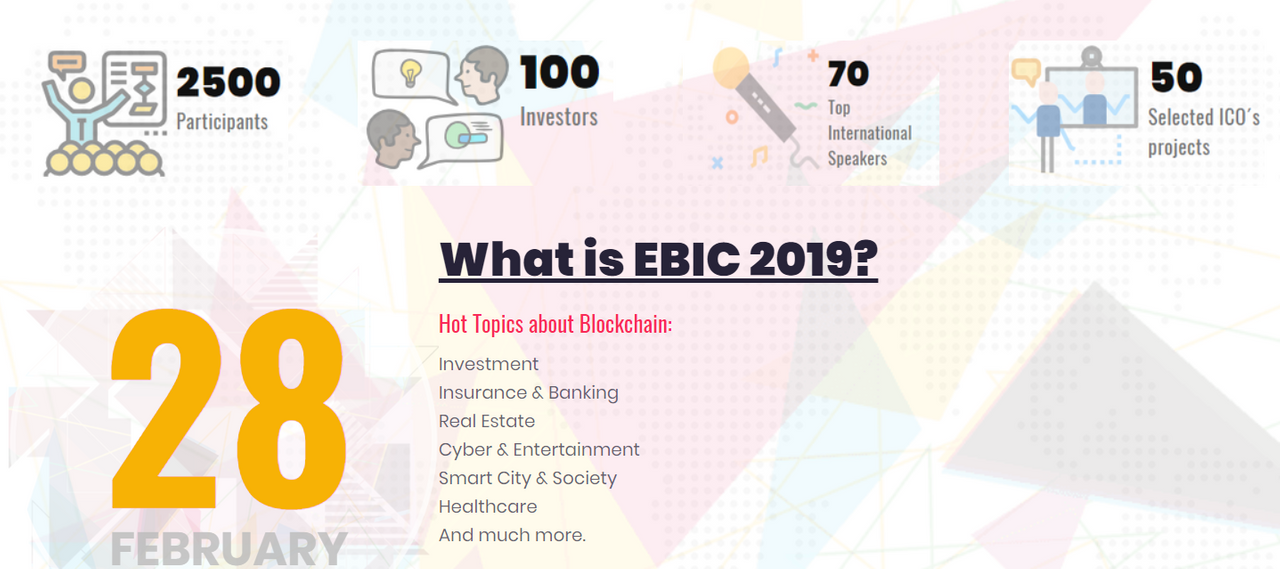 CP: Let's zoom out and take a look at a bigger picture. How do you perceive blockchain in its current form, and what will it take for it to finally become a globally adopted technology?
To tell you true, a time for this to happen I would say 5 to 10 years. Blockchain is on its infancy and there are many problems that need to be sorted. Scalability, regulation and most of all "Friction". There are many areas where blockchain can really make a difference but it will be, unfortunately, slowly adopted. That's why for now you have mostly seen players which are focusing on what can bring money immediately. Exchanges, Money transfer, Tokenosation, etc.
We need to start to present the solution to real industries with real problems. Then they will perceive all advantages that this technology can bring. Come to EBIC and you will see what we are talking about.
About CoinPoint:
CoinPoint is a premium marketing agency founded in 2013. Owned by CoinPoint Group Inc., the agency is now working with a number of all-scale businesses in the crypto space. With a wide range of clientele from cryptocurrencies markets, blockchain, and fintech, CoinPoint has already opened offices in Europe and the Asia-Pacific. With these headquarters strategically positioned, CoinPoint stays on top of the latest trends and innovations across the globe.
Website: https://www.coinpoint.net/
Facebook: https://www.facebook.com/coinpoint/
Twitter: https://twitter.com/coinpointnet
LI: https://www.linkedin.com/company/coinpoint/