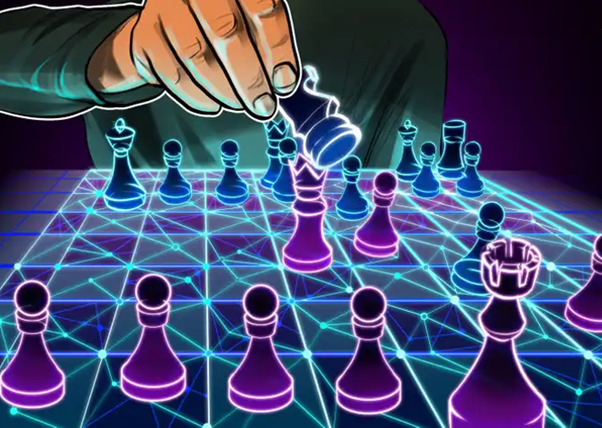 Source: (Coin telegraph, 2021)
Introduction
In this article I want to examine some of the "goings-on" in HPB in terms of dApps and projects utilising the chain. As many of you may be aware, I am an investor of HPB for its technical competitive advantages over other chains, I am heavily invested in the chain because I feel it will excel in the future due to its competitive advantages. I invest in long term projects and I still hold the belief that HPB is a good choice for a long-term bet in my portfolio. I am not going to regurgitate the technicalities of HPB in this article because I have examined this in depth in previous articles; these articles already show why I am invested heavily in this chain.
Sure, HPB has not gained that much yet (I personally believe that more marketing would do wonders), but at the end of the day I am invested in it for its technology so I am looking further down the line. I am investing in the motorway, not the vehicles - a key distinction for those who wish to maximise their gains I feel.
HPB is aiming to enlarge its ecosystem by enticing dApps / projects to the chain. HPB has undeniable competitive advantages over other chains due to its BOE and extremely low costs. This article will showcase some projects which make the most of these advantages.
HPBs Focus on dApp Growth
In my very first article on HPB it was clear to me that HPB was a blockchain seeking to deliver on its promises of offering projects a better chain to launch their dApps. HPB Foundation, (2021) aims to support the incubation of projects on the main-net. They offer investment support to projects through HPB Labs currently.
I am a huge investor in the DeFi sector, a sector which HPB is committed to. They are pushing for DEX, E-Commerce, NFT platforms and Cross-Chain capability. I personally think DeFi will explode over the next 10 years in the crypto sphere.
The following parts of this article highlight elements of the HPB ecosystem which I believe are aiding growth and attracting users to the motorway.
Large Scale Developments on HPB
HPB Labs
HPB Labs is the initiative within HPB that has really caught my attention the most recently. HPB, (2021) are focused on attracting new projects to the ecosystem by "incubating projects"; which in short means HPB are willing to invest in up-and-coming projects that HPB believe can bring value to the HPB chain. I will showcase a few of these HPB lab projects below, however, I will not be diving into too much detail on the projects in this article; I will link further information in the references below for those of you who wish to look into these more. Projects who may be interested in HPB Labs just need to email labs@hpb.io.
HPB, (2021) state that the HPB Labs platform is focused on the following areas:
Seed funding: they will provide early funding for promising blockchain projects that need an extra injection of funds to develop.
Technical support: HPB will aid projects with technical areas of development such as smart contracts etc.
DApp Builders: HPB will support development including marketing initiatives to attract users.
Community Development: HPB will be committed to building global outreach for incubated projects, offering them access to the HPB community via initiatives like AMAs etc.
Talent referral: HPB aim to introduce talented developers to the community, providing networking links, etc.
Research and Education: HPB has always been development-focused, they produce monthly progress reports on medium (linked below), to offer the community educational updates on technical developments and incubated projects.
Currently HPB Labs have some exciting projects in the pipeline. I have spoken about a few of them already in previous articles:
All of the above shows me that HPB are heavily invested in HPBs long term growth. As mentioned above I am DeFi focused so I will take this opportunity to mention another DEX platform on the HPB chain, I will give some more details on this as I have not mentioned this particular project before.
HPDex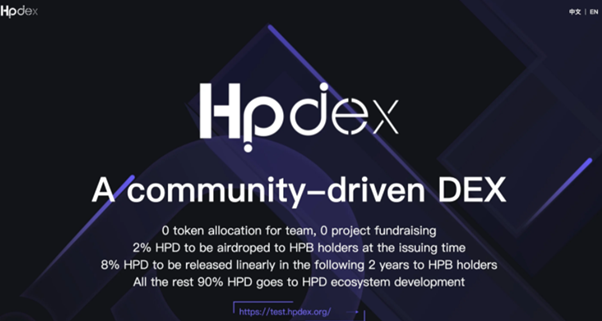 Source: HPB, (2021)
Hpdex is the latest addition to the HPB ecosystem. HPB, (2021) state that Hpdex is a live decentralized exchange built on High Performance Blockchain and is a fully community-driven DEX that will allow full decentralised cross-chain exchange of asset classes. Currently HPB, ETH, HPD, ESR,WHPB and HRC20-USDT are tradable with more coins to be announced as the platform develops.
Hpdex runs on the HPB blockchain, which is an Ethereum Virtual Machine compatible blockchain; this allows for easier integration of Ethereum dApps. This is a smart move by Hpdex because it is important to draw on Ethereum's ecosystem.
I am not going to get too far into the technicalities of the platform in this article, but I'll link to full details below for those of you who may be interested in trying it.
More on Hpdex: https://t.me/hpbglobal/498755
The Importance of onboarding and developing Decentralised Projects
In my opinion, the move to a more decentralised ecosystem showcases strength in a blockchain project. Blockchain enthusiasts are in this space to "stick it to centralised authorities", so why do we feel the need to use centralised exchanges who profit from our data? I have spoken before about the blockchain revolution in bringing forward a "Decentralised World". I am however not deluded, both Centralised Exchanges (CEXs) and Decentralised Exchanges (DEXs) offer advantages and disadvantages over one another. I do however lean towards the advantages a DEX provides in terms decentralisation and security. The above DEXs on HPB are a step in the right direction.
The trends today in the space show a huge shift from CEXs to DEXs, just look at the popularity of Uniswap and Sushiswap. DEXs offer many advantages over the more traditional CEXs.
CEXs are bound by regulatory frameworks, most often having to collect Know Your Customer (KYC) and Anti-Money Laundering (AML) data from users.
DEXs offer far greater security.
DEXs are attracting more users through the popularity of "Yield Farming" and other such incentives for users to lock crypto onto exchanges to act as Liquidity in return for interest.
DEXs are attracting more users thanks to the popularity of the DeFi movement over the past couple of years in the space.
On top of the above advantages, a DEX launched on HPB also has numerous advantages over launching on Ethereum.
ETH has a huge problem with Gas fees thanks to congestion issues. HPB solves this with negligible costs and speeds of up to 5000TPS, thus offering greater throughput.
HPB is also an EVM compatible chain, giving an added advantages of being able to span networks.
Community Scale Developments on HPB
The larger scale projects mentioned above are great for HPBs development, but there are also many smaller community driven projects. HPB has a great community, I will admit it gets feisty, especially as HPB seems to keep lagging behind in the markets. But the community nevertheless endeavours to develop some exciting dApps to showcase HPB's many competitive advantages.
I am going to list out some of the dApps I have come across whilst being part of the HPB community recently.
HPB POOL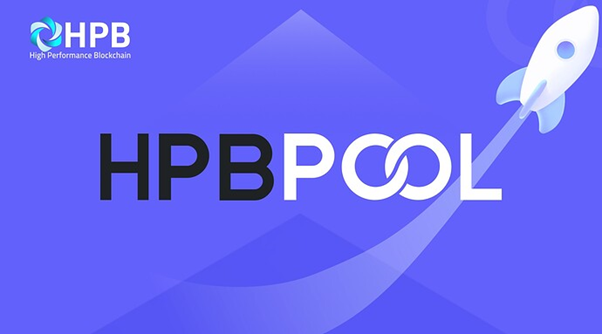 Source: HPB, (2021)
This prize draw protocol caught my attention because I am part of a similar one on Ethereum. Initiatives like this provide a "win by saving" system. This means that you can basically save money every week and also have the opportunity to win prizes regularly. HPB, (2021) states that HPB pool was influenced by "Pool Together" on Ethereum (The one I am in), which at the time of writing gives out over 550,000 dollars out in weekly prizes.
The basis of these games is quite simple,
If you don't win, you never lose as you have a savings account that cannot be impacted
If you win, you win a prize on top of these savings.
This is a type of Decentralised Finance, something which I have spoken about in-depth in previous articles. HPClub, (2021) states that prize funds are generated by accrued interest of pooled funds. These types of "no loss lotteries" ensure you can never loose and offer you the ability to withdraw from the pool anytime. It is nice to see protocols like this being made accessible to Developers for use on HPB. HPB, (2021) states that it will enable developers to build their own no-loss prize draws where players can pool funds and use accrued interest to distribute as prizes.
Check out a tutorial here: https://hpbpool.gitbook.io/hpb-pool/
HPB Tip Bot
HPB, (2021) states that this is a feature available to community members in the HPB Price Telegram channel. It pretty much allows any user to tip another user instantly with HPB or enter a fun raffle to win 8 HPB. Users need to have an "@username" on telegram to use this feature, once this is in place you create an HPB wallet linked to it via the bot and you deposit some HPB. You then must use the HPB Tip Bot TG channel to utilise commands to check your balance etc (I am not going to list these here but they are all TG commands), check out the HPB TG link in the further reading section below.
HPB Raffle
The raffle, also in HPB's Price Telegram, is actually quite fun. Once someone starts the game (TG command) each of 5 participants sends 2 HPB to an HPB wallet controlled by the Tip Bot (10 HPB total). It is a very simple game, but basically after the 5th player enters the raffle, the next HPB block generates the random number that decides the winner and deposits:
8 HPB to the winner
1 HPB to the "Lucky Loser" pool
1 HPB to the retention fund for development costs
HPB, (2021) states the lucky loser addition game offers players a 1/100 chance within the smart contract to win something. Once the winner is called in the above game, a function is executed to see if the Lucky loser game is first initiated and if it occurs then one of the players in the "current round" is eligible to win the current lucky loser pot (not including the winner).
This all operates using HPBs Random number generator making all results completely random, unmatched by any blockchain. This is an example of the community showcasing the advantages of the HRNG.
HPB Loot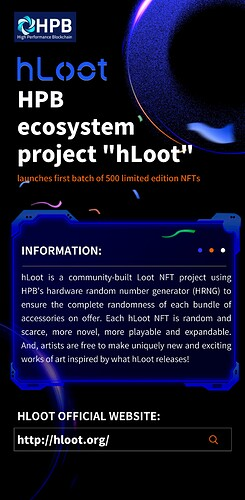 Source: (HpClub, 2021)
hLoot is like an ATM that users can periodically call on to deliver a random NFT. HpClub, (2021) state that users only need to connect their HPB MetaMask wallets to participate and claim their loot. The first batch of NFTs contained 500 limited edition hLoot NFTS, and each HPB wallet could only claim 1 of them. All you needed to do was type 1-500 in the "token ID box" when participating to see what you unlocked. The website is linked below.
Website: https://app.hloot.org/
HPB Luck Bot
HPB Luck Bot is yet another such example of a community-driven game showcasing HPBs potential. As I have mentioned before, HPB offers a truly unique random number generator ability, which makes raffle type games like this undeniably fairer than other chains can offer.
From my research it seems like this is a sweepstakes game that utilises a Telegram bot to play. It has taken its inspiration from the Chinese ChouTa and Love Lucky Draw WeChat mini-programs (I have mentioned these before in previous articles). It utilises HPB's Random Number Generator (HRNG) to decide a winner of the game. The user who initiates the game can decide the specific block to give the date and time for the draw to be done.
There is a good tutorial here: https://www.hpclub.org/t/hpbluck-bot-tutorial/79
These raffle/lottery types of game are quite common in the HPB community on Telegram. This is because HPBs random number generator is truly unpredictable, making games the fairest they can be.
The DON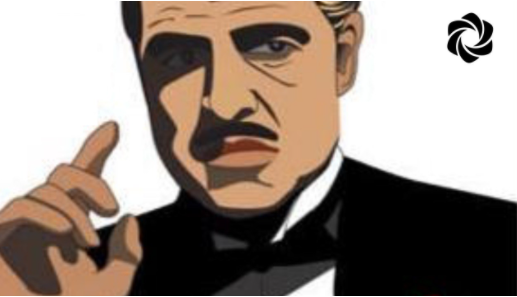 Source: HPB, (2021)
Currently at the time of writing this article, there is a new game ongoing on in the HPB community called "The Don". The creator (who is also the creator of ESR) airdropped "The Don" tokens to the top 500 HPB wallet holders (I was sadly not one of them).
Essentially it is a staking token that supposedly offers an 87.6% return per year, this works out at an interest rate of 0.01% per hour. The real interesting part of this is that you can "Call the Don" which means you can double your tokens if you win or risk losing all of them if you lose. Basically, you should stake the majority to earn, but you can also bet any left in your wallet that are not staked to try earn even more.
Again, I am merely interested in the technicalities behind the game. Wax Lyrical, (2021) states that once you "Call the Don" you are basically interacting with a smart contract on the HPB chain calling a "0 or 1. Again thanks to the BOE chip within the HRNG on HPB nodes, the selection is more precise that pseudo random numbers offered on other chains. The Don is basically a heads or tails bet and you must interact via Metamask to gain access to it. It is also listed on Hpdex.
Conclusion
I personally believe that HPB offers a superior blockchain for the onboarding of projects, I have written a few articles on the reasons why. I know I have not covered everything in the above article and I understand that there is a huge amount of talented people in the HPB community developing games to showcase its potential. I was merely trying to illustrate that the HPB ecosystem is continuing to evolve and picking out the projects which caught my attention recently, which I have personally read about or tried out.
I am personally interested in the DeFi movement, and I am currently focusing my interest on DEX projects. I find Hpdex quite an exciting addition to the HPB ecosystem. I think HPB labs will continue to attract new projects and push the ecosystem forward. This should be the core area of concern for HPB in my opinion. As I have heard in the community before, HPB may have built the roadway, but now they need the users.
The HPB community continues to develop raffle based dApps on-chain to showcase the ability of HPB; particularly the HRNG capability in delivering true random number generation. I find this quite fascinating because of the price action of HPB over the past year. HPB has all the hallmarks of an industry-leading blockchain project, due to its very impressive competitive advantages, but lingers in terms of price action despite the activity on-chain. I am a firm believer that the technological achievements of the HPB team will pay dividends down the line but now there should be a key focus on ecosystem growth.
Further Reading:
References