What is OPP Open Wifi?
OPP Open Wifi is a community created with only one single goal - to create a global, open and free Wifi network. Also, anyone who wants to make money on this can become a part of the company.
In the world, about 2.5 billion smartphone users, 80% of which are active in social networks. However, many often find themselves in a situation where Wifi is unavailable or disabled for non-payment of services.
Of these 2.5 billion people, the company is seeking to attract 25 million people over the next 4 years to create a community of "Hotspot Hosts".
"Hotspot Hosts" are people like us who pay for mobile data, pay for WiFi access in their homes or at their place of work. Studies show that more than 80% of us do not use all traffic for which we pay. OPP Open Wifi will pay every day for making this traffic accessible to a common global network.
How it works? How to become a member of the company?
Very simple. To become a Hotspot host, you need to register and then download the mobile application or request a home / business router from the site. The first 100,000 routers will be provided completely free of charge.

How the Platform Works
OPP OPEN WiFi makes it easy for new users to join, start looking for gifts, and in the token ecosystem. Follow the steps below:
1.Connect the device to your home router, business router, or download the OPP application.
When activated, the application will make public WiFi hotspots use your backup data from your cellphone or internet connection. You decide how much data you donate. Public WiFi hotspots are completely safe for Hotspot Hosts and users.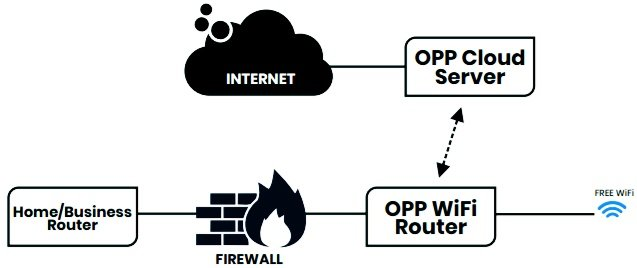 From the dashboard, you can also decide how you want to spend them:
Through our online shopping center.
Transfer to your bank account,
Send money to your OPP credit card (without a bank account)
Trade in them in the Crypto markets.
In our information panel, you will be able to use the OPP tokens exactly as you use daily money.
Meet the team of creators:
Martin Regan (Entrepreneur & CEO)
Phillip Legg (Head of Technology & Security)
Leo Antipov (B2B Sales Director)
Joanna Nemes (Marketing Coordinator)
Alex Andrei (Community Manager)
Alexandra Pascariu (Community Manager)
Michael Peach (Market Analyst)
Iulian Gheorghe (Senior SEO, Web Developer)
Claire Loe (Accounts Support)
Violeta Raducanu (Community Manager)
Carina Regan (Email Marketing Manager)
Project consultants:
Jared Polites (Blockchain Marketing Specialist)
Jorge Rodriguez (Project Security)
George Han (Blockchain Advisor)
T Aravinda Babu (Expert Technology Adviser)
The team had experience working with many large and small companies, the largest of them:
*Samsung
*WH Smith
*The British Army
*PLB Group


The bonus program is as follows:
Stage 1 (July 1 - July 22): 40%
Stage 2 (July 23 - July 29): 35%
Stage 3 (July 30 - August 5): 30%
Stage 4 (August 6 - August 12): 25%
Stage 5 (August 13 - August 19): 20%
Stage 6 (August 20 - August 26): 15%
Stage 7 (August 27 - September 2): 10%
Stage 8 (September 3 - September 9): 5%
Stage 9 (September 10 - September 14): 2.5%
Token:
The name of the token is OPP. Min. hypothesis is 300 USD. Continuing: BTC, ETH, Fiat. Touchy best is 4,000,000 USD. Hard best is 40,000,000 USD. At the token game plan, there will be 142 million tokens.
Information
Website : https://www.oppopenwifi.com
Whitepaper : https://www.oppopenwifi.com/oppwhite20180627.pdf?t=v6
Facebook : https://www.facebook.com/OPPopenWiFi
Ann Thread : https://bitcointalk.org/index.php?topic=4713287
Twitter : https://twitter.com/OPPopenWiFi
Youtube : https://www.youtube.com/channel/UCQcPXBhjClQiiMvHJBlegXg
Reddid : https://www.reddit.com/r/OPPOWiFi
Linkedin : https://www.linkedin.com/company/opp-open-wifi
Medium : https://medium.com/opp-open-wifi
Github : https://github.com/oppopenwifi
Authors details :
Bitcointalk Username : spramoda
Bitcointalk Profile Link : https://bitcointalk.org/index.php?action=profile;u=1907608
Eth Address: 0x82fCd6eab86cB050f71aD17F2EAd13144DaE20ba