About
The biggest problem for drivers right now lies in searching and overpaying for parking spots. Not knowing where they can find available spots, the inability to select and reserve them ahead of time and the steady increase of inner-city congestion costs a lot in terms of time and money.
At the same time, according to a 2017 U.K. study titled Tackling Pollution and Congestion, congestion has been rising in all major U.K. cities. When congestion occurs, tailpipe emissions are four times higher than when the traffic flows smoothly. Moreover, congestion has been leading to a decrease in traffic speed which in turn leads to more emission and health issues.
Here is where Parksen comes into play. With the issuance of its own cryptocurrency token, PARQ, Parksen aim to make cities more efficient and sustainable.
A Green, Smart and Connected City Platform
Parksen's goal is to combat worldwide traffic congestion and pollution through a Green, Smart and Connected City Platform. In order to accomplish this it will be using the IOTA(MIOTA) and Ethereum blockchain, smart contracts, IoT devices, a real-time parking app. The Parksen parking app, allows drivers from all around the globe to find and pay for their parking spaces in advanced by showing them the nearest one to their destination. This will help drivers save money, time and frustration, as well as helping to reduce CO2 emissions. They are creating a truly sustainable and intelligent city development platform and reduces pollution damage in urban metropolises and small cities.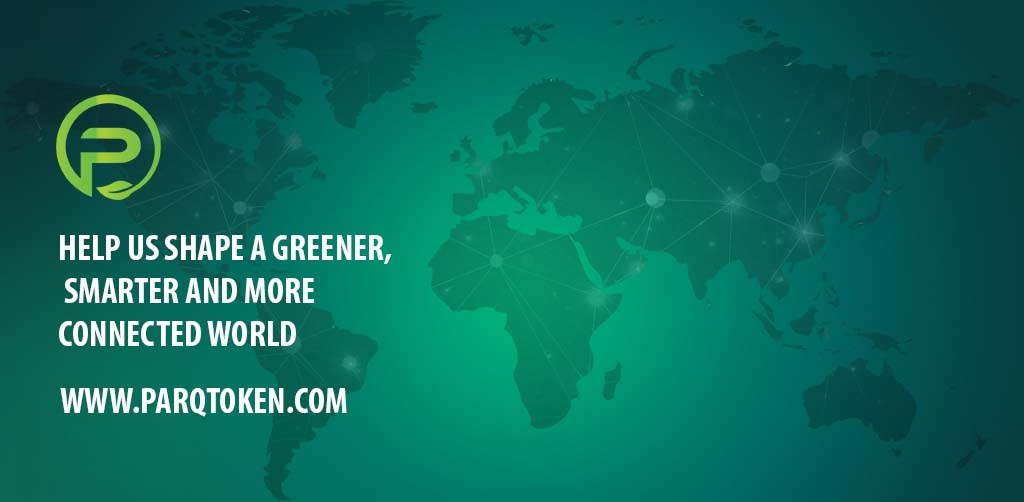 PARQ Token Benefits
Pay for parking
Using the Parksen parking app, drivers can locate, reserve and pay for their parking before ever leaving home. The app then guides them there following the fastest possible route
Earn by collecting data
All types of users can earn PARQ tokens by collecting and submitting data on local congestion and pollution levels, parking space availability and a wide variety of surveys.
Pay for equipment
Using the Green, Smart & Connected City Platform, municipalities, parking garages and companies can purchase and integrate new system and hardware upgrades from partners.
Earn by renting out parking spots
Using the Green, Smart & Connected City Platform, all users can earn PARQ tokens by registering and renting out individual and corporate parking spots that belong to them.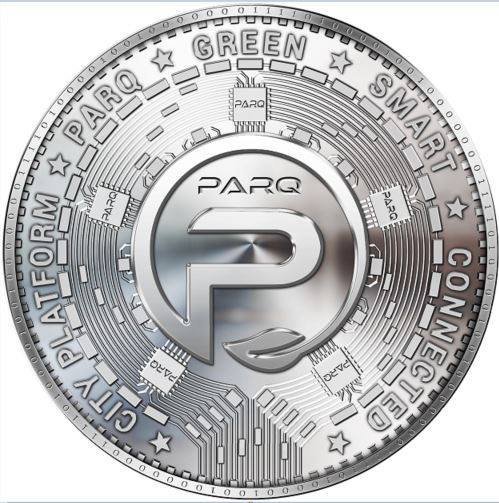 ROADMAP
2016 - Q1 - Parksen Cloud and Parking Application Development
2016 - Q3 - Testing in Beta from Parksen Cloud and the Parking Application
2016 - Q4 - Private Funding first round from Government & Dutch Investors
2017 - Q1 - Launch of Alpha Parksen Cloud and Parking Application in the Netherlands
2017 - Q2 - Research for Green commence , Smart & Connected City Platforms and Hire Additional Members of Team Towards ICOs
2018 - Q1 - ICO Preparation, Website, Smart Contract and White Book Development
2018 - Q2 - Starting from Pre-Sales and General Sales
2018 - Q4 - Development of IoT Devices for Smart Parking Solutions start and Prepare Offices and Expand Teams for Expansion globally
2019 - Q1 - Start Parksen City Beta Platform Development
2019 - Q4 - Launch Beta from Parksen City Platform
2020 - Q2 - Launch of Final Products in Selected Cities
2020 - Q4 - Global Release of Green, Smart & Connected City Platform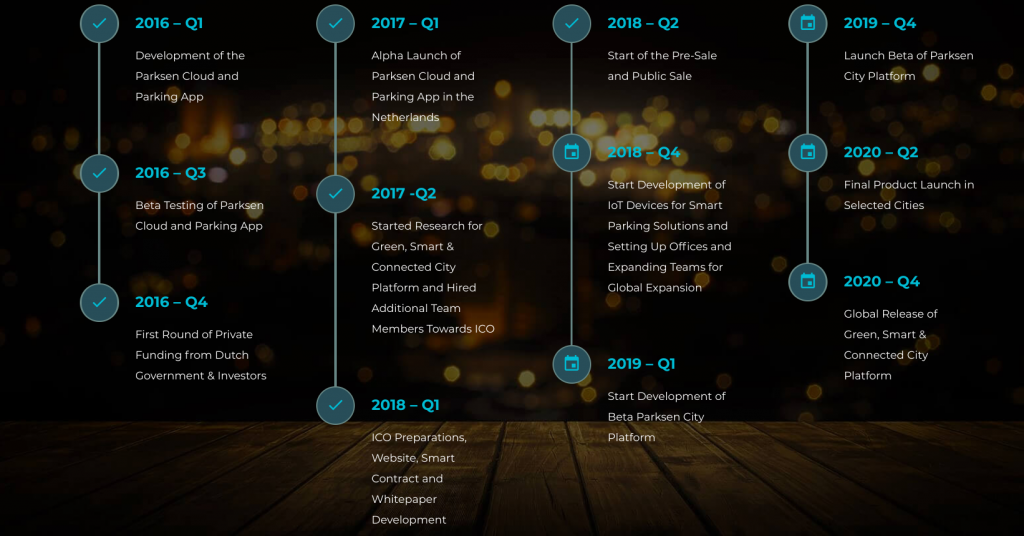 Token Details
Total tokens - 1,000,000,000
Symbol - PARQ
Token Type - ERC20
Inflation - Nothing
Sales of tokens starting - 01 - 06 - 2018
Length of sale - 1 year
Token Base Price - $ 0.10
Hard Cap - $ 19,500,000
Token Sales DetailsPRE-SALEDate - 01 - 06 - 2018
Tokens - 50,000,000
Price of $ 0.07 (30% discount)GENERAL SALESDate - After Pre-Sales
Tokens - 200,000,000
Price - $ 0.08 (20% discount)
TOKEN DISTRIBUTION
Pre-Sale (5%)
Public Sale (20%)
Airdrop & Hodlers (5%)
Bounty Program (2%)
Charity Fund (1%)
Private Sale (3%)
Business Development (4%)
Founders & Team (5%)
App & Platform Development (15%)
Marketing (20%)
Smart City Project Fund (20%)
USE OF PROCEEDS
Business Development (10%)
Global Expansion (15%)
Marketing (30%)
Research & Development (45%)
Further information about the project contact the link below:
Website: https://www.parqtoken.com/
Whitepaper: https://www.parqtoken.com/wpcontent/uploads/2018/01/Whitepaper_PARQ.pdf
Facebook: https://www.facebook.com/PARQtoken-1753498984673207/
Telegram: https://t.me/joinchat/I4LnZAYedLZ61aJgkuBvfg
Twitter: https://twitter.com/PARQtoken
Youtube: https://www.youtube.com/channel/UCo3H68GEXi3Xbi3Km-AGX-w
My Bitcointalk profile: https://bitcointalk.org/index.php?action=profile;u=1907608
Name: spramoda


My Eth address: 0x82fCd6eab86cB050f71aD17F2EAd13144DaE20ba