Tokoin is located in Indonesia, one of the fastest growing countries in Asia. The population of the state is increasingly using the latest technologies, including blockchain.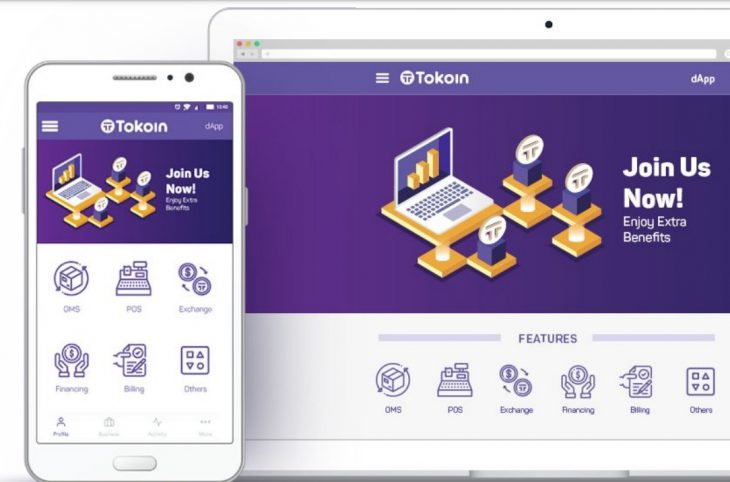 The goal of the project, which is being developed by a talented team of programmers and marketers, is to help businessmen working in the MSME sector (medium and small businesses) to open each project faster, scale up and achieve successful results in a short time.
The problem
All this can be done by using a digital identity system. However, to begin with, it is worth to understand what problems there are in the world, at least in the Indonesian region, and how the developers of the project try to solve them.
What exactly do Tokoin developers want to change? It should be said at once that in a number of countries located in
Asia, including Indonesia, things in the field of small and medium businesses are very bad. The situation is especially bad in e-commerce and retail trade. Nowadays, almost the entire market is owned by big companies, and they do not allow small companies and firms that work in this field to enter it.
There are also difficulties for businessmen with the banking sector. This is due to the fact that banking institutions are not very willing to provide loans to small companies, as they believe that such companies have low turnover, and therefore they will not be able to repay the loan received from the bank in time. On the other hand, clients also do not often use MSME services because they are simply not familiar with such companies, because they have too little recognition.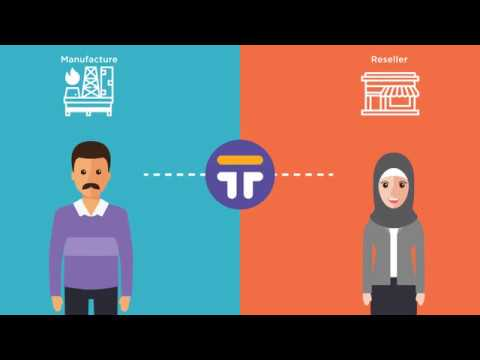 The solution
This is the set of problems that the developer team intends to solve using its blockchain platform. They decided not to use standard methods and decided to use digital identity as one of the ways to solve problems. Digital identity uses blockchain to create a single database for business people who work at MSME. The database will contain information about what companies do, what turnover they have and what they trade.
In addition, blockchain will provide strong protection against hacker-kidnapping. Using digital identity, entrepreneurs will be able to quickly get loans from banks, as they will be able to view all the reporting firms. Trust in companies will increase from customers and buyers. A single database will also help large companies to build mutually beneficial relationships with small companies.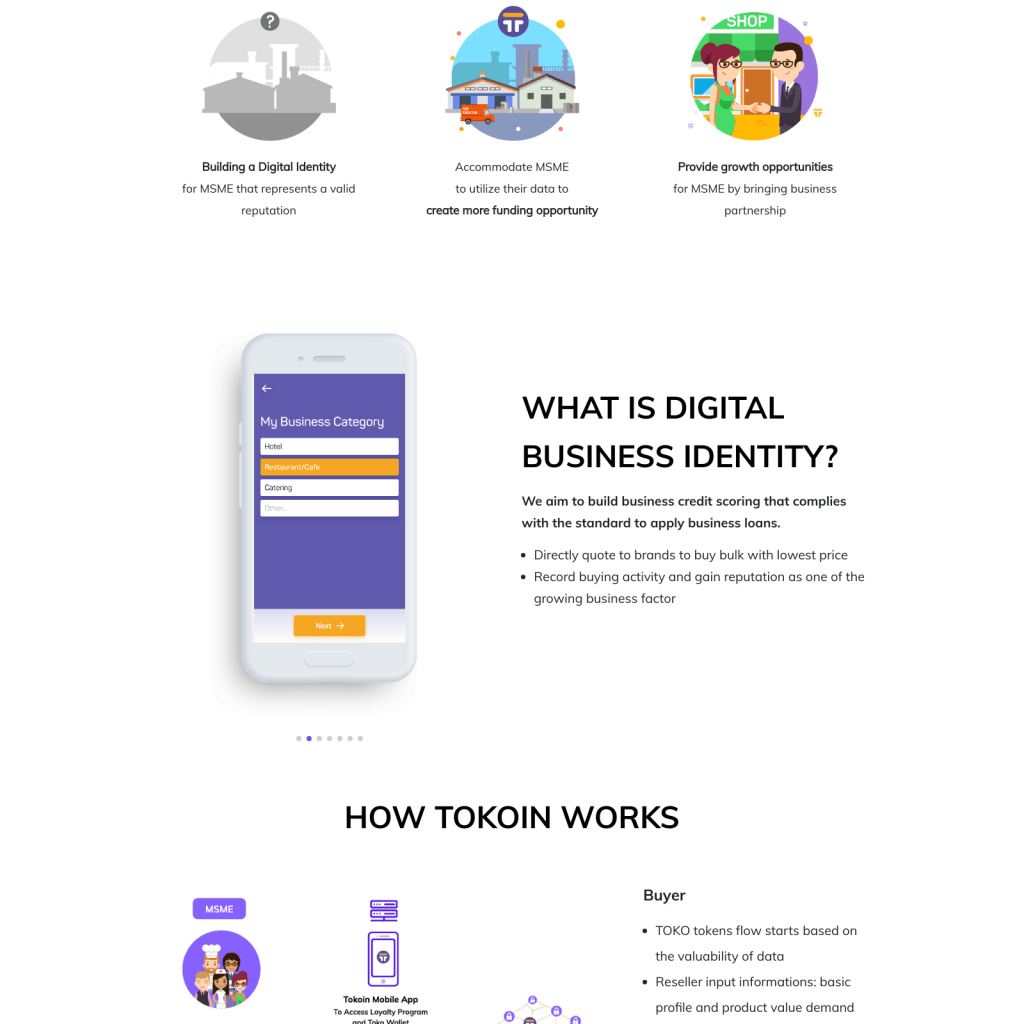 It is also worth mentioning that the project will give an opportunity to advance in the market not only to those businessmen who work in retail and e-commerce, but also to those who apply in their activities B2B and B2C business models. In addition, Tokoin intends to work with those companies that deal with logistics, warehouses, provide legal services and so on. The developers want the services of the platform to be available to as many small firms and businessmen as possible, who are just starting to work in the market and need support.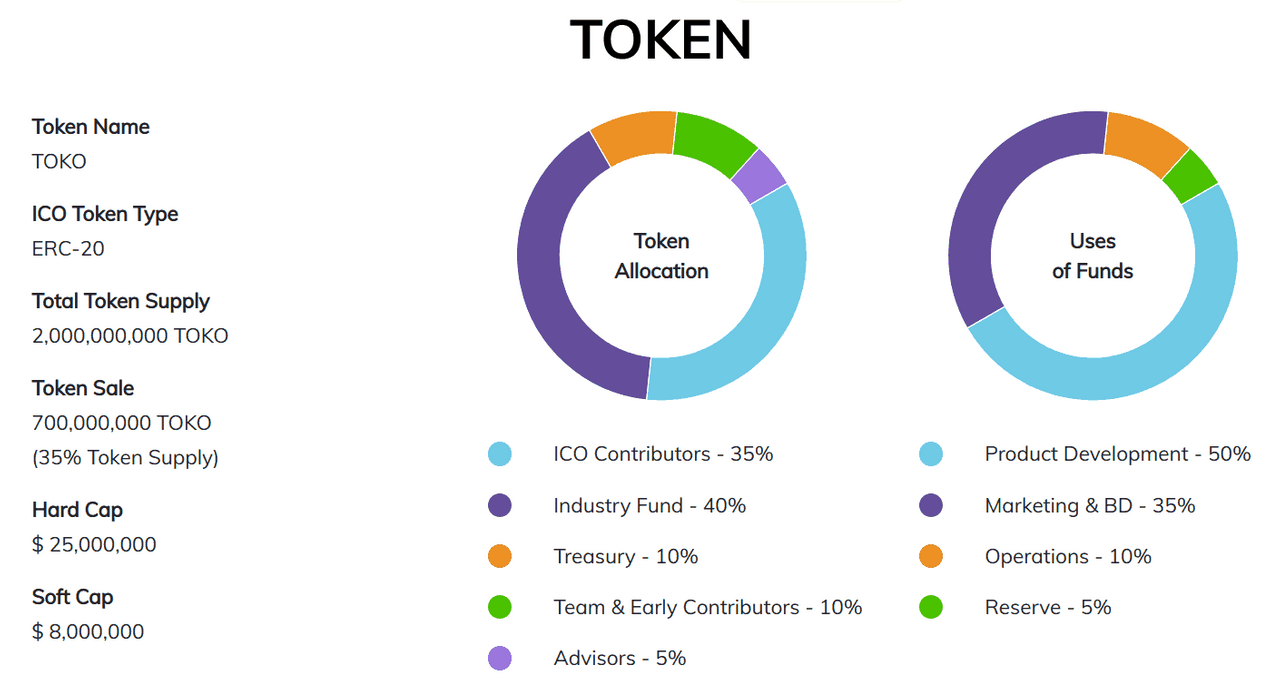 On the technical side of the case, we have previously pointed out that the platform operates on the basis of blockchain, which implies the development of an information base that is securely protected from possible intrusion of unauthorized persons seeking to steal or distort the data.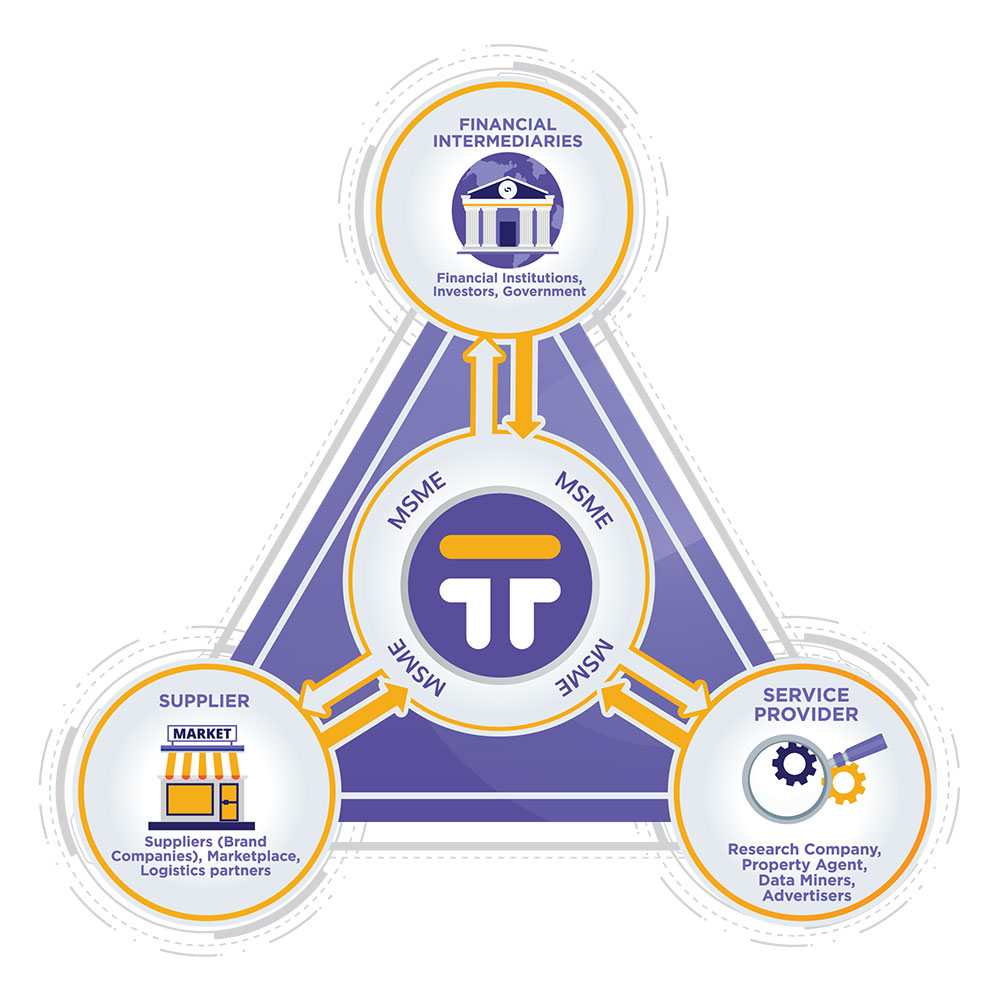 Among other things, the platform will have its own token. It will be used to conduct internal settlements between companies and banking institutions that become members of the system. The TOKO token is based on blockchain ether, using the ERC 20 standard. At the moment, the developers are working on creating their own blockchain, and then it will be transferred to the token itself. The team promises that blockchain will have high translation speed and excellent scalability.
If you are interested in learning more about this project, you can go to their official web pages and read the detailed information there.
Official resources of Tokoin project:
WEBSITE: https://www.tokoin.io
TELEGRAM: http://t.me/tokoinglobal
WHITEPAPER: https://www.tokoin.io/whitepaper/Whitepaper.pdf?id=05f5c9d62d22ae24ea82
FACEBOOK: https://www.facebook.com/TokoinOfficial
TWITTER: https://twitter.com/TokoinOfficial
MEDIUM: https://medium.com/@tokoin
REDDIT: https://www.reddit.com/user/TokoinOfficial
INSTAGRAM: https://www.instagram.com/tokoinofficial
YOUTUBE: https://www.youtube.com/channel/UCOncpHAzRWWjx6HBp4wAhbg/featured
My profile - https://bitcointalk.org/index.php?action=profile;u=2395306
0xFe62fD1E03aB7a4061496a96b6Cd5a4c492E9aa4