As we are still waiting for the bull run in the crypto market. Majority of people are already in panic because they are waiting for the bull run from 6 months (hard patience), no doubt there was bull run in a month ago- more than 2 times.
                Here is an open controversy between two crypto enthusiast, one is John McAfee and second is  Tom Lee.
                  In a surprising turn of events, Tom Lee has decided to alter his price predictions for Bitcoin and has explained this change on CNBC's Fast Money.  Last time,Tom Lee made a prediction of Bitcoin's price with exact figure to hit $25000 by the end of this year, but now he altered his own prediction and reduce to $22500.
                Tom Lee has become well-known for his bullish stance towards Bitcoin and its future price. He is the only strategist from Wall Street to do so. However, an earlier statement that Bitcoin would be at $20,000 by the end of the year, considering its historical trade is around 2.5 times the mining cost has left crypto enthusiasts thinking that he might be going bearish on BTC and many more things said by him regarding the bitcoin.
 Trend of prediction of bitcoin/cryptos
                  Even last time, a statement was declared by the  Arthur Hayes  CEO of BitMex that the bitcoin will going to hit $50000.  When he said this the first time, it was said somewhat jokingly, and nobody paid much attention to it back then. 
                 Whereas, after couple of days- he again ready to claim for the second time that the Bitcoin found it's bottom at $6000, after reaching  $ 20000 in the last year. However, due to the positive decision, it could easily pump back to the $20000 and further go beyond that of  $50000 by the end of 2018 year.
    I mean, everyone is coming and trying to make their prediction and in reality, it is find out that only 0.1% of people are making right decision regarding to the prediction of bitcoin.
                On the other hand, One of the biggest enthusiast in the crypto world, who is John McAfee (People believe's in his prediction) and still claiming that bitcoin will hit 1 million dollars  in 2020. Otherwise, he will going to eat his dick. Apart from that John McAfee  tweet a single message against the tweet of  Tom lee.
                If you guys, don't believe than please take a single look on the picture below that represents the tweet of  John McAfee-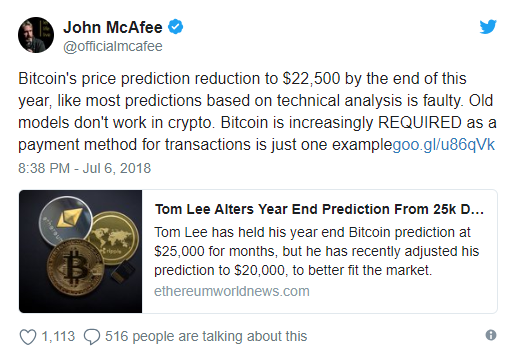 Not only these, even there thousands of people outside to make prediction but these prediction are for the short term and no matter- these are going to be the correct one. Actually, i was talking about the youtuber's technical analysis and many more.
So guys, i have question for you that what is the price of bitcoin will going to hit at the end of 2020. What you guys think and leave a comment to know me along with my audience.
If you like my post than please keep supporting me by upvoting and resteeming.
Thanks
Regards