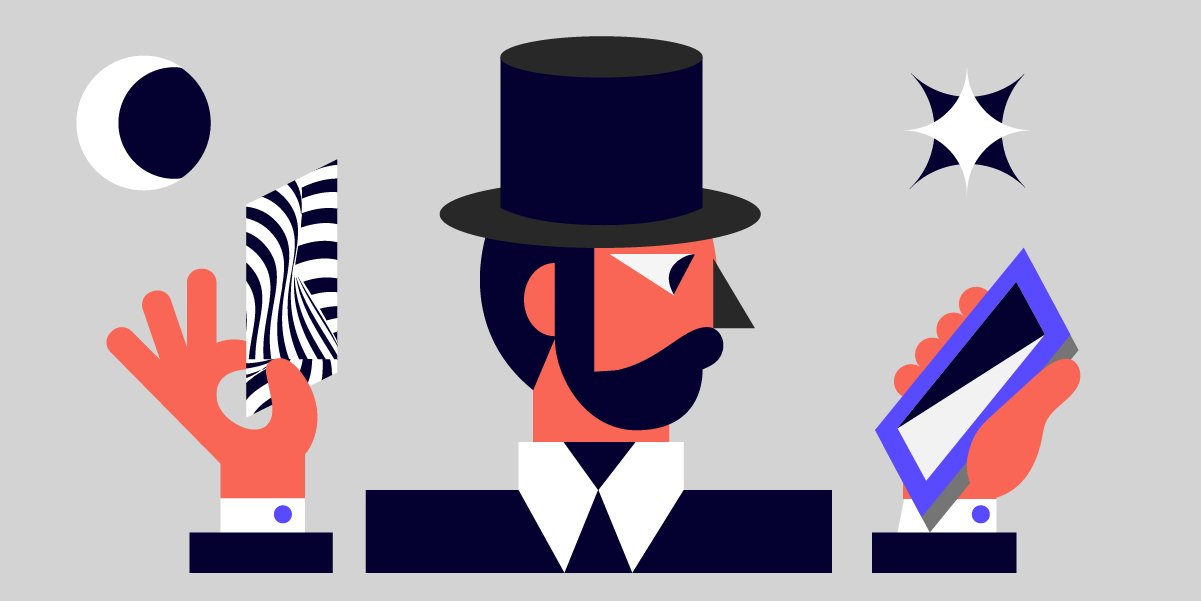 We're happy to inform you that the work on the Gravity Mobile Wallet has already started. The Gravity mobile client is primarily а highly secure wallet for ZGV and custom token storage, and it also works as an access to the network.
The first version of the mobile client includes voting, accounts management, ZGV tokens transfer, the balance and your activity in the network. We plan to implement Gravity Wallet on the two major platforms, Android and iOS.
Highlighted Features
Here are some of the features included in the first version of our mobile client.
Encrypted access to your Gravity Wallet with a custom 4 digit PIN;
Ability to allow your fingerprint to act as a PIN to unlock your wallet. Face ID in the iOS version is available as well;
Send and Receive ZGV tokens;
Create and manage your accounts;
See your transaction history;
See your personal Emission Accrued;
See your Gravity Index;
Vote for Witnesses and Committee members;
Wallet backup;
Overview of network status with an option to change a Node.
Access
Let's have a look at the wallet's UI. The process of creating an account is quite simple for now, and it includes four key actions:
Brainkey phrase generation;
Saving the phrase;
Checking the phrase;
PIN creation.
We plan to streamline the process of account creation and authentication significantly, reducing it to two simple actions for you to interact with the device.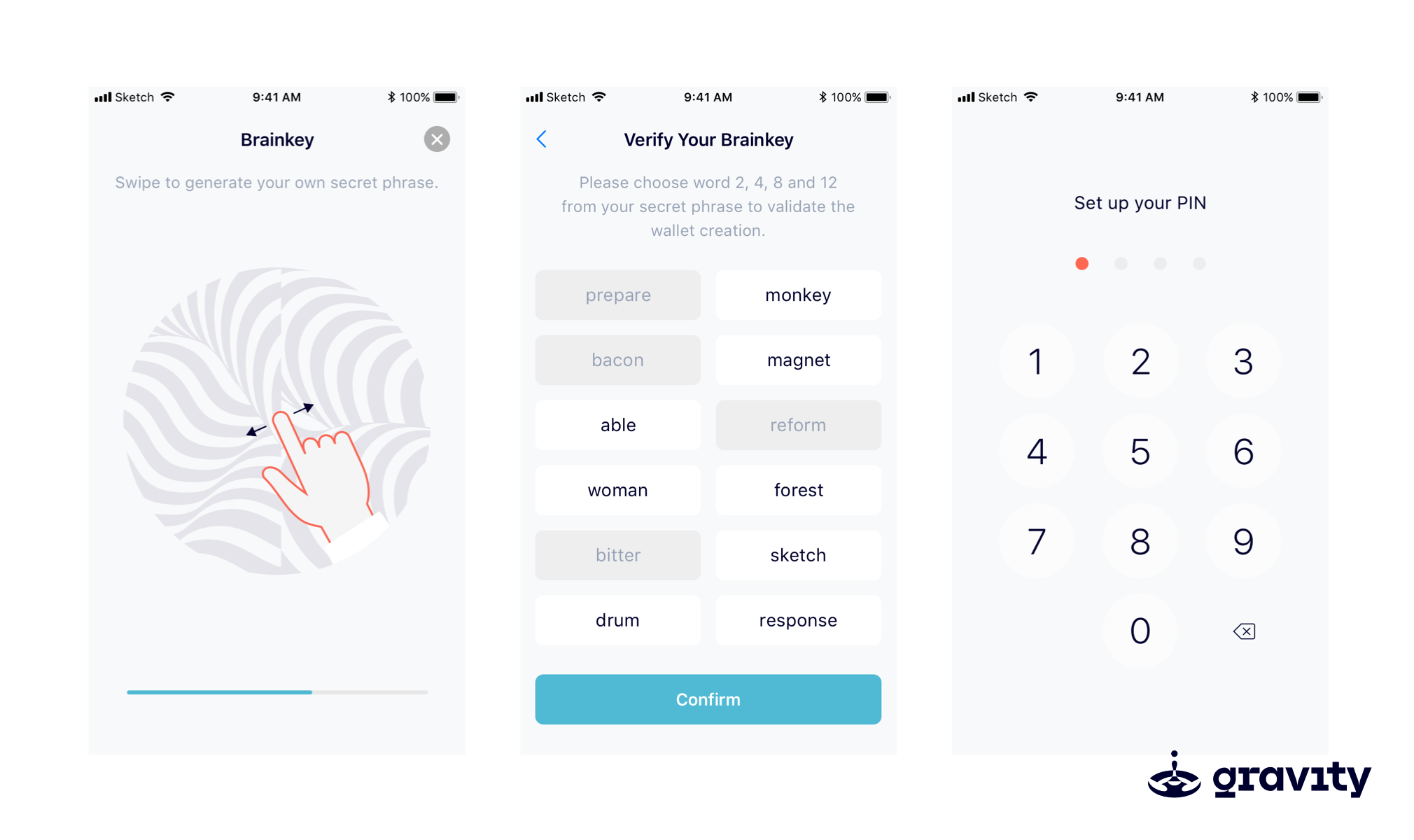 Account
Your account includes the following modules:
Account balance in ZGV tokens;
Emission Accrued, which is calculated in ZGV as well;
Incoming and outgoing transactions;
Keys.
The UI is designed to be easily edited in the future when we plan to add more functions. The main module displays key information: account balance and assessed tokens.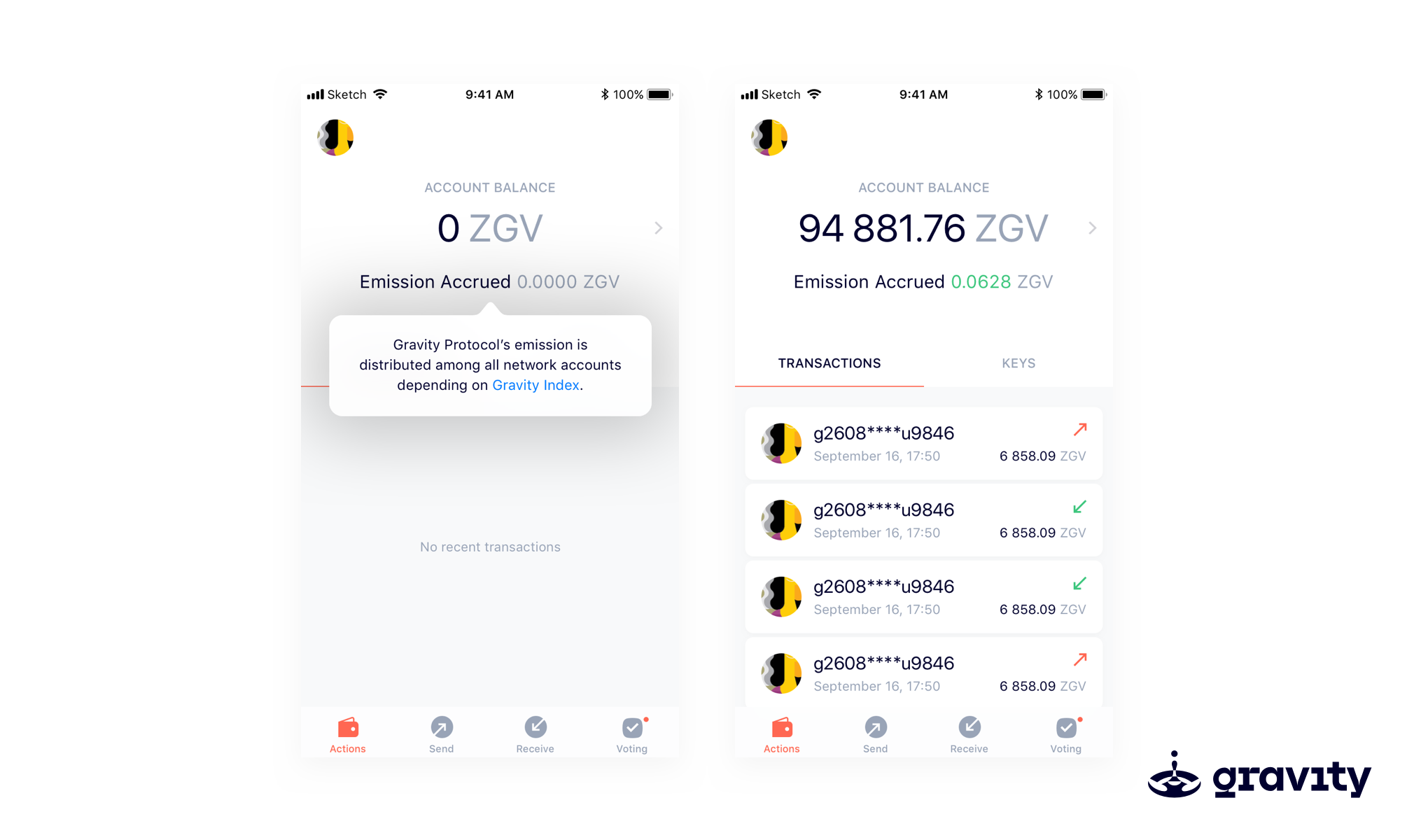 The Gravity Index which is calculated according to a formula, is also displayed in the account.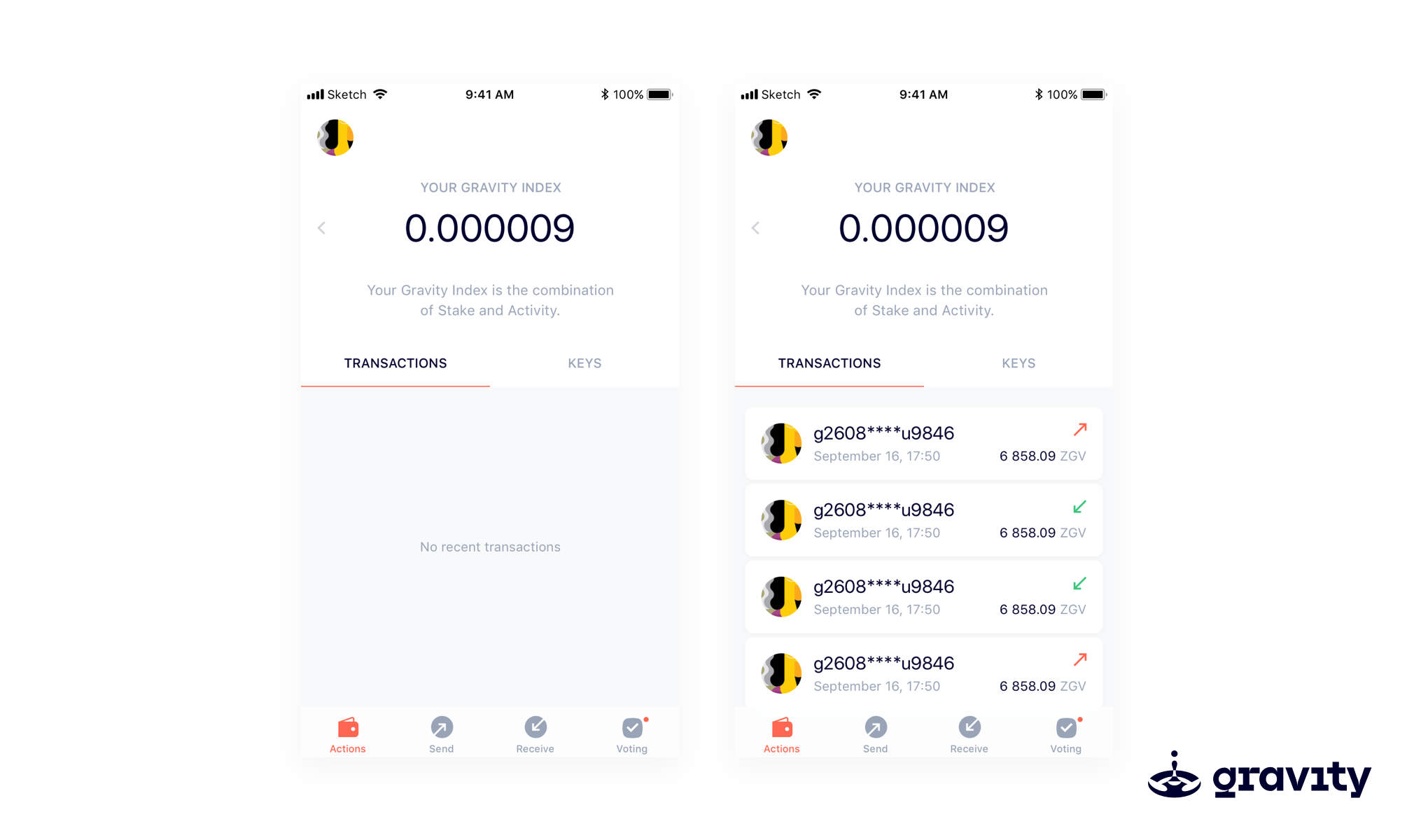 In the sidebar of the currently active account, is where the balance and address are displayed. To switch the accounts, or create a new one just open the My Accounts list.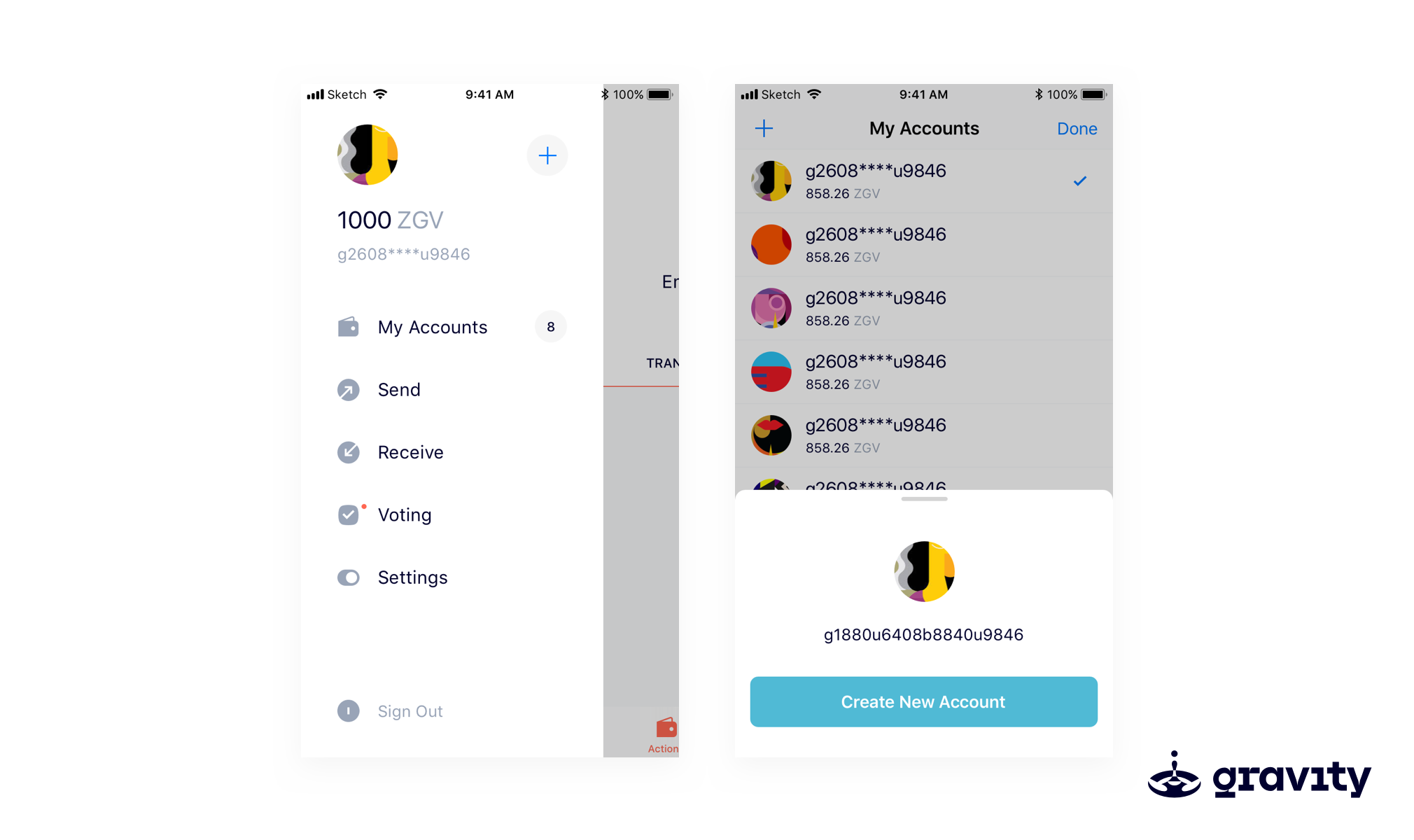 Transfer
Open the relevant screens to send or receive tokens. A transaction status as well as basic information are displayed on the transaction screen.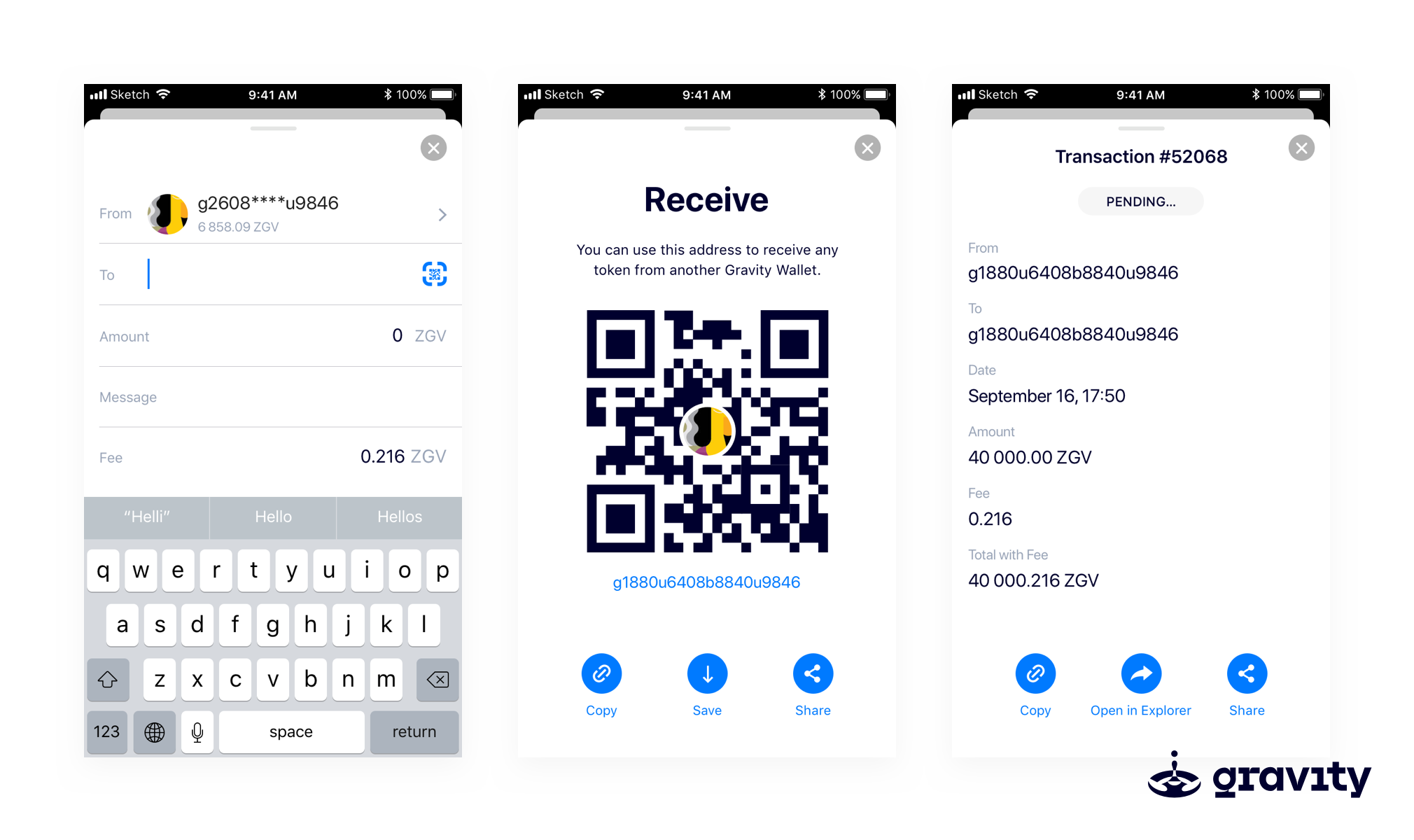 Voting
There is a voting option in the first version of the wallet, as it is an important element of the Gravity Network. You can vote, use a filter to set up the output, and you can also delegate your voting rights to another user.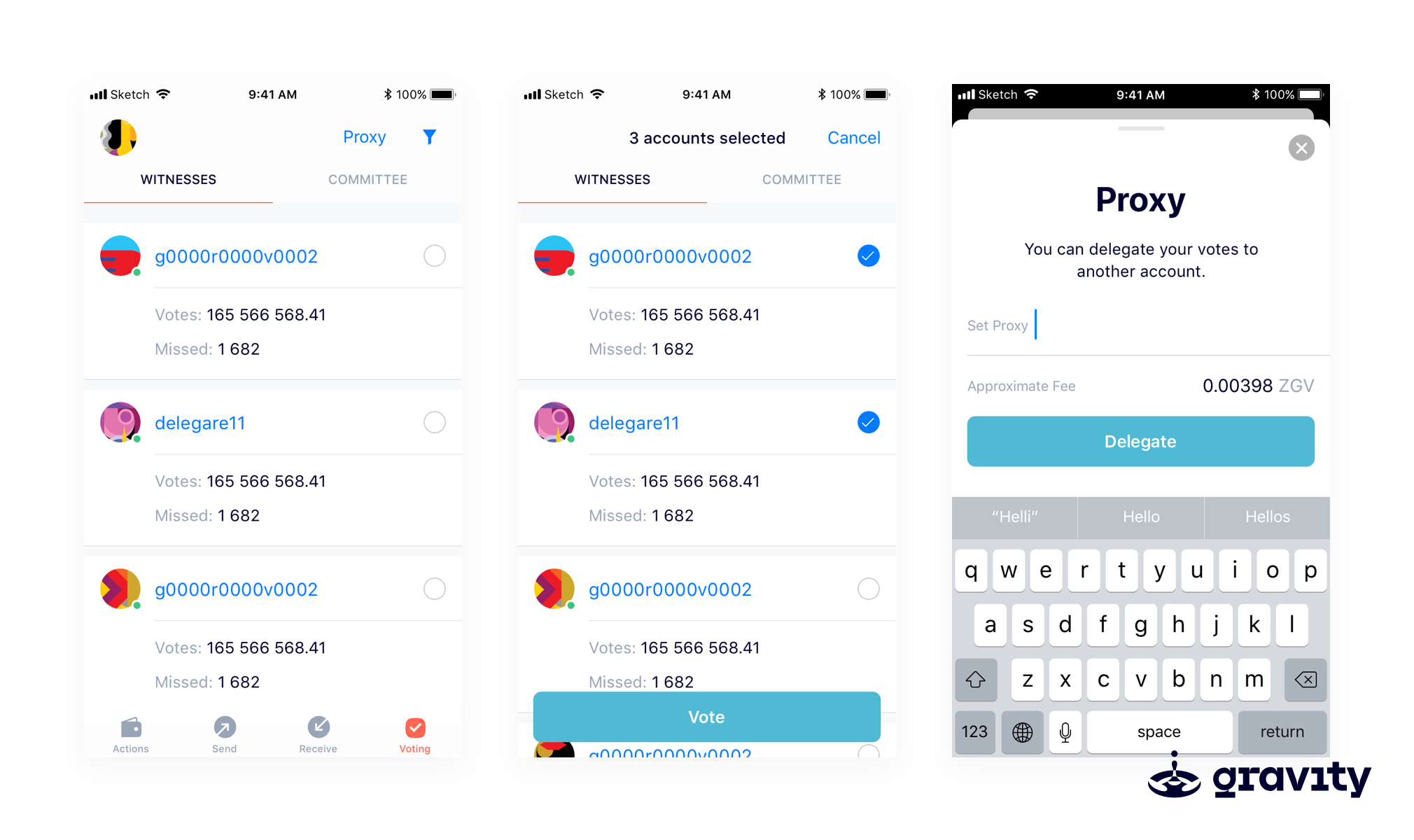 Settings
Settings enable a user manage their accounts and turn on and off accounts needed. There's also an option to manage the node's connections.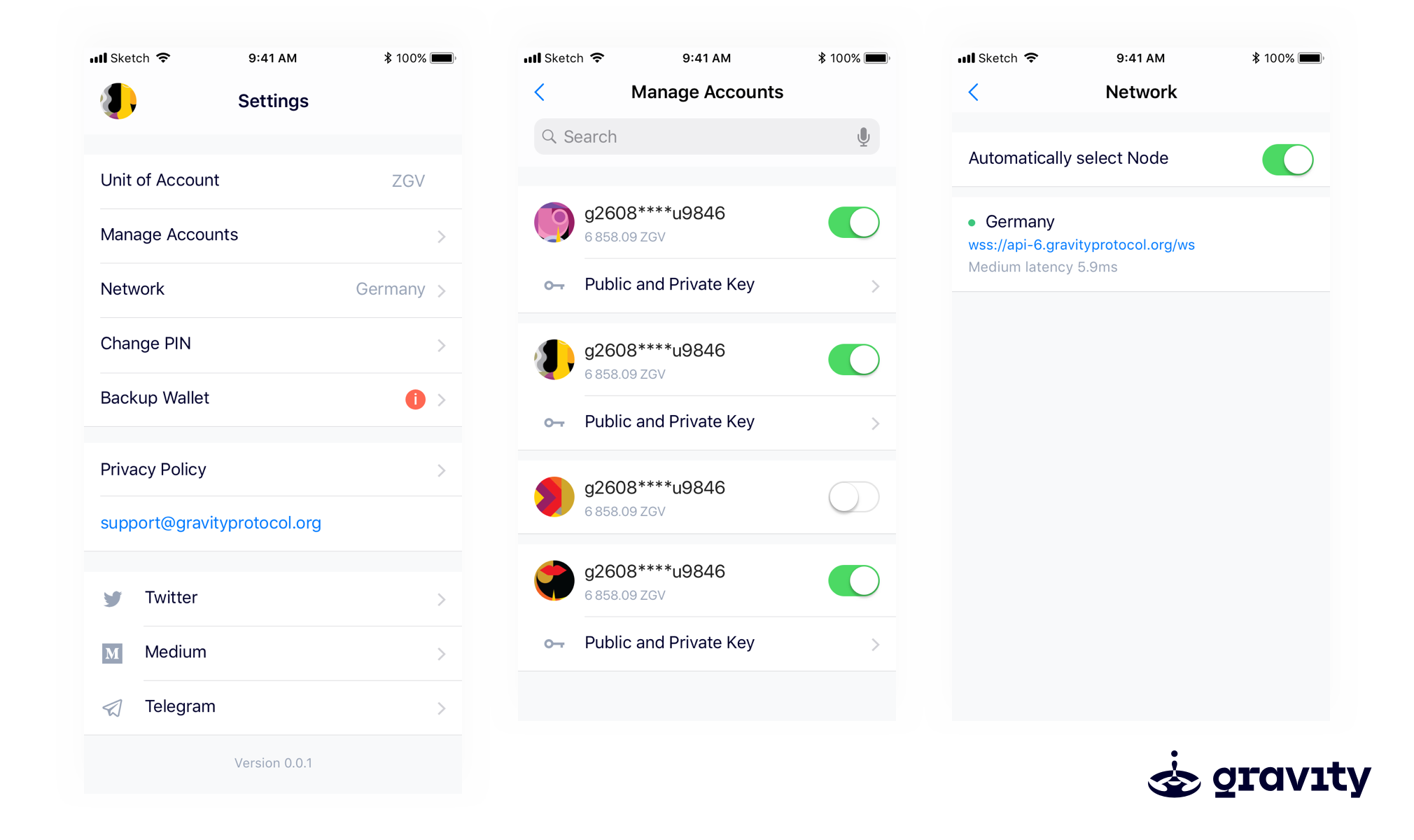 By the way, we're also designing our own identicons for Gravity so that users can easily memorize and interact with the accounts. Here are the first drafts. So what do you think?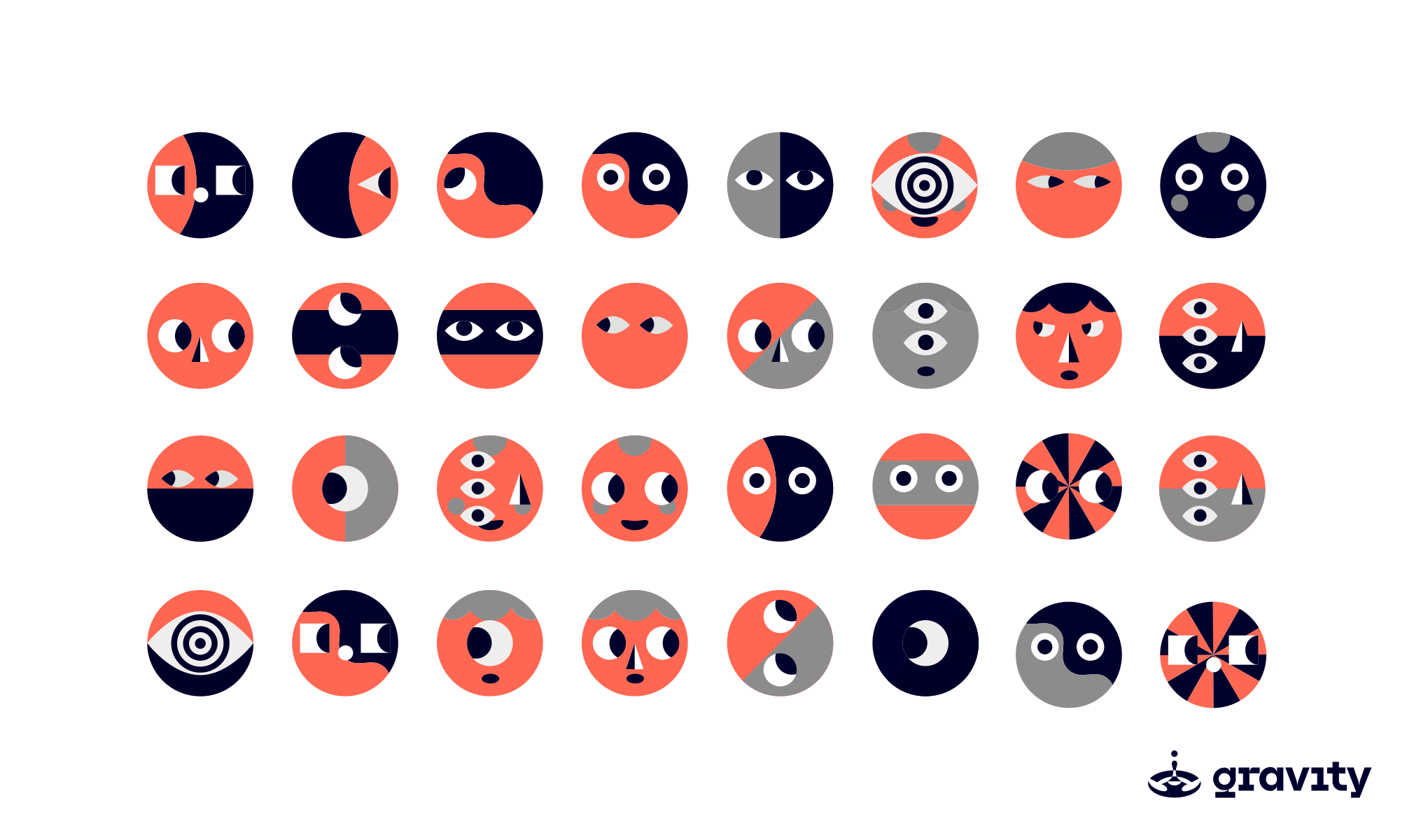 Future Plans
We've also collected a short backlog for Gravity Wallet implementation and development The features are as follows:
Notification widget;
Gravity's style personalized identicons;
Seed phrase generation using voice and a voice+password (touch/face ID) entry into the wallet;
Option to add contacts and instantly transact with them;
Stealth transactions;
Dashboard;
Import of your existing passphrase (by QR feature or write/paste your passphrase);
Dark theme;
Custom tokens;
Notifications of receiving transactions or any activity;
Adding more localization (you'll be able to help in this regard to get Gravity mobile wallet translated into your local language);
Option to switch currencies;
DEX.
BTW, what do you think of Apple's restrictions on blockchain technology?
Found a bug?
As with all new stuff there is bound to be bugs and improvements to be made so if you spot anything let us know on Github or Telegram Dev Chat.
by Pavel Kosov (Dribbble, Twitter)
📢 Gravity Launches Public Testnet
Come to our testnet and break our toys!
Gravity Testnet Instructions Set
Testnet Environment For Attack Modelling: The Methodology
Gravity Testnet Report 25.05.2018–08.06.2018
Gravity Testnet Report 10.06.2018–24.06.2018
Want to join our team?
See the previous articles
Gravity Protocol Intro
A Deeper Look Into Dan Larimer's radio
Gravity Protocol initial distribution
Adaptive Emission: Making Blockchain Economy Real
Gravity IPFS: Off-chain Data Storage
Gravity: Ecosystem Participants
Gravity: Stablecoin Solutions
How the Gravity Protocol Team Implements a Security Development Lifecycle
Electronic Document Circulation: Gravity Extended Contract
Follow Us
Website: http://gravity.io
BitsharesTalk: https://bitsharestalk.org/index.php?board=122.0
Bitcointalk: https://bitcointalk.org/index.php?topic=4189531.0
Telegram channel: https://t.me/gravityprotocol
Telegram dev chat: https://t.me/gravity_protocol
Blog: https://steemit.com/@gravity-protocol
Blog: https://medium.com/@gravityprotocol
Twitter: https://twitter.com/protocolgravity
Discord: https://discord.gg/bcavmUg
Linkedin: https://www.linkedin.com/company/gravityprotocol