Technological advancement has brought about numerous innovations in time past but blockchain technology since its birth has managed to stand out. Unlike other innovations that add value, Blockchain technology has completely changed the concept of "value" and proposed a unique theory which by all standard will bring gross socio-economical advancement. Cryptocurrency which is the value system proposed by blockchain technology has immense advantages over conventional fiat currency in diverse ways. The fact that all manner of transactions can now be perpetuated in a transparent, decentralized, secure, borderless, cost-effective, swift and anonymous manner has completely stood apart cryptocurrency from fiat systems but nevertheless a couple of intrinsic issues has bedeviled the rise of cryptocurrency and these issues include bad consensus mechanism, absence of liquidity, poor throughput (TPS) in comparison to fiat systems/processors, and an absence of real-life use case scenario and portfolio diversification options.
Introducing YUSRA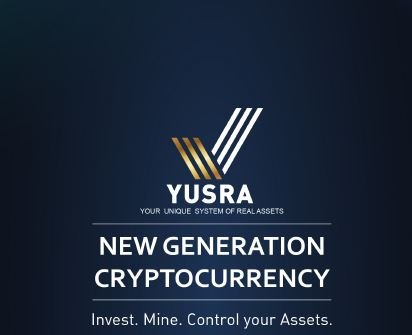 image is courtesy of https://yusra.global/whitepaper.pdf
YUSRA is a unique innovation designed to provide a one-stop solution to the issues bedeviling the mass adoption of blockchain technology by rendering a range of service the crypto market has always craved for. YUSRA concept is bumper packed with loads of features and side attractions which will endear the platform to all and sundry. YUSRA institutes feature a marketplace to guarantee liquidity, creates an ideal payment system fueled the platform native currency YUSRA and a blockchain which boasts of a speed of over 500 transactions per second which is also scalable to 25000 transactions per seconds. The YUSRA platform also features a unique vote and portfolio system which makes it a first of its kind.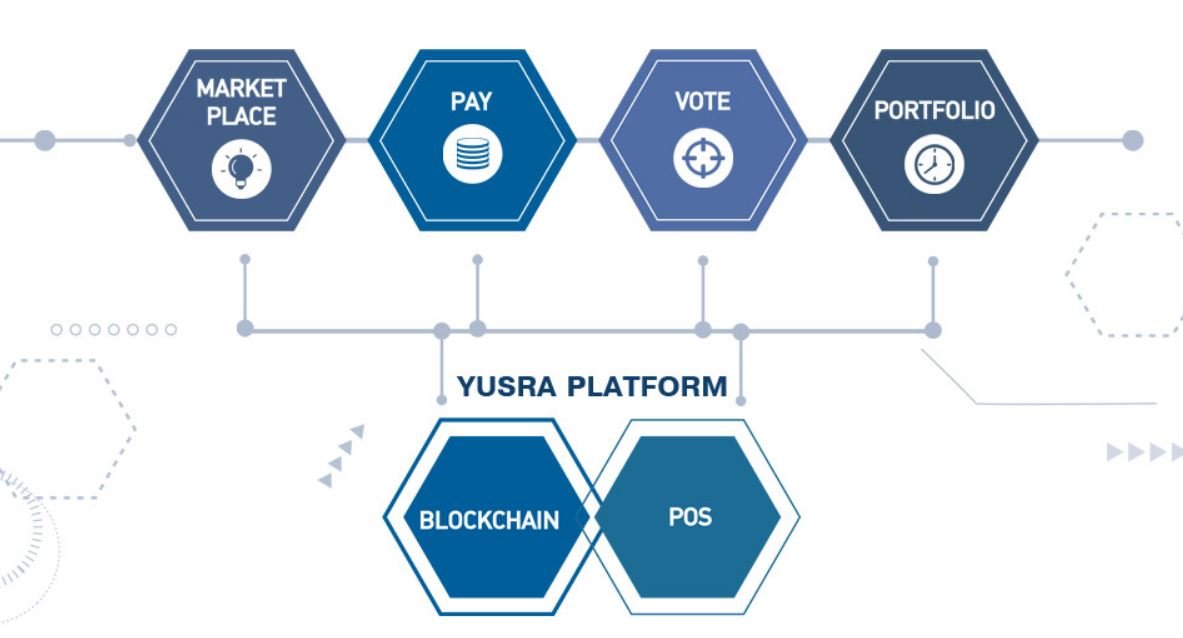 image is courtesy of https://yusra.global/whitepaper.pdf
Core Features of YUSRA
Most crypto enthusiasts are constantly frustrated with their inability to seamlessly trade their assets on exchange and marketplace, and even in cases where these outlets are available, poor liquidity has always been a deterrent. The YUSRA platform mitigates these by instituting its marketplace where YUSRA can readily be traded against all assets effortlessly hence ensuring liquidity for the currency.
Voting is one generally untested use case of blockchain technology, it remains unseen how the decentralized but yet transparent components of the blockchain can facilitate free and fair community deliberation on community matters as well as elections.YUSRA aims to be one of the first blockchain platforms to harness the power of blockchain technology for fully transparent community voting to berth new ideas and allow investors to engage in development and decision making on the platform.
YUSRA portfolio is another important component of the platform. Unlike in the conventional financial markets of the world, crypto and blockchain technology supports financial inclusion for all and gives room for proper diversification of the portfolio. The YUSRA platform gives room for this and more by allowing users of the platform to hold numerous assets in one place and as well giving such users a lucrative avenue to diversify income, explore new cryptocurrencies and as well engage in team-ups.
YUSRA boasts of a Payment system with outstanding transactional capability. YUSRA pay guarantees speed, anonymity, security, liquidity as well as freedom from third party engagement unlike what is obtainable in the conventional systems of the world.

image is courtesy of https://yusra.global/whitepaper.pdf
YUSRA technical architecture for the YUSRA currency is built on a core-YUSRA blockchain, issued as waves token and engaged in continuous interaction with the remarkable YUSRA POS technology hence guaranteeing high performance of the YUSRA PAY system. The YUSRA currency ticker remains YUSRA and it boasts of a maximum supply of 40 million units.
In conclusion, the YUSRA platform proposes a concept that will go a long way to solving the problems of numerous crypto enthusiasts who find it hard to completely harness the power of blockchain technology and implement it as their number one payment option. #YusraGlobal #Yusra #CryptoYusra #BlockchainYusra
To learn more about YUSRA check out the following channels.
Website: https://yusra.global/
Wallet: http://app.yusra.global
Twitter: https://twitter.com/YusraGlobal
Instagram: https://www.instagram.com/yusra.global.invest
VK: https://vk.com/yusraglobal
OK: https://www.ok.ru/yusra.global
Medium: https://medium.com/@YusraGlobal
Authors: Mrsparks
Bitcoin talk profile: https://bitcointalk.org/index.php?action=profile;u=1197564;sa=summary