tl;dr: Disruption is evident after the non-obvious becomes obvious. A look back and a look forward.
One of the richest zip codes in America is 22043.
Right in the middle lies the Tysons Corner mall, ranked as the #6 most valuable in 2018.
I happened to be in the mall the other day to attend the launch party for Non-Obvious Megatrends by Rohit Bhargava.*
The most remarkable thing about the mall that day, however, wasn't the launch party (sorry, Rohit).
Technology Flashback
It was the Lord & Taylor department store, the oldest chain in America, which started in 1826.
Once upon a time, Lord and Taylor was at the top of the retail food chain. Today, it has an anemic 38 stores remaining and was recently sold for $75 million, which is what Amazon earns in about 3.5 hours.
The store was in the process of liquidation.
All sales were final, with discounts of 75%-90% off. It was like a ghost town.
If as, Marc Andreessen said, "software eats the world," it's now obvious to all that e-commerce had "eaten" the department store.
Twenty years ago, however, when e-commerce first became a "thing," it wasn't obvious to most people that a Lord and Taylor liquidation sale, among many other impacts, was the inevitable outcome of the arrival of this new technology.
In fact, in 1999, it was not uncommon for people to say things like
"I'm really not comfortable putting my credit card on the Internet."
Or,
"I need to try something on in the store before I buy it."
It's laughable now, but then it was non-obvious.
Today, there's another hungry technology coming on to the scene.
Predictably, it is meeting with similar dismissive attitudes. Yet, one day, when we look back at the 2010s and the time when the words "blockchain" and "crypto" first entered mainstream awareness, we'll wonder how we didn't see it all along.
Technology Flash Forward
Just across I-495 (aka "the Beltway") from the Tysons Corner is the Capital One Tower.
Begun in 2014 and completed in 2018, it is the tallest building in the entire Washington, DC area.
Capital One is not the biggest bank in America, but with revenues over $28 billion and #98 on the Fortune 500, it's no slouch either.
Yet, at some point in the future (maybe 20 years, maybe sooner), Capital One will not be the tenant of that building.
Like Lord and Taylor, it will be a shell of its former self, if it exists at all.
That's because banks and the financial services industry provide services that public blockchain technology will deliver better, faster, cheaper, and more securely.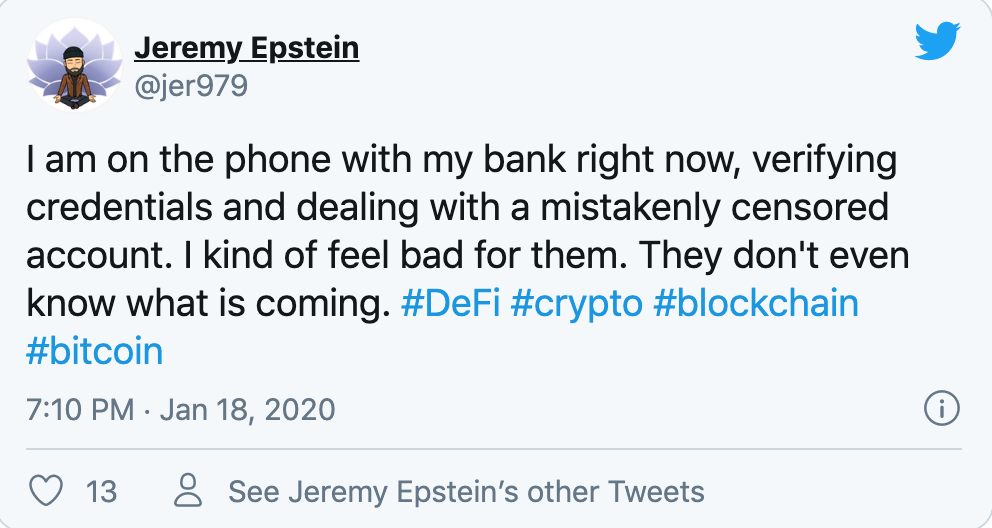 But the "eating" won't stop at financial institutions.
Still Hungry…
Public blockchains are the software that will "eat the world" of any institution that brokers trust.
And there are a LOT of them in our world today.
It may take 20 years. It may take 50. Or, it could take 5. I don't know. But I am confident that it will happen.
Are there scenarios where it might not?
Sure. (e.g. climate extinction event, nuclear war, most of us are put in detention camps, 100% surveillance states)
Will governments and institutions push back really, really hard? Oh yeah.
But in the end, I believe the likely outcome is that a large number of people if given the choice, will choose to rely on technologies for their lives where trust will is brokered by blockchains, not by institutions.
If that's the case, then it's certainly not obvious that decentralized networks, crypto assets, and smart contracts will change the world as much, if not more, than the Internet has already.
But the core premise of blockchain, trust, but verify, is too valuable a proposition.
One day, I think, that will be obvious.
We'll see.
*Rohit is also the founder of IdeaPress and the publisher of my book (still in progress) Non-Obvious Guide to Understanding Blockchain (without the hype) with my co-author, the highly-esteemed and very influential Natalie Petouhoff.