What is Optherium?
The Optherium Modular Ecosystem utilizes a private multi-decentralized blockchain, multi-secure, with multi-currency, dynamic biometric verification, and instant multi-signature transaction, confirmations all on a Hyperledger Platform. This permits individuals and corporations to store their digital assets and execute instant transactions and confirmations worldwide, at rates over 100,000 transactions per second, in the most unique, patented, and secure ecosystem available.
Optherium Labs, a global Fintech company and member of the Linux™, Hyperledger, and Crypto Valley Foundations, is fully licensed in the European Union for fiat to crypto- and crypto- to fiat currency exchange and eWallet services.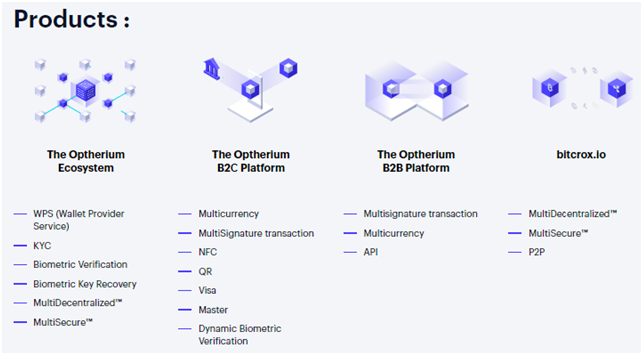 The Optherium Ecosystem
1.WPS (Wallet Provider Service)
2.KYC
3.Biometric Verification
4.Biometric Key Recovery
5.MultiDecentralized™
6.MultiSecure™
The Ecosystem main features:
Dynamic Biometric Verification
Wallet Provider Service
Know your customer service
Biometric Key Recovery Service
B2B. Multisignature & Multicurrency transactions. The Optherium B2B Platform is designed to service corporate and banking entities who are interested in implementing Optherium's products and services within their own systems. The module is built to be an interface for high-volume transactions such as those occurring on exchanges or in banks. Custom-built APIs will provide instant currency conversion and confirmations with multi-signature transactions.
Optherium token details
The name of the token is OPEX.
AirDrop. Rewards: 10 OPEX ($10 USD in token)
Bounty: https://bitcointalk.org/index.php?topic=4844447.0
Optherium token with a ticker Opex is an official utility token of the platform. The full details of the token is yet to be reveal. In my opinion, this token will be used to facilitate any transaction within the platform. There will be discount for individuals holding Opex token when purchasing any Optherium products within the platform. Finally, within the Multi-decentralized exchange, individuals holding the tokens will benefit from low transaction fees and any related fees. The token price is said to be $1 per opex token.
Stay tune for more details about the token ICO so.
Web sitesi: — https://optherium.io/
Teknik Döküman: — https://optherium.io/#modal_onepager
Telegram Sohbet — https://t.me/optherium_club
Telegram Kanalı — https://t.me/optherium_channel
Youtube — https://www.youtube.com/c/OptheriumLabs
Facebook Grup — https://www.facebook.com/groups/optherium/
Facebook Profili — https://www.facebook.com/optheriumlabs
Linkedin Grup — https://www.linkedin.com/company/11488817/
Bitcointalk — https://bitcointalk.org/index.php?topic=3465160.0
Reddit — https://www.reddit.com/user/optherium
Twitter — https://twitter.com/optherium
Instagram — https://www.instagram.com/optherium/
Medium — https://medium.com/@optherium
bloge created by : kazi sajib
Eth: 0x2DaC8D28Ce3782a60C2f32E564aa9dF0571eA179
Bitcointalk: https://bitcointalk.org/index.php?action=profile;u=1146060