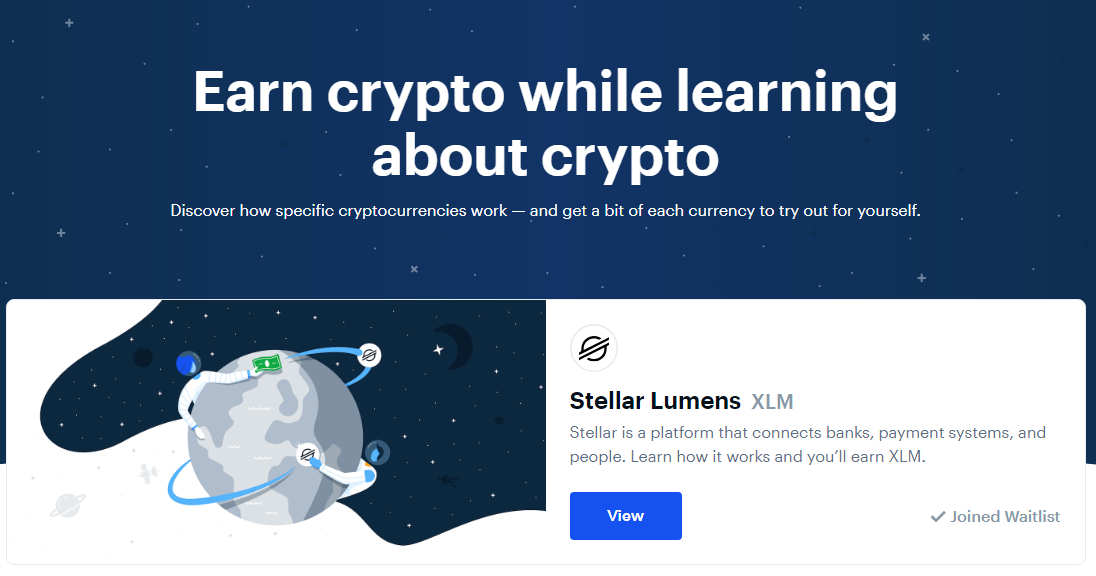 One of the nicest aspects of the Blockchain is to gain crypto for free from the airdrops or the forks.
But sometimes this profit is not as easy or fast as we think.
Thanks to Coinbase we can take advantage of one of the most beautiful gifts that I've seen on the Blockchain in the last months.
What can you do to obtain these coins?
First thing first, you must log in on your Coinbase' account, if you haven't an account yet, you can sign up via this link.
https://www.coinbase.com
Once you logged in on Coinbase, go on this web page https://www.coinbase.com/earn/
You will see four sections related to different coins; Stellar Lumens, Zcash, Basic Attention Token and Ox.
Come in each page and put yourself on the waiting list to get yout crypto.
You will just have to wait, and then you will recieve an e-mail from Coinbase that it is going to notify you when you will be able to gain your coins.
Clicking on the link you will recieve, you will come back to the page coinbase.com\earn\ and you will finally start watching short videos, that they will teach you a lot of things about each of those cryptocurrencies.
At the end of every video, you will answer some questions to get your coins.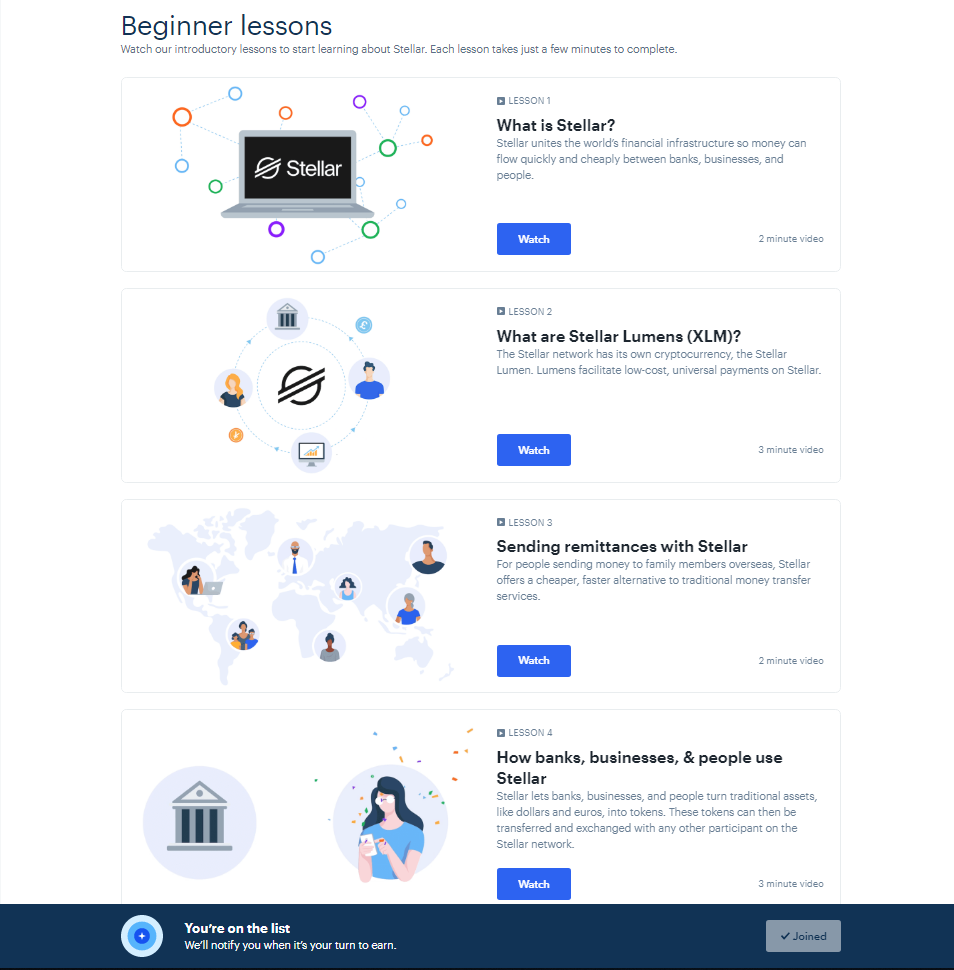 Easy, isn't it?
Basic Attention Token has the biggest bonus; you will gain 7$ just downloading its decentralised browser, "Brave".
It will be a useful tool for obtaing other tokens for free in the next months, furthermore it is an helpfulf browser I already fell in love with.
Brave protects web browsing, blocks all the annoying ads and damgerous links.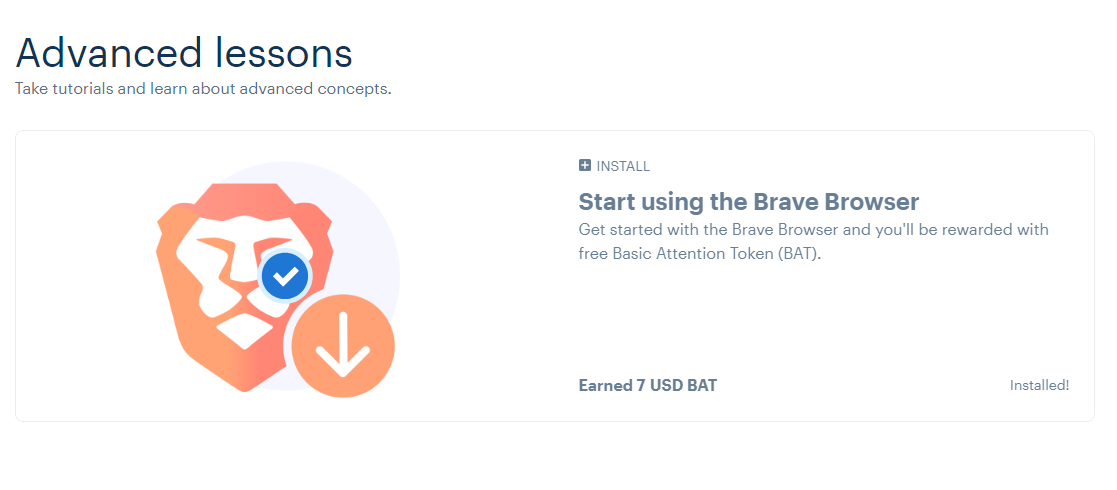 There is another important bonus; Stellar Lumen will pay you 10$ to see videos about their project and you will earn another 10$ for each friend you will invite on the website. (Maximum of 4)
You will have to wait a few days to get Coinbase' approval, but in about 30 minutes you will earn 66 $ !!!
Have you already earned cryptos from Coinbase Earn? In the next days I will show you how to get another 25 $.
I've never seen something like that in the decentralised world... Hurray for the Blockchain.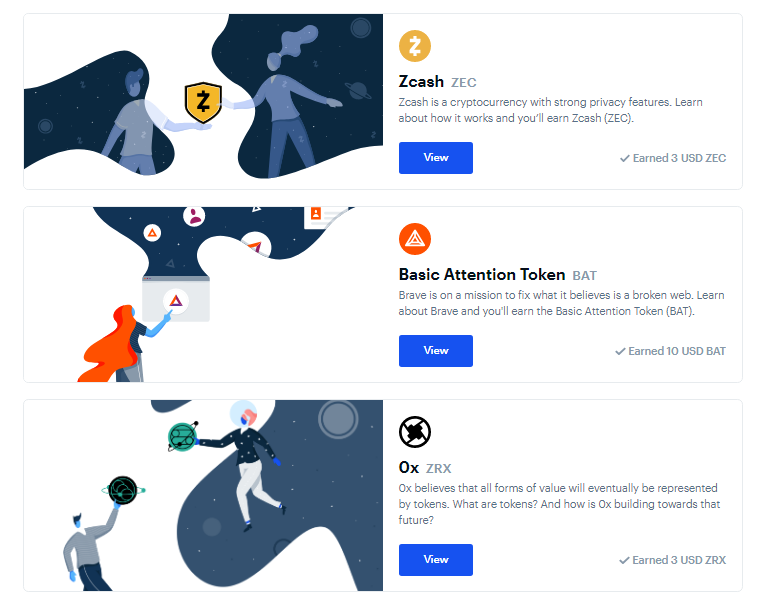 Vuoi guadagnare 66 $ in crypto in pochi minuti?
Uno degli aspetti più belli della blockchain è anche quello di ottenere crypto gratuitamente dagli airdrops o i fork.
Spesso però queste richieste risultano difficili o dispendiose in termini di tempo.
Grazie a Coinbase possiamo sfruttare uno dei regali più belli che ho visto negli ultimi mesi sulla Blockchain.
Cosa dobbiamo fare per ottenere queste coin?
Per prima cosa dobbiamo effettuare il login sul nostro account di Coinbase, se ancora non hai un account puoi registrarti tramite questo link. https://www.coinbase.com
Una volta effettuato l' accesso a Coinbase, vai su questa pagina web: https://www.coinbase.com/earn/
Vedrai quattro sezioni relative a diverse coin: Stellar Lumens, Zcash, Basic Attention Token e 0x.
Entra su ciascuna pagina e mettiti in lista d' attesa per ricevere le tue crypto.
Adesso ti basterà attendere il tuo turno, riceverai una mail da Coinbase che ti avviserà quando potrai iniziare ad ottendere le tue coin.
Clicca sul link che hai ricevuto, tornerai sulla pagina di coinbase.com/earn/ e finalmente potrai iniziare a guardare dei brevi video che ti insegneranno molte cose su ogni cryptovaluta in questione.
Al termine di ogni video dovrai rispondere ad un semplice quiz per ottenere le tue coin.
Semplice vero?
I bonus più grandi sono per Basic Attention Token, otterremo 7 $ scaricando il loro browser decentralizzato "Brave".
Sarà uno strumento che ci potrà permettere di ricevere altri token gratuitamente nei prossimi mesi, inoltre è un browser utilissimo,di cui mi sono già innamorata.
Brave protegge la nostra navigazione nel web più di qualsiasi altro browser, inoltre blocca tutti i fastidiosi annunci pubblicitari o i link pericolosi.
L' altro bonus più importante è quello di Stellar Lumens, ci fornirà 10$ per guardare i video del loro progetto e potremmo ottenere altri 10$ per ogni amico che invitiamo a partecipare (fino ad un massimo di 4 amici).
Ci sarà da aspettare qualche giorno per ricevere l' approvazione da Coinbase, ma poi andremo a guadagnare 66$ dollari in crypto in meno di mezz' ora.
Avevi già ottenuto queste crypto dal programma di Coinbase Earn?
Nei prossimi giorni ti farò vedere come ottenere altri 25$.
Non ho mai visto niente di simile nel mondo centralizzato... Viva la Blockchain!