Analysis Review by. IKIM
https://allbit.com/apot/report/290
Steemit has proven that blockchain & crypto have so much potential in terms of 'decentralization' as well as 'distribution & reward'. Thanks to the Steemit project, we now also have decentralized apps known as Dapp.
However, like other early projects, Steemit also has weaknesses: namely, its profit model. Steemit wanted to highlight so much the possibilities of a crypto-reward system, that they ended up ignoring traditional profit models, such as ads. Rather, Steemit relied on the price of Steem only. It seemed to work when the market was bullish.
But this year, with the market situation not so good, Steemit has had a hard time dealing with this. Recently, we heard that Steemit had to lay off 70% of its employees citing "the weakness of the cryptocurrency market, the fiat returns on our automated selling of STEEM diminishing, and the growing costs of running full Steem nodes."
MONEYNET is Top 10 cryptocurrency community in South Korea. There had been number of market leaders such as Bitcoin Gallery, Coin-pan, and Bitman, etc. What made MONEYNET different from other competitors was their amazing crypto courses. MONEYNET has its own classes and coin analysis video series for beginners with good content quality. You couldn't find these kind of classes at any of the other communities, and it was especially helpful for beginners who just started investing cryptos to understand how it works. Based on these classes, MONEYNET also published a book '30 Altcoins you should know' last year.
Finally, MONEYNET launched its ICO last August, announcing the new service, a decentralized community website designed to reward content creators and users. It sounds like Steemit, but MONEYNET is more focused on cryptocurrency and blockchain related topics.
Since May, 2018, ICO funding and activities have gone markedly down worldwide, I would say MONEYNET's ICO timing was not the best. Probably it would have been much better if it could wait for 4–5 months. However, MONEYNET completed all the ICO rounds and have successfully listed MNC coin on crypto exchanges.
In October 2018, MONEYNET also made it possible for its coin (MCN) to be listed on CoinZest, the third biggest crypto exchange in South Korea, after Bitthumb and Upbit. The listing occurred during the same month that the ICO ended. And less than a month later, MNC's listed on Allbit, one of the biggest decentralized trading platforms worldwide. It is also meaningful to see that Allbit, who is known as one of the most innovative and prominent exchanges, chose MONEYNET and MNC.
Currently MNC is generating 20 to 40 billions of transaction everyday on Allbit. Nowadays lots of transactions are also coming from its APOT event, however, 4B is not an easy number to make.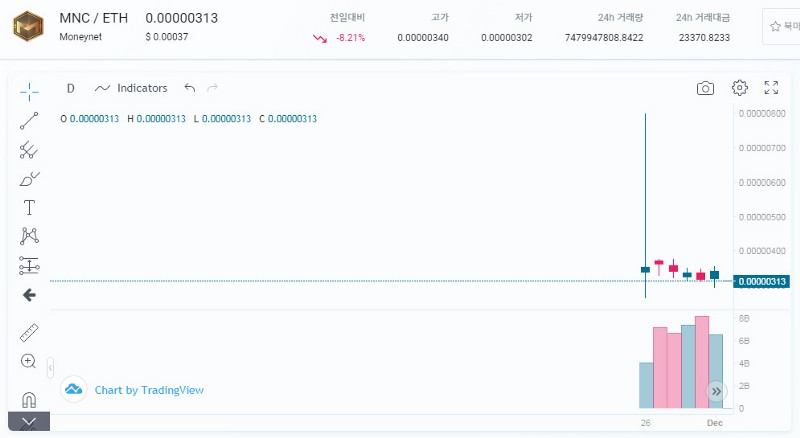 MONEYNET MNC Transaction chart
I personally hope MONEYNET can learn a lot from Steemit's case, so that they apply it wisely. Unlike Steemit, I could see MONEYNET trying to make its profit model stable from the very beginning, and it shows on its whitepaper very thoroughly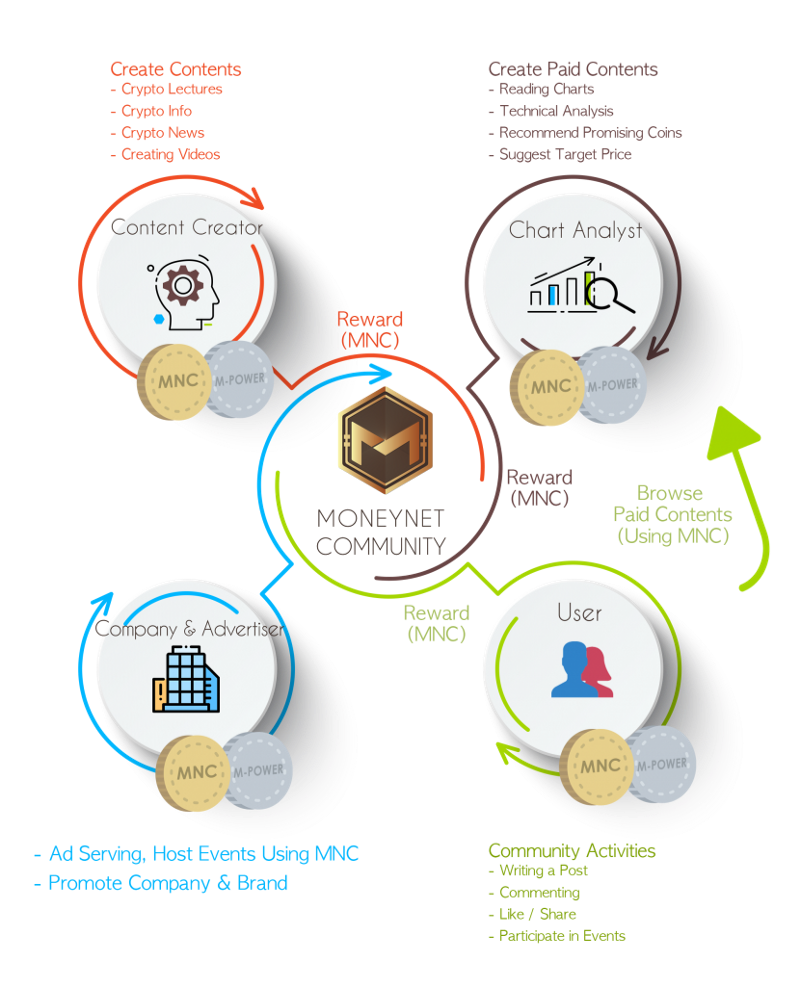 MONEYNET Token Economy Model
According to MONEYNET's whitepaper, business promotion and ads are one of the big chunks in its profit source. While Steemit was like "we have coins, and it's the only thing we need!", MONEYNET made the room for business and clients so that their money can be distributed to users and content creators. Also, when we say their money, actually it has to be MNC, which is also smart. Because business who seek its promotion and ads at MONEYNET platform will need to buy MNC and this will lead boosting the market demands and stabilizing the MNC price as well.
So, if you are on the business side, what kind of ads and promotions you can initiate? During the ICO, companies can use MONEYNET as your marketing platform, distributing MNC coins to attract potential customers. If you are running bounty programs, you can also use MNC as rewards. If you have promotional videos or web content, you can totally reward the users and target audiences with MNC coins. To sum up, you can promote your marketing campaigns on MONEYNET and MONEYNET users will be rewarded with MNC when they read, view or accomplish your missions as your targeted audience.
Apart from businesses, there are lots of crypto chart analysis experts on Tradingview, Steemit, Facebook and Twitter who can be also interested in MONEYNET. They can just be themselves on MONEYNET as they were posting on the other social media. If they publish their postings for free, they can be rewarded with MNC based on the number of likes and views. Or paid publishing can be another option.
Once this reward system become stabilized and attract other influencers and users, reward based crypto community website that MONEYNET's aiming to be, will come true sooner than we expect. In addition to that, MONEYNET can be the market leader as well as the successful case for the rewarding profit model which will accelerate more changes for 'the 'decentralized and fair distribution' in our society. Good luck, MONEYNET!