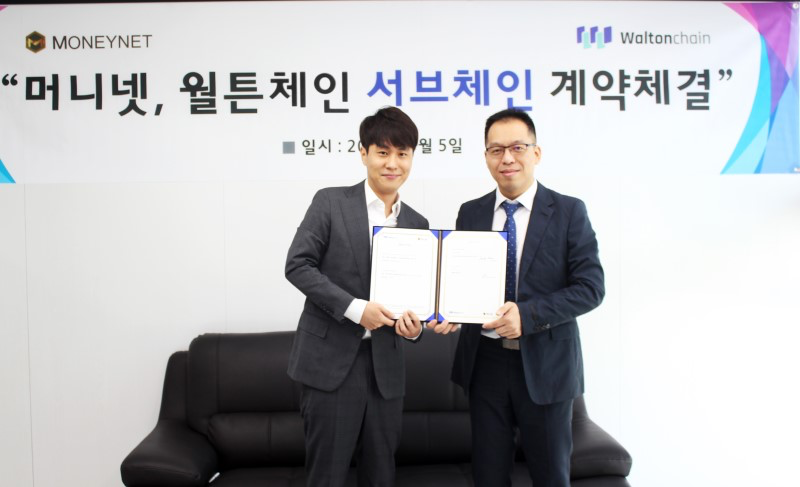 Yousik Kim, CEO of MONEYNET and Mo Bing, Senior Advisor for Waltonchain
MONEYNET, a major cryptocurrency web community in South Korea, has announced its sub-chain partnership with Waltonchain on September 5th, 2018. Per the terms of the partnership, MONEYNET will be officially listed as Waltonchain's subchain, a blockchain-based management platform incorporating the Internet of Things (IoT) through radio-frequency identification (RFID).
Waltonchain is the name given to the parent chain in the Walton ecosystem. This chain tracks Waltoncoin (WTC) transactions, manages sub chains, and executes smart contracts, among other things. Waltonchain's multi-chain system also helps with performance scalability issues as network usage increases.(coincentral.com)
WaltonChain, a Korea-China collaborative blockchain company, established the Walton Blockchain Institute; a non-profit organization fully authorized and supported by the Ministry of Science and ICT of the Government of the Republic of Korea. Waltonchain (WCT) has been grabbing investor attention after it was officially listed on Bithum, South Korea's largest cryptocurrency exchange on August 31.
"We are excited to announce this partnership with Waltonchain and I believe this strategic partnership will take us to another level," Yousik Kim, CEO of MONEYNET, said in a statement.
MONEYNET is aiming to launch a decentralized web community platform where users and quality content creators can receive a fair compensation for their contribution. MONEYNET provides users basic courses for crypto beginners — such as how to set up a crypto wallet — in addition to up-to-minute market news and information.
Further information about MONEYENT and ICO is available on a dedicated page on the MONEYNET ICO website. You can also email us at info@moneynet.io.
MONEYNET TEAM
Further suggested readings:
MONEYNET signed the MOU with Waltonchain
MONEYNET ICO Analysis: Reliable and Valuable
MONEYNET Referral Program: Step by Step Guide
ICO Analysis: MONEYNET