Previously, I've written about the next generation of decentralised cloud storage by the name of Memority. Today, we'll try out their Alpha release product. They've three distributions for different Operating System (OS):
We'll use the Windows distribution for an example. Click on the link above to download according to your OS. For latest versions, you can also find the official links at https://memority.io/alpha.
Run the installation file and you'll be presented with this beautiful splash screen: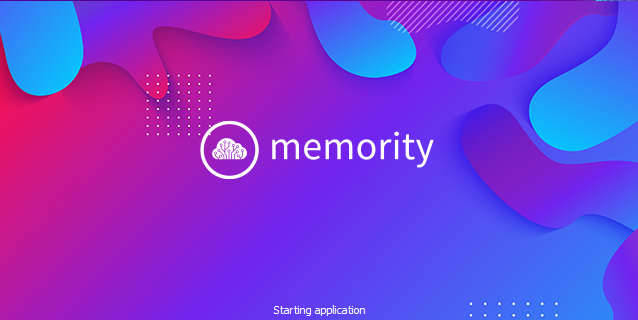 If you have enabled firewall protection, there may be prompts that require you to grant permission for the application, as well as Geth, which is necessary to run a full Ethereum node.
After that, wait for the app to synchronise the blockchain data from the network. It shouldn't take that long, probably in a few minutes depending on your internet connection speed.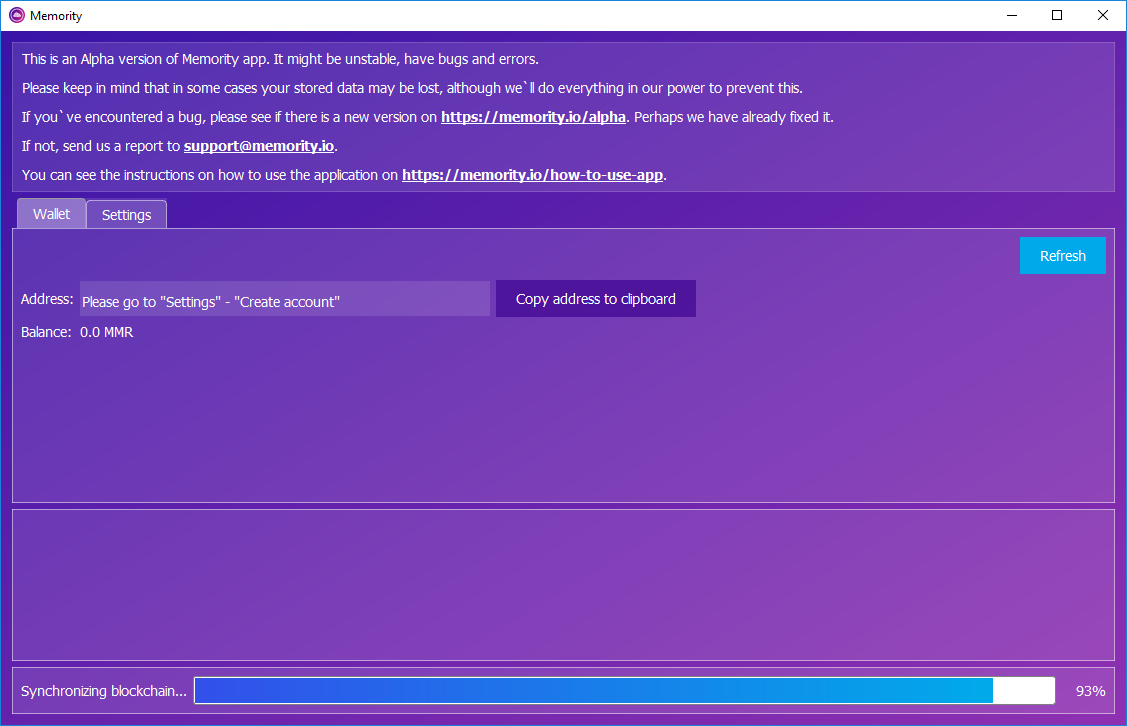 Once that's done, go to the Settings navigation tab and click on Create Account. There will be a pop-up that prompts you to set a password for the new account.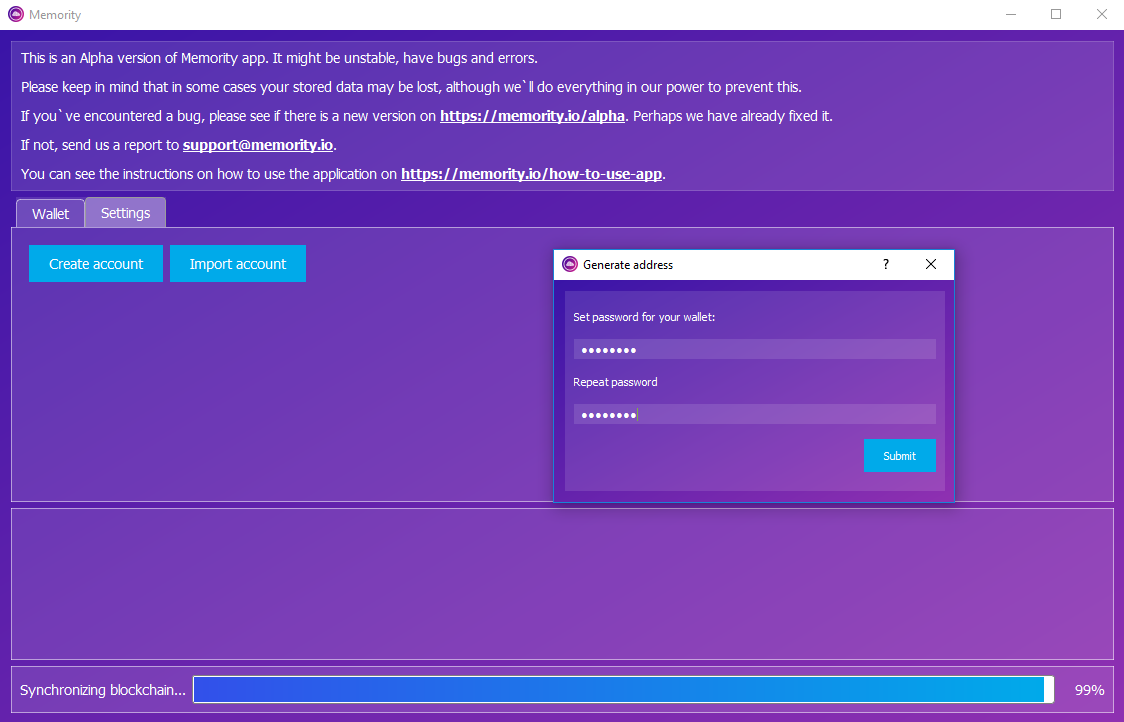 Click Submit to proceed with the new account creation. A unique wallet address will be generated. Next, enter the Alpha Tester key: gMqNyDUamp5at6pq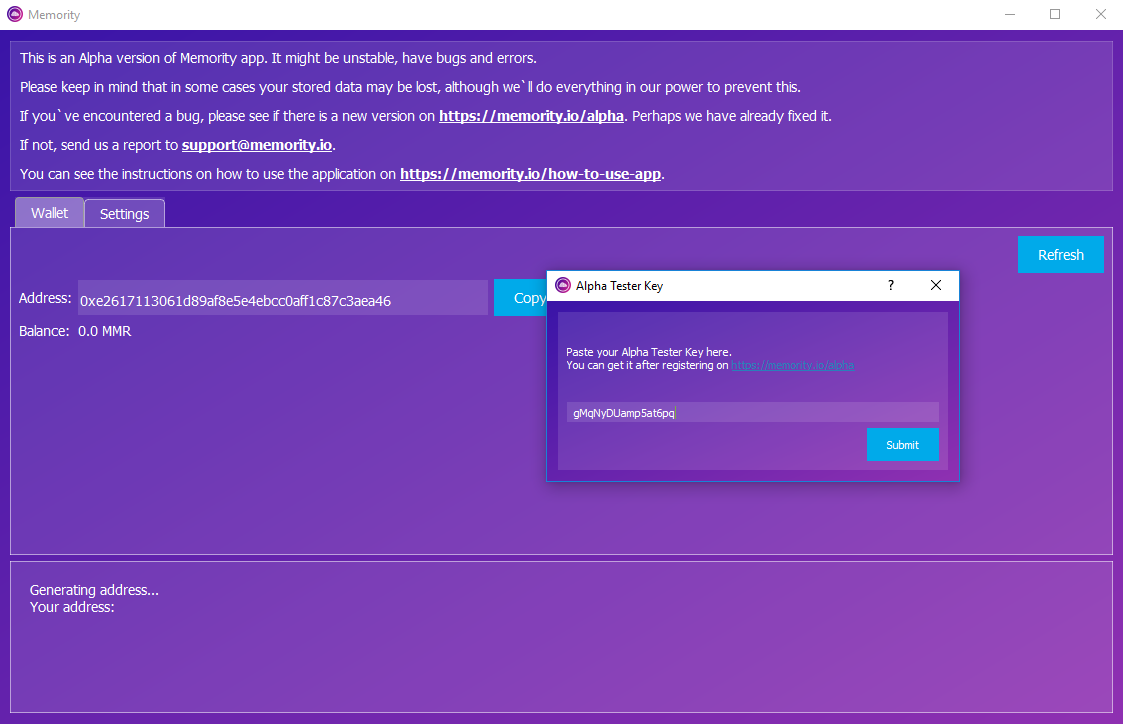 Then, click Submit and wait for MMR tokens to be sent to your wallet for testing. Depending on the network, it may take a few minutes. Do not close the application.Your balance should be updated to 50.0 MMR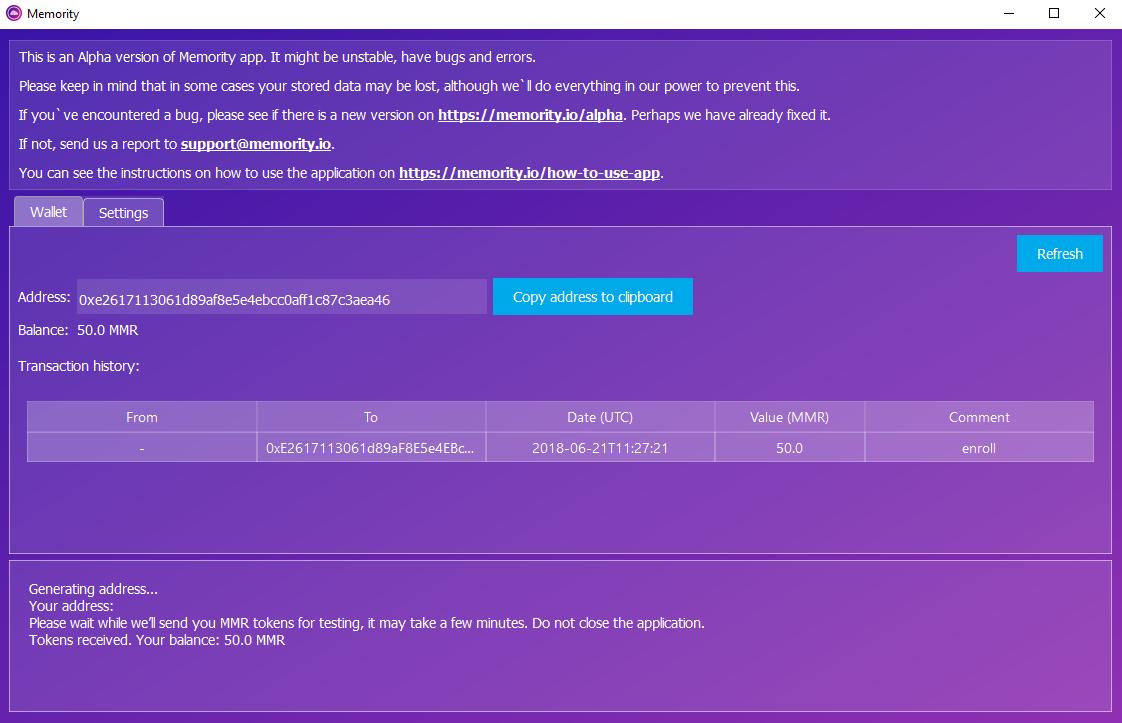 There will be a pop-up display that asks you to select your usage needs.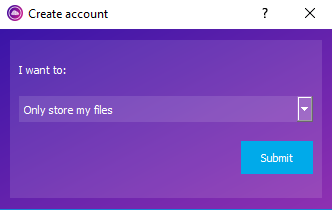 There are three options:
Only store my files
Only be a hoster
Both
For a start, let's select Both and click Submit. They've a notification box at the bottom of the app, which is pretty handy as you can know what's going on in the background.

My hoster account creation failed because of some connection settings. Looks like we have to open up port 9378 although I'm not sure why it wasn't automated during installation. But anyways, let's take a look at client account.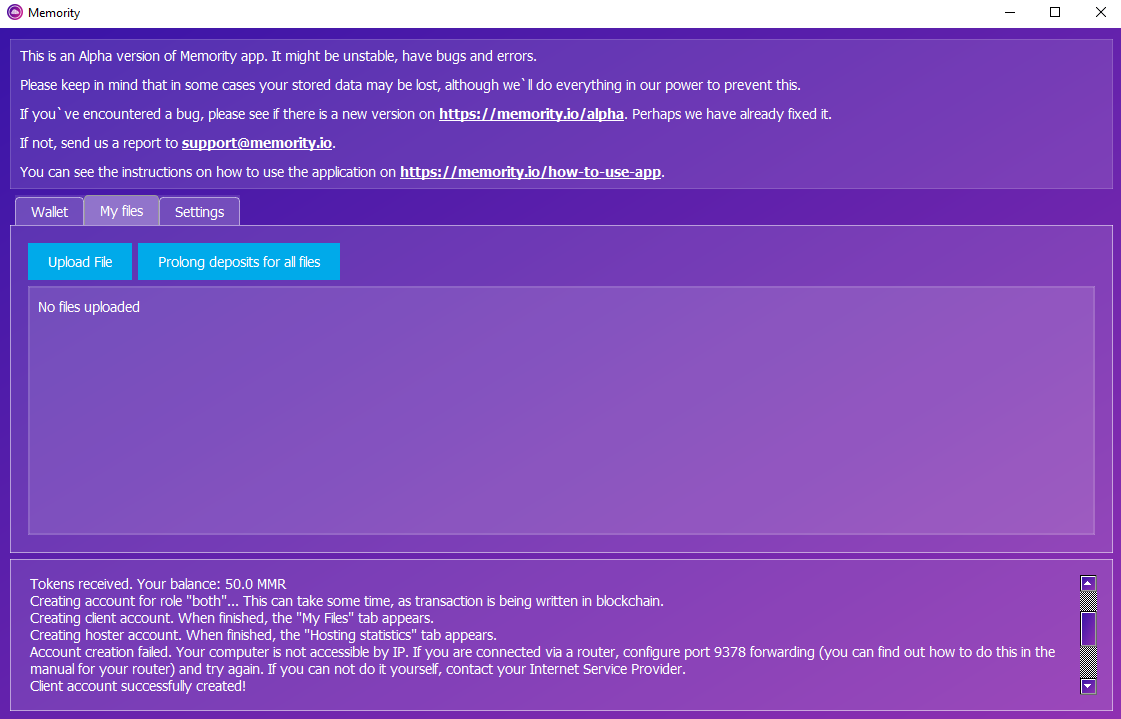 If your client account is successfully created, you should be seeing a new navigation tab called My Files. Go to that and click Upload File to select the file you want to deposit through the app. Memority will search for available hosters. Once found, they will send the file metadata to the contract and the following will be displayed: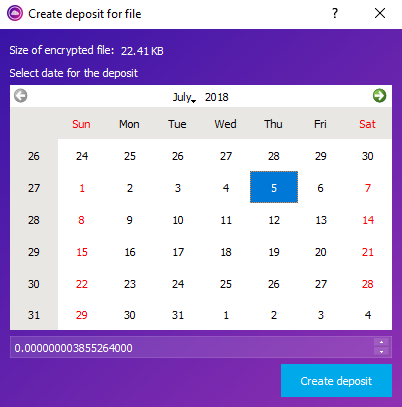 You then have to select date for the deposit and the cost of storage of the selected file for a two-week period. Seems like there's a minimum period of two weeks because you can't select any other dates before that. After the file gets uploaded and distributed to the hosters, it will alert the user as follow: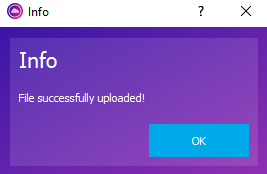 And your dashboard should be updated with something like this: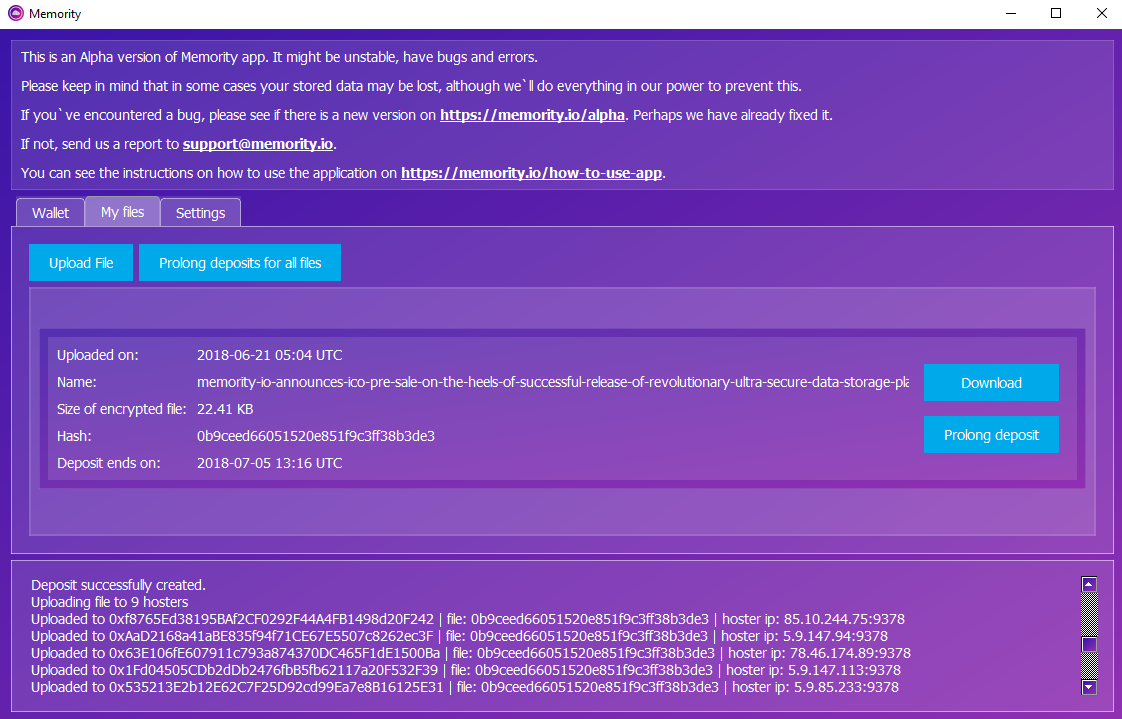 There you go, all done! You've successfully uploaded your first file on Memority. Now, you can either Download or click Prolong deposit to place more fees and extend the storage duration of your file.
If you haven't noticed, your original file is uploaded to 9 different nodes of different IP address. Memority stores 10 copies of data by default. The one remaining node is probably yours.
Here's a graphic that shows the schematic presentation of Memority storage system: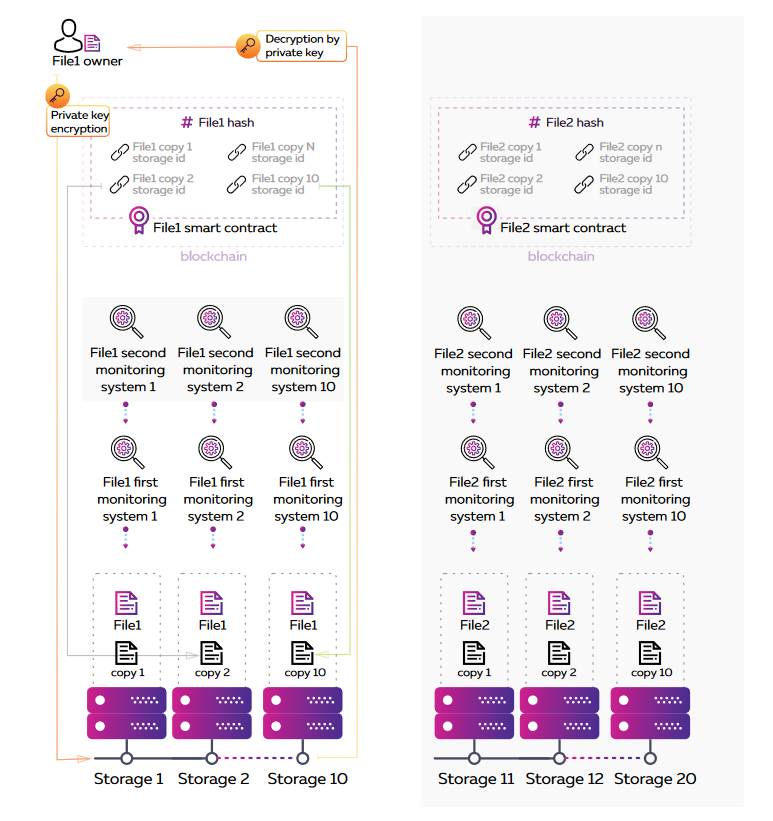 One good thing about this is that your files are always encrypted with your personal private key. This ensures data access is possible only with this private key, which is stored only by you.
Backup
In the event where you're going to change computer, you can go to Settings, click Export to save your data into a .bin file. Once you complete the necessary installation of Memority on your new computer, you can simply go to Settings and click Import to get back all your uploaded data.
Closing Thoughts
It works! Although it's only an Alpha version, it validates the feasibility of the project. I can't wait to try out their next version. In the meantime, I might test out the Linux distribution once I get my Ubuntu box set up. The only feedback I have is that I wish there can be a web version like what Dropbox has, so I can access my files anywhere without first installing the application to run an Ethereum node.

Project Website: https://memority.io/
Referral Link: https://memority.io/m/399
MVP (Alpha): https://memority.io/alpha
Telegram Group: https://t.me/memority
Twitter: https://twitter.com/frvrty
Facebook: https://www.facebook.com/mmority/
Comparison Analysis: https://memority.io/comparison
Whitepaper: https://memority.io/docs/whitepaper_memority.pdf
Token Sale: https://memority.io/buy_tokens