Can you name more than five companies that operate within the sharing economy? I can't. At the back of my mind, I only know AirBnB, Uber & Grab.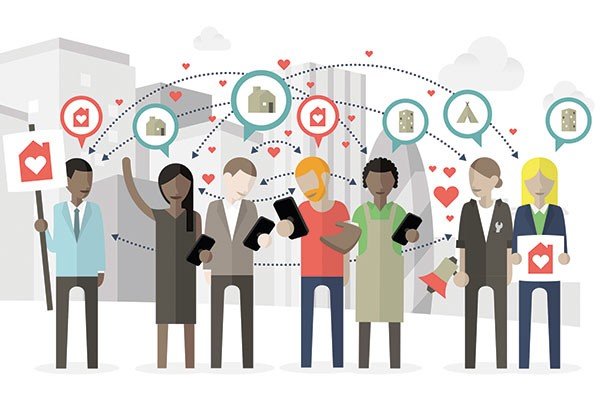 Little did I know, there are actually thousands of companies around the world that operate within the sharing economy. They offer sharing services including everything from apartments, office space, storage to heavy equipment, cars, information and more.
If you aren't aware, a sharing economy is like the people's economy that's focused on "Access to" rather than "Ownership of" physical or digital assets. Take for example, if you only need storage for two weeks of the year, do you truly need to own a warehouse?
Many years ago, it was almost inconceivable that you could share an apartment or car with complete strangers until the emergence of companies like AirBnb and Uber. These tech-enabled platforms believe sharing rather than owning helps people save money, earn income, boost community, build trust (including "stranger trust"), and even enhance choice and convenience.
But, are we really benefiting from today's sharing economy?
Everyone is trying to be the next AirBnB or Uber

Because of this, our society is becoming ever more fragmented and yet, in other ways, we have never been more connected —within compartmentalised services. Don't get me wrong — I'm not against the sharing economy, but these online peer-to-peer marketplaces definitely need to be seamless. Wouldn't it be more user-friendly if you don't have to register and generate a login for every service you want to use?
But there are more problems…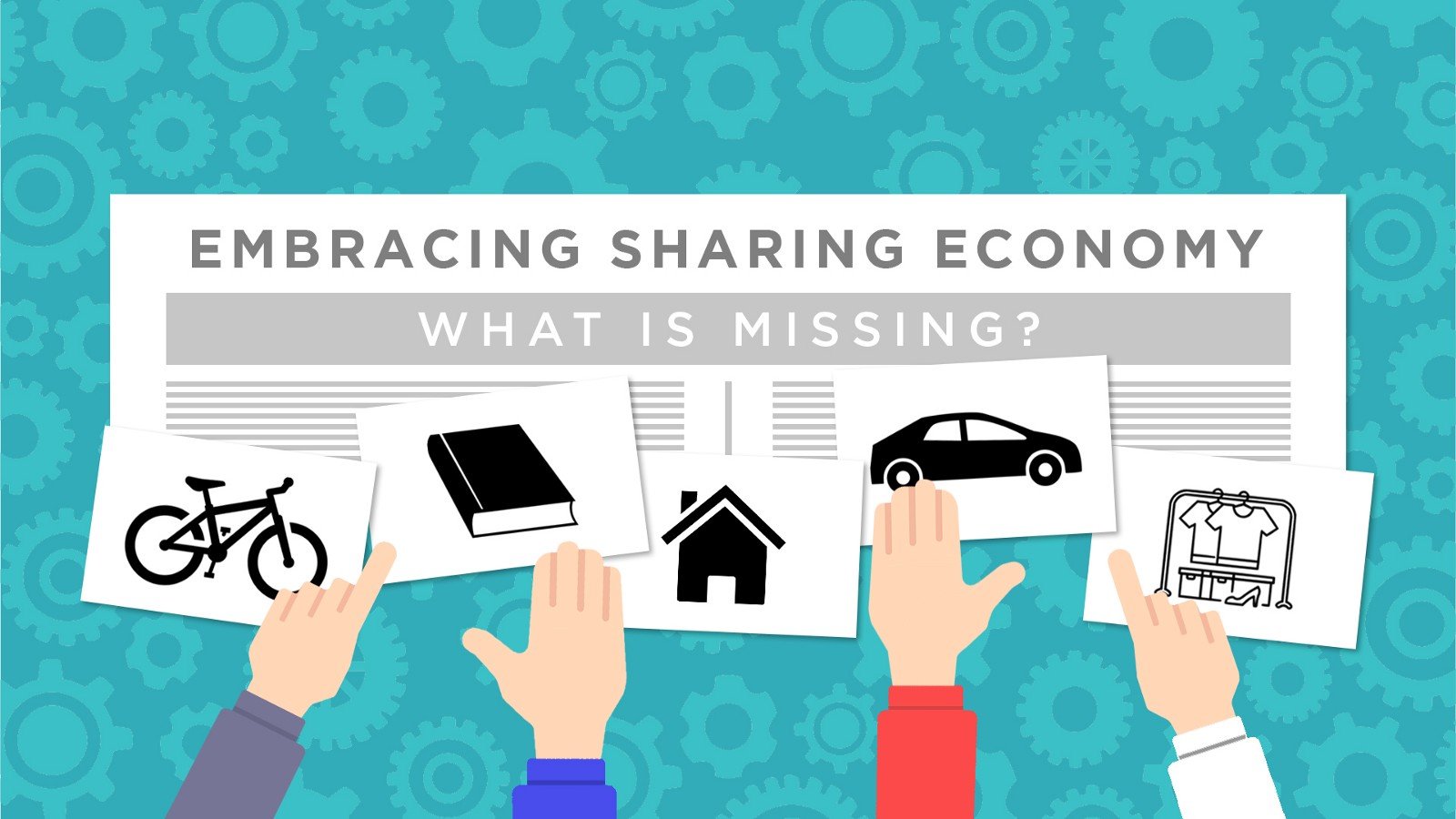 As much as we need universal access across different sharing services, we also need a way to tackle the ever-present issue of trust and data abuse in the space. How do you know that the company or service provider is ethical and legitimate? What recourse do you have if anything goes wrong? Is the technical infrastructure secure? How is the company using your personal data? Is your privacy protected? Will it still be online tomorrow?
There was a time when Uber & Grab were competing in Singapore for ride-sharing services. I registered both services but was primarily using Uber for my daily commute in the city. If you've been keeping tabs on the news, you should know Uber had exited the region after selling its South East Asia's operations to Grab. As a result of acquisition, all personal data (except payment information) that I've previously shared with Uber will be transferred to Grab. Not only that, it seems like the monopoly situation led to less discounts and increased fares.
So let's get back to the question: are we really benefiting from today's sharing economy?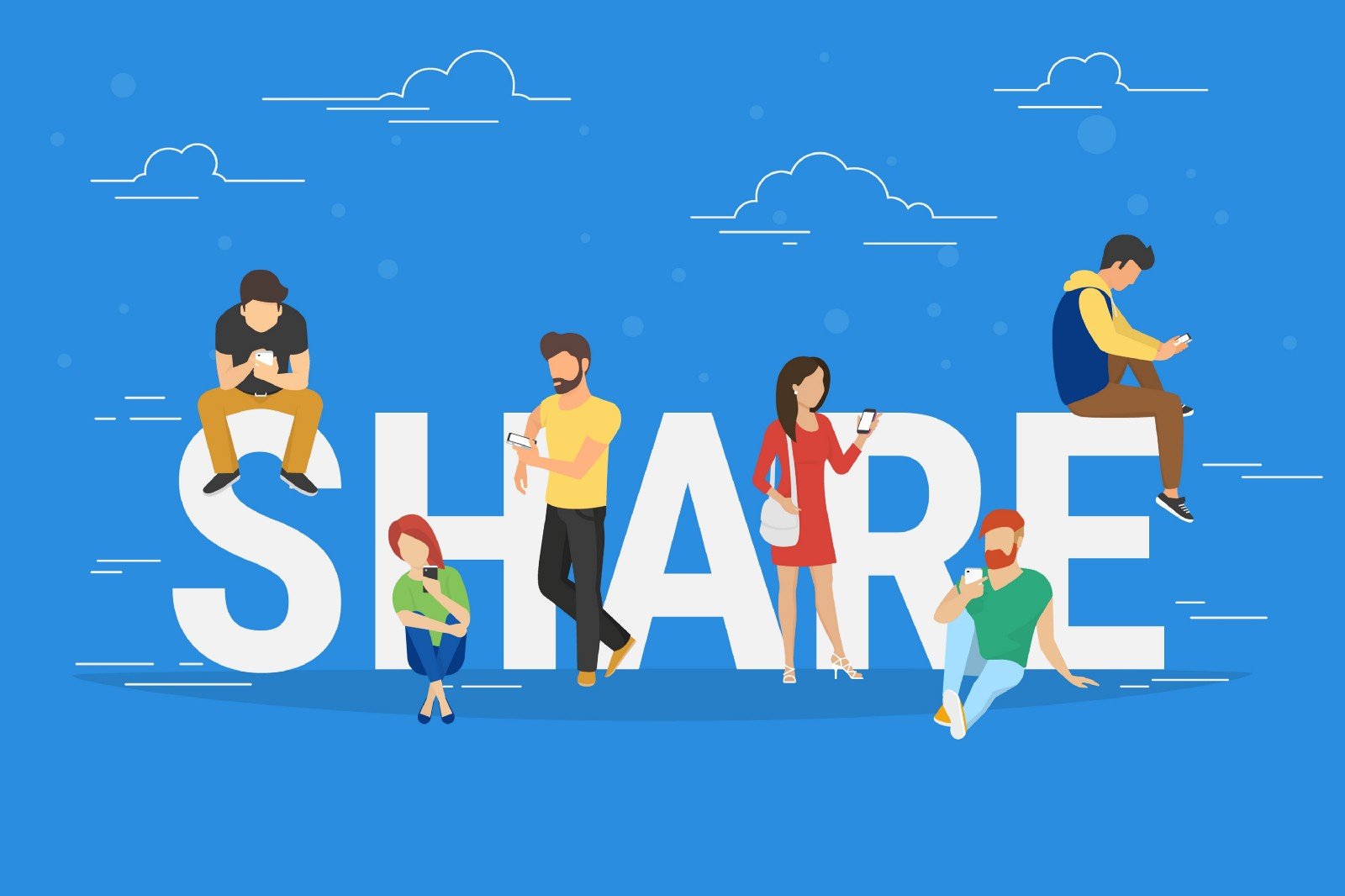 Not exactly; especially when most of the time you're at the beck and call of these centralised sharing platforms. In a way, the peer-to-peer services and data exchanges are managed and distributed through these intermediaries. As you can observe from the "Uber & Grab" situation, these sharing economy companies will try to maximise their profit margin. When they manage to gain a considerable market share, they can freely adjust their offerings to protect corporate interests.
Apart from that, we would usually relinquish the control over our personal data to these sharing platforms in exchange for their "matchmaking" services. By doing so, we risk losing our sensitive information to hackers if the access to our personal data aren't properly secured. Uber's 2016 data security incident has already proven the vulnerabilities of such centralised systems. Besides data breach, we're also susceptible to data abuse where companies may sell your personal data for profit or use them for a different purpose.
If there are so many problems, why are there still people using these sharing platforms?
The answer is Trust. Our human nature prevents us from easily trusting a stranger to provide sharing services. But still, we can't overlook the potential benefits provided by the sharing economy. That explains why we're so reliant on these tech-enabled platforms to mediate all disputes as the "trusted" intermediaries. This, however, creates dependencies that allow sharing economy companies to abuse their positions by keeping our ratings and reputations within their proprietary silos. As a result, we have to live with fragmented profiles across different platforms.
So how can we solve these problems?
With all these issues in mind, I would say that the current sharing economy business model is flawed and seriously lacking. It doesn't necessarily help to create trust or try to build a true peer-to-peer global sharing network. Each companies have their own ways to keep users within a proprietary ecosystem to ensure that they benefit from the transaction fees. For instance, AirBnB masks the contact details of participants transacting on its network. This prevent users from communicating outside of the platform, meaning that a true peer-to-peer relationship doesn't exist.
The only solution to a highly fragmented sharing economy is consolidation. Many companies have ventured separately to create sharing platforms, but if all such services could be unified into a single ecosystem that's tamper-proof, decentralised and fully autonomous, the likelihood of mass adoption would increase as it would offer a more convenient and secured solution to users. We need to re-create value in the global sharing network and place trust back where it belongs.
The Next Generation Distributed Smart Network Blockchain for the Sharing Economy

UChain is a public infrastructure blockchain that's specifically designed for the global sharing economy. By building its underlying blockchain network, UChain aims to use distributed ledger technology to solve the current problems of trust and data abuse through decentralisation and "consolidation". The key features include, but not limited to:
Peer-to-Peer Network
UChain will establish a decentralised blockchain network that allows its participants to transact directly in a true peer-to-peer fashion. They will also use smart contracts to negotiate and automatically execute terms to be agreed-upon between service users and service providers. This eliminates the need for intermediaries, which is estimated to reduce transaction fees by nearly 20%. Not just that, the use of smart contract and cross-chain hosting technologies ensure authenticity, legality, and compliance, which all together help foster trust within the sharing economy.

Distributed Data Storage
UChain records user's data on the blockchain through a distributed storage scheme, and extraction of such data is only possible with a private key. The data is encrypted, split, shredded and scattered on different nodes. This ensures data immutability and integrity, security, as well as confidentiality where all changes are fully traceable, retrieval of any single piece of data is non-readable and sensitive information is only accessible by the owner of the private key, thus minimising the possibility of data abuse.

User Credit Passport
UChain consolidates user's transactions on the blockchain and uses these immutable records to establish a credit passport mechanism that's opened to all sharing service providers. Users can finally enjoy seamless identity authentication and direct transact experience across different services through the integrated credit passport that keep track of their user behaviour and ratings.

Tokenised Ecosystem
UChain partners with a variety of sharing economy companies to boost participation of both service users and service providers. All transactions within the tokenised ecosystem will be settled in local token instead of the typical fiat currency. Any dApps built on top of UChain network can issue their own token and develop its sub-ecosystem using the API and SDK provided. As more and more sub-ecosystems issue their own tokens, UChain will also build a decentralised exchange to increase liquidity for these tokens.
UChain Technical Overview
There are four basic layers within the UChain ecosystem:
Core Blockchain
This is the foundation of UChain that comprises distributed shared ledger, consensus algorithm (RPCA) and Elliptic Curve Cryptography (ECC). I don't want to bore you with the technicalities. Basically, this sets up the core functionalities such as peer-to-peer network and distributed storage scheme. RPCA stands for Ripple Protocol Consensus Algorithm, which is able to support about 1500 transactions per second during testing. ECC is simply used to sign digital assets to ensure security of every transaction.

API/SDK
In order to facilitate development of sub-ecosystem based on UChain network, this layer is essential. It gives developer the ability to create smart contracts, manage service and user on a blockchain, and perform secure transactions. The credit rating module is also accessible here as part of the user credit passport mechanism where the system performs credit evaluation.

Service
There are four modules at this layer: Account Management, Policy Management, System Management and Smart Contract Management, which all together provides management service to support the application development.

Application
Here's the interesting part: UChain will establish here an open platform for sharing economy companies to build dApps or simply migrate their exising app onto UChain. By doing so, they can leverage on blockchain and smart contracts to do automatic split payments, perform key data on-chain inquiry, create user intelligent passport, implement user credit ratings and a series of marketing functions. This makes migration easy and creates value for new/existing companies.
In a nutshell, this graphic illustrates how the ecosystem works: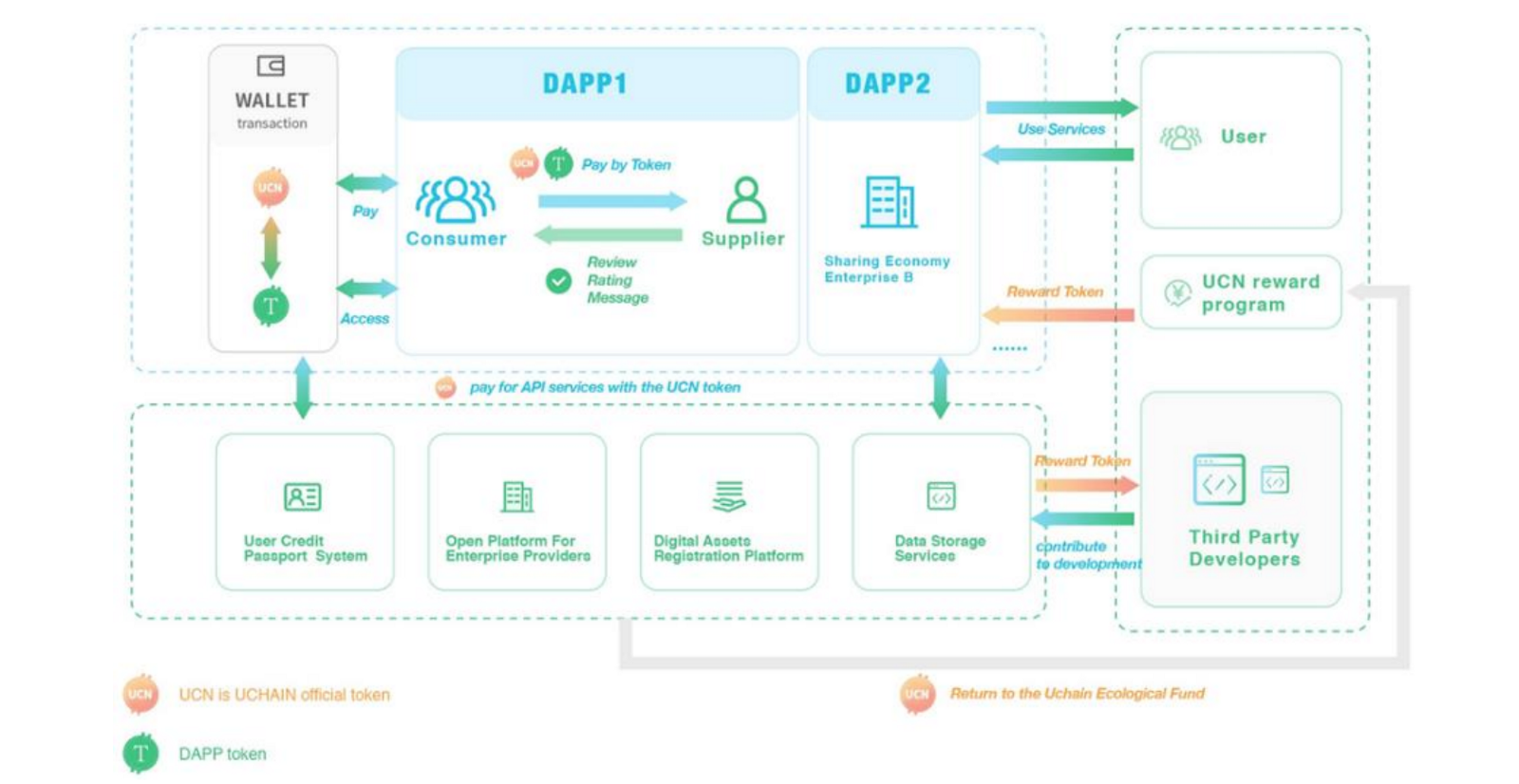 Token Economics
UCN is the basic value unit on UChain network. All transactions will be dominated in UCN token. Besides acting as the base currency, UCN can also be used to exchange for other tokens issued by service providers who decide to build within the ecosystem. There are a few ways to earn UCN:
Users who contribute their idle resources or data to the development of the ecosystem will be rewarded with UCN. They can also get UCN by improving their community activity such as referrals or creating valuable content.
Companies earn UCN by providing sharing services or dApps.
Developers can receive UCN as community rewards for their contributions to the development on UChain capabilities.
UCP, on the other hand, is just UCN with community voting power. You can get UCP by staking your UCN. UChain will incentivise holders over a period of time by granting them UCN. The distributing rate is dynamic, meaning that people who hold and stake UCN for a long time will get extra bonuses. In short, it pays well to hodl UCN.
There's also URC-1 standard token, which companies or service providers can issue and use within their applications. This gives existing sharing economy companies an easy way to integrate blockchain and cryptocurrency into their platform while having the option to uniquely brand their tokens.
Roadmap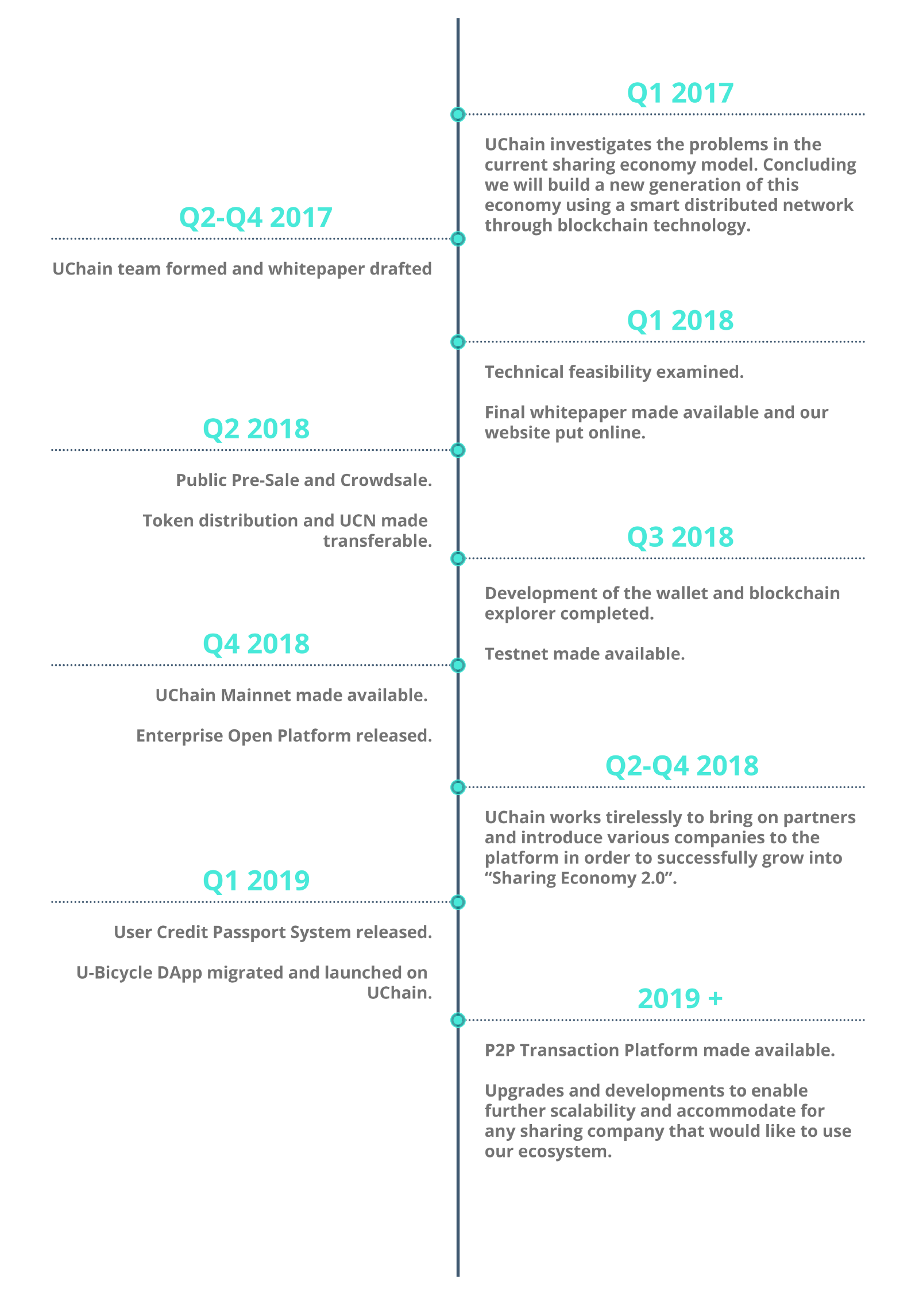 The idea of UChain started back in Q1 2017 when the founders began investigating the current sharing economy model after being in the bicycle sharing business at U-Bicycle. Subsequently, they recruited more people and drafted the whitepaper. Early this year 2018, the team closely examined the technicalities of the project and release the final whitepaper.
Recently, private sale and pre-sale has concluded with about 30,000+ ETH raised. The team will carry on with the development of wallet and blockchain explorer. Testnet is expected to be ready by Q3 while Mainnet is scheduled in Q4 2018 when the open platform will be released for sharing economy companies.
Concurrently, throughout the year 2018, the team will work tirelessly on building more partnerships and bringing more companies on-board to successfully grow into "Sharing Economy 2.0". Next year 2019 will be the launch of user credit passport and the U-bicycle app will be migrated onto UChain, followed by the release of peer-to-peer transaction platforms.
Overall, the plan seems realistic and comprehensive. Milestones have been met successfully. The exciting period will be Q4 2018 when the mainnet is ready with open platform released. Hopefully by then, there are companies queuing to on-board UChain.
Team/Advisors/Partnerships
UChain is a global team with many years of experience specifically in the technological field with skillset ranging from big data, distributed systems, P2P network to Internet-of-Things and blockchain. The founders and most of the C-Level executives come from U-Bicycle, a bicycle sharing service that already has over 30 million registered users, meaning that they have acquired experience in the sharing economy.
UChain has been recruiting developers, community operators and team members who are interested to create the next generation sharing economy. The project is led by Ian Yu, who is also the founder and CEO of U-Bicycle. He's also the founding team member of DianPing. Alongside Ian is UChain's co-founder Grace Min, who is leading the operations of U-Bicycle in North America as the CEO. She's an accomplished serial entrepreneur who has also founded Dozen Fresh International Trading and SG International Travel Ltd.
What I like about the team is that most of the members have experienced working together in the same company (e.g. U-Bicycle, DianPing). They should have a stronger working relationship by now, which will help UChain gain traction. Besides, the team has built successful companies before venturing into the UChain project and Ian, himself, has won several entrepreneur awards in China.
They also have a number of solid advisors who are all experts in their respective fields. I believe these advisors could be instrumental to UChain's success as they have great networks in the sharing economy. At the same time, the team has been looking for partners around the world and has reached strategic cooperation with some outstanding companies in the sharing economy industry: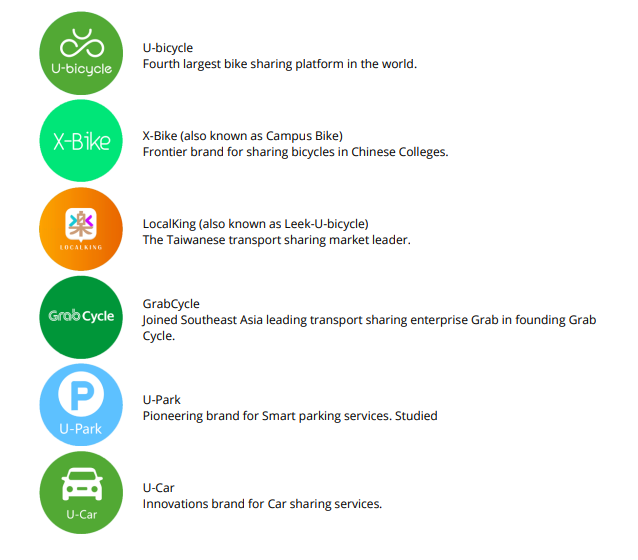 Organisation partners include: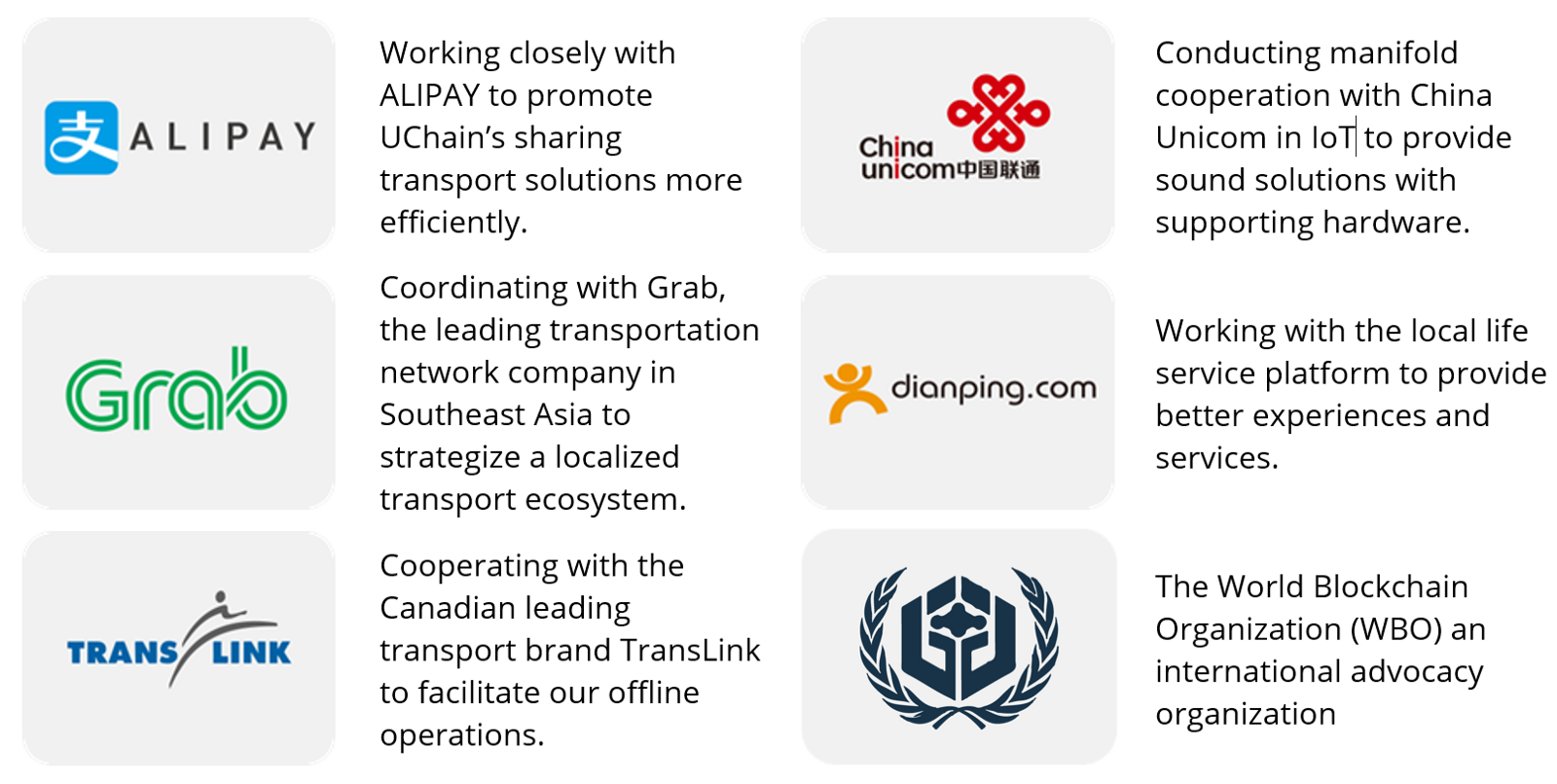 Verdict
If you look into the statistics, the sharing economy is growing fast and is expected to grow from about $14 billion in 2014 to $335 billion by the year 2025. When you consider the success of AirBnb, Uber and Grab, the sharing economy is definitely here to stay. But, we just have to make it better for everyone. And I believe UChain can create a better ecosystem that's instrumental to the success of "Sharing Economy 2.0", which will restore trust and prevent data abuse using blockchain.
However, UChain must be prepared to face tough competition in the space with similar projects like ShareRing and Origin Protocol. The key will be development progress and most importantly, partnerships that drive adoption. Origin Protocol seems to be leading with their development as they have released a working demo and have several partners building on their protocol. But most of Origin Protocol's partners are startups that probably don't have large user base yet, unlike UChain's. ShareRing, on the other hand, has not released a MVP at the time of writing. Partnerships are also unknown.
If we consider UChain's partners, these are big reputable companies with large user base at their disposal. For example, Grab is already leading the transportation sharing economy in the South East Asia region and recently expanded their operations with GrabCycle to focus on bicycle sharing. U.B. Group Holding is also the world's leading Internet organization that focuses on shared travel. They currently own U-Bicycle, X-Bike, U-Park, U-Car, LocalKing (Taiwan), and invested in GrabCycle. These are great connections that will realise UChain's success in gaining mass adoption as these platforms can be early adopters of UChain.
The recent changes in EU Global Data Protection Regulation (GDPR) has imposed stricter data governance and much heavier penalties for non-compliance of data protection. Therefore, in my opinion, companies in the sharing economy can use UChain to easily integrate blockchain along with several features into their platforms, which will save them the headache to enforce data security as it already comes embedded within UChain's solution (Distributed Data Storage).
All in all, I expect UChain to shake up the sharing economy as it brings trust back to where it belongs while cutting out unnecessary intermediaries. I can't wait for mass adoption to happen because a blockchain-based sharing economy could really steer the industry towards a true peer-to-peer, community-driven marketplace it was intended to be.

Project Website: https://uchain.world/
Whitepaper: https://uchain.world/css/img/pdf/uchain-whitepaper-dbe5656d6c.pdf
OnePager: https://uchain.world/css/img/pdf/onepager-a7836e0f88.pdf
Telegram: https://t.me/UchainEcosystem
Twitter: https://twitter.com/UChainEcosystem
Medium: https://medium.com/uchain

Disclaimer: This is NOT a financial advice. Always do your own research and readings before investment. You can reach me https://bitcointalk.org/index.php?action=profile;u=1895068