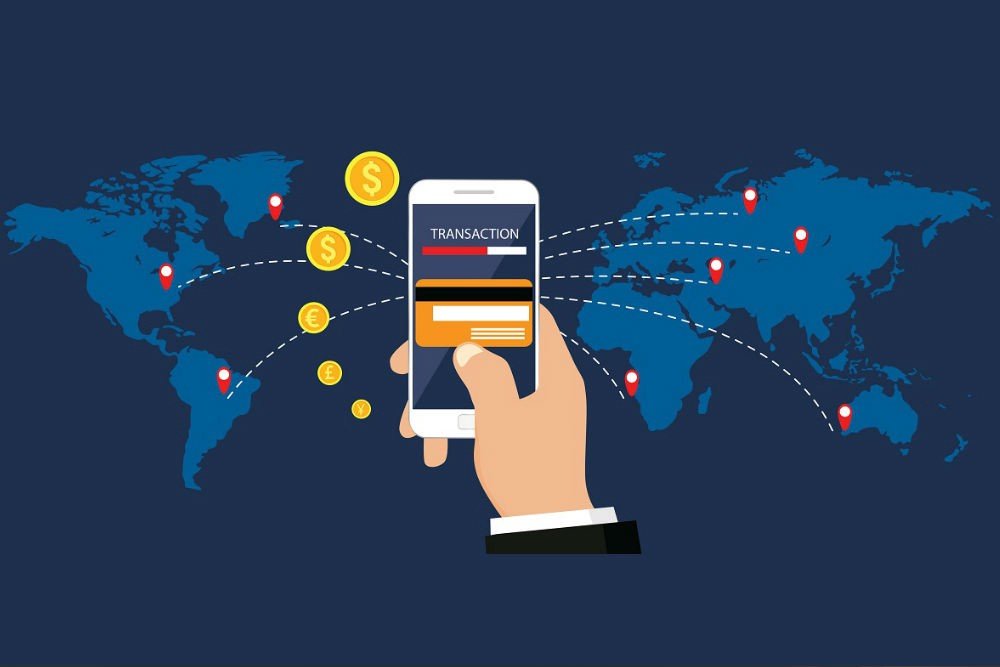 Traditionally, the banking industry has been strictly regulated in all jurisdictions worldwide. Lest not forget, the recent global financial crisis eroded trust in the banking system to an all-time low, while taking regulation to an all-time high. At the same time, cryptocurrencies and their underlying blockchain technology continue to grow in popularity.
Many banks and financial institutions can no longer deny the potential and benefits of blockchain technology, which can definitely help provide appropriate banking solutions to the currently billions of people who are either unbanked (with no bank accounts) or underbanked (those who have limited access to financial services, such as credit).
Blockchain is Reshaping the Banking Sector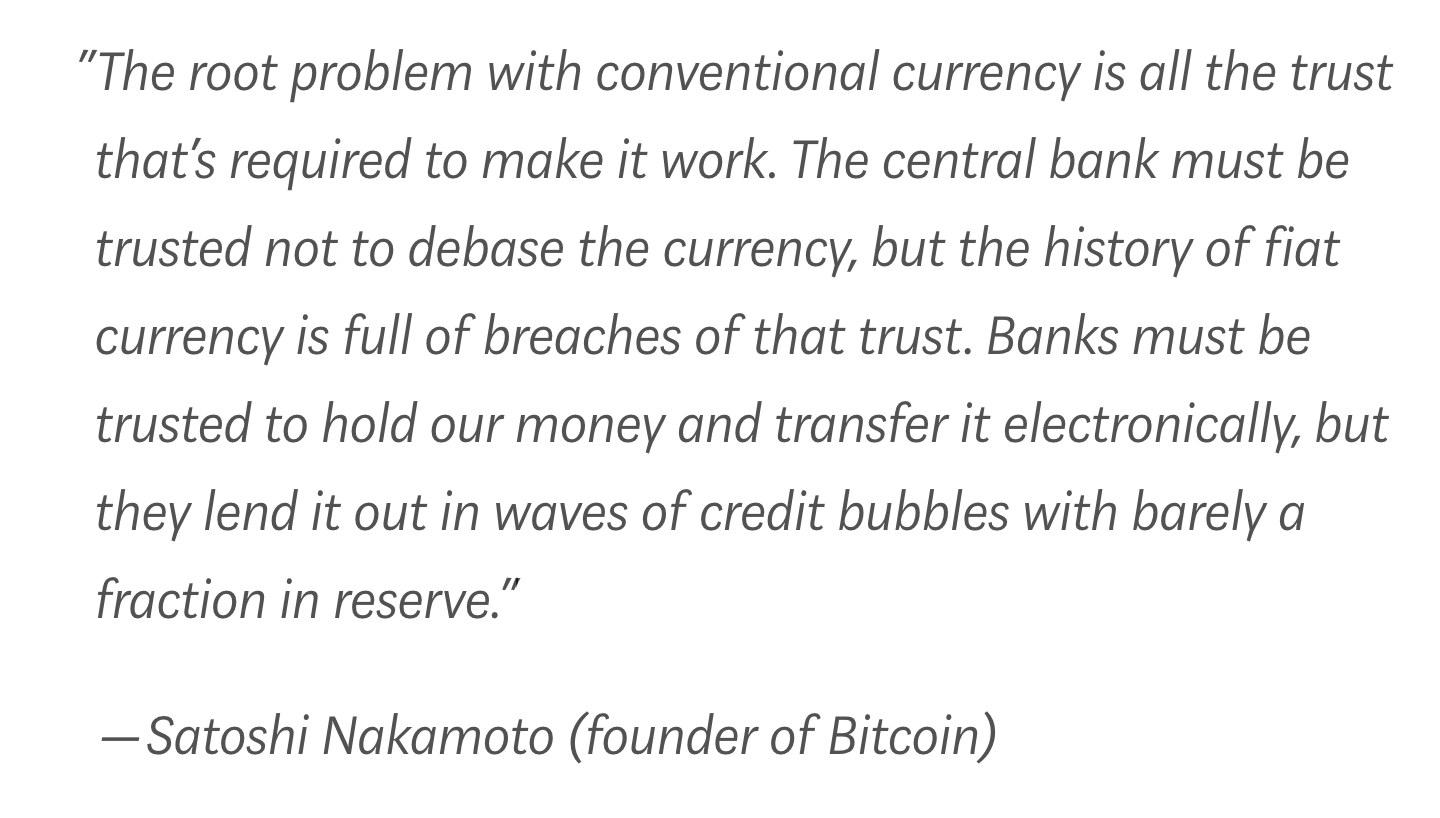 Time and again we've to cope with bank failures, bank perpetrated financial meltdowns, unjust lending rates and near-zero savings rates. However, the saddest part is that as much as we need banking, banks don't seem to need us. I say it's about time we change that! People should start using blockchain as the bargaining chip to reinvent banking.
The primary motivation is that with distributed ledgers like blockchain, we no longer need unnecessary intermediaries and can enjoy cheaper, faster and better services. Right now, the banking industry heavily relies on middlemen such as credit rating agencies, government institutions, which not only introduce more costs, but also add complexity, slowing down the processing time of our banking service. Blockchain, on the other hand, can connect end users to bank services directly, reducing the potential red-tapes and improve transaction speed.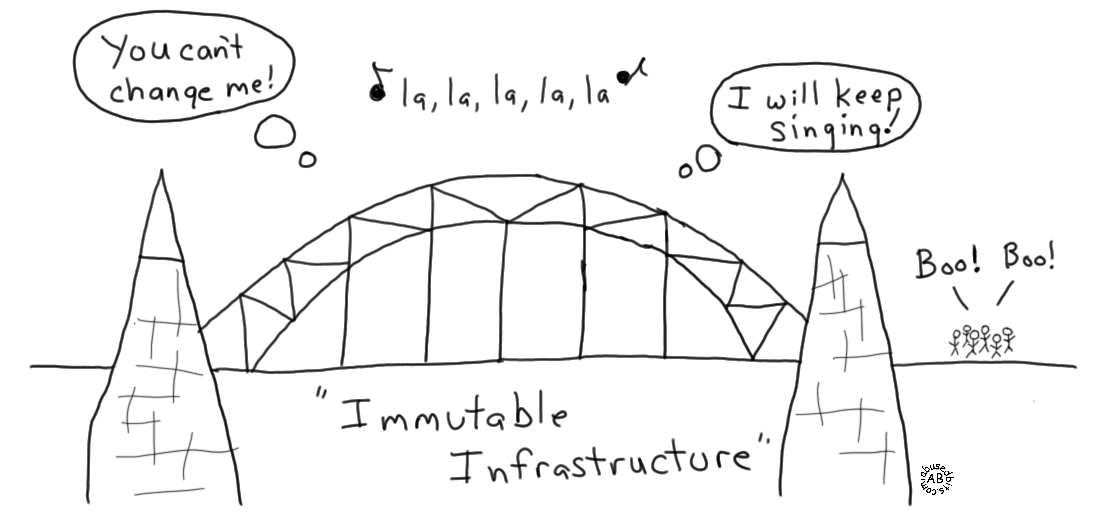 If you aren't aware, a blockchain transaction is also immutable and, hence, highly secure and trustworthy. It's the very reason cryptocurrency exists. Imagine when Person A sends funds to Person B, that record is written on the blockchain and cannot be altered after the fact. This improves record keeping and reduces the number of disputed transactions or identity frauds.
In general, blockchain is pushing the traditional model of "trust" to evolve into a trustless environment where interacting parties no longer need to trust each other or a third party. All information being transacted across the network is independently verified and immutably stored on the blockchain. This allows innovation of new banking products and services that can truly help the people regardless of their financial status.
However, we cannot disregard the fact that the technology will only work if everyone adopts it. It has to be all or nothing.
The Solutions in the Blockchain Era
If we look into the available blockchain-based bank solutions, there are three interesting projects trying to get part of extremely competitive, innovative and well funded industry. They're Bankera, BABB and ENTRY.

Bankera is building a digital bank that focuses on the scale, elimination of counter-parties and offering core banking services such as savings and loans accounts. They completed their ICO last year and recently launched their exchange.
But, to be honest, their exchange platform doesn't really look that fantastic. It's so crappy and not very user friendly. I can't help but think their development team needs to do a better job than that. However, they do have some interesting value proposition for their token holders — Bankera promise to transfer 20 percent of net services revenues to them.
I wouldn't be too happy about that though. By doing so, it poses a risk of either bankruptcy of the company or failing to deliver promised payments as there's a high chance that their overstated profitability targets will not be reached.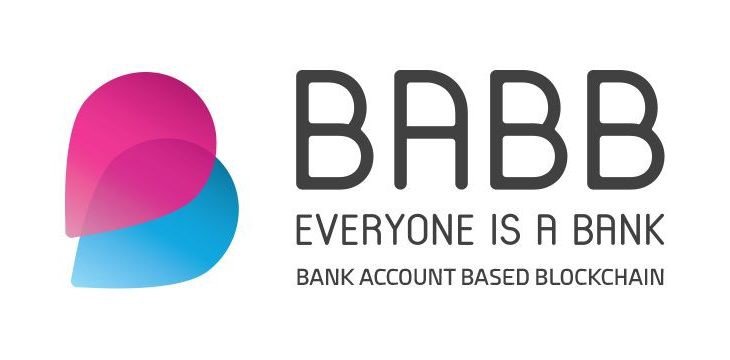 BABB is a decentralised banking platform that provides access to a bank account for P2P financial services for anyone in the world. I actually wanted to get on this project earlier on because they look really solid (better than Bankera).
They applied for several patents and development work started since 2016. But, they chose to launch their ICO early this year in February, which was a really bad time in the crypto economy when everything basically went crashing down. Nevertheless, they performed better than Bankera as they managed to achieve 100 percent of their fundraising goal of $20 million despite the bear market. Bankera only raised 70 percent and that's during the peak of the bull market.
The returns of BABB investment since ICO is better, at about 1.89x times. The concept works in a way that everyone is a bank. You'll use their mobile app to connect with someone else to cash in/out or request loan. It certainly sounds fun. Imagine a bank that works like Carousell.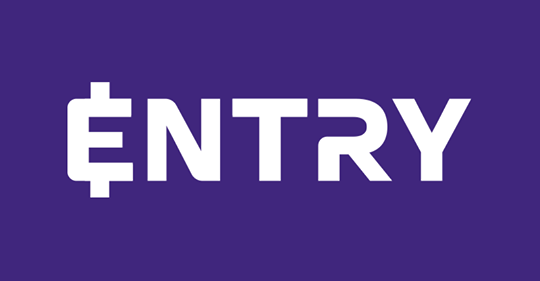 ENTRY is creating an intuitive to use bridge between the traditional financial system and the blockchain technology. Instead of totally removing the concept of bank, Entry aims to supplement the old financial ecosystem with a new blockchain technology that will revolutionise banking by allowing interoperability between the two.
This vision is much more realistic as compared to Bankera's (who are naively trying to replace traditional system with their digital bank). ENTRY's suite of products caught my interest because I could see how this AI-empowered multi-utility financial platform is going to touch the financial lives of every crypto investor and change it for the better.
If we're talking about mass adoption of cryptocurrencies, it has to be ENTRY. Remember? It has to be all or nothing — ENTRY is more than just another token/coin in the crypto economy.
ENTRY to the People's Bank of Blockchain
ENTRY — the bank for Generation Z is disrupting the $11 trillion financial service industry. It's a blockchain based platform empowered by smart contracts, which not only acts as a bank by offering easy deposits, payment and lending services, cross-border payments, ATM facility/convenient withdrawals, but also as a cryptocurrency exchange for the business and consumer world.
There are plenty of cryptocurrencies that solves the problem of distrust in the global banking system by eliminating the need for trust; hence, providing fast, unrestricted, and relatively cheap financial services. But most of them fell into the trap of speculation. Users are not loyal to any cryptocurrencies as they have no use other than speculation for profit.
If you expect bitcoin to raise by 1000 percent in the next few months, will you be spending bitcoin on a pizza party today? That's the dilemma many of us are guilty of when purchasing crypto tokens. We hardly use them. We hodl them and then sell for quick profits. However, the real question is: why speculate on a cryptocurrency which has no inherent use? The crux of the matter is that we need to start spending cryptocurrency for it to increase in value like fiat money and not holding them like stock investment.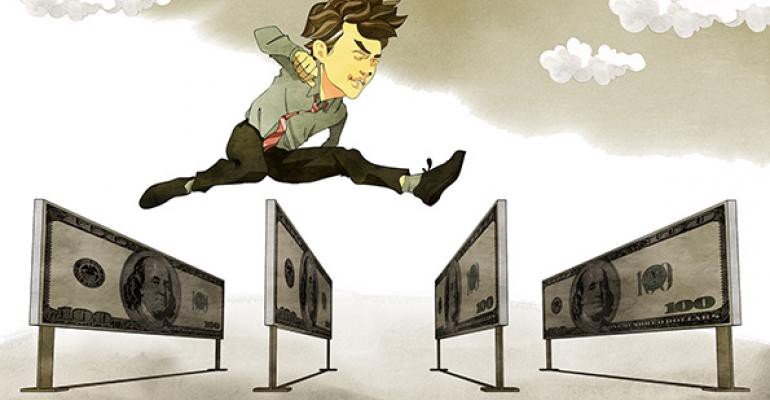 That's why ENTRY is raising the bar. They provide a suite of services that encourage their token holders to — spend ENTRY everywhere, everyday, in every possible way, in everyday life, exactly like using fiat money, through the following methods:
Entry.Money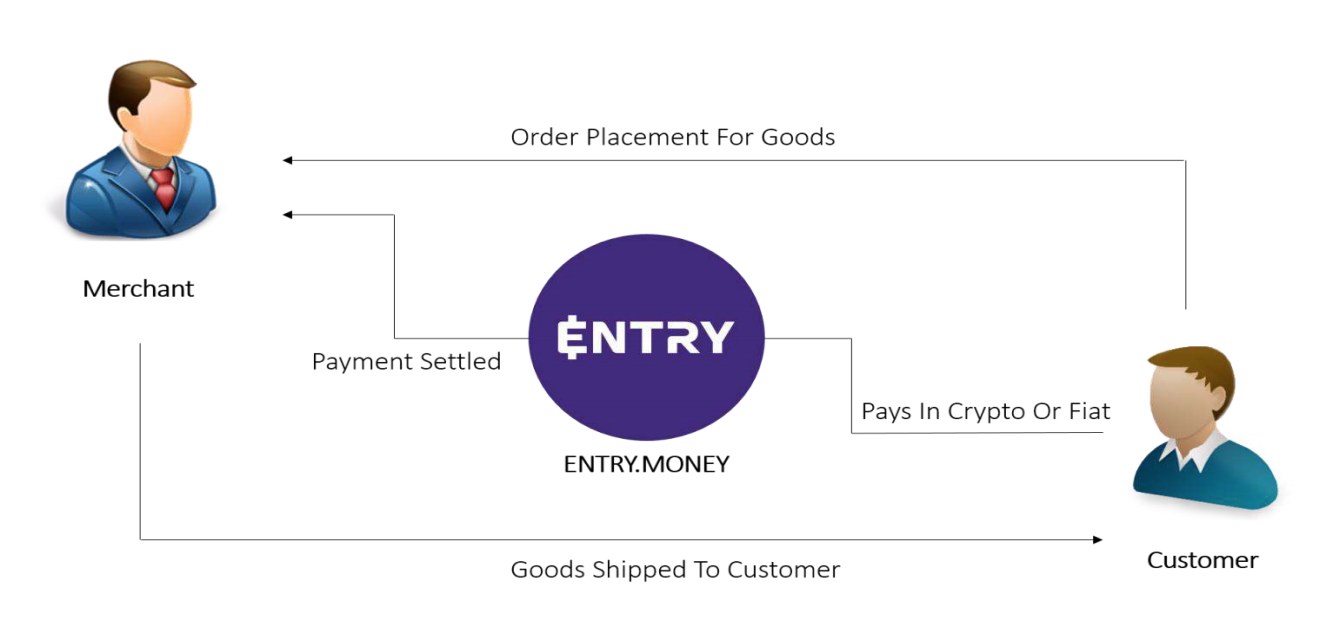 Yes, the typical feature of a cryptocurrency. But, Entry.Money will double up as the fiat payment gateway for online shopping that can be easily accessed through web and mobile app. It will provide IBAN (International bank Account Number) to every users to enable them to store blockchain assets in their accounts.
For a start, only Euro currency is accepted for all the transactions as the team plans to build the foundation starting from European countries which have a huge untapped market and then expand and incorporate all the major fiat currencies in the years to come.
With Entry.Money, merchants can trade beyond geographical boundaries without the hassle of currency differentiation or fluctuation as Entry.Money ensures that the merchant receives the payment in fiat money through the seamless process of conversion and transfer, which will subsequently bring liquidity on Entry.Exchange.
Here's how Entry.Money stacks up against its competitors: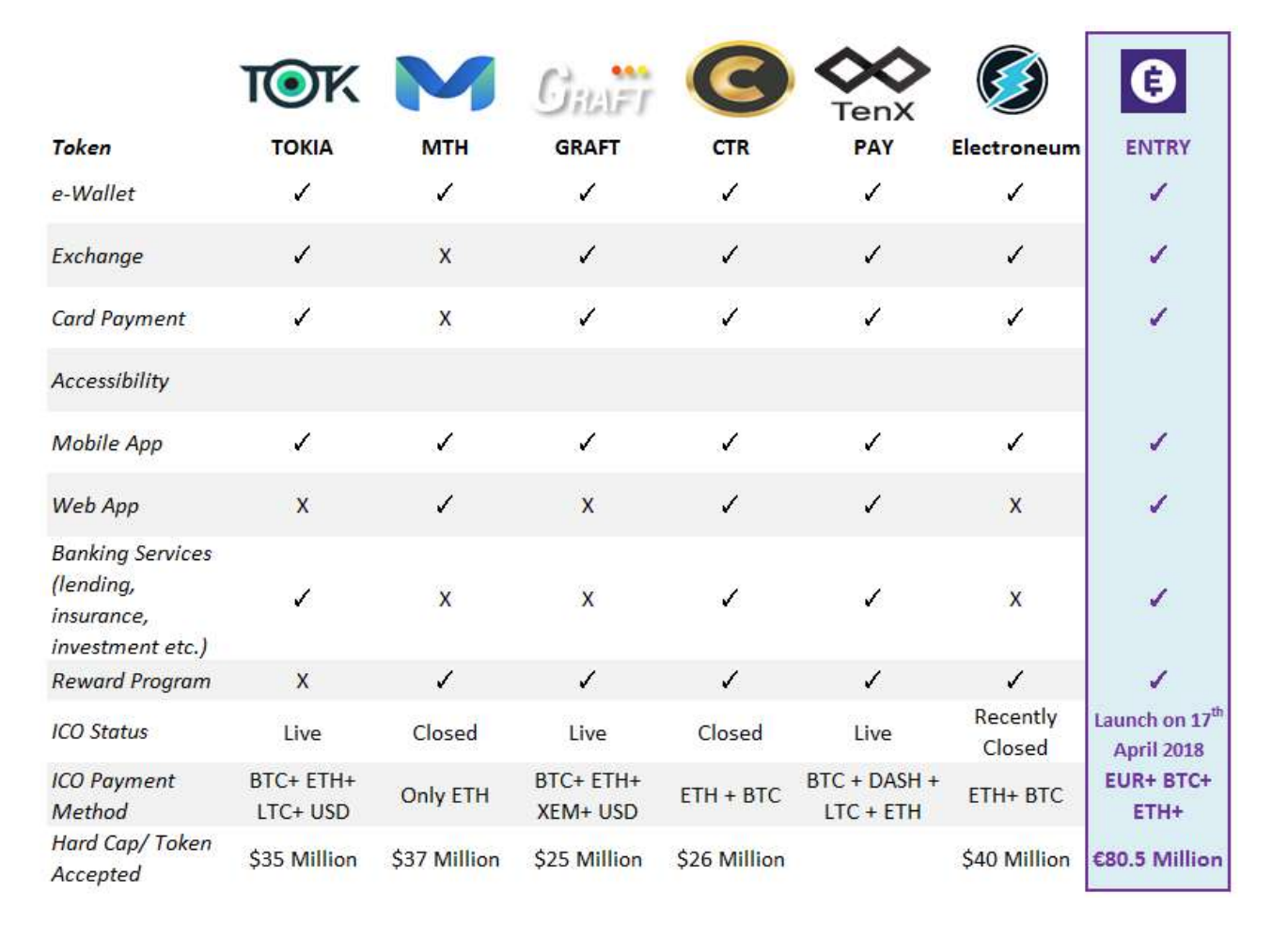 Entry.Cash
This will serve as a cash machine/ATM system for users to transfer, cash out or top up with cash (using agents or cash machines). It can also be used for payment gateway at POS in real shops or service providers outlets.
The team also intends to provide free debit cards, free fiat-to-fiat transfers, and free exchange in the initial years. It will charge comparatively very low fees for deposits and withdrawal from the exchange. Merchants in particular would be incentivised for using the payment gateway by offering them services at an artificially low rate. The idea is to capture huge customer base by providing cost-efficient ENTRY services and then earn economies of scale.
Entry.Exchange
Yes, you're right, another exchange because the existing ones couldn't make it. Entry.Exchange will serve as a virtual clearing-house for all transactions occurring on the ENTRY Platform. It's compatible with major existing payment technologies for easy deposit and withdrawal.
For better liquidity, the exchange will also be connected to other major exchanges. It will have ENTRY Token as one of the main exchange pair, which will reward those who hold ENTRY Token in their account. The exchange facilitates the below payments:
Cryptocurrency to Cryptocurrency
Cryptocurrency to Fiat
Fiat to Cryptocurrency
Fiat to Fiat
To create a strong market value for all participants and boost the crypto economy, the team will also look to partner with potential exchange platforms that are facing problems in changing crypto assets to fiat currency and vice versa. This include the on-boarding of institutional players and other major market participants. Not only that, they will also provide B2B services related to crypto and fiat services to fintech and other crypto exchanges to enhance their user base. All these services will add liquidity in the ENTRY ecosystem.
Here's a comparison of Entry.Exchange with Kraken and Binance: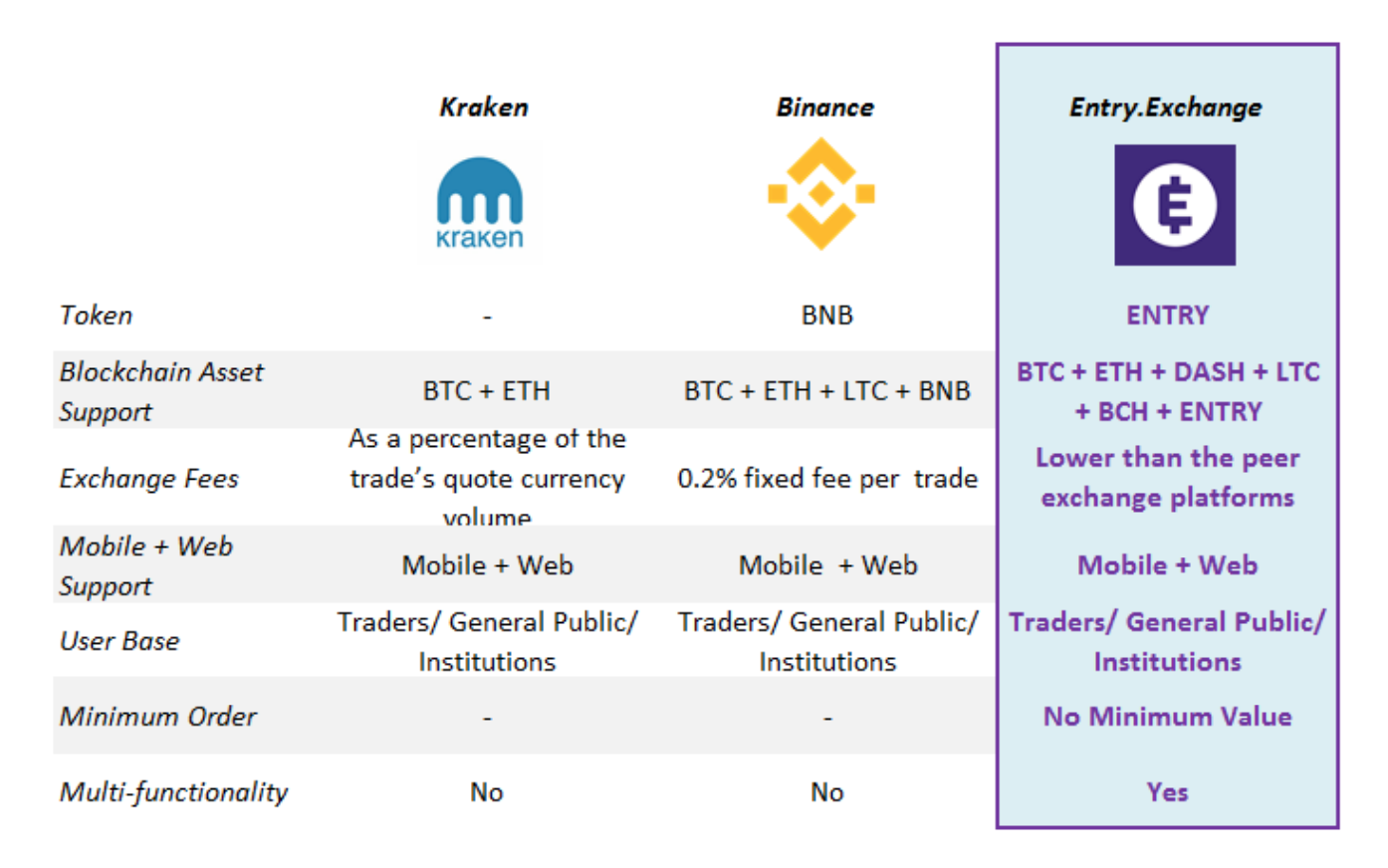 Entry.Bank
The team will also establish a digital bank with traditional banking services provided using blockchain technology. Entry.Bank will provide traditional banking services of deposit and payment to its users where they can deposit blockchain assets in their Entry.Bank accounts and make easy payments to individuals, merchants or any other entity.
They will also include services, but not limited to loans and investments, lending, P2P loans, insurance and factoring where they can sell their invoices or receivables on the ENTRY platform at a discounted rate. Transactions flowing through ENTRY Token as the main currency of the platform will have a network effect and add financial value to the Token.
Here's how Entry.Bank differentiate itself from its competitors: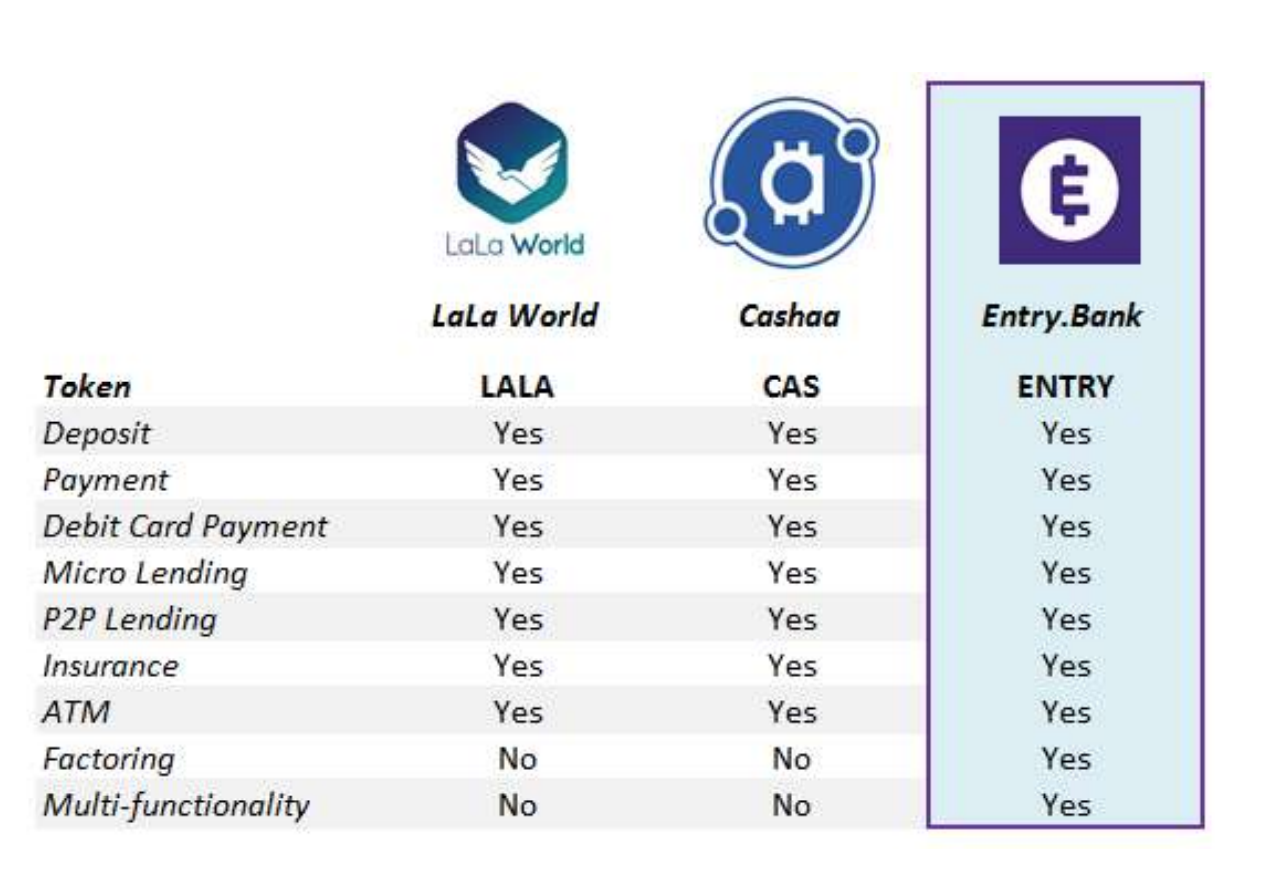 Entry.Network
Not only does it provide digital currency, exchange, but also an underlying financial framework for third party partners, developers and other financial service companies to empower them to build new innovative financial products and services on their core banking platform. The entire architecture of the Entry.Network will be structured through bank APIs for scalability and flexibility.
Artificial intelligence and machine learning would also power the APIs and the whole tech architecture. These tools include API for trading platform, Platform-as-a-Service, multi-currency wallet, smart contracts.
Here are the differences between ENTRY wallet and other similar wallet providers: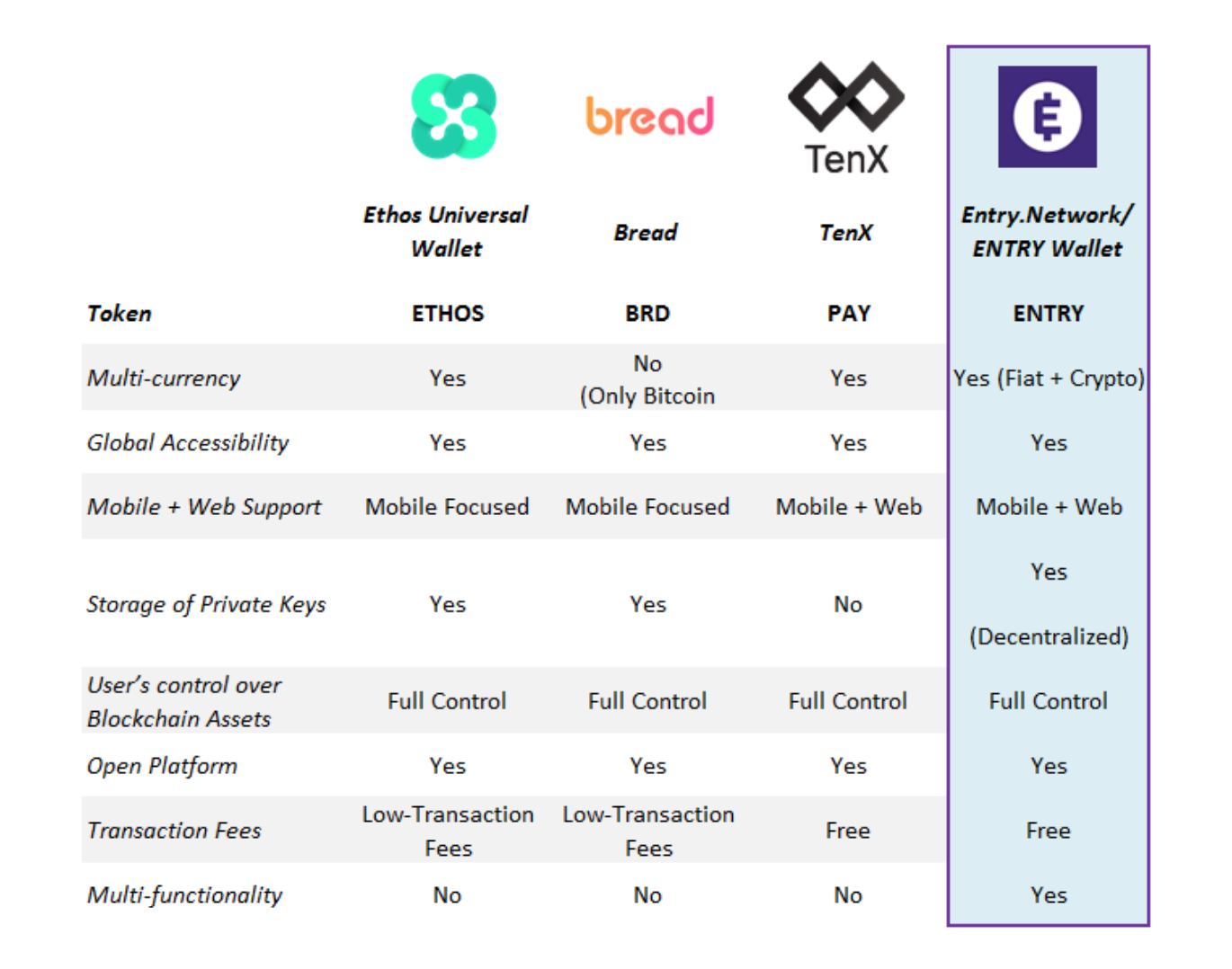 ENTRY token
Finally, the main component that fuels the ecosystem: ENTRY Token acts as an electronic and virtual currency token that's used for P2P transactions and micro payments. It will be the medium of exchange for transacting on the platform and availing ENTRY's banking and financial services.
Here are some benefits:
By depositing into ENTRY saving account, you can increase ENTRY Tokens as interest (like how a traditional bank works). While this prevents speculation, it will also allow ENTRY holders earn interest on their holdings.
ENTRY Token will allow streamlining the functioning of the entire ENTRY platform and will help maintaining liquidity in ENTRY platform.
As the usage of ENTRY Token increases for business and transactions, the Token will be available in more and more places. This will have a parallel effect on the market of the ENTRY Token. The ENTRY will also see a long term usage due to the business growth and network effect taken place.
You can use ENTRY Tokens to pay for any fees on our platform and enjoy a significant discount.
ENTRY in the future will launch ENTRY2 stable coin which promotes usage rather than speculation.
The ONE Map to the World of ENTRY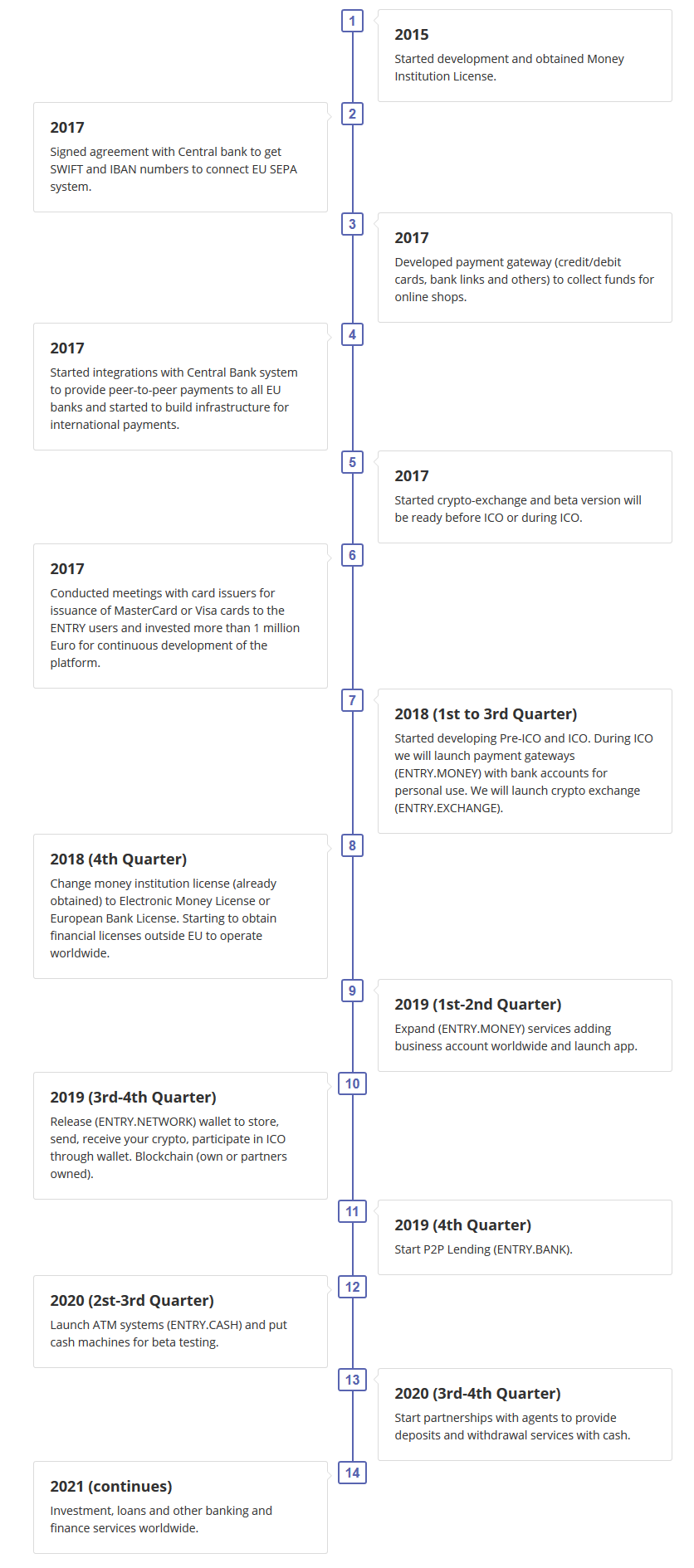 The journey of ENTRY started way back in 2015 where the team began development and obtained their Money Institution License. Last year 2017, they completed a lot of tasks including application of SWIFT and IBAN numbers from central bank, payment gateway integration, P2P payment, international payments infrastructure, and many more.
This year, they started their ICO fund raising and by end of year they plan to upgrade their license to either Electronic Money License or European Bank License, and at the same time, they're looking to apply financial licenses outside EU. I personally think the most exciting part of their roadmap will be during the end of 2019 when licenses are ready, together with many of their services implemented. The cash machines in Q2-Q3 2020 and partnerships will augment their success in 2019 if all things go as planned.
Team/Partners

The team is led by CEO Tomas Ambrazas who is an startup maniac with over 10+ years of experience. With him, there are several professionals in the team with experience ranging from fintech, AI, blockchain to marketing and business development. They also have the support and trust of various industry leaders, which is really valuable in the business they're doing. I don't find anyone with a CTO position though. That's probably something they have to work on — finding someone to take charge of the tech stack of the business.
What I do like about the team is that Tomas, despite being busy with the business operations, makes time to bond with his community in Telegram. Also, the team is huge and diversified for different functions of the business. The full list of their core members profile can be found here: https://entry.money/ico-team_members/
One interesting thing is that they do have lots of representatives who will help to expand ENTRY in their regions. It will definitely help ENTRY grow exponentially and globally! The list of representatives can be found here: https://entry.money/ico-representatives/
They have really strong partners:
Bancor 
A decentralized liquidity network that provides users with a simple, low-cost way to buy and sell tokens.
Credits 
An open blockchain platform with autonomous smart contracts and the internal cryptocurrency that's aiming at more than 1,000,000 transactions per second and has an execution speed of 0.01 seconds.
Welltrado 
An already operating scalable blockchain-based platform that seeks to enable investors to buy and sell loans from thousands of different loan providers globally, invest in peer-to-peer lending funds (P2P) and manage investment portfolios.
Token Sale
Symbol: ENTRY
ERC-20? Yes
Type: Utility (KYC/AML Required)
Soft cap: 25,000,000 ENTRY
Hard cap: 325,000,000 ENTRY
Total supply: 590,000,000 ENTRY
Private/Pre-sale: Sold out
Public sale: 1 June to 31 August
Here's a graphic that shows the tiered pricing at different stages of the ICO: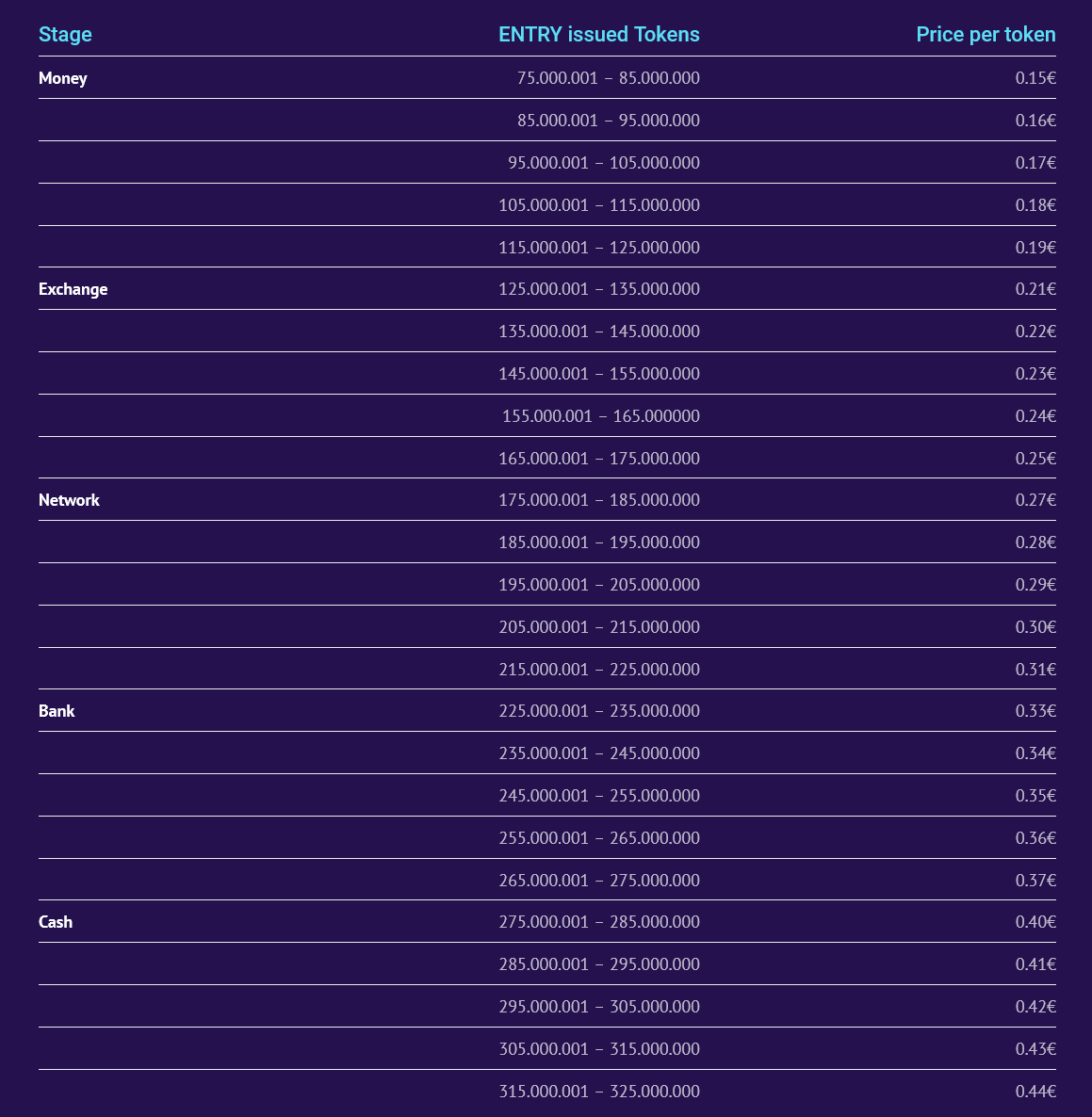 Verdict
If you managed to survive reading until here, you should have realised there are many product offerings coming from the ambitious ENTRY team. They not only want to grab a share in cryptocurrency or banking sector alone, they're pushing for a massive transformation in all aspects of financial service from bank deposits/withdrawals, loans, insurance, investment to cash machines, exchange and online shopping. If they can get them to work, I expect this to be really big, especially when they have the right talents to develop the solution and large pool of marketing representatives!

Website: https://entry.money
Whitepaper: https://entry.money/ENTRY_Whitepaper_v1.pdf
OnePager: https://entry.money/ENTRY_Onepager.pdf
Facebook: https://www.facebook.com/entrymoney/
Twitter: https://twitter.com/EntryMoneyICO
Telegram: https://t.me/Entry_Official