Keep Ngaged #2
First published, 1/4/2019
Welcome back everyone, to the second edition of the Keep Ngaged Newsletter collecting some of the most interesting news in crypto. There's been some recent waves in the crypto news ecosystem which we'll get into shortly. But first, let's stop in and see what our clients are up to!
Partner News:
EXIMCHAIN
With the snapshot now complete, the team is hard at work having the native user wallets issued with their shiny new EXIM tokens. The current release date for the new wallets is mid January.
PAYPIE
A new pricing page has made its appearance on Paypie's website, giving a quick glance into a part of Paypie's business model. They have stated that it has simply been added to increase their professional image, however, it is an exciting next step once the project becomes fully live and integrated once regulations have been clarified.
Crypto News:
Here's some of the most interesting articles and press releases we've read this week.
Ethereum's New Energy Plans
Some chatter around Ethereum appeared this week regarding the Proof of Stake plans for a future update. Vitalik pointed out why he believes that Proof of Stakes is the ideal move forward in regards to energy consumption.
Overstock to pay Ohio Taxes in Bitcoin
Overstock is set to become one of the first businesses to pay their state taxes in crypto. It looks like their decision to accept and invest into cryptocurrency still bodes well for their future.
Bitcoin officially turned ten years old!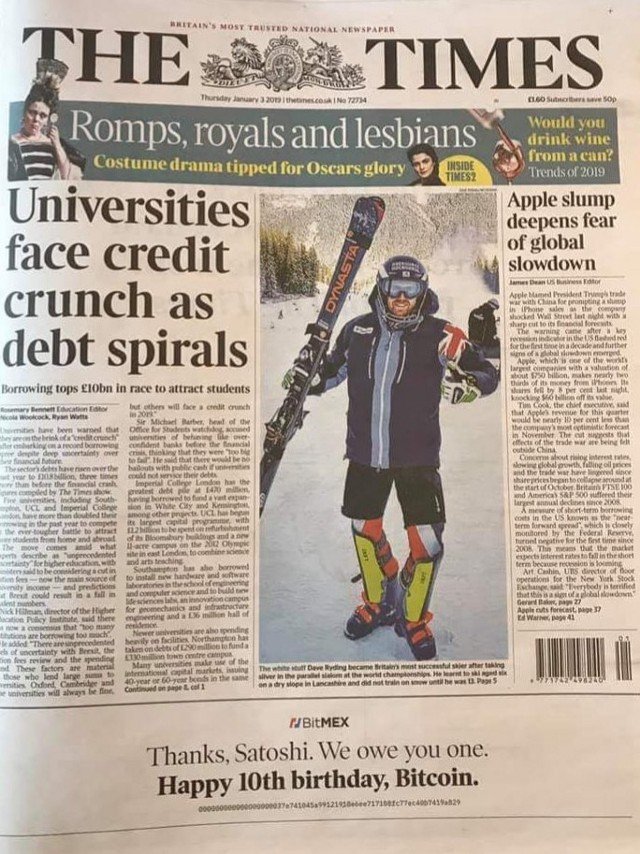 As of January 3rd, Bitcoin officially turned 10 years old! It's hard to believe that this tech wasn't even a decade old yet still eliciting so much progress. BitMex purchased a special front page ad in The New York Times to commemorate the event.
A look at the media's flounderings
If you need a quick laugh or want to see some of the more negative media portrayals of bitcoin in the past year, check out CoinTelegraph's tongue in cheek FUD collection.
First Mimblewimble protocol coin goes live!
Privacy-focused protocol Mimblewimble was first proposed in 2016. Now, the first coin utilizing it, Beam, is live on its mainnet.
Analysis and thoughts
With the new year turning, new thoughts and ideas emerge about where the markets are headed. Here's a few plausible ideas as well as some expert analysis for your reading pleasure.
A few big predictions for Bitcoin as some altcoins fade.
Sentiment and politics:
Going into 2019, sentiment for bitcoin remains stable. Despite Bakkt finding the release of it's futures derivative delayed, it has raised nearly 183 million and pulled in new key players. Ireland also brought news that it would be tightening its grip regarding anonymous transactions and banks due diligence.
Meanwhile, news in India fluctuates, however an interesting report by the RBI surfaced stating that cryptocurrency currently pose no threat to India's financial stability. It's interesting to note for those not following world politics in crypto that the RBI is one of the main antagonists of crypto. I know I'll be keeping an eye on the various policies abroad and bringing the very best of what I can find here, to keep you engaged.
For now, this is Derek Clauson, signing off.
What are your thoughts on the future of the crypto markets? Have you seen an article you would like featured? Leave a comment below and let us know what you'd like to see in upcoming issues. We'll see you next week, and remember to Keep Ngaged!

This issue of Keep Ngaged was brought to you by the community experts at Ngaged. If you're looking to nurture a great community of your own for your crypto or blockchain company, be sure to check out Ngaged.io and get in touch. To learn more, take a look at one of our recent articles on why community management matters.
About the author: When not chasing down the latest news and strategies in crypto marketing, Derek spends his time helping build up successful blockchain companies through Ngaged.io and reading on the couch with his dogs.