Today we are going to discuss the biggest problem that we as a humanity can have. It is pollution. Science the industrial revolution when a lot of factories were built to speed up production, nobody cared about pollution. Few years later, people have mentioned that air and water pollution can lead to a very dramatic consequences for the whole world. Nowadays there are a lot of companies that are trying to change it by products recycling, by building environmentally friendly plants and using renewable energy. Unfortunately, even such great companies are facing a lot of difficulties such as funding problems and market accessibility. We have found a project that can solve these problems It is called 3WM.

So what is 3WM all about? It is a company that want to revolutionise the world by bringing their ideas into action with help of blockchain technology, especially the way we treat water, recycling plastic by building the biggest bioenergy plants and create the first in the world green intelligence network. Such ideas would help to achieve several major goals like proper nature treatment, increase of global economies by generating new employment and boosting revenue.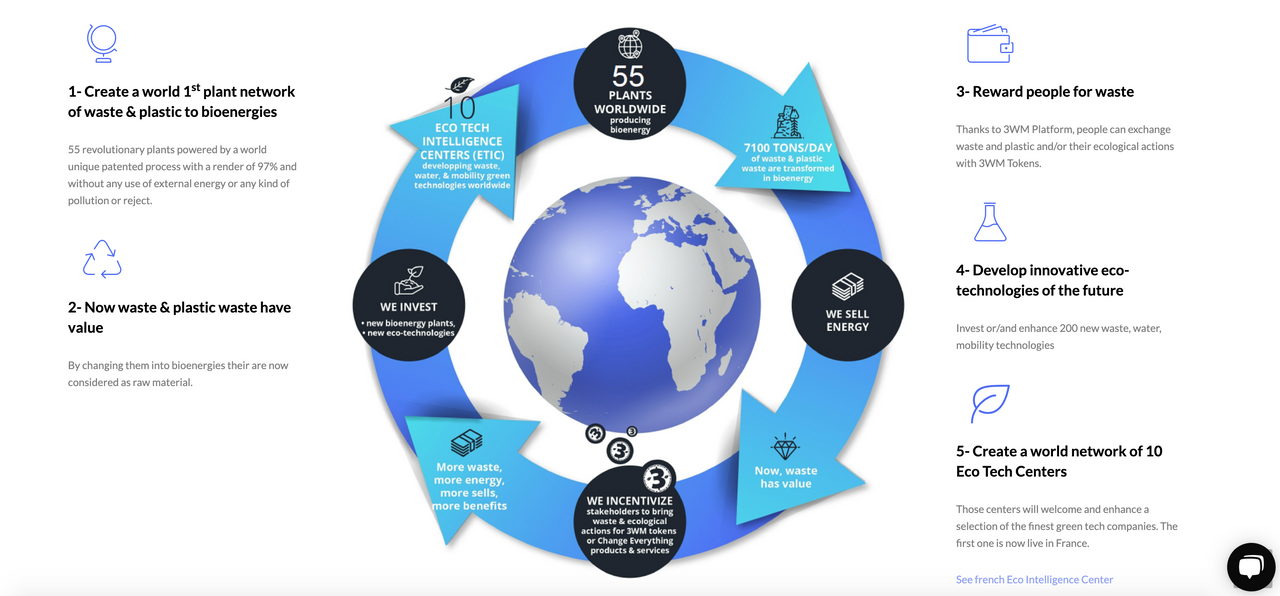 The idea may sound great, but it costs nothing without detailed planning. That is why 3WM is offering a 5 Steps cycle of how to make those ideas come true. The first step would be to built 55 revolutionary bioenergy plants that would recycle plastic by using no external energy sources, meaning those would have their own source of renewable energy, and without creating any kind of pollution for environment. Now all of the sudden, waste can be transformed into energy, which means value. The third step would be to make people bring the waste to those plants and what is the best way to motivate people? Right, rewarding them. Thanks to the blockchain technology and 3WM ecosystem, it would be possible to reward people with 3WM tokens. The fourth step of this plan is to invest those money into revolutionary ways of improvements in key areas such as waste, water and mobility technologies. The final step would be to create a global network in form of 10 Eco Tech Centers that would unite best green companies from all around the world.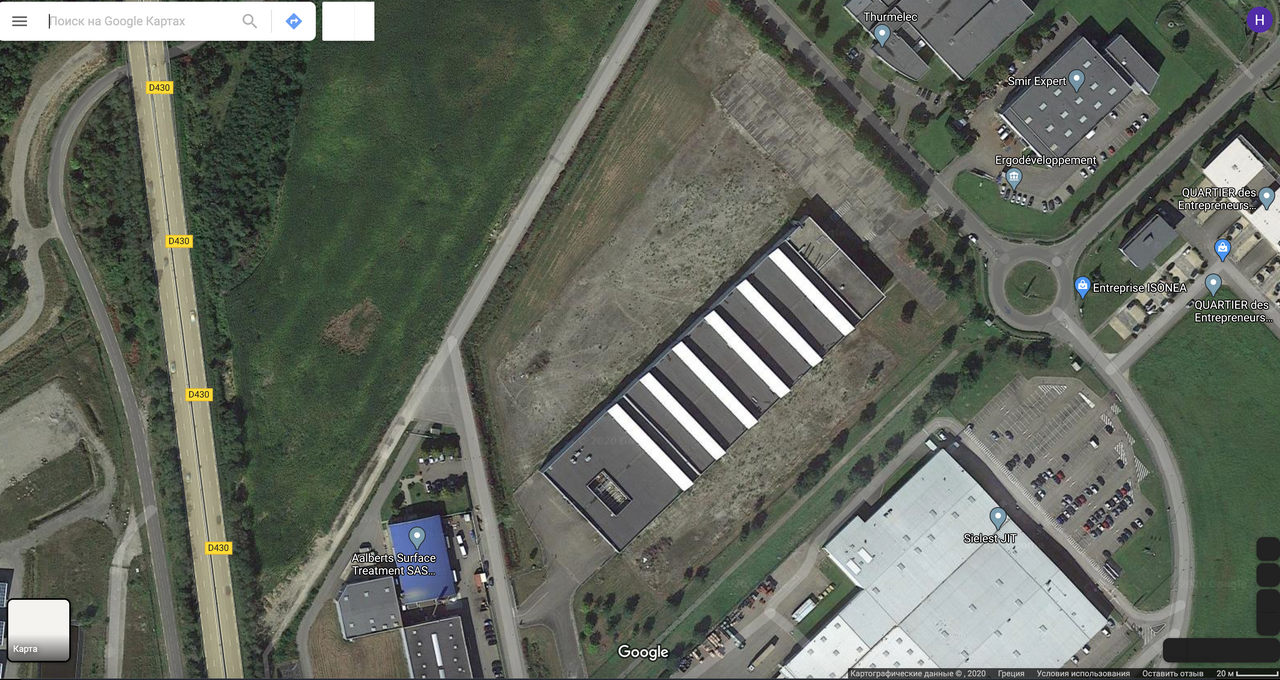 Those are not just plans, but already a reality, because the first Eco Tech Centre is already live in France. It is pretty cool that they have implemented coordinates of the first center so everybody can take a look at google maps. Here is how it looks like.
Anyways lets get back to business and take a look at the visualization of core 3WM processes: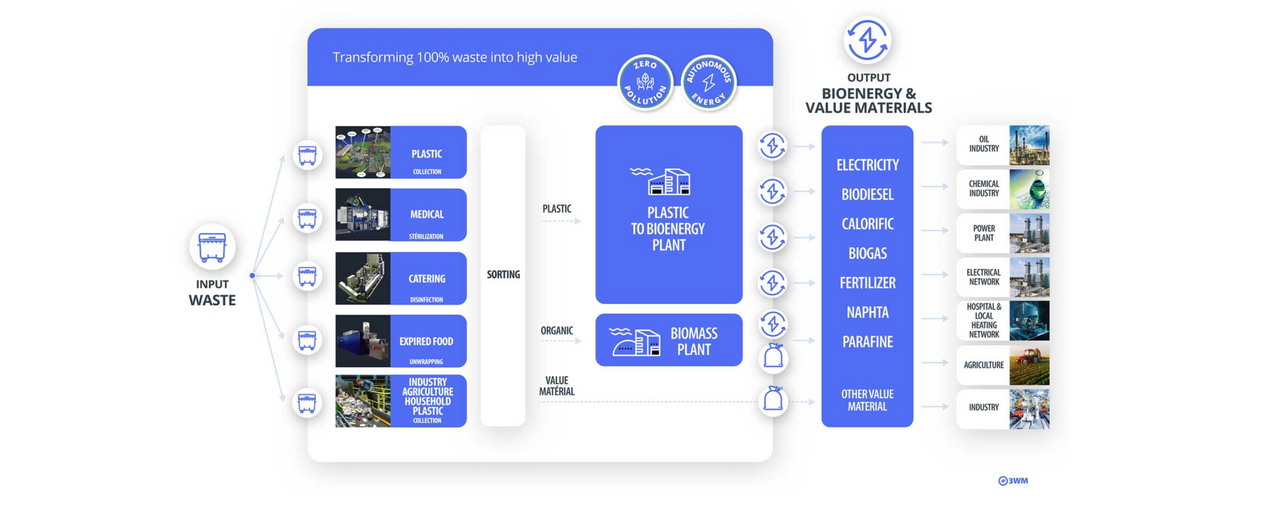 The first one is called Waste to Energy Process. It all starts with the waste input from different sources which follows by sorting into plastic and organic. Plastic goes to Bioenergy plant and organic waste goes to Biomass plant. As an output from the plants it would be possible to produce different kinds of resources such as electricity, biogas, biodiesel and much more. Those resources are going to be applied in production or sold to external buyers.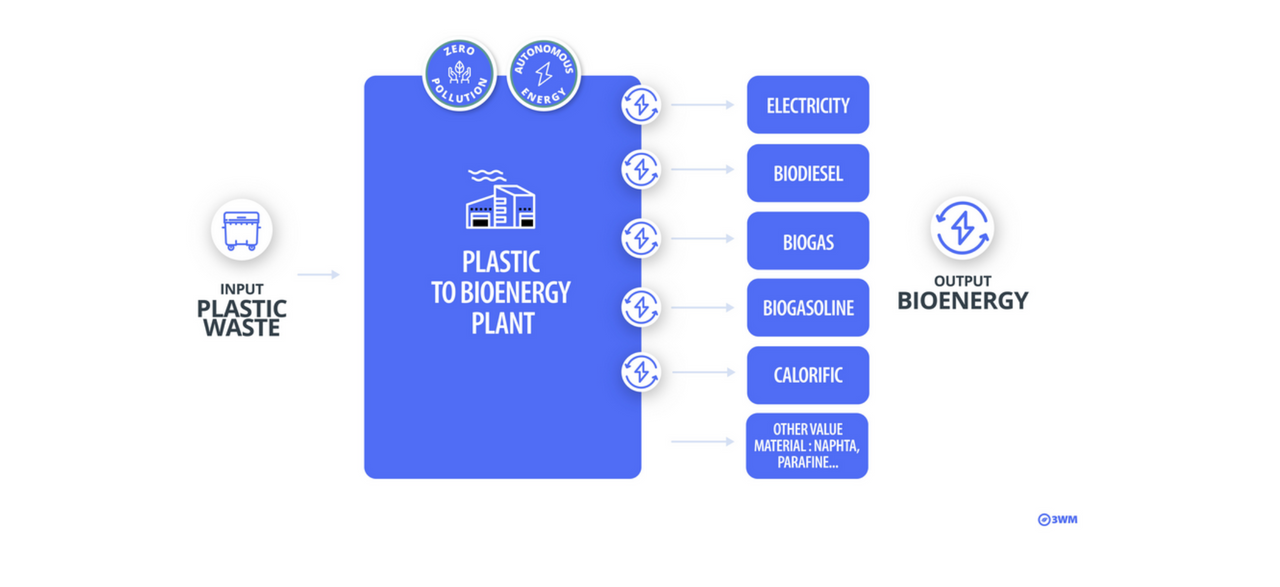 The process of transformation of plastic to energy is an extract from the previous one. Plastic goes to Bioenergy plant and various resources are getting produced, used or sold.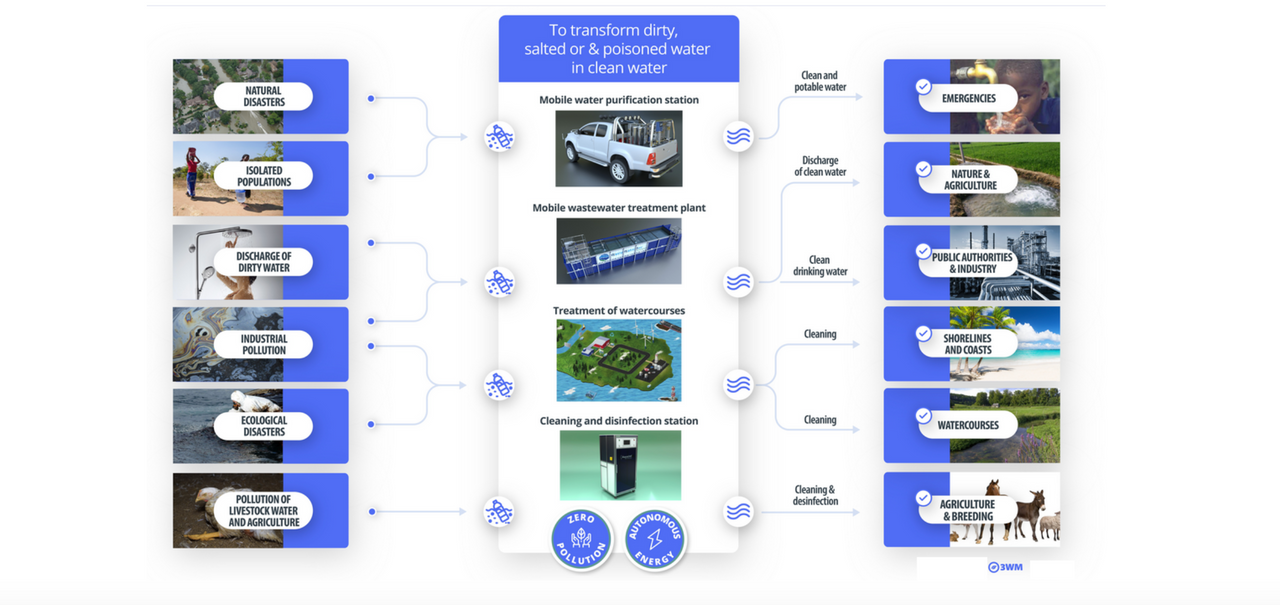 The last but not least is the 3WM Clear Water Process which can be divided into four parts. The first one is Mobile Water Purification Station which can be used in cases of natural disaster or isolated populations. Cleared and Portable water can be delivered into emergencies regions. The second aspect is the Mobile Wastewater Treatment Plant which can be used in cases of disgorges of dirty water or industrial pollutions. Clear water can be used for nature as well as for industrial purposes. The third part is the Treatment of watercourses which is used in industrial pollutions and ecological disasters. This can be really useful for cleaning of shorelines and costs and watercourses. The last feature of 3WM Clean Water Process is going to be cleaning and disinfection station which can be useful in cases of pollution of livestock water and agriculture. This solution delivers cleaning and disinfection of agriculture and breeding.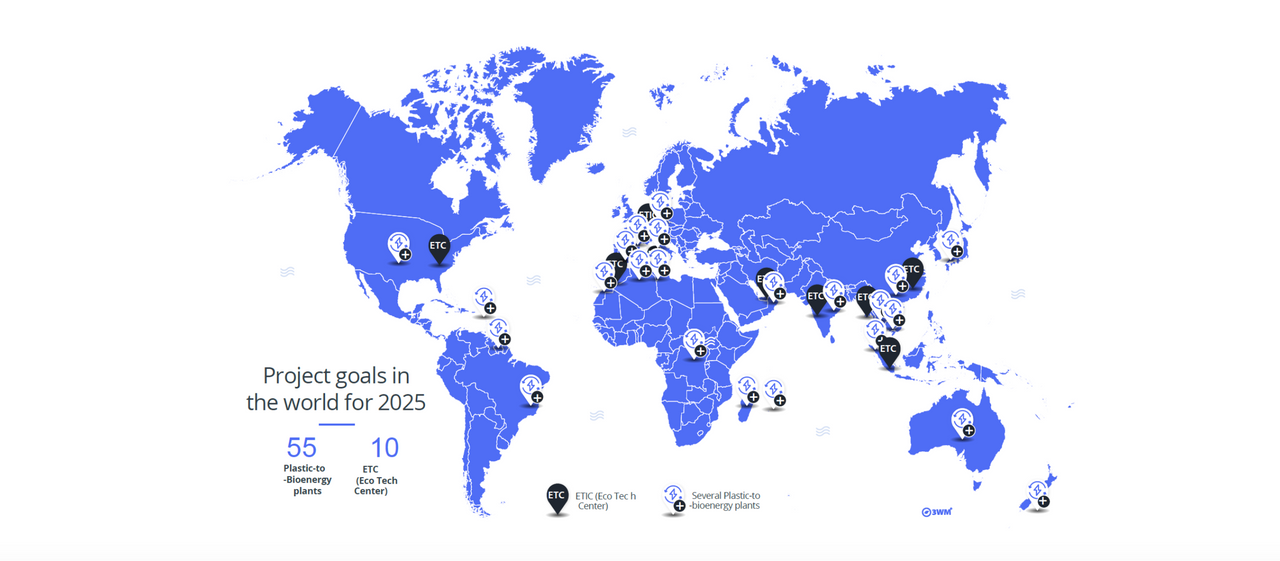 If you scroll a lit bit further down the page, you will see that 3WM plans to create 20 Plastic to Bioenergy plants in France by 2025 and 55 plants all over the world and 10 Eco Tech Centers or ETC.
To turn such ambitious plans into reality, 3WM is going to release their platform where is would be possible to buy or rent 3WM products, to sell or to exchange waste into 3WM tokens and create all kinds of ecological actions. The Platform is currently in development, we will take a look at release plans, when we would go through the Roadmap. If you would like to get more familiar with team members, they are placed in the next section with their social media profile, so you can ensure that 3WM is being lead by professionals.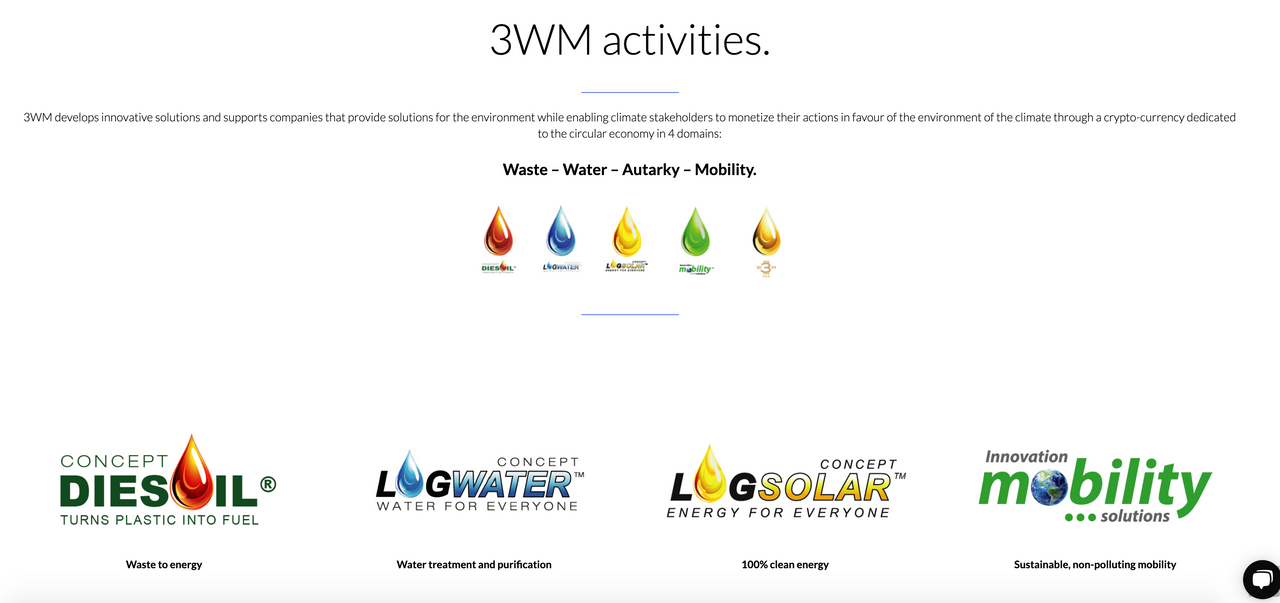 We will jump straight into 3WM activities which are 4 in total. The four big solutions to the world pollution. We will start with the first one which is called Diesoil. This is the concept which we have already discussed, but it is fascinating that 3WM has a separate website for each of their solutions. The amount of effort that stands behind this project is huge and to be honest it is very impressive. To move further, the second water treatment solution is called Logwater. The next two dimensions are going to be responsible for renewable energy and pollution free transport. We will leave all the needed links in the description down below, so you can access all business lines and make your own deep dive into 3WM.
Now we can take a look at where did it all started and what is planned for the future of 3WM.The idea was born back in 2010 and it took 8 years to create the detailed plan of creating 4 major solutions. At the end of 2018 the team of 3WM decided to use blockchain technology to offer more transparency and reliability. 2019 was pretty busy as well starting from team creation and onboarding and finishing with the creation of the first Eco Tech Centre in France. In the beginning of 2020, 3WM team created and released their smart contract which is followed by fundraising stages and platform release till the end of this year. For 2021 two more Eco Tech Centres are planned to be built.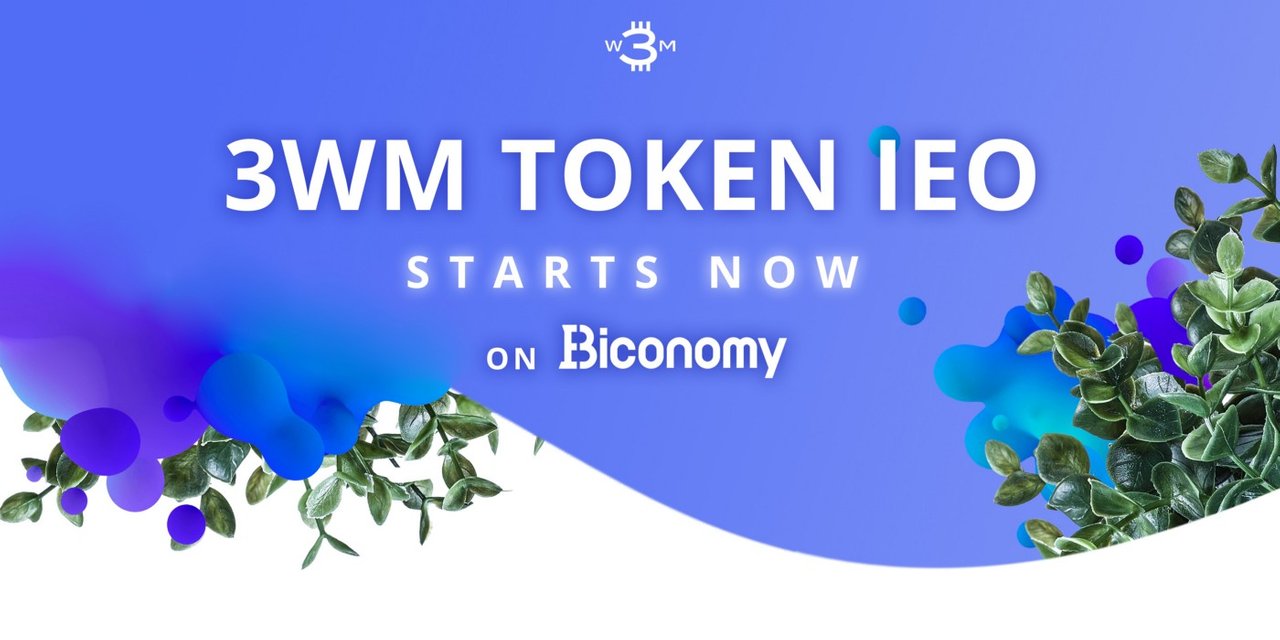 As we have mention fundraising, 3WM team has entered this stage on the 22nd of July. The first exchange that is offering 3WM tokens is Biconomy. This is a pre IEO stage, where a maximum of 2,5 million 3WM tokens are going to be sold.The minimum contribution amount is 10 USD, the starting price is 5 cents per token. Furthermore, 3WM is currently running a promotion if you create an account of Biconomy exchange and purchase at least 10 USD worth of 3WM tokens, you will get 1 USD worth of 3WM as a bonus.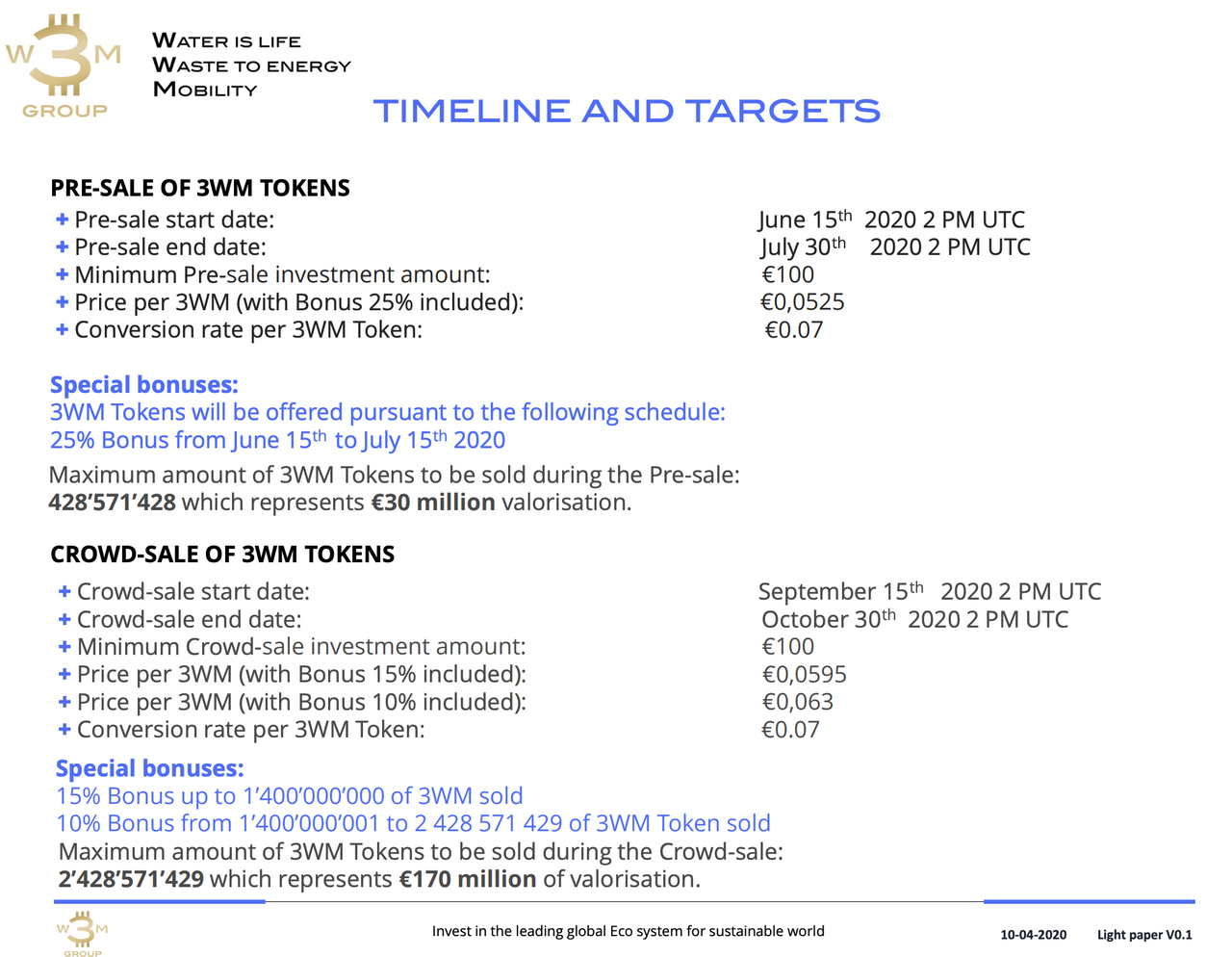 We have found some more interesting details regarding the upcoming Crowdsale of 3WM tokens. Currently the main sale is planned to start of the 15th of September 2020 and will last till 30th of October 2020. The minimum investment will increase form 10 to 100 USD. The price will start from almost 6 cents peaking at 7 cents per token. The total supply will be lightly more than 5 billion tokens which makes it around 350 million USD of market capitalisation by the price of 0,07 USD per 3WM token. The softcap or the minimum of funds to be raised to keep developing the project is 25 million USD and the maximum amount of collected funds is capped by 200 million.
All in all 3WM is solving one of the biggest problems of the whole human kind which is pollution is all senses of this word. Starting from waste recycling and finishing with renewable energy production 3WM will help to make our planet a better place to leave in.
Useful links:
Website: https://3wm.io
Whitepaper: https://cdn2.hubspot.net/hubfs/2694554/3WM-Files/Whitepaper_3WM_V1.0.pdf
Lightpaper: https://cdn2.hubspot.net/hubfs/2694554/3WM-Files/Lightpaper_3wm_V1.0.pdf
Facebook: https://www.facebook.com/3wmcoin/
LinkedIn: https://www.linkedin.com/company/3wm-group/
Twitter: https://twitter.com/3wmGroup
Instagram: https://www.instagram.com/3wmgroup/
Youtube: https://www.youtube.com/channel/UCh9LhMTiu8GvL-l1UU4md6g
Reddit: https://www.reddit.com/user/3WM_GROUP
Telegram: https://t.me/group3wm
Bounty: https://bitcointalk.org/index.php?topic=5251655
Author:
Bitcointalk: cribusen
Telegram: @nik95rnd