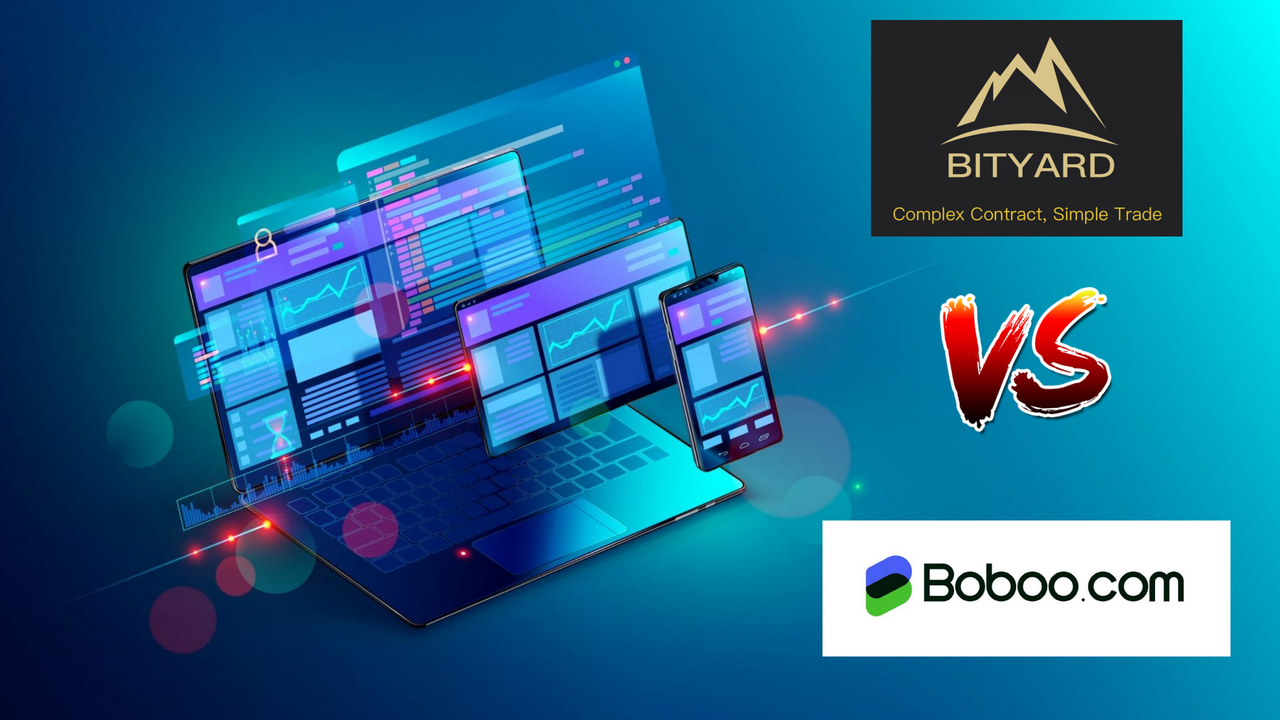 Today we will take a look at two exchanges that are offering margin trading services. Margin trading is a special type of trading where you can lend money from exchange and trade with bigger volumes. The two exchanges we are talking about are Bityard and Boboo. They are operating in the same field but have their own advantages and disadvantages, so lets' get into the action and decide which one is better.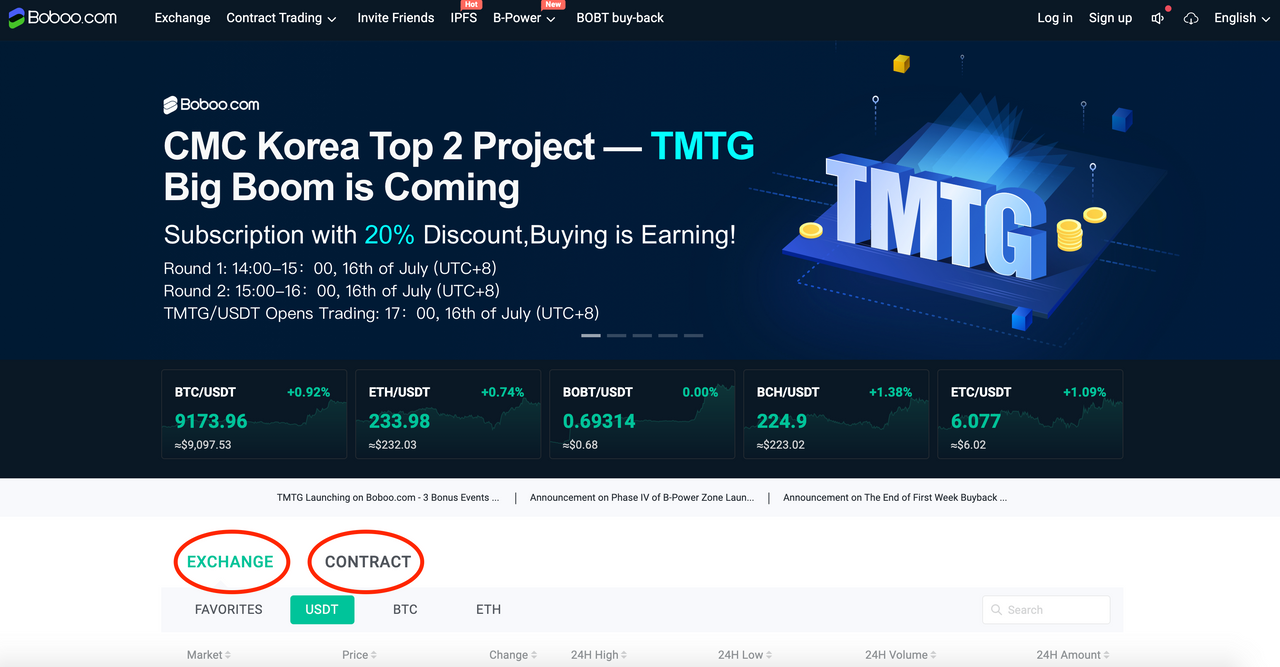 We will start with Boboo exchange. Boboo is an Asian crypto currency exchange that was created back in 2019. Boboo specifies on two big aspects, firstly it is a regular trading functions like by normal exchanges with BTC, USD and ETH and on contract trading, the part which is the most interesting for us. So it is basically 2 in 1 solution. Among the core principles of Boboo you can see the highest security level, great customer service, global community and transaction speed. There is also an opportunity to download Boboo app and trade directly from your phone. You can scan this barcode to simplify the installation process.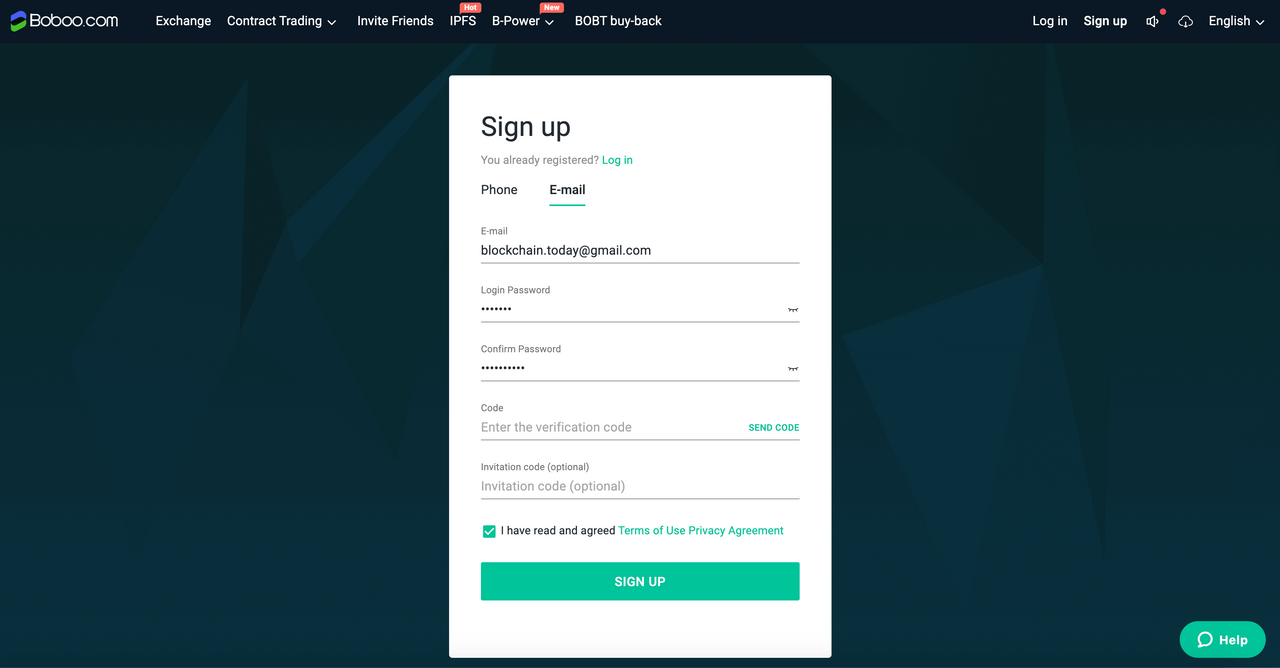 So now it is time to create an account and to look at Boboo a little bit closer. Click on Sign up in the right top corner to kick things off. Fill all your details into the registration field, create a password, get a verification code and click on sign up..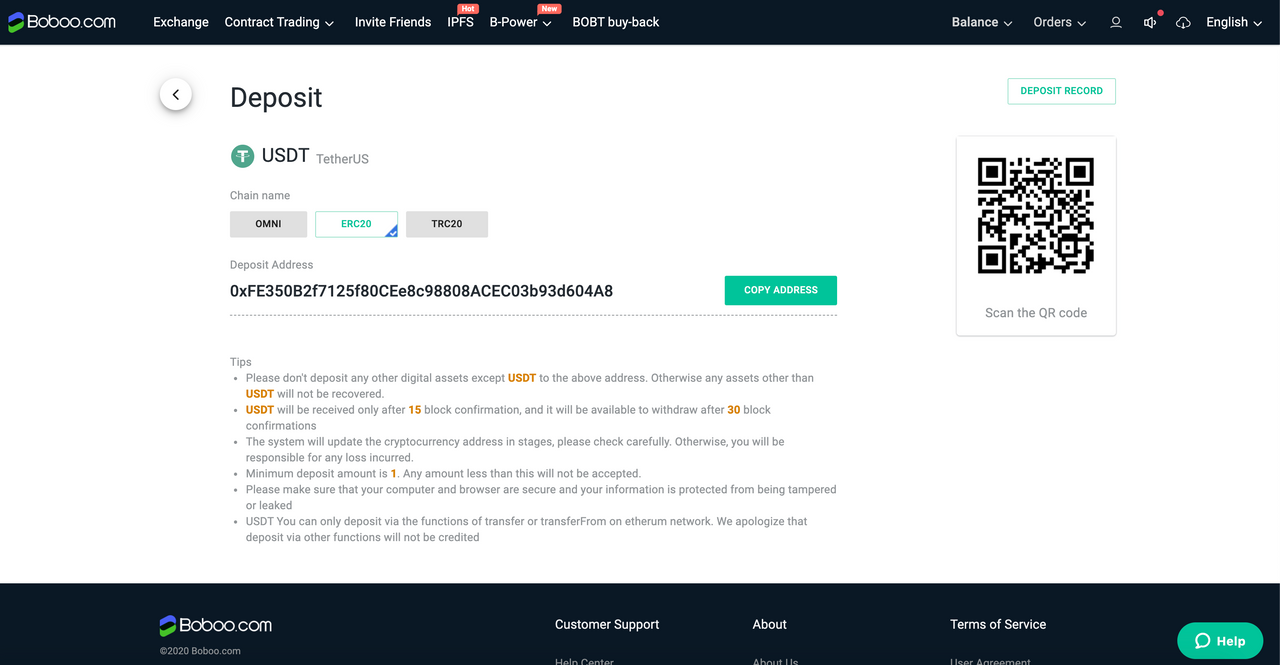 As we created our account, we can start getting familiar with the trading interface. But first, we need to deposit some funds. To do so click on balance. Here you can see all available trading pairs, we would go with USDT, so click on deposit. You can choose the right blockchain for your USDT tokens from OMNI, ERC20 and TRC20. Now you should just deposit your funds and start trading. But remember to triple check the deposit address and take a look at the minimum amount for deposit. In this case it is 1 USD. When we have deposited the funds, we can start trading.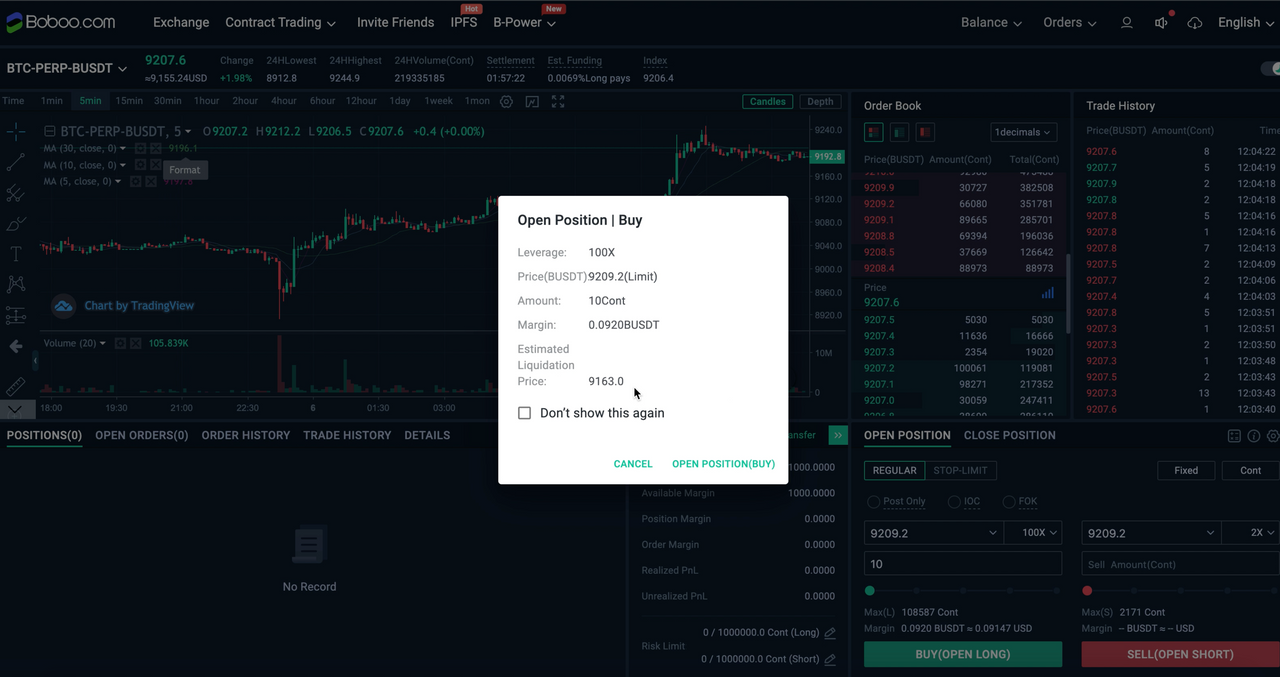 On the right hand side you can see the order book with buy and sell orders and trading history. On the left hand side is the price chart which you can customise from 1 minute to 1 month. In the right bottom corner is the trading panel, where you can choose to buy or to sell BTC and to select the right margin from x2 to x100. To test things, we will create a buy order for 10 USD with 100x leverage. Open orders can be seen at the left bottom corner, where you can see all the necessary details.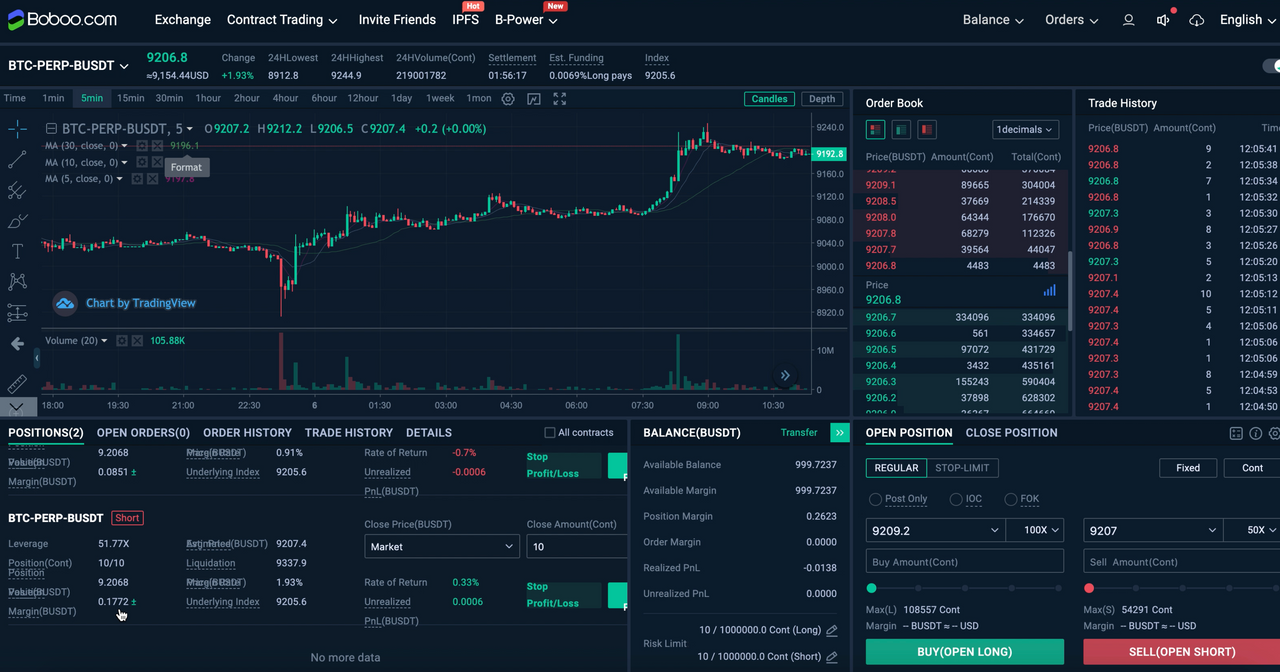 Lets' make a sell order and look what we can do with opened orders. So selling BTC for 10 USD with 50x leverage. So now both orders are displayed in the live trading section. It is possible to see your TP and SL rates, Margin percentage and the order amount. Lets' discover what you can do with your orders. Another useful feature is that you can close your orders at any time you want, before exchange will liquidate them. To do so, just click on close position and select the price or select the market and order will be closed automatically. Now you can see all the details to your past orders in the order history section. That was it for Boboo exchange lets move on to Bityard.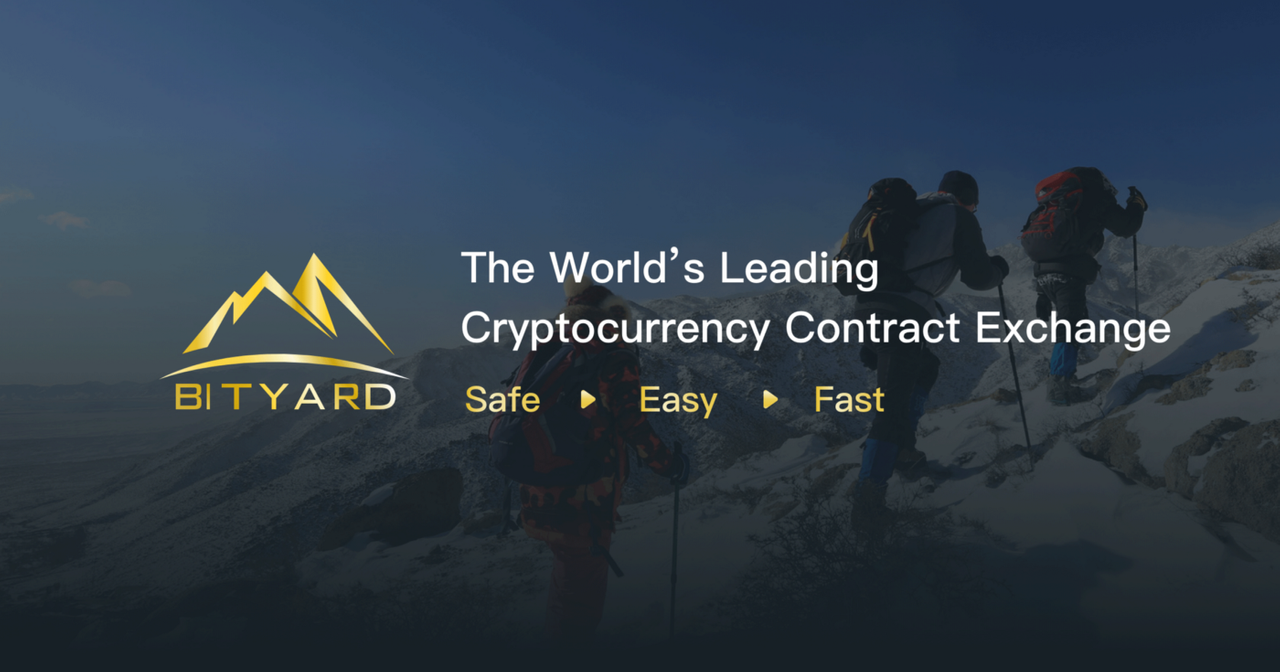 Bityard was created in 2019 and is based in Singapore. Core principles are to deliver safe, easy and fast services. You can also read about Bityard licensing in Estonia, Australia, Singapore and USA. For those who prefer to trade on your phone, you can also download Bityards app. Without further ado lets' create an account and get into trading.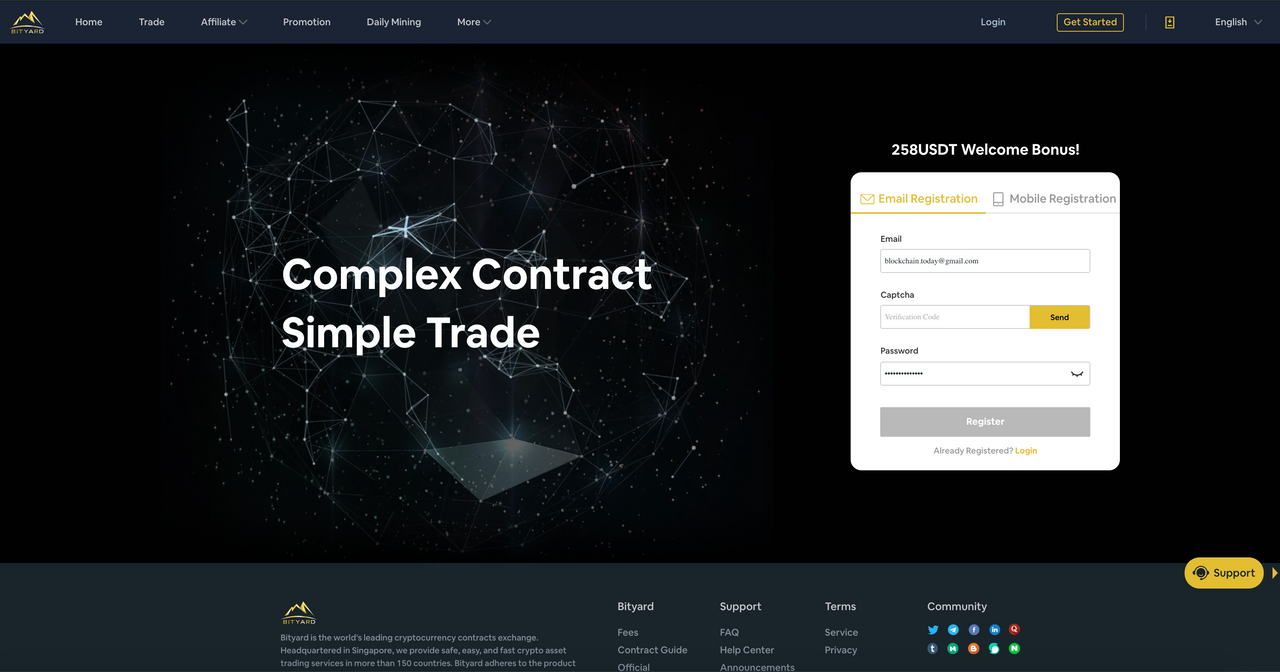 To do so click on get started. Fill in all your details, like e-mail and password, verify your email and you are ready to start. Now you can switch to the trading panel and start your trades. On the left side, you can see all trading pairs. And in the middle is the price chart which can be customised as well.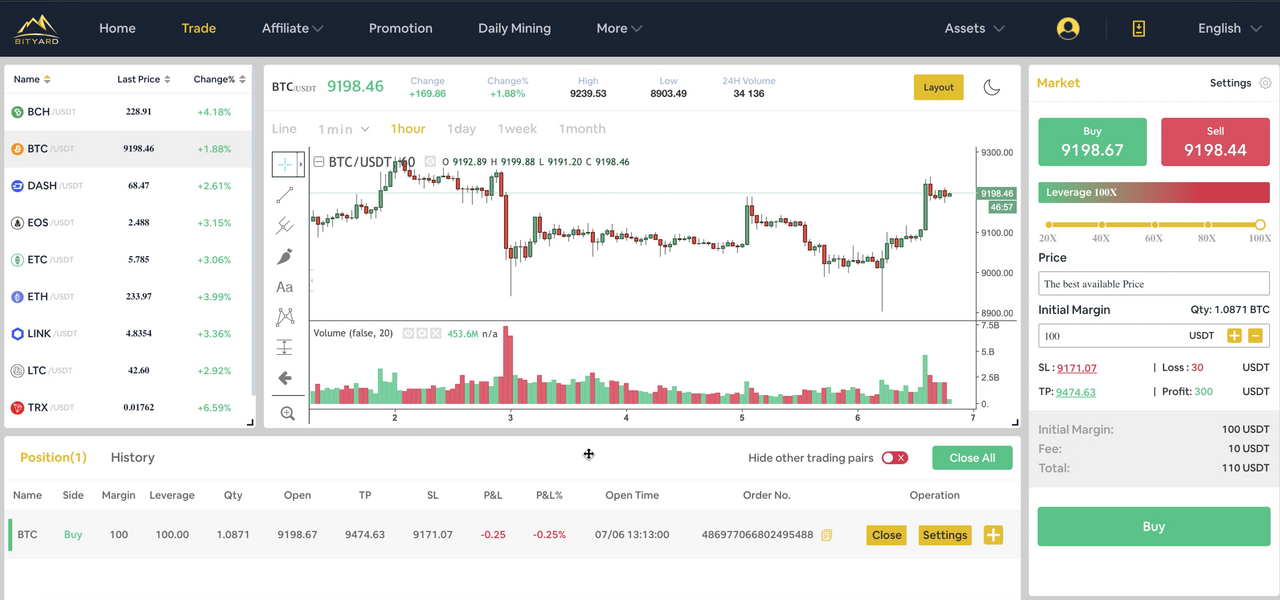 Lets' make it more shiny and switch to the day mode and create our first buy order. You just need to click on buy, select thee leverage, 100x in our case and put the amount of money you want to trade in the initial margin field. Always remember to check your SL and TP ratio and to customise it if needed.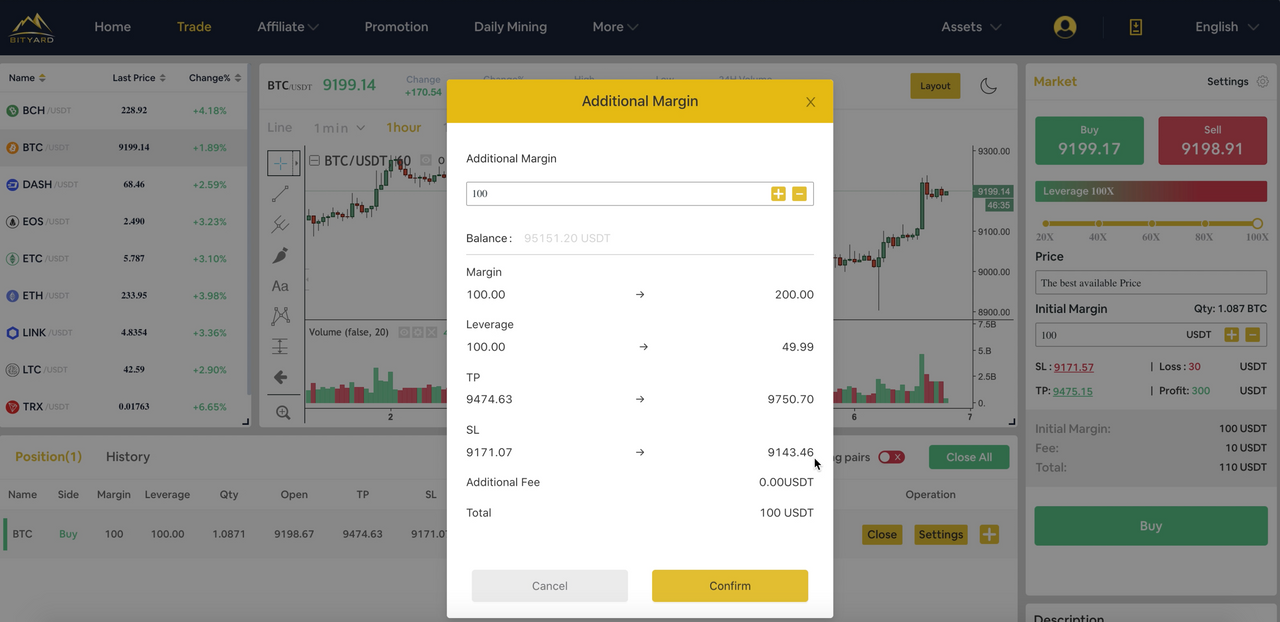 There are a lot of useful functions that Bityard is offering, for example you can add some funds to your order, which we would demonstrate. We would like to add another 100 USD for our order, so just click on +, type in the amount of money and click on confirm. But remember that when you are adding funds, your order details are changing as well including TP, SL and Leverage.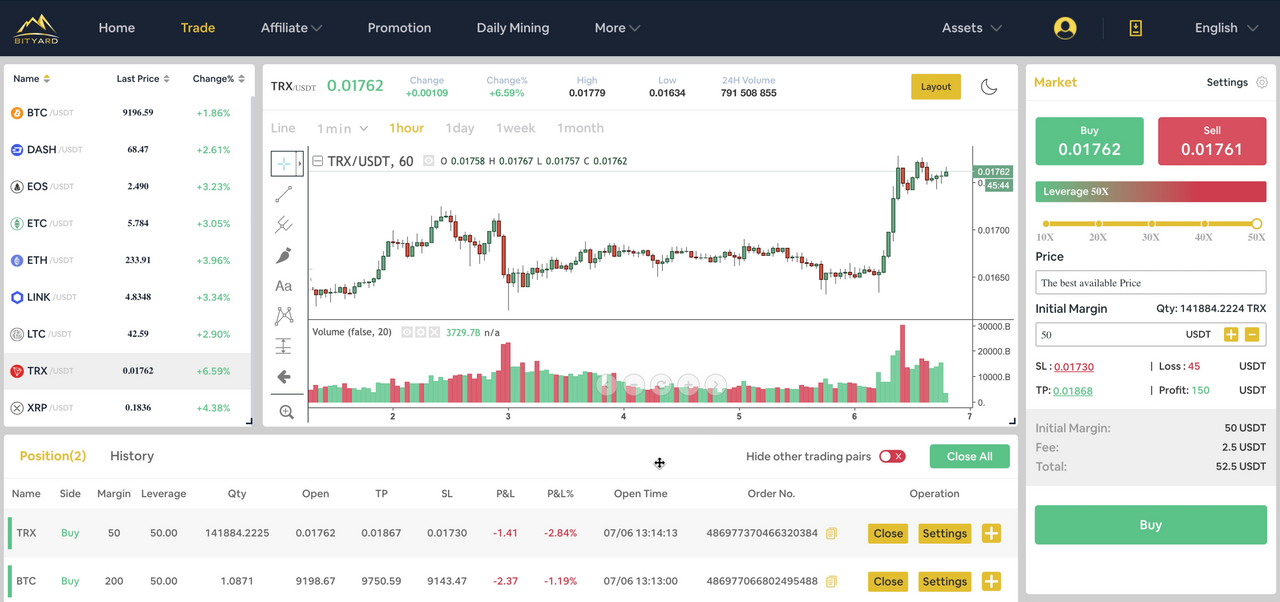 So lets move further and make some other orders for example on TRON. Clicking on buy, selecting 50x leverage, putting 50 USD on the line and click on buy. So that was too fast and we forgot to check SP and TP ratios, that's why it is very important to check everything before placing an order.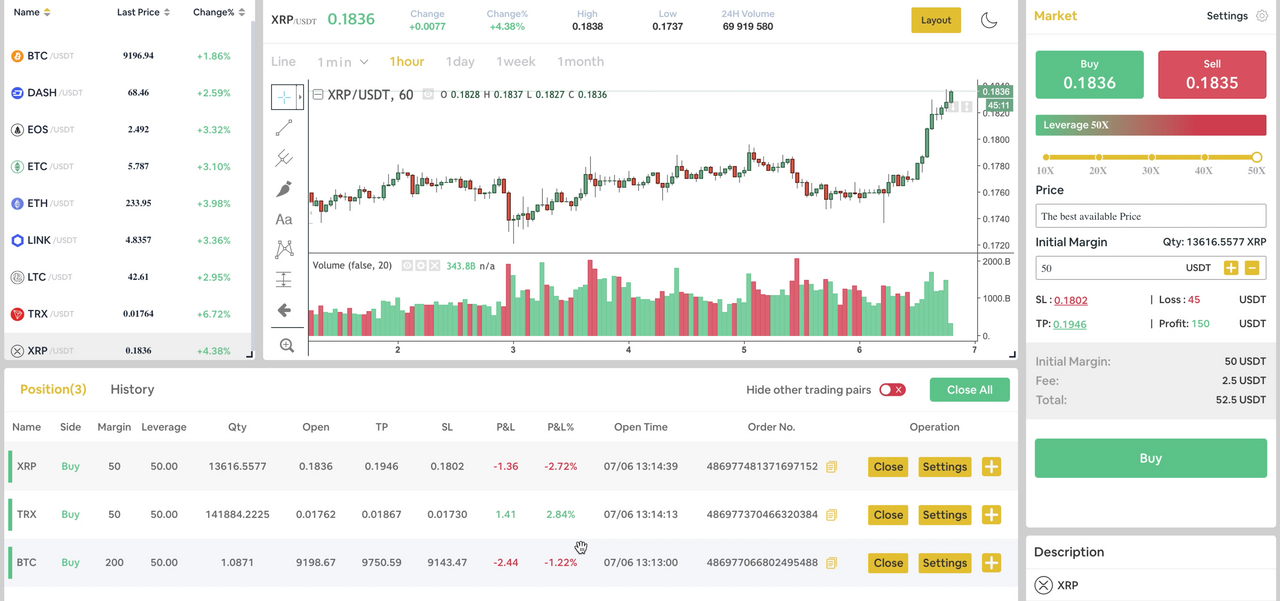 Lets' search for another trading pair like Ripple. Charts are looking great, XRP is on the rise, so lets' make another order quickly to get into it. As usual, 50x leverage, 50 USD, checking SL and TP and click on buy. Now you can see all our open order with all the needed details, including the profitability rate. Another very useful widget is the information tab in the right bottom corner of the page, where you can find all the useful information about the crypto currency you are trading.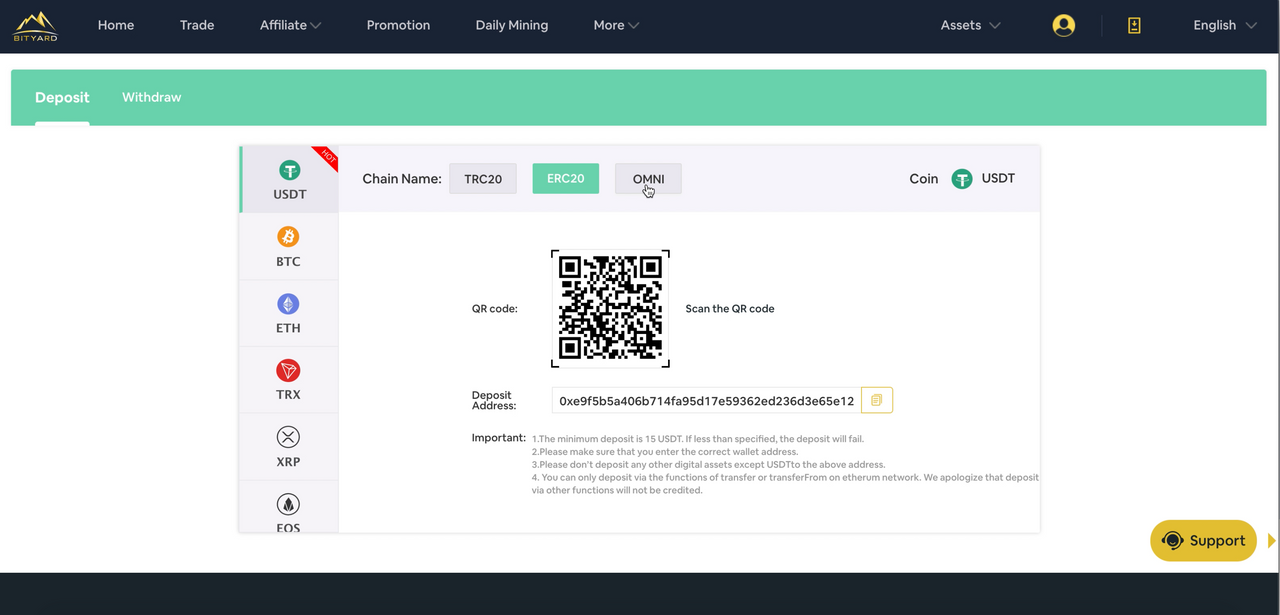 The last but not least, we also wanted to show you how you can make a deposit. To do so, just click on deposit and you will see all available crypto. To keep it simple we will choose USDT, do not forget to select the right blockchain, take the minimum deposit amount into consideration, in that case it is 15 USDT and to triple check the wallet address.
Comparison
We looked into two exchanges quite deeply, lets' get into comparison and find out which one is offering more for its users.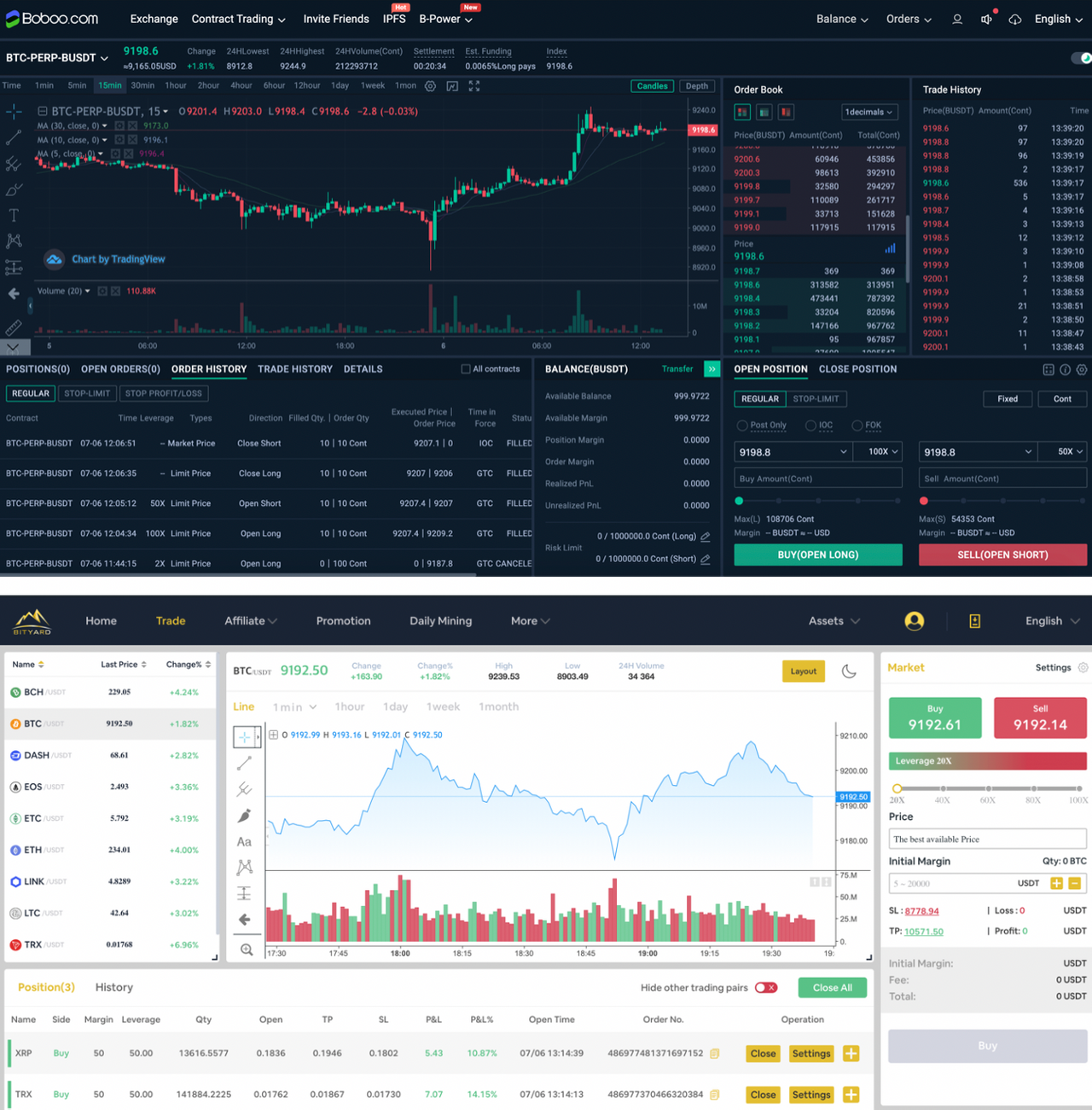 Lets' start with the most obvious one, because we have seen a lot of exchanges that are offering margin trading and Bityard is the most nice looking one. The interface is very clear and easy to interact with, so you do not need to be a technical person to use all the functions from the first try. Bityard is very interactive and offers you the best user experience even if you are completely new to the industry. Also Boboo hat some visual difficulties which is not so critical, but it would be better if everything was clear.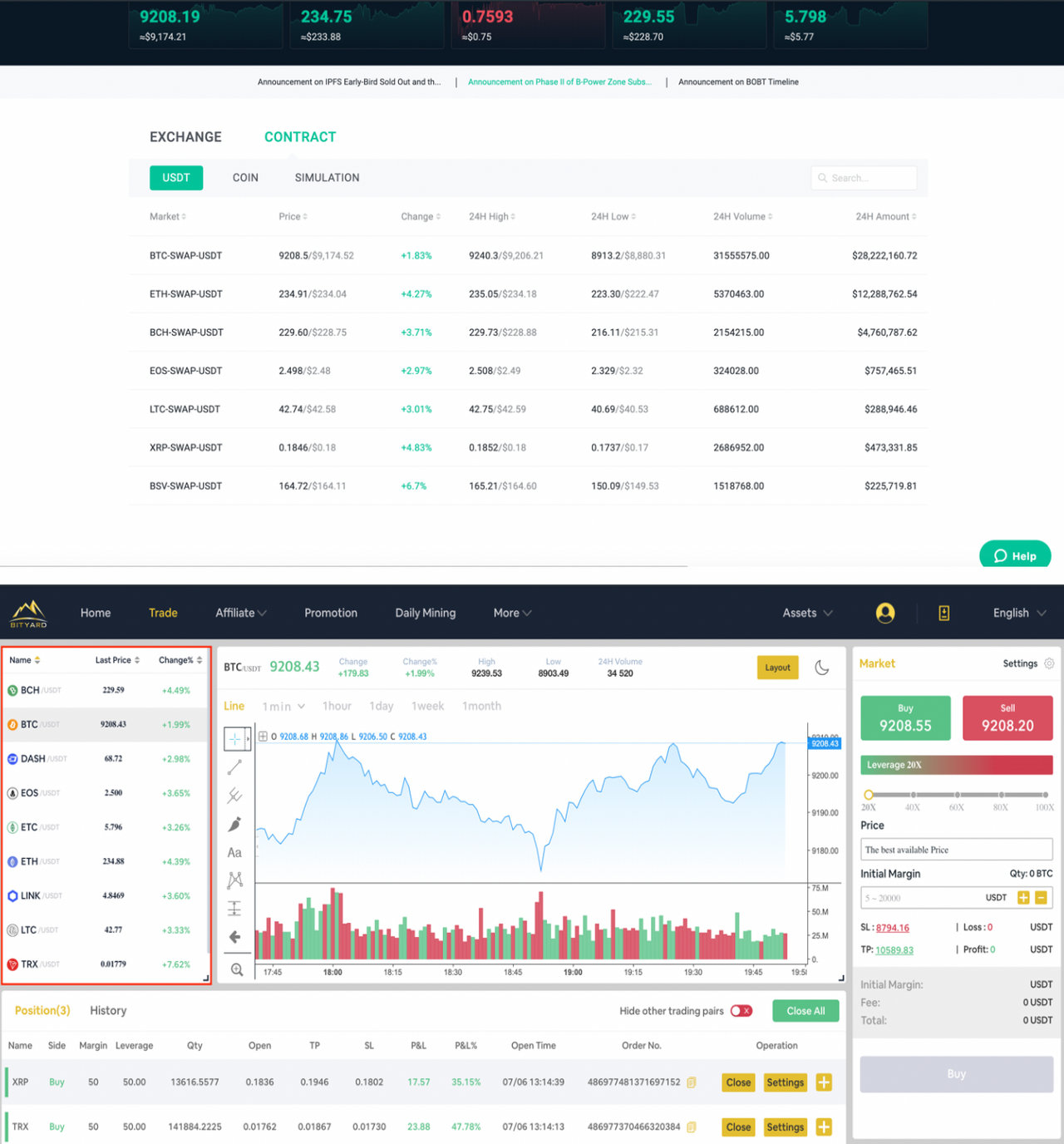 Trading Pairs and functionalities.
On the one hand Boboo is offering more trading pairs, because it is not only a margin trading exchange but a regular one as well. But if you take only the margin trading side, Bityard is offering more trading pairs, 10 vs. 8 on Boboo exchange. It is up to you to decide which one offers more possibilities. Furthermore, the leverage on two exchanges is different. On Boboo you can start already with x2 but when you want to go higher the only possible options are x20, x50, x100. On Bityard you can go from 20x to 100x.
Conclusion:
All in all, both exchanges are still young and it depends on you which one you would choose. For us it is important that a margin trading exchange delivers the best user experience by making margin trading simple and intuitive and this is what Bityard does. We would rather have a very interacting exchange than several more complex trading functions, that nobody really uses. But this is our choice and our opinion, at the only you can decide on which exchange you will trade.
Useful links:
Website: https://www.bityard.com/?ru=d2xubB
Telegram Group: https://t.me/BityardExchange
Twitter: https://twitter.com/Bityardofficial
Facebook: https://www.facebook.com/Bityardofficial/
Linkedin: https://www.linkedin.com/in/bityard/
Medium: https://medium.com/@bityardsns
Steemit: https://steemit.com/@bityard